As the hype surrounding Silicon Valley is slowly dying down, new, different, and exciting technology hubs are popping up in different cities around the world. Here's our pick of 8 interesting, emerging tech hubs to watch closely in the next few years.
Silicon Valley has had a great run.
Over the past few decades, this place has birthed companies like Google and Apple, which changed the way we live and provided us with the necessary tools to explore and flourish in the digital world. During that time the 'Bay Area', as the city is commonly referred to in the US, has become the be-all, end-all of tech in the minds of programmers and business people around the world.
But just like any gold rush has to end, the rush to Silicon Valley is slowly dying down.
The reason goes deep, and far beyond the business aspect of things, because in the last few years $140 billion worth of VC investments in tech was made in SV, which leaves the second best city – Beijing – looking pale in comparison, with 'only' $72 billion.
If you look past the money though, you'll find a lot of negative bits of information that have fallen through the cracks, making people realize that San Francisco might not, in fact, be the best place in the world to work in tech.
Local unicorn startups (now behemoth companies) have proven that they will gladly abuse their power for profit, just like industry giants of yesteryear. People outside of tech started complaining about the growing costs of living and being treated as second-class citizens by the technocrats. Freelancers started voicing their anger at being abused by the disruptive businesses that rely on their underpaid work to make the bottom line. Companies offering nonsensical products with no value, like the Infamous Juicero, were able to raise hundreds of millions of dollars, while also earning a collective raised eyebrow from the US media and the public. On top of that, we know that there is an epidemic of homelessness in the San Francisco Bay Area, caused by an insane economic divide between the poor and the rich.
All of this leads to one conclusion – no matter how much VC's invest in a local market, it doesn't mean that a city is a great place to live and work in.
And this brings us nicely into the main topic of our article: emerging tech hubs around the world.
Up-and-coming Technology Hubs
If the hype surrounding Silicon Valley is dying out, where is the action going? Short answer: the action is moving east.
Beijing is just one example of cities in the Eastern Hemisphere that are host to increasingly robust activity in the tech industry, and if you're looking to work on the type of technologies that push the limit of what's possible, then China does indeed look like the right country to work in. It seems to be leading the race in developing quantum communication as well as clean-energy fusion reactors, and it's home to Bytedance, which recently became the most valuable startup in the world at $75 billion.
But not everybody wants to work on world-changing technologies or work for the most valuable company in the world. Most of us would probably prefer to build a startup, or a software development agency, or get a well-paid job in a vibrant city with an active community of like-minded people – and there are a lot of cities like this to choose from, like Helsinki (check out our Software Developers in Helsinki), Berlin (Java Developers in Berlin, Software Developers in Berlin, Web Developers in Berlin, Business Development Managers in Berlin, iOS Developers in Berlin), Rome, Tel Aviv, and Shanghai, to name just a few popular ones.
New, exciting and different Silicon Valleys are popping up all around the world. Are you thinking about building a startup in a new city, moving for a new job, or simply interested in what the global startup ecosystem has to offer?
For your consideration, we've picked 8 of our favorite up-and-coming startup hubs that we think you should take a look at.
1. Warsaw, Poland
We would be remiss if we didn't promote our own country in this list, so why not kick the list off with it? Especially since the Polish capital is where the Idea Motive headquarters is – and we can attest that it's a great place to provide custom software development services from.
Warsaw has a rich history, which becomes transparent when you roam various parts of this city. It was destroyed by the end of WWII, gradually rebuilt, and it's still growing. You can witness the history of the city in the changing architecture when you cross from the old parts of town into newer districts.
Public transport – subway, trams, buses – nicely connects different parts of the city, and provides a great cost-effective alternative to driving or taking an Uber everywhere.
According to Nomad List, the average cost of living for expats is $1,052 / month, and a coworking space will run you around $132 / month, whereas the average cost of office rent is around $18 / square meter.
The startup community is relatively new here, as the first major events started happening in Warsaw around 2010. Since then, Poland has seen insane growth – 461% – of VC investments, a large chunk of it thanks to booming activity in Warsaw combined with rapid business development in other major Polish cities, according to data from an OECD report: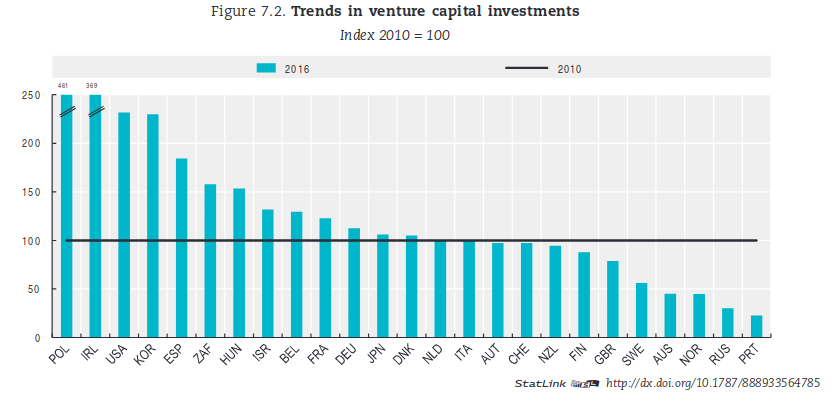 Source: OECD
Now the city hosts several must-attend, large conferences like Open Reaktor, Aula Polska and Agile Warsaw, as well as smaller events like Startup Coffeeand Startup Grind. Among many different co-working spaces, incubators and accelerators, there's even a Google Campus in the city, and at least 10 venture capital funds. Notable examples of Warsaw-based startups include Growbots (raised $4,2m) and Prowly (raised $1,1m).
All of the above shows that Warsaw is a great place to start for entrepreneurs who have global aspirations.
2. Bucharest, Romania
You might have heard of UiPath in the past few months. Founded by Romanian entrepreneurs Daniel Dines and Marius Tirca, the company develops an AI-powered robotic process automation platform.
They recently closed series C funding, raising $225 million at a valuation of $3 billion. Now headquartered in New York, UiPath is originally from Bucharest. It was this company that triggered one of the best periods in recent investment history of this growing startup hub, when the amount of capital raised in Romania jumped to $38,000,000 in one quarter, from an average of $3,000,000 in previous 9 quarters.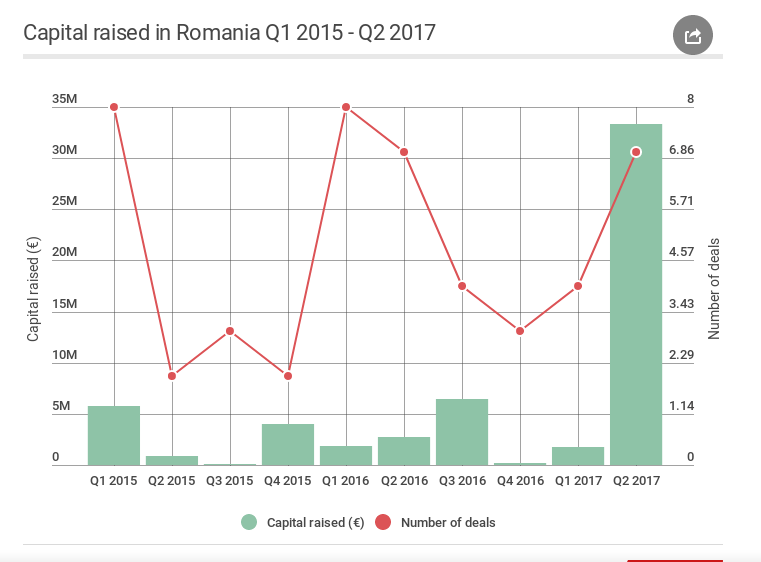 Source: thinkgrowth.org
Bucharest, similarly to Warsaw, has a troubled past but it's been rejuvenated with increasing business activity and the influx of inhabitants. With over 2,4m people living here, it is the 6th largest city in the European Union. Similarly to Warsaw, it's architecture is a mixture of the old and the new, where Soviet Union – era relicts clash with modern office buildings, and it's also well interconnected with public transport.
The cost of living for expats is around $929 / month, a place in a coworking space is around $122 / month, and the costs of renting an office range from $13 to $24 per square meter. According to one source, there are 353 startups, 12 incubators, 52 events, and 21 co-working spaces in the city.
When it comes to infrastructure, Bucharest is cost-efficient – it has high-speed fiber internet connections, offers low operating costs, and energy, real estate, and utilities costs around 4x lower than in Western European countries. But there are certain issues that have yet to be overcome, like making it easier to get funding, which is still quite scarce in comparison to comparable hubs in other parts of the world. Or removing stale bureaucratic practices in lieu of more lenient, flexible solutions that would better suit the speed with which the tech industry operates.
However, it is a great place to live in, and the startup environment is still developing, which means a lot of niche markets for entrepreneurs to enter and dominate. And – let's not forget – you can visit Count Dracula's castle!
3. Denpasar, Indonesia
For a rapid turn towards a much warmer climate, let's move to the capital of the Indonesian island province of Bali: Denpasar.
Seen by most people as a tourist destination due to its incredible nature, pleasant living conditions and breathtaking sights, it is actually a growing startup hub chosen by many entrepreneurs as their base of operations.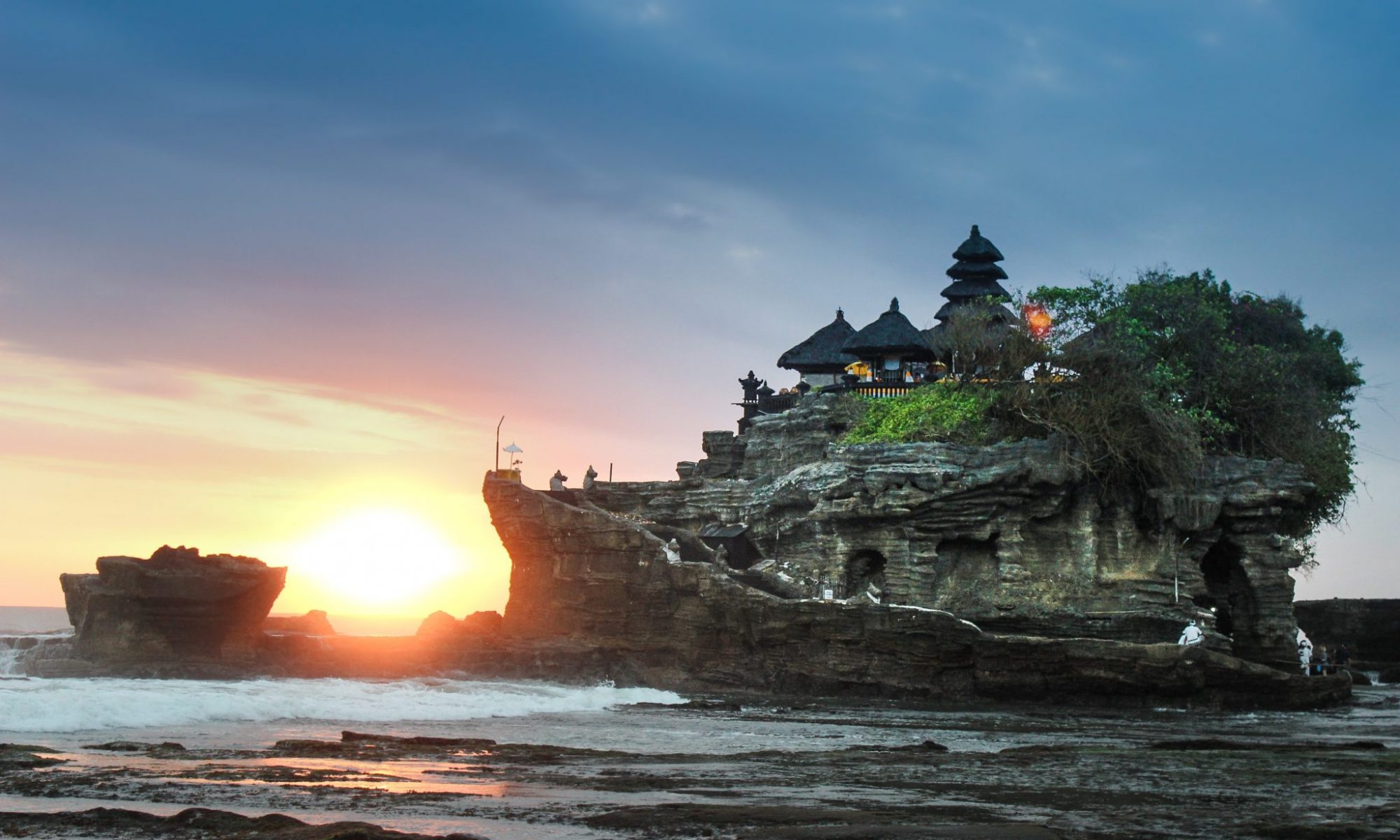 Source: Unsplash
With a population of around 800,000, it is the biggest city in Bali, with plenty of things to see and friendly people who will gladly chat with you. The costs of living are incredibly low: $543 / month is the average cost of living for expats and $129 / month for a coworking space.
It was hard to find reliable data about office rent costs in Bali – but it seems that this is not a great place for entrepreneurs that want to build a headquarters. There are a lot of legal hurdles to overcome when building or renting office space in this country, including common practices like demanding 5 years of rent upfront.
For the biggest companies this might not be a problem, but for entrepreneurs looking to build startups here, it will be much easier to take advantage of the beautiful landscape and work without an office, or at one of the several big coworking spaces. Especially since massive VC investments haven't come to this part of the world yet, judging by how hard it was to find reliable information about the amount of funds poured into local companies, or about popular startups from Denpasar. It might also not be the right place to build a regular business like a software development agency.
This situation might change as time goes by, however for entrepreneurs who live there it doesn't matter that much – they appreciate Bali for the low costs of living, the scenery, and the ability to rest from the fast pace that's prominent across most other major startup hubs.
All in all, Denpasar looks like it's currently a great place for solopreneurs, distributed team members and bootstrappers to work from, but not the best place to build a fast-growth startup and raise funds quickly.
However, due to the interesting cocktail of cultures, inspiring scenery and a more laid-back approach to doing business, it might be just the place where some of the great startup thinkers of the next generation come from.
4. Bengaluru, India
The next stop on our tour of emerging startup hubs is Bengaluru (formerly known as Bangalor). Voted the most livable city by global HR consultancy Mercer (better than Mumbai and New Delhi), and world's most dynamic city by the World Economic Forum, it is popularly referred to as the Silicon Valley of India.
Engineers in this city are considered the most cost-efficient out of 20 top places considered in a recent report created by Startup Genome, however, the local business community doesn't necessarily want to be seen as the center for cheap custom software development services because there is much more depth to the Bengaluru startup scene. One local entrepreneur affably called the city a "concentrated pool of geeks", meaning a huge mixture of people from different backgrounds – startup and enterprise alike – exchanging ideas and brainstorming the next big thing.
Some of the most popular startups from this city include BYJU's, a local leader in educational technology that develops a learning application for young students; Quikr, an Indian classified advertising platform; and Flipkart, an Indian e-commerce platform that was bought by Walmart for $15bn.
The average cost of living for expats is almost as low as in Bali at $565 / month, but coworking is a bit cheaper at $91 / month. It's easier to rent an office here than it is in Bali, with average prices around $25 / square meter.
There's a lot of capital and access to it is relatively easy, because Bengaluru is home to at least 30 VC funds with very hefty budgets. Any entrepreneur will also appreciate various pro-startup initiatives run by the local government, like 10,000 Startups – essentially a network that connects startups with accelerators, incubators, investors and mentors, all under a common mission to build 10,000 new companies in Bengaluru before 2024.
Even though the tech scene there has been growing since the 1980s, it still has plenty of room to grow, and there will be plenty of exciting things happening here in the coming years.
5. Ho Chi Minh City, Vietnam
With 8,000,000 inhabitants, Ho Chi Minh City is the largest city in Vietnam, the nation's economic hub, and it accounts for 20% of the national GDP. Vietnam is among the most dynamic markets in Southeast Asia, where mobile penetration rates reached around 80% in 2017, making it a good market for a custom mobile app development company, or any company that offers mobile app development services.
Ho Chi Minh City is leading the Vietnamese market. A few of the biggest local startups include VNG, also known as Vietnam's first unicorn, which develops various types of applications, and Apotta, a game development/publishing mobile platform provider that boasts over 30 million users and is partnered with more than 15,000 developers, merchants, and advertisers globally.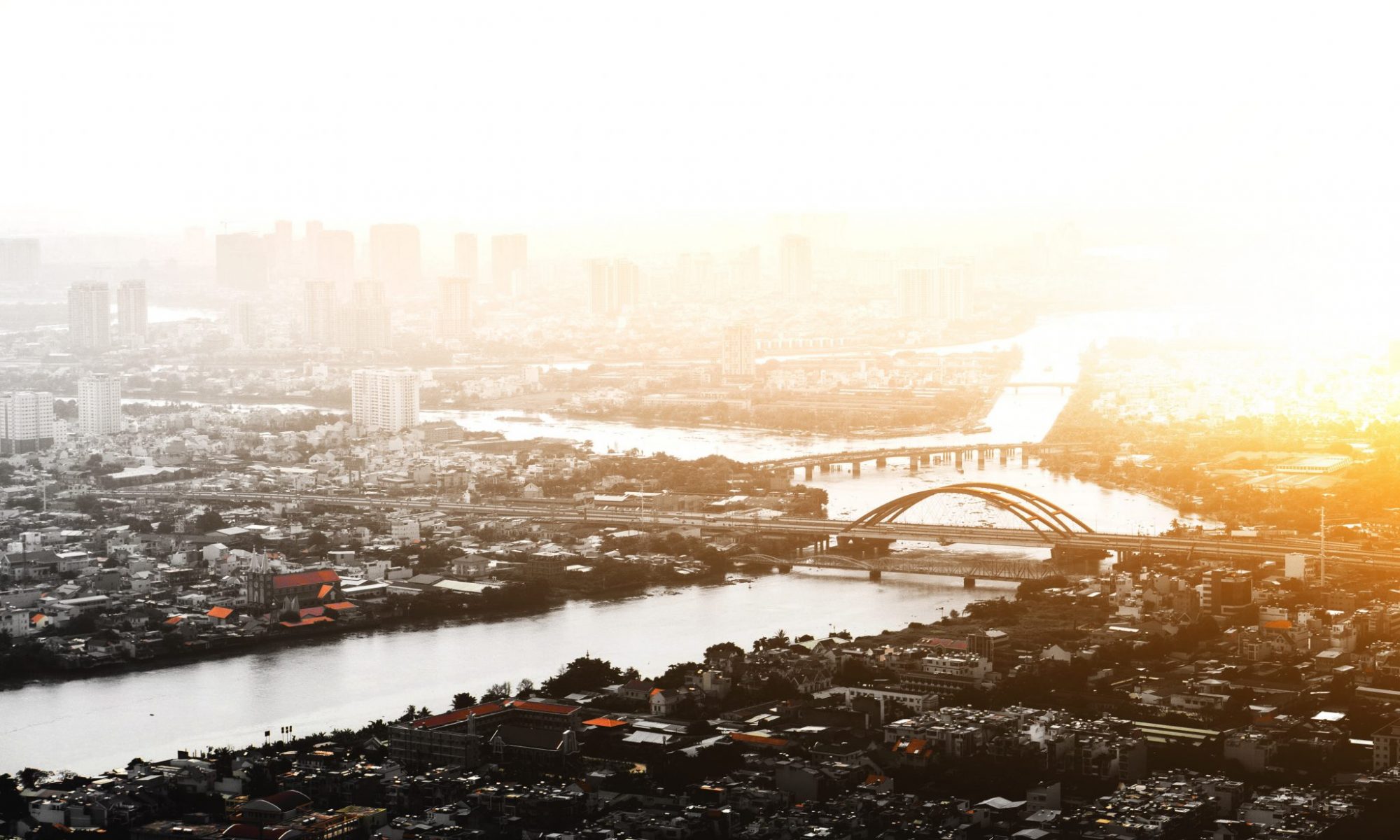 Source: Warren Wong on Unsplash
The Vietnamese government supports startups with projects like the Vietnam-Finland Innovation Partnership Program (IPP), which fund startup ecosystems, innovative companies, and high-growth companies. Ho Chi Minh City is home to a shining example of these projects – Saigon Silicon City – which aims to make the city into a much bigger startup hub than it is today. Funded mostly by overseas Vietnamese investors from Silicon Valley, the project plans to build an infrastructure for 24 enterprises, along with parks and various entertainment and leisure facilities.
The project is planned to attract about $1.5 billion in total investment when it's completed. To top it off, Ho Chi Minh City is a popular tourist destination with a lot of attractions. However, the business and tourism activity makes real estate expensive, which is reflected in high office rent rates – currently around $55 / square meter per month, but expected to grow to as much as $75 / square meter per month.
Apart from that, the city is a great destination for entrepreneurs who want to build innovative solutions in a supportive business environment with access to funding and a great startup community.
6. Wellington, New Zealand
The capital, and the Hollywood of New Zealand, Wellington was the center for the production of The Lord of the Rings and The Hobbit movie series, so if you've ever dreamt of living in a place that looks like Middle Earth – this is the only valid choice.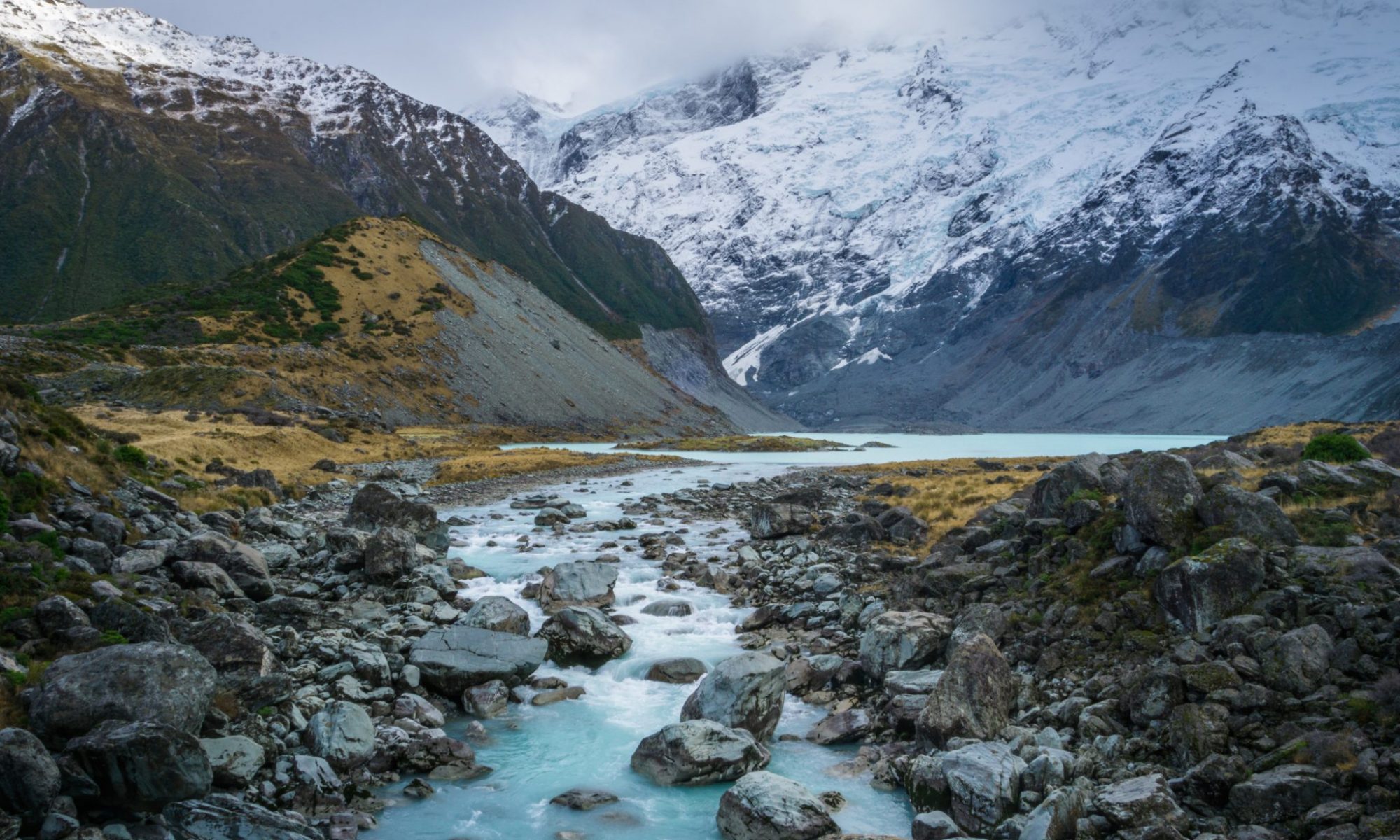 Source: Danny Postma on Unsplash
Growth in the IT industry has started flourishing after the 2008 housing crisis, when the government began investing in the tech sector to strengthen New Zealand's economy, resulting in $1.28 billion growth of the industry's contribution the national GDP between 2008 and 2013.
Supported by government projects, and driven by strong entrepreneurial activity, Wellington is a lively startup hub. With around 496,000 inhabitants, it is home to the biggest number of technology-based companies in the country. The list of noteworthy startups from Wellington includes Magic Leap, a next-gen mixed-reality startup valued at $4.5billion, and 8i, a holographic technology development company that raised $27 million from Time Warner Investments in 2017.
The Wellington-based Kiwibank Fintech Accelerator is an example attempt of local investors and institutions combining forces to fight for a chunk of the global FinTech market. The project aimed to provide funds and help eight local FinTech startups in building scalable products for the worldwide market. And so VC funding is possible but limited, however, there are also programs like Angel HQ, which enables cooperation between angel investors and young companies, or Callaghan Innovation, essentially an r&d center with a large team of experts that support local companies in developing innovation capabilities they wouldn't be able to achieve otherwise.
The average costs of living for expats are $1,780 / month, coworking spaces cost $255 / month, and office space rent rates hover around $28 / square meter per month. It's a great economic deal when you consider that starting a business here doesn't generate any additional costs, is completely free of the unnecessary burden of too much bureaucracy, New Zealand is the least corrupt country in the world, and that there is no capital gain tax.
All of this sums up to a very promising economic environment for entrepreneurial startup founders, talented tech workers, and investors.
7. Istanbul, Turkey
The cultural – and literal – bridge between Asia and Europe, this city has a population of over 15.000.000 people, and it is the financial hub of Turkey. It's also one of the oldest cities in the world with over 2000 years of history, and it has recently become popular in pop-culture due to Kedi – a documentary about the cats of Istanbul, which co-exist with the humans of the city in a beautiful symbiosis, making it the perfect destination for cat-loving entrepreneurs.
The currently uncertain political situation has forced Turkish startups to think globally, which is ultimately good for the ecosystem – but Istanbul still has room to develop in order to match the mature European hubs. Funding is available and growing – the largest local venture capital fund, 212 Capital Partners, was established in 2010.
In 2017, $166 million was invested in Turkish startups, and the numbers are expected to keep growing thanks to venture funds backed by global enterprises, and institutions like the Turkish Science Foundation that are also investing heavily.
Istanbul is home to notable startups like Insider, a growth management platform that closed a $10.5 million round as the first Turkish investment in the investment portfolio of Sequoia Capital, and Whole Surplus, a startup that connects retailers with food banks and fosters efficient management of food waste.
The average cost of living for expats is $841 / month, a spot in a coworking space costs around $93 / month, and the average office rent is around $30 per square meter per month. For all its beauty, magic, and good food, this is a city that runs at a breakneck pace, so it's probably best suited for the more restless type of entrepreneurs.
All in all, Istanbul is a very promising startup hub that is definitely worth watching in the coming years.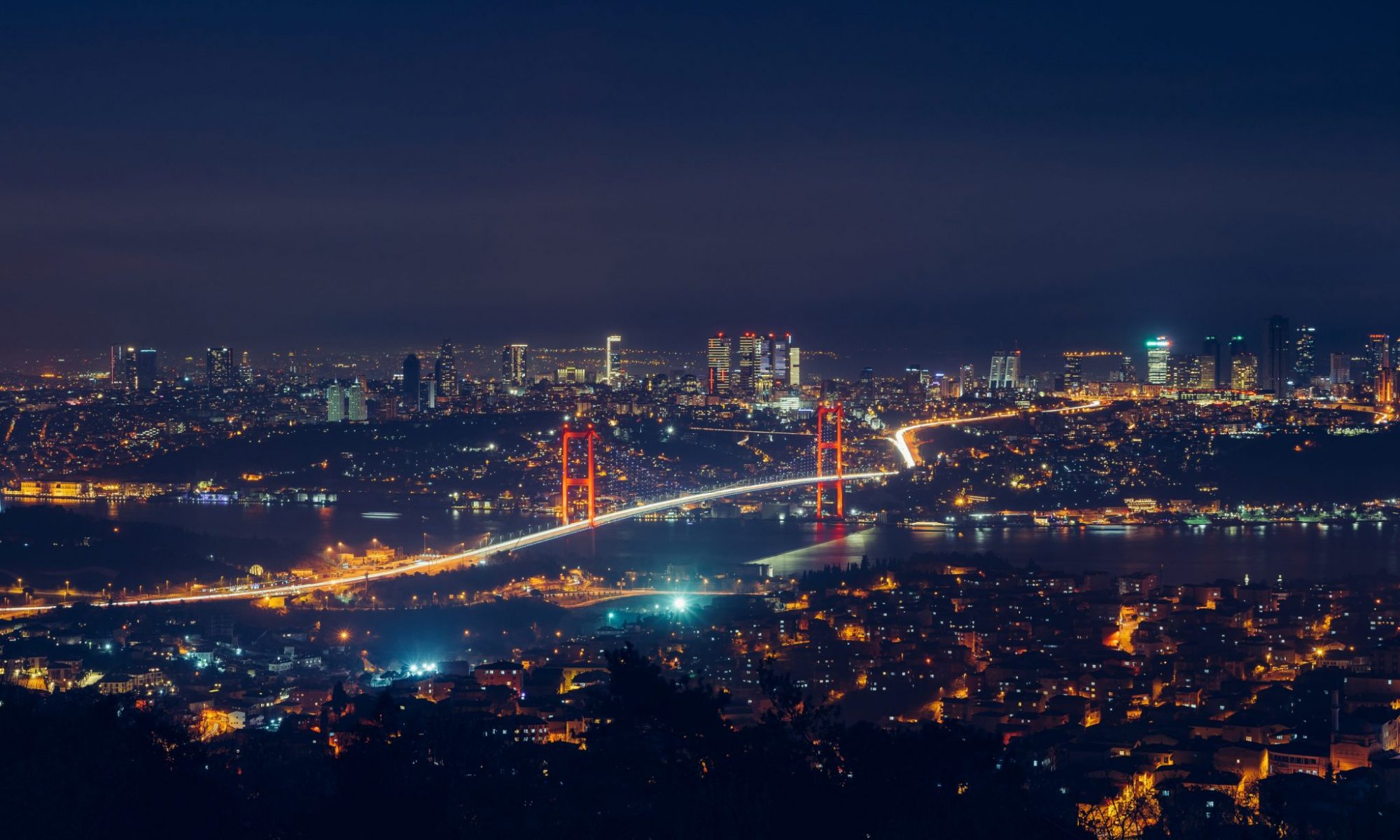 Source: Osman Köycü on Unsplash
8. Athens, Greece
Some might think this is a weird choice, and it is true that Athens can't be called a thriving technology hub – at least for the time being.
The Greek economy still has a ways to go before it recovers from the blows dealt by the recent financial crisis, but there are positive signs. In the past few years, Greek startups have raised about $280 million, so the community is active. And growth is exponential because the beginning of this year brought the announcement of Equifund, which in itself holds more than $340 million, being powered by the Greek economy ministry, European Investment Fund, as well as 9 additional private funds.
This will have a powerful effect on the local startup environment, and on the further development of Athens as another European startup hub. The effects are already showing with impressive Athen-based startups like Workable, recruitment software company that raised over $32m in funding, and ride-hailing application Taxibeat.
There is one peculiar thing about the local startup community – most founders aren't locals and an estimated 75% of them actually come from other European countries.
But this probably creates an even richer cultural environment for newcomers to explore – and there's already a lot, considering that this city was the birthplace of Democracy and many other concepts that were essential milestones on the road to the deep level of scientific understanding of the world that we have today.
The average cost of living for expats is $1,390 / month, a coworking space costs $222 / month on average, and office rental rates are average around $17 / square meter per month. Access to talent locally may be limited, however, there are always custom software development services.
All of this makes Athens a promising place for the development of another big European startup hub, and the development is well on its way – lots of good is sure to come out of it.
Wrap up
This concludes our rundown of 8 emerging tech hubs that are worth your attention.
As you can see, not every tech hub has to resemble Silicon Valley and although some ecosystems – like Ho Chi Minh City – try to become as similar to the original as possible, others – like Bali – can be completely different and attract entrepreneurs for reasons other than access to VC funding.
All in all, the internet has turned the whole world into one big digital village, and regardless of the startup hubs that they're headquartered in, companies need to have a global mindset.
We are Ideamotive and we provide custom software development services. We are open for cooperation with companies of any size, based anywhere. If you have a great idea and need talented engineers for bespoke software development, contact us, wherever in the world you are!