Project management is a multifaceted discipline that combines activity and resource planning with time and cost management, team leading, risk assessment, and customer service. On top of all these abilities, effective IT project managers need domain knowledge and an advanced understanding of business management. That's a tremendous skill set for just one person!
Luckily, as a project manager, you are not alone. To stay well-organized and keep your finger on the pulse, you have dozens upon dozens of project management tools at disposal. We've selected twenty of them that tick all the boxes when it comes to facilitating and enhancing your daily work.
Why You Need Project Management Software
From open-source mobile apps to enterprise-grade SaaS platforms, you can choose from an enormous collection of software project management solutions. Some applications, like Jira or Trello, are well-known and widely used, especially by large organizations that need a centralized, all-encompassing system. In our list, we have focused on slightly less obvious and more affordable alternatives that are a perfect match for tech startups, IT project management consultants, and fast-growing software businesses looking to:
improve team collaboration,

keep track of project timelines,

easily monitor work progress,

communicate with customers without hassle,

delegate tasks with ease.
How are these software solutions capable of delivering so many benefits? Let's see. Compare top features and prices, and find a solution that makes the best fit for your business.
Top 22 Project Management Software To Transform Your IT Projects in 2023
1. ClickUp
We start with ClickUp - a tool that we are currently using for managing our projects at Ideamotive. It's a brilliant, powerful and extremely pleasantly designed tool that will change your project management game, be that software development projects, marketing or sales.
It allows full customisation of your workplace and with pre-made views suited for various types of projects, including dedicated views for Sprints management, Scrum Points, Gantt Charts or Agile Boards you can easily set up your workplace in the way you need. ClickUp allows multiple integrations with all the tools you are probably using (some natively, some via Zapier) such as Google Sheets, time trackers, Slack, Github, Gitlab or Figma.
Top it up with real-time syncing, mind maps, in-build chat, smart search and multiple automations you can set up in just a few steps and you get the view of what ClickUp is.
They also made the process of switching as painless as possible - you can easily import existing projects from whatever tool you are currently using, be that JIRA, Asana, Trello or Google Sheets.
As mentioned before, ClickUp is a tool of choice for Ideamotive's team. If you want to learn how ClickUp is helping us manage our projects, please read this case study on ClickUp's blog.
2. monday.com
monday.com is a cloud-based team management platform with an adaptable dashboard and simple, visual layouts for a tailored view of all projects. Thanks to a broad set of templates and a massive integration catalog (including Slack, Zendesk, Office 365 apps, Salesforce, and Github, among many others), it is highly customizable and lets you work with any methodology. Centralized collaboration options allow team members to display all project details in one place, which helps reduce email noise and speeds up efficient collaboration.
3. Toggl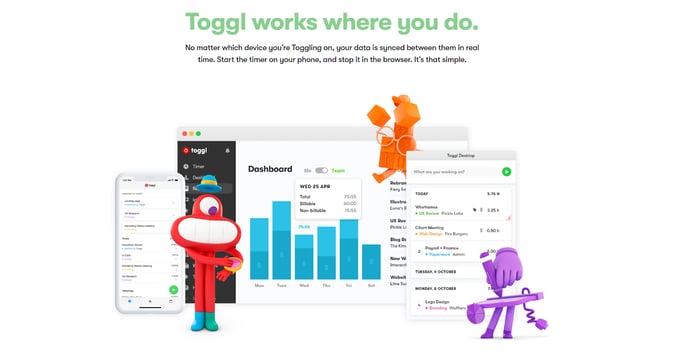 Toggl bets on simplicity, and gets rid of all clutter to make project time tracking quick and hassle-free. The solution works online and offline across multiple devices, and it facilitates time tracking and management with Pomodoro timer, email reminders, bulk entries, and one-click timers. One interesting feature is an automated screen capture of any website or app that you view for longer than 10 seconds. While it's primarily a time tracking app, Toggl also offers advanced features to provide you with data-driven insights into how things are going.
4. Smartsheet


If you're one of these project managers who love spreadsheets, this one's for you. Smartsheet is a portable application that combines project management features with a spreadsheet generator. It helps teams collaborate through a myriad of time-tracking, reporting, resource management, and task planning features, including program rollups, budget tracking, task automation, interactive forms, content collaboration, and much more. Custom branding options and a rich choice of pre-built components and add-ons make the solution easy to scale and match the requirements of tech startups and enterprise customers alike.


5. Scoro
Next in line is Scoro, a cloud-based all-in-one business management software for small to midsize companies in creative, professional services, and IT industries. The tool integrates all features for the time, sales, projects, reports, and finance management, and claims to be saving from 100-10K work hours per month, depending on the company size. To facilitate and streamline project management, it provides a custom dashboard that displays all account information, such as pending tasks, KPIs, calendar events, billing and invoicing details, approaching deadlines, and more.
6. Podio
Backed by Citrix, Podio is a flexible social collaboration tool, which allows you to customize the way you organize and track your projects. IT project managers can leverage it to create and share tasks and monitor their execution with file attachments, real-time comments, progress updates, and other options. GobiFlow, the solution's advanced automation tool, enables you to automate key tasks and set up triggers for essential time-sensitive actions, saving your time and facilitating management. The one-to-one and group instant messaging make Podio a great tool to work with freelance or remote workforce.


7. Basecamp
Here comes another fully-featured project management tool. Basecamp, like Podio, is best fitted for agile, creative projects that require the cooperation of contributors scattered among different locations. Projects are organized on a customizable message board to pitch ideas, post updates, and share feedback. All documents are neatly organized and accessible to project members (clients included); they can also be easily retrieved with the quick search feature. One lovable feature that's sure to steal the hearts of those who struggle with work-life balance is the possibility to pause notifications when you're on holiday, off work, or busy so that they don't steal your attention and feed your FOMO.


8. Todoist
Todoist focuses on boosting productivity through efficient time management. It is a freemium app that works on multiple platforms and devices, wearables included, and all leading web browsers. The tool allows you to add, monitor, and prioritize tasks, and share them with your teams. Features such as progress visualization and Todoist Karma (that adds gamification and competition to mundane task management) motivate you to move at a steady pace to keep the deadlines, while 24/7 data synchronizations, intelligent notifications, and real-time collaboration make it easy to keep up with your team's progress.


9. Asana
Another project management tool that provides quite extensive capabilities in the free plan is Asana. It's a feature-packed activity feed that lets you manage your IT, creative, and marketing projects from start to finish with beautiful data visualizations, rich reporting options, interactive timelines, and custom calendars and views. A single, customizable dashboard allows you to monitor your team activities in a single screen, and over 100 integrations with third-party tools give you all the required options in one place, without juggling applications. The premium plan also offers features such as CSV importer, custom fields, task dependencies, and project milestones.


10. WorkBook
WorkBook has been designed specifically for agencies and in-house teams to decrease the operational burden and streamline processes. It is a pretty comprehensive, scalable suite that combines CRM and pipeline management with a project management and collaboration platform and finance and accounting features. The particular modules offer a host of useful features from billing scheduling, cash flow forecasts, and end-month reporting, through client portal and email integrations, to comprehensive resource control and profitability monitoring. The greatest advantage of the solution is the modular structure that allows you to tailor the system exactly to your needs, without paying for needless functions.
11. Whereby
In the modern, remote workforce setting, no project manager can do without a video conferencing tool. Of course, everyone knows Google Hangouts and Microsoft Teams. Whereby offers a great alternative for those who look for a less sophisticated solution for their small to medium-size IT teams. It is a simple, easy-to-use app that you can run directly on any web or mobile browser without downloads. To join a call, you only need a link, with no irritating PINs or registration procedures. The solution also comes with custom branding for the ultimate professional look.


12. Join.me
Another video conferencing tool for smaller teams is Join.me, a simple service that can support up to 250 meeting participants, offering all the essential features at a reasonable price. Apart from organizing and joining video calls, the solution enables screen sharing, one-click meeting scheduling, whiteboarding, and audio and video recording. You can also brand it with your custom URL and personalized background, which is an invaluable add-on if you are working from home and forget to clean up your room before a serious business meeting.
13. Function Fox
Apart from a cool name, Function Fox offers some awesome features to PMs and freelancers who need to juggle different projects. It's an intuitive timesheet tool with a clean-cut design and interactive real-time reporting that helps you track time and expenses on all projects. At your disposal there are interactive Gantt charts, production schedules, customized dashboards, and progress reports. The project management module provides you with a clear view of your team's availability and outputs, and one-click task and action assignments ensure everyone knows what to do.
14. Paymo
Gorgeous, user-friendly design is one of the strongest benefits of Paymo, a robust work management software for SMBs. The platform covers all the key features that modern project managers need to streamline the execution of complex projects that involve the cooperation of multiple teams. These include Gantt charts, Kanban boards, real-time discussions and comments, visual reporting/project tracking, team utilization dashboards, and many more. The software also offers an invoicing component for quick cost estimates, fast invoicing, and automated expense tracking.
15. LiquidPlanner
LiquidPlanner bundles project management, budget management, and time-tracking features in an intelligent data-based solution marketed as 'the only Dynamic Project Management solution designed for fast-moving teams.' Indeed, the system offers smart scheduling where project details get automatically updated as your project needs evolve. This functionality saves project managers a great deal of time on manual work and allows them always to get the latest state of work. Other interesting capabilities of LiquidPlanner include cross-project visibility, integrated time and budget tracking, and contextual collaboration.


16. GanttPro

If yours is a medium or large IT organization constantly struggling with a mounting backlog of work, GanttPro may be exactly what you need. Over 500,000 project managers globally use it, including managers from massive corporations in the likes of Salesforce, HubSpot, SONY, DHL, and NASA. GanttPro, as the name suggests, is an interactive online Gantt chart software that lets you visualize the project's critical path, organize and schedule tasks, set due dates, milestones, durations, and dependencies, as well as manage teams. Despite the abundance of sophisticated features, working with GanttPro is fast and intuitive thanks to drag-and-drop simplicity and preconfigured templates that can be easily customized and extended.
17. Flock


The primary focus of Flock is on team messaging and collaboration, but the tool also features some basic features for productivity management. In Flock, your teams can communicate in real-time on customizable channels, make audio/video calls, and instantly and download share files. The platform drives greater project speed and efficiency with over 50 integrations with popular project management tools like Asana, Google Drive, or Todoist. It also enhances team collaboration with to-do lists, polls, note sharing, bookmarks, and reminders. Software project managers will also appreciate the ability to share code snippets directly in the app.

18. Hive
Hive powers productivity in top companies such as Google, Toyota, Starbucks, and IBM. It's a centralized, scalable project and process management platform that supports over 1,000 integrations and an exhaustive range of project management methodologies. Depending on your requirements, you can organize your projects into Gantt charts, Kanban boards, calendar view, or tables, to plan, execute, and analyze projects faster. The solution also offers robust communication features, covering email (fully integrated with Gmail and Outlook), instant chat, file sharing, and meeting notes. Hive also leverages AI and machine learning to provide actionable insights on team utilization and productivity and project risks.
19. Celoxis
Celoxis is yet another robust platform that is the most suitable for large, international software projects. The solution tops Gartner ranks for usability, functionality, and customer support, taking over Zoho, Mavenlink, Clarizen, and other popular project portfolio and collaboration tools. All features of Celoxis are neatly organized on a transparent, uncluttered dashboard. Customizable widgets and layouts reflect the comprehensive work dynamics involving geographically distributed teams, part-time resources, employee absences, and project dependencies. The software comes with a mobile interface and multilingual support to allow global teams to view, manage, and collaborate on projects, tasks, risks, resources, and timesheets.
20. WorkOtter
Teams that need a wide choice of project management features but find fully-fledged enterprise systems too complex (and expensive) might consider WorkOtter, a simple PM, resource, and portfolio management SaaS. Sustainable, yet powerful, it provides a consolidated roadmap to plan and control your active and past projects. Simple and effective web and mobile interfaces support agile management of projects, tasks, and resources through lightweight governance and automatic data synch with other systems. Out-of-the-box dashboards and drag-and-drop components make it easy to get started with the system fast.
21. Nutcache

Our last solution is Nutcache, an ultra-light planner, which is particularly beneficial for lean, agile-driven software agencies and freelance project management consultants. Nutcache features a plain, consistent user interface with easy-to-use visual lists, Kanban boards, and flexible templates that give you a clear vision of your entire workload. It also includes a time and budget expense component, which covers time tracking, forecasting, expense analysis, and invoicing.
22.
nTask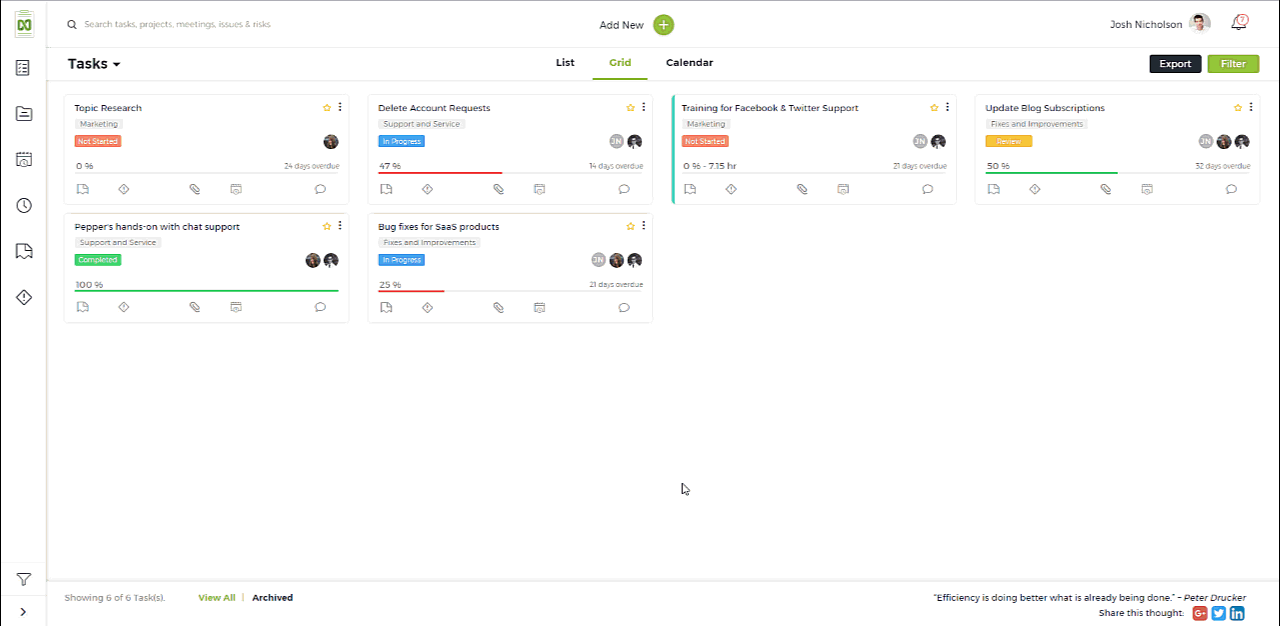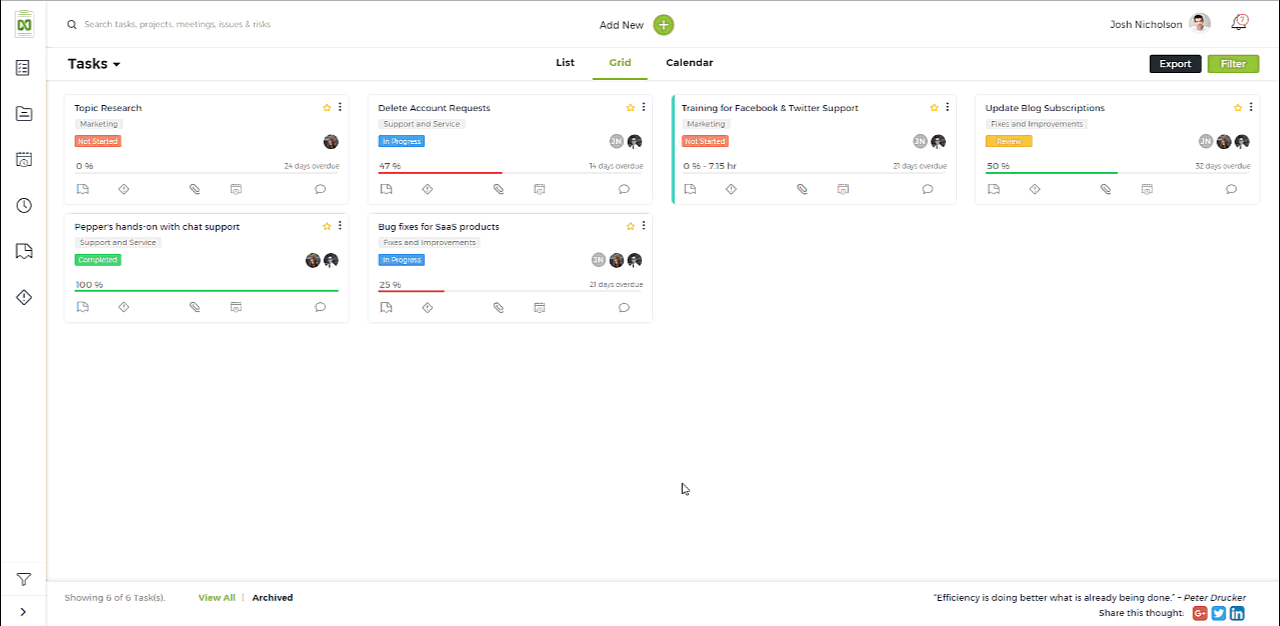 nTask is a roboust project management software that is simple to use and help manage multiple projects with ease. The app gives you the ability to assign tasks, track time, manage timesheets, run projects from execution till project close, track progress and real-time notifications. It can be used online or on mobile devices with Android and iOS apps.
The app offers advanced team collaboration features to bring distributed teams on a single page. The interactive Gantt charts helps in managing workflows visually. This is suitable for every type of businesses either startups or large corporations.
Which IT Project Management Tools to Choose in 2023?
Regardless of whether you're a seasoned PM or an independent software consultant, smart tools like the ones listed will help you keep track of your projects and teams and stay more productive. To take maximum advantage of these solutions, consider your needs, find out how much you are prepared to spend, and only then decide which software will add the most value to make your projects run smoothly.
And if you need a hand with integrating or customizing project management software or developing your own solution, you know where to find us.