You already know so much about Java! How it began, where it is used, what frameworks and libraries are the most common... But to get a complete picture of the impact of Java programming on your project, you still need to know its benefits and shortcomings. So we will tackle them now.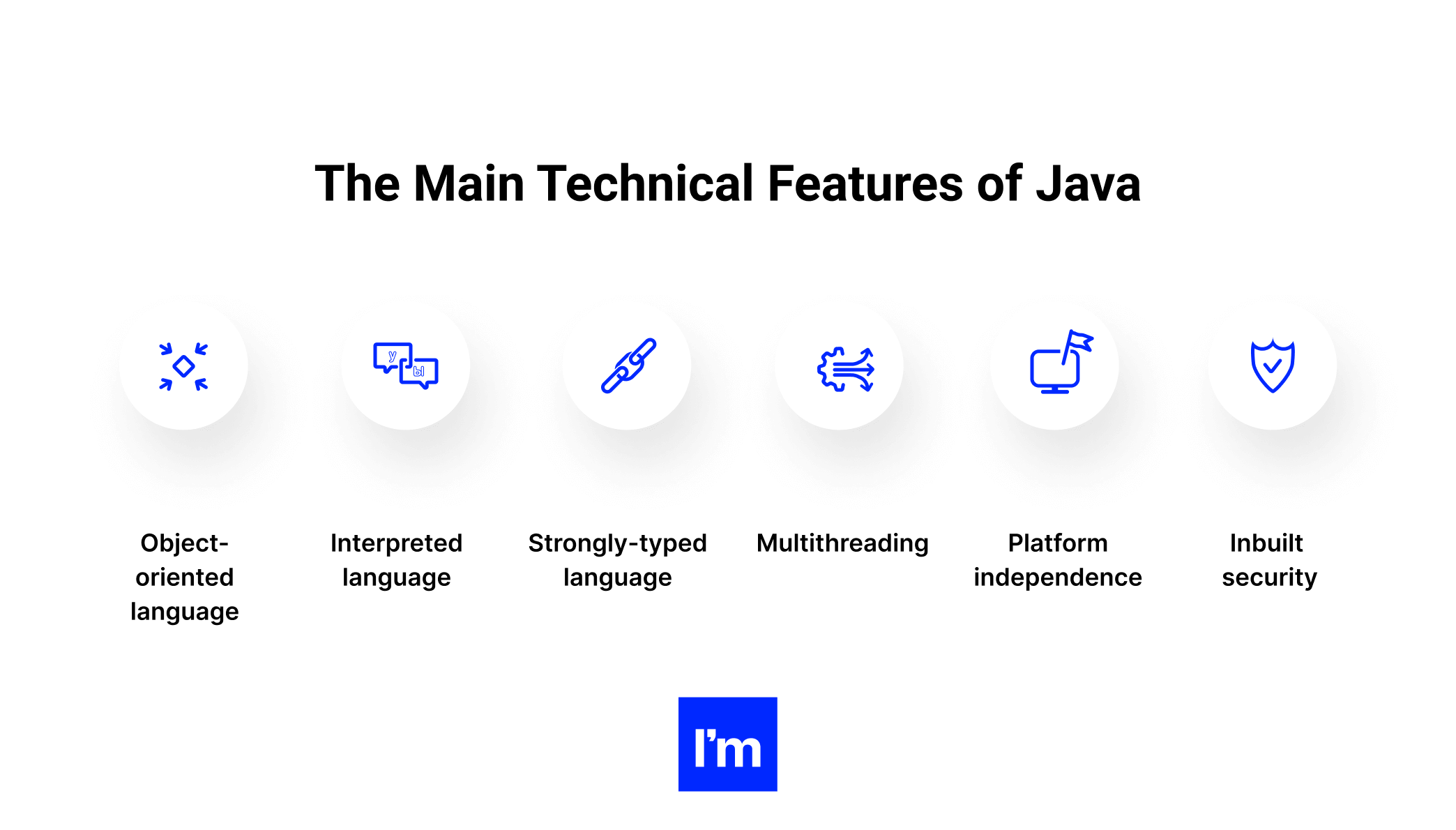 Before we dive deep into the pros and cons of using Java, let's decipher some key technical features of the language, as they have a bearing on its business relevance.
Java as a language is:
Object-oriented language: In Java, everything is an object, made up of fields and attributes, as well as methods and procedures. Additionally, Java objects can be reused between programs. As a result, programmers can split large projects into compact, manageable parts, facilitating and speeding up coding.
Interpreted language: Java implementations interpret and execute instructions on the fly without storing the bytecode anywhere. This results in more flexibility and faster development.
Strongly-typed language: Each object must be assigned a data type (e.g., integer, character, etc.) that does not change once declared. When a programmer declares a variable of a certain type, the inbuilt compiler will check that it is always assigned values of that type and no other. The advantage is that you can spot and eliminate certain errors before the program is executed, reducing runtime errors.
Multithreading: Java introduced the concept of multithreading to the programming world. In simple terms, it is a feature that allows simultaneously executing multiple tasks, represented as threads. The goal is to enhance performance, simplify coding, and reduce development time.
Platform independence: Unlike many other popular languages, Java compiles into platform-independent bytecode. Each operating system has a unique

JVM

, which then converts the bytecode into the platform-specific machine language. The gain? A programmer can write Java code once in the OS of their choice and deploy it on all other OSs that support JVM without doing any handwork.
Inbuilt security: Java comes with several features that make the code much less vulnerable. They include a Security Manager and a vast range of APIs, tools, and implementations of security algorithms and protocols.
Now let's see how these and other technical aspects of Java pour over its business advantages (and disadvantages).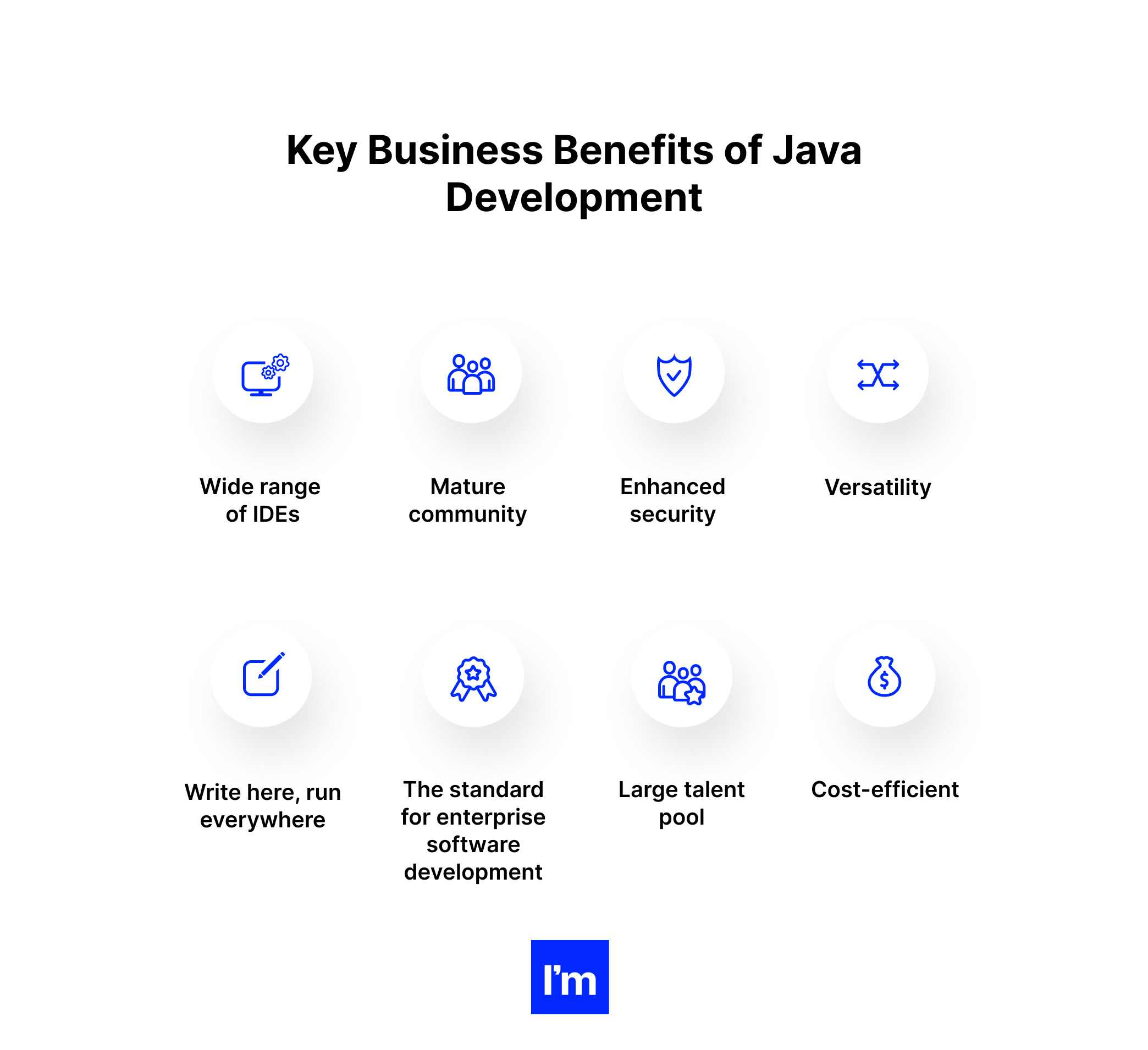 Java comes with a bundle of advantages that make it worthwhile for business. Intended for developing complex, reliable applications, it powers some of the most well-known software today. And which Java pros, in particular, compel business decision-makers to go with the language?
Wide range of IDEs
There are many Integrated Development Environments (IDEs) in Java, bundling all the tools needed to write Java code efficiently. The most popular Java development environments include Eclipse, IntelliJ IDEA, NetBeans, and BlueJ.
The vast selection of IDEs most primarily benefits programmers, but it also provides a business advantage. How? Allowing developers to choose the environment they feel at ease with improves the programming experience and speeds up the workflows. And this, in turn, reflects positively on the project delivery times and software quality.
Mature community
Even as a mature language, Java is constantly improving, thanks to the unmatched community of supporters. Used by over 35% of software specialists, it ranks among the top programming languages in the computer science curriculum at universities worldwide.
Data from popular online learning and teaching marketplaces confirm relentless interest in the language: Udemy offers nearly 1,000 courses in Java on different levels, while Coursera search shows almost 1,500 results for the Java-related query. Interestingly, Java community efforts have been formalized. In 1998, the Java Community Process was established to ensure Java technology's standard of stability and cross-platform compatibility.
Enhanced security
Java has always stood out in terms of security. Many factors contribute to that, some of which we have already listed above. On the whole, Java offers a well-defined access policy together with advanced access control and authentication mechanisms. The language also uses a variety of cryptography techniques and public key infrastructure policies and procedures.
Additionally, Java sandbox provides developers with an isolated space to securely run and test their apps without accessing the local disk or the company network. Finally, the language is very stable. These features make Java a popular choice in finance and banking apps, healthcare software, and telecom solutions.
→ For more examples of Java use, go back to the section What can you do with Java?
Versatility
Java features such as dynamic coding, platform-independency, and network-centric design make it applicable in various platforms and industries. Additionally, it offers a massive collection of frameworks and libraries written specifically for given sectors. Add a large pool of developers to the equation, and you'll know why hundreds of thousands of companies in the world use Java, including 90% of Fortune 500 businesses (as the Internet has it).
Write here, run everywhere
Another hugely important benefit of Java is its portability. Platform independence means no changes are needed to ship the source code to different end-user devices or platforms. As a result, programmers can deliver the project far more quickly, as they only need to write the code once and then deploy it whenever necessary. Additionally, high portability positively impacts the end-user experience, as the users can seamlessly transition between different devices and keep their work in Java-based apps consistent. This is especially relevant in the era of BYOD and remote/hybrid collaboration.
The standard for enterprise software development
Built by Oracle to support enterprise-grade apps, Java shines in corporate applications. One reason for that is the multitude of libraries and frameworks adapted for specific purposes. Additionally, Java rolls out to multiple devices and OS types, making it ideal for supporting the needs of modern dispersed corporate teams.
Enhanced security features shipped with Java are yet another benefit not to be missed by enterprises. Last but not least, Oracle is constantly improving and upgrading the language. JDKs and associated software releases come out regularly every six months, which significantly boosts Java's reliability and innovation.
Over 51 billion JVMs are currently running worldwide (Oracle)
Large talent pool
There's a certain discrepancy when it comes to the estimates of Java developers' workforce. But whether it's 7.5 or 10 million Java specialists, one thing remains true - Java is one of the most widespread and popular programming languages in the world. As a result, finding qualified Java programmers is relatively easy compared to less prevalent languages. And the faster you build your Java dream team, the sooner you'll reap the rewards of your completed project. Want to start now? Have a look at our stellar Java experts.
Cost-efficient
As we highlighted in the beginning, Java is no longer 100% free for commercial projects. Since 2019, Oracle has embraced a subscription-based model, which means that to develop your commercial project in Java, you'll need to cover a small fee that depends on the number of developers and the features required.
Despite that, there are many ways in which Java helps businesses drive the project delivery costs down. As it is technologically agnostic, Java does not require any extra infrastructure investments. Instead, you can use the existing hardware to bring your project to life. Besides, Java's portability translates to time efficiency. Developers enjoy the freedom of using the OS they feel the most productive with, and they don't need to duplicate their work to support different end-user systems and devices. That's a huge time-saver, which also helps save a pretty penny.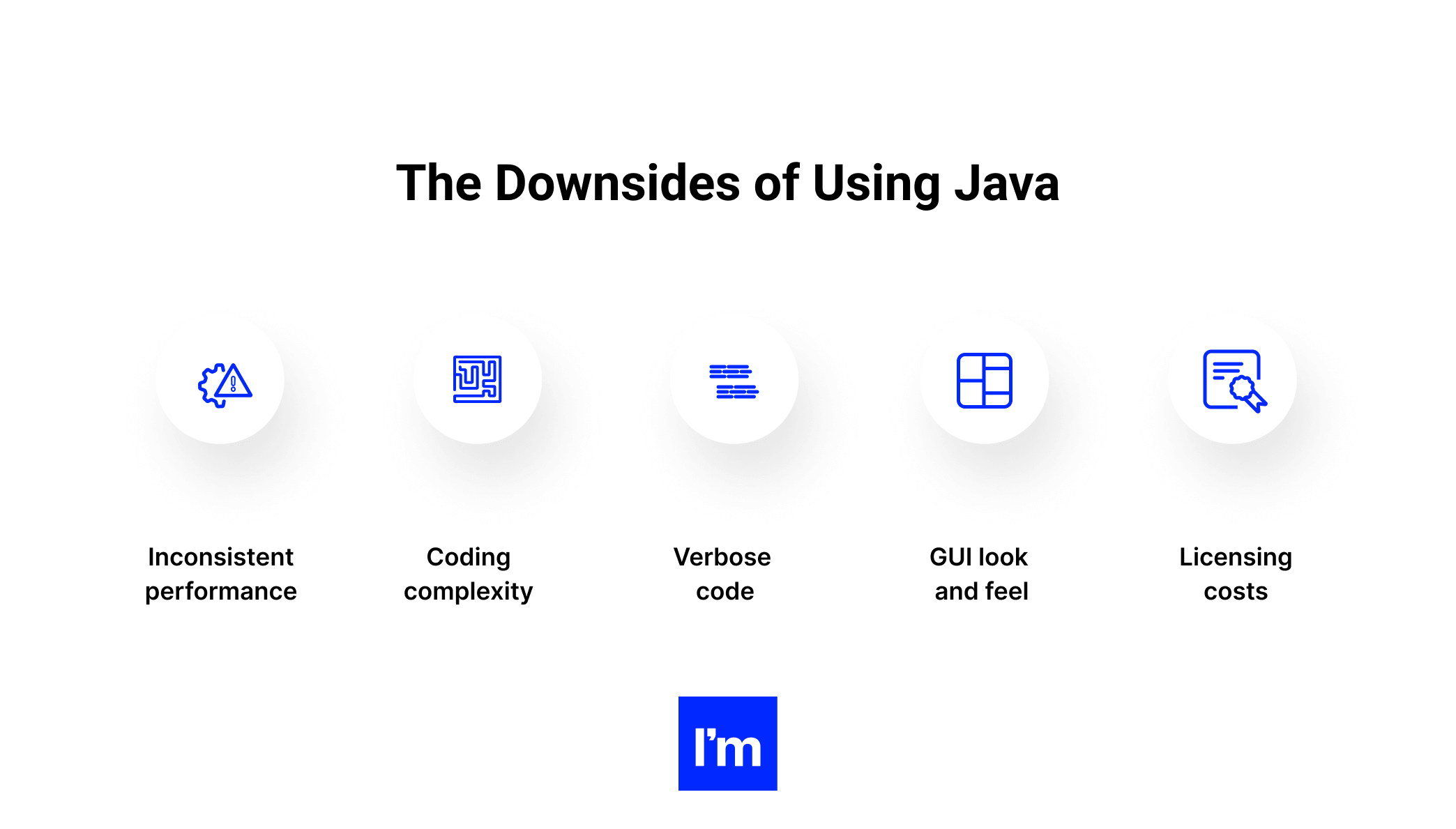 Every coin has two sides. So, let's see what Java features do not work in the language's favor.
Inconsistent performance
Performance is Java's weak spot, based on several factors. For example, the poor use of garbage collection increases the memory space required for processing Java code. Or, reliance on JVM means that the code is interpreted at runtime, which causes a drop in performance. The introduction of the just-in-time compiler has given Java's processing speed a considerable boost, but it remains inferior compared to languages like .NET, Go, or Rust.
Coding complexity
Opinions are divided as to whether programming Java is simple or difficult. Some developers claim that learning and using Java is straightforward, as the syntax is clean and the language drops many confusing concepts, like pointers or operator overloading. Only about 50 keywords are needed to build Java code, the portions of which can be conveniently reused across a project.
While all of this is true, many programmers complain about Java's complexity. That's because the trick of the trade to mastering Java isn't to learn the language but to grasp its APIs. And there are thousands of them. Besides, getting familiar with dozens of Java toolkits and deciding which ones are the most suitable for a particular project takes time and effort. As a result, becoming proficient in Java is easier said than done.
Verbose code
Java syntax reads easily, and it is relatively easy to understand in isolation. However, the language has a bad name for being quite verbose, i.e., using too many words to execute an action (compared to other technologies). Programming in Java tends to produce considerable amounts of boilerplate code (i.e., code portions that must be reused repeatedly in a program with little alterations). This affects code readability and may impact the program performance and memory use in large projects.
On the other hand, verbosity is not an entirely bad thing, as it makes it easier for the Java compiler to debug code more effectively. But it certainly takes a lot of developers' skills and experience to produce more concise Java code.
GUI look and feel
Unfortunately, the look and feel of Java-based applications often leave a lot to be desired. While programmers can choose from several GUI builders, none of them uses fully native GUI components. This makes developing modern user interfaces quite challenging in Java, especially in complex, multi-functional business applications. It is possible but requires advanced Java skills.
Licensing costs
Since Oracle introduced a new commercial licensing model for Java in 2019, commercial users need to pay for updates, bug fixes, and Oracle's support. While the fee is rather low, it is still there. Besides, a failure to renew the subscription ceases your rights to use any software licensed under it, which might be a showstopper for some businesses considering Java use.