Driven by the growing emphasis on proactive and personalized patient care, digitalization in healthcare is in a state of continuous development. Moreover, the exponential growth in health data calls for more software in medicine.
While the industry has been notoriously reluctant to adopt IT technologies, healthcare professionals changed their attitude between constant lockdowns and the shift to telemedicine imposed by the pandemic. As in-person non-urgent care services ground to a halt at the pandemic's peak, many of them moved online, hoping to build resilience in tough times and maintain the level of service.
And indeed, these tactics proved successful, as 51 percent of patients surveyed by Accenture said they hadn't noticed any change in the access to healthcare services since the onset of the COVID-19 crisis, while 26 percent more pointed out that it had even improved.
And what kind of software do healthcare organizations use to enhance the delivery of patient care and make their staff more productive? Let's briefly review the most popular of them.
EHR/EMR software
Electronic medical documentation (EMR—electronic medical records and EHR—electronic health records) has become a standard solution in modern healthcare facilities. Indeed, according to the CDC's data, nearly 90 percent of US office-based physicians use an EHR system.
Considering the scope of features these solutions offer, it's hardly surprising. Even so, many of these platforms leave a lot to be desired, especially if they are poorly integrated with other systems and apps, or based on legacy technologies and running locally, instead of in the cloud.
"We must do a better job with our electronic health records. It takes up way too much time and it is taking clinicians and nurses away from their patients to the point where it is taking their joy away."

Bernadette Melnyk, Ph.D., RN, APRN-CNP, is chief wellness officer of Ohio State University and dean of the university's College of Nursing

[Source]
EMR and EHRplatforms collect and centralize all patient information and treatment history, provide data reporting and visualization, enable invoicing, payments, reimbursements settlements, and extend patient portals for self-service. They also streamline patient-provider communication and allow clinicians to stay on top of their patient's health data.
Examples: Epic EMR, GE Healthcare, Praxis EMR, CareCloud, Nextech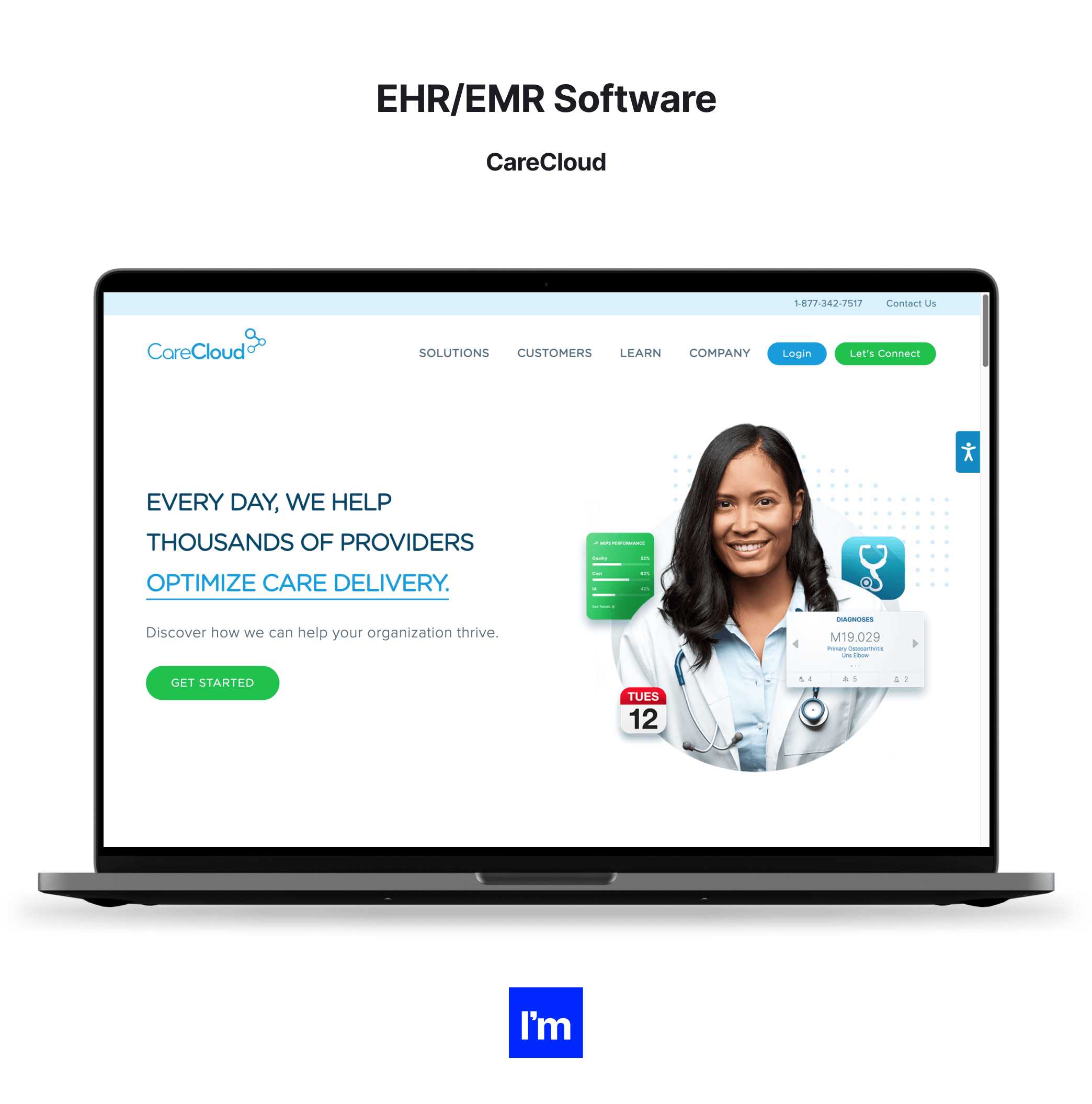 Healthcare staffing software
The healthcare industry is permanently understaffed. To that end, healthcare staffing systems can help find and recruit qualified personnel faster and more efficiently. These are all-embracing HR systems that streamline the entire recruitment lifecycle through automation and integration with other systems and services. As a result, staffing agencies and internal HR departments in clinics, hospitals, and other medical facilities use them to become more productive and shorten their hiring process.
Designed with compliance and audit trails in mind, healthcare staffing solutions improve placements for permanent and temporary positions, allowing organizations to fill vacant positions faster, onboard new hires more easily, and effortlessly manage staff, finances, and credentials.
Examples: Erecruit, NextCrew, AkkenCloud, 1Staff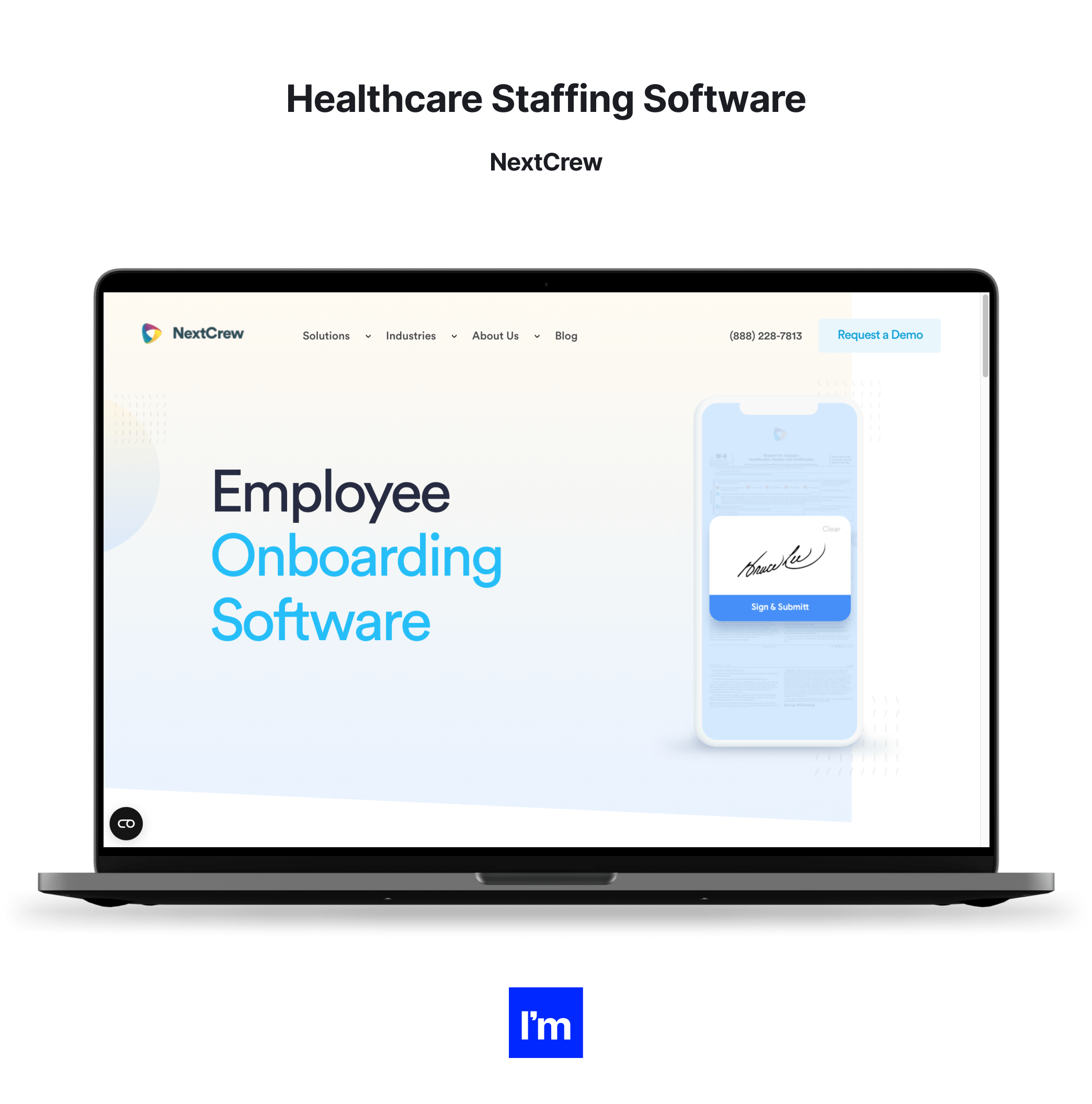 Medical inventory software
Medical device management software helps visually track medical supplies and equipment in real-time and identify their details, like location, price, condition, quantity, etc. Hospitals use it to streamline facility logistics and automate manual stocktaking. In addition, these systems usually include an asset reservation and scheduling module, a certificate retrieval system, invoicing functions, and integration with third-party systems.
Examples: HospiLogix, Sortly, Hybrent, Medstar HIS, Arbimed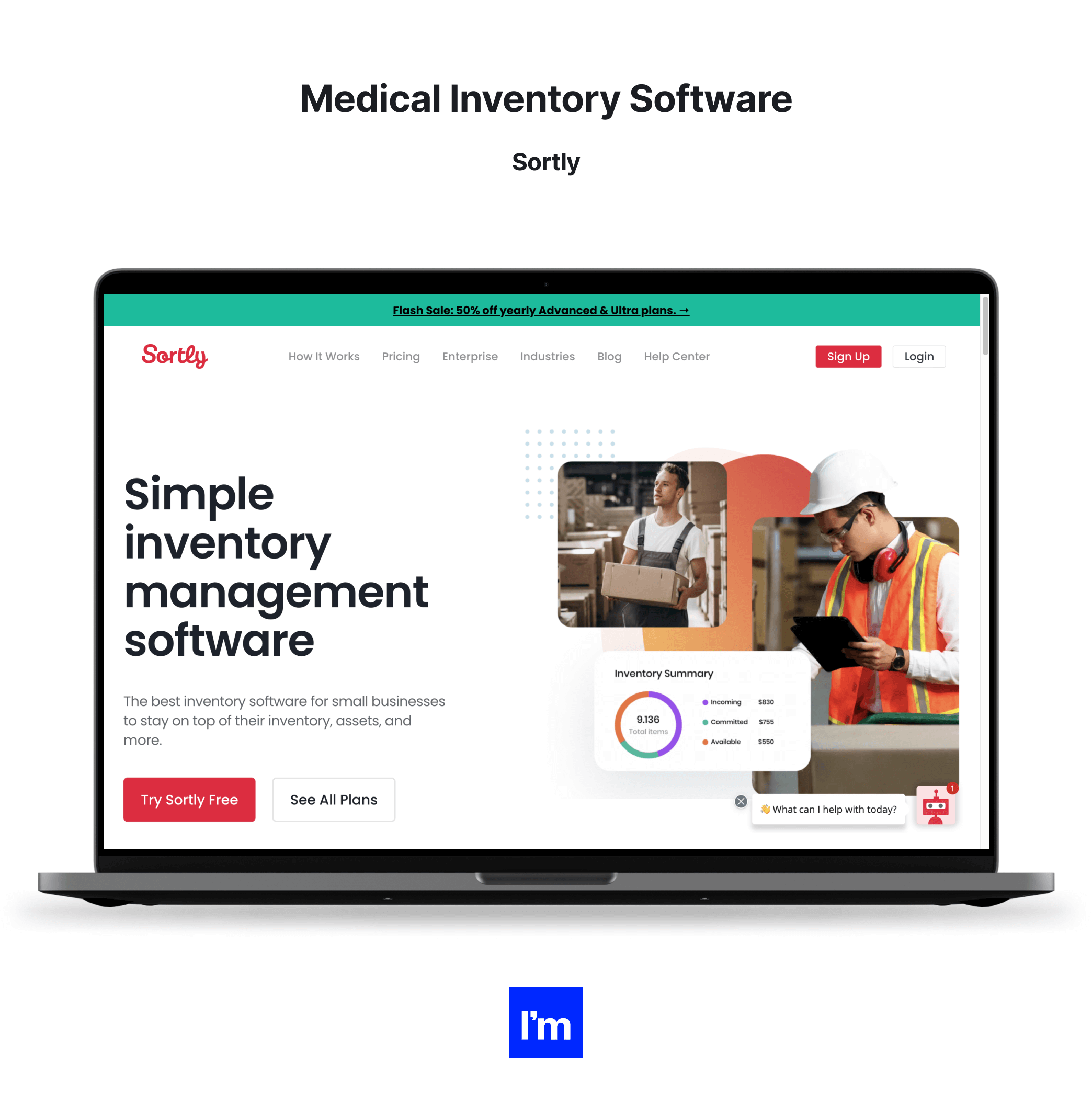 Hospital management software
These platforms are more comprehensive than inventory systems and facilitate day-to-day hospital operations for doctors, nurses, and admin staff. They streamline the management of all paperwork related to each patient, automate workflows, and simplify tasks.
HMS solutions help with patient admissions and discharge, updating lists of doctors and nurses, keeping track of appointment dates, managing HR and payroll, tracking bill payments, issuing invoices, and more.
Examples: Medstar HIS, Docpulse, SoftClinic, RicohDocs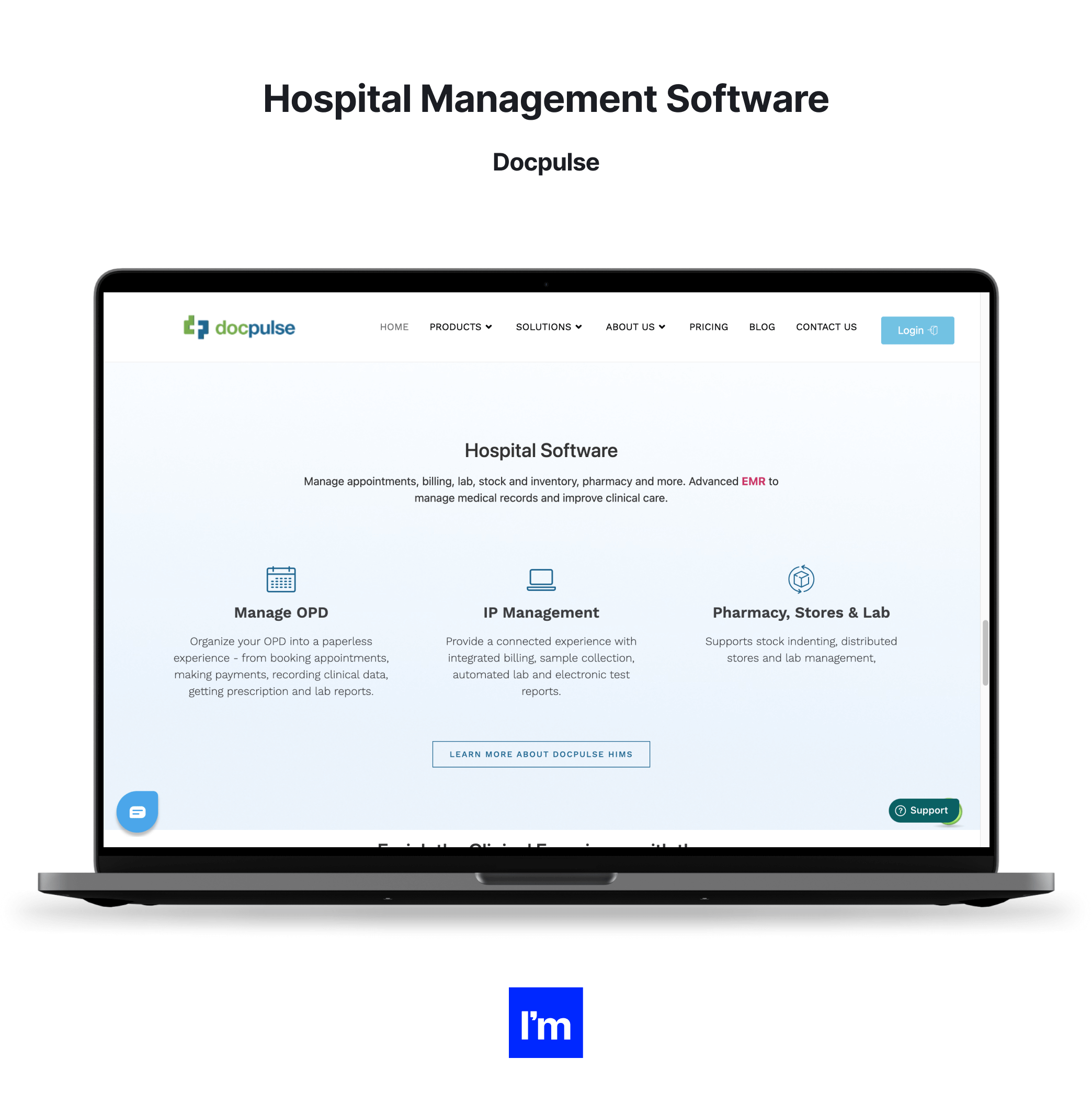 Medical imaging software
As the name suggests, this type of software helps medical professionals create, track, store, manipulate, and manage patient images. It uses deep learning algorithms to quickly read and analyze images and identify anomalies.
Medical imaging systems primarily process CT, MRI, PET, x-ray, and other scans. However, some solutions also allow technicians to create 3D models of medical equipment or human body parts.
Examples: Arterys, UltraLinq, Carestream RIS, Merge Healthcare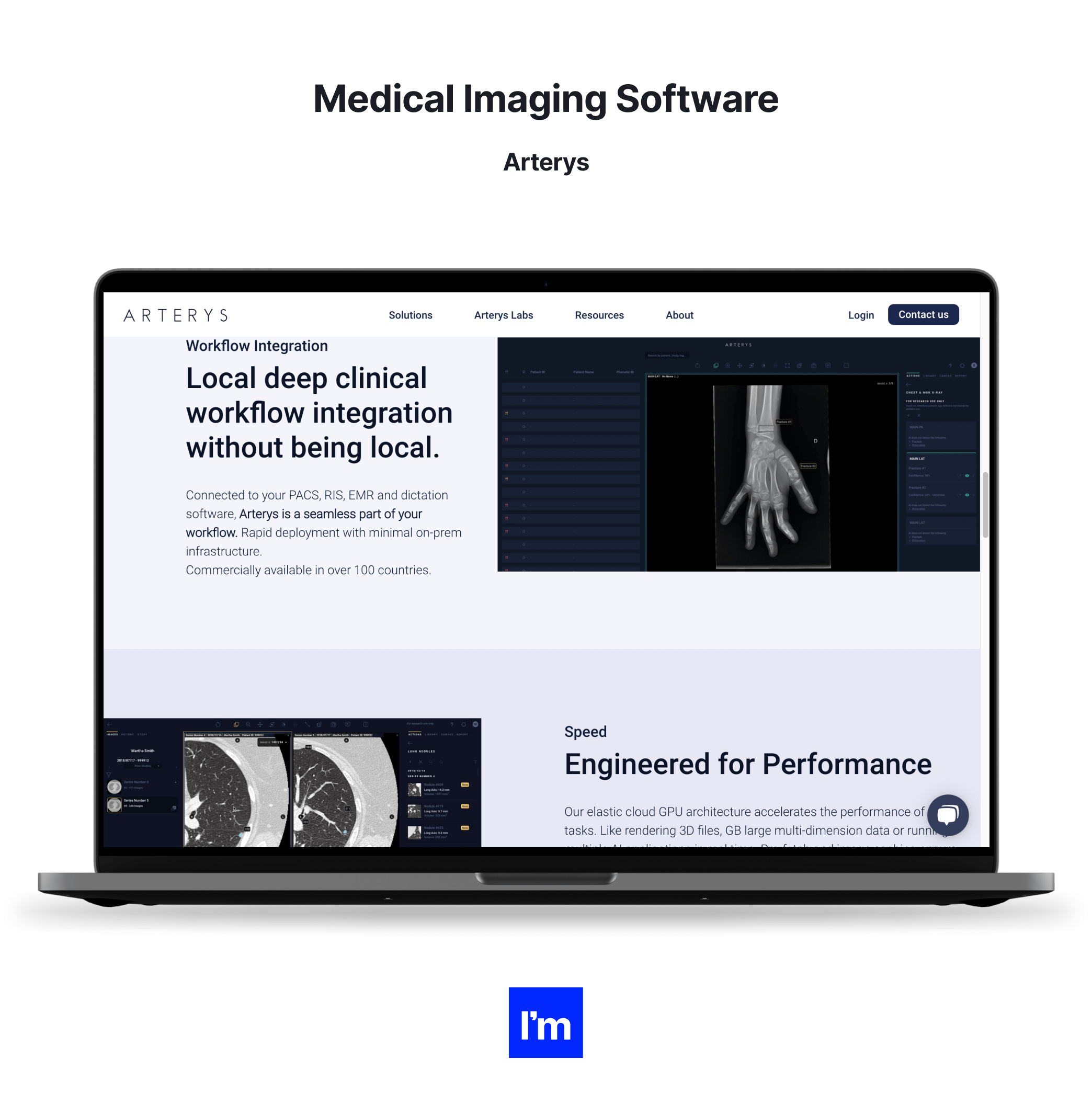 Medical diagnosis software
AI-powered medical diagnosis solutions ensure accuracy and minimize the risk of error in diagnosis. They handle information from medical equipment and other sources to produce reliable results.
Medical diagnosis systems typically support clinicians in making a correct and quick diagnosis, reducing manual processes, and identifying specific patterns. However, apps such as symptom checkers and self-diagnosis tools also allow patients to determine if they should seek a doctor's help.
Examples: folio3, Symptomate, YourMD, FPT Software, Zühlke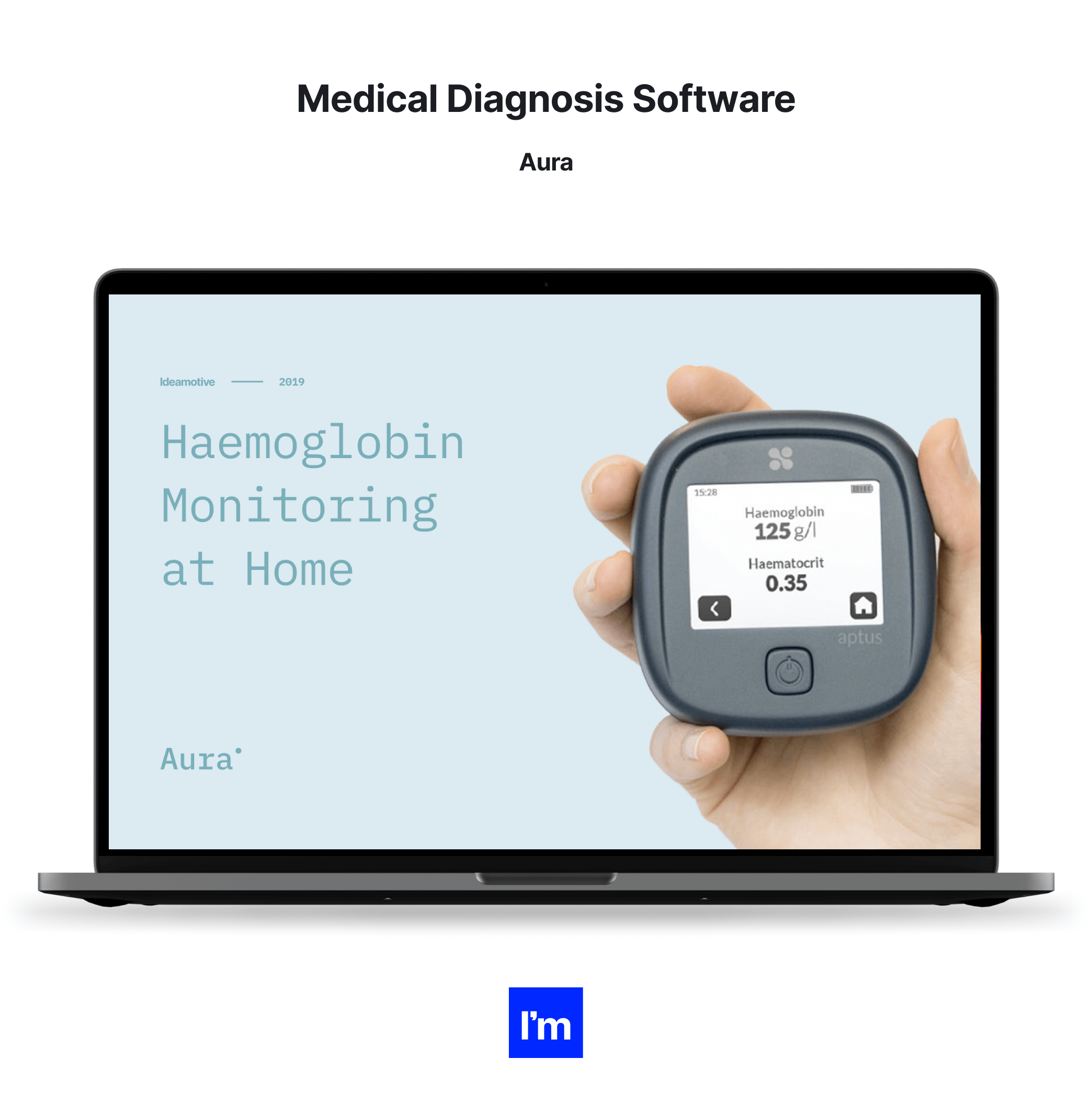 E-prescribing software (eRx)
Electronic prescribing software helps physicians and practice administrators save time with an efficient digital process. It allows healthcare professionals to easily browse and select drugs in a database, check drug and dosage information, and create and electronically send a prescription to the patient without the need for an on-site visit.
The top solutions are fully compliant with the healthcare and data protection regulations, offer secure data handling capabilities, and often come with e-prescribing mobile apps.
Examples: MDToolbox, RXNT, MediTab, ScriptSure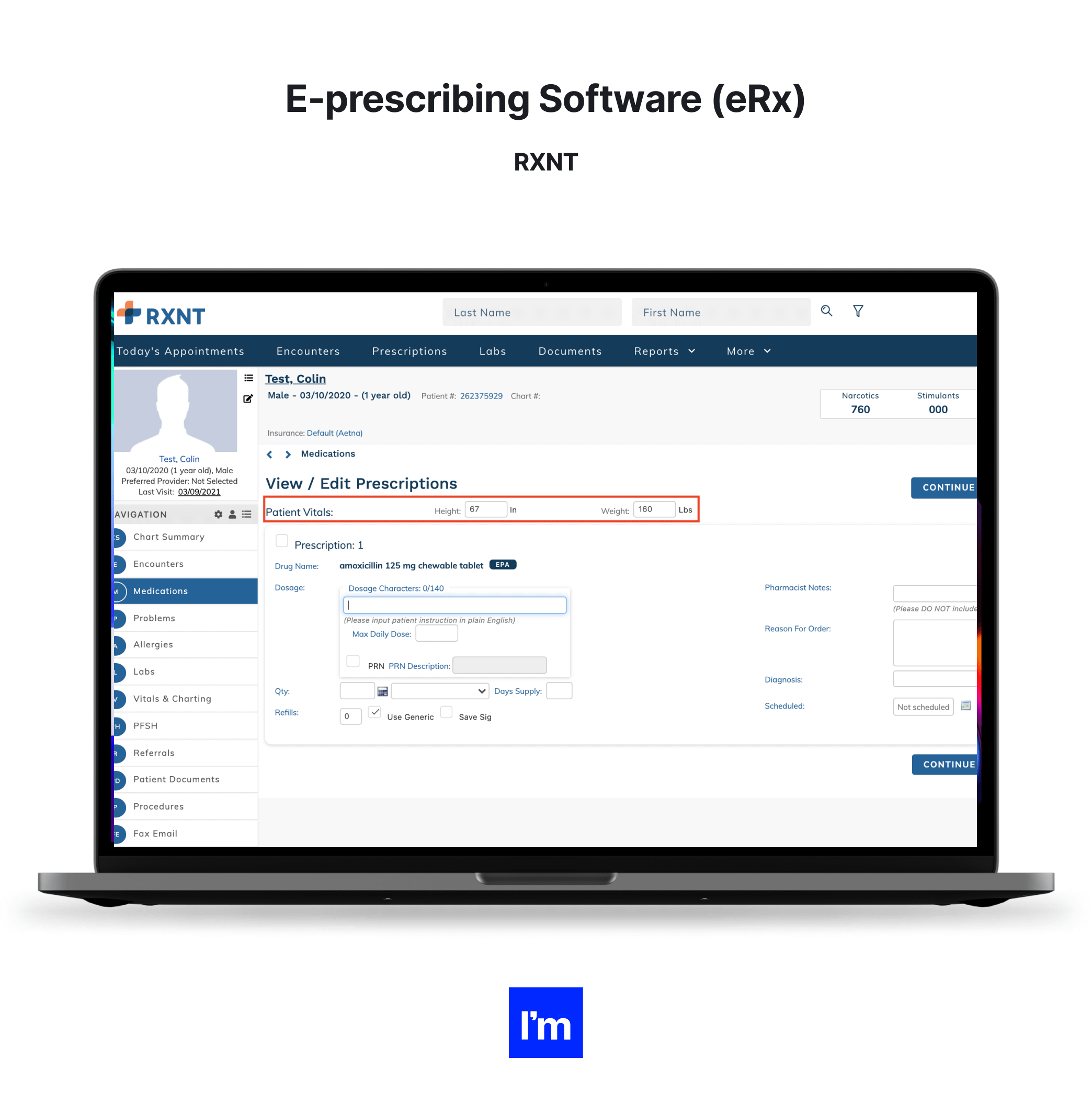 Appointment scheduling software
Healthcare scheduling software automates the patient booking process for medical offices. It coordinates the clinicians' calendars with patients' requests for visits, confirms available time slots, and sends out appointment reminders.
Other features found in advanced healthcare scheduling software include dictation-based appointment booking, real-time location tracking, an offline mode, and suggestions on the best route to reach the facility.
Examples: Timify, Skedulo, SimplyBook.Me,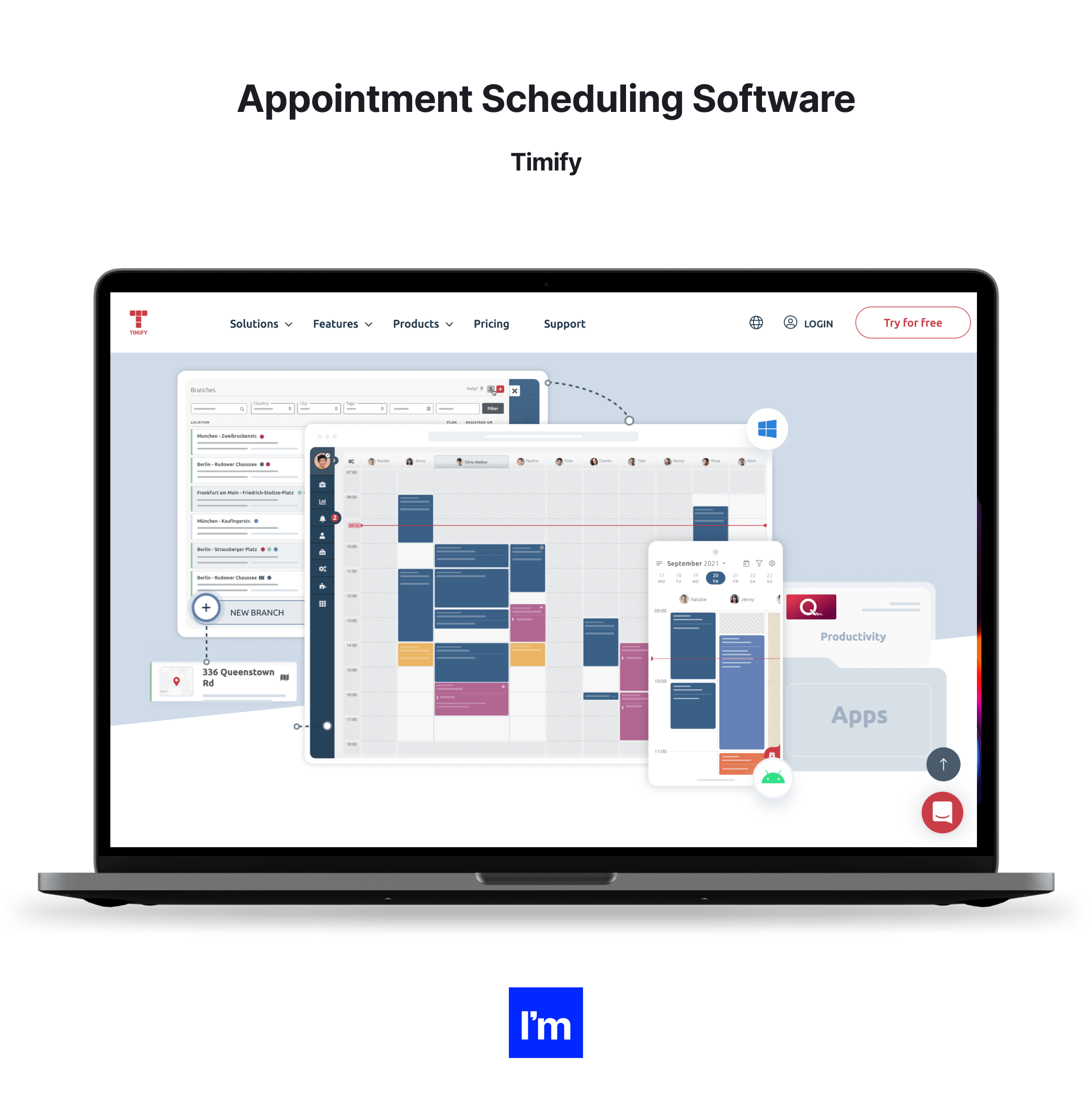 Telemedicine software
We couldn't forget telemedicine platforms that enable remote patient visits. These solutions combine video conferencing, instant message chat, and voice calls with image sharing and clinical documentation to meet patient needs for virtual care delivery.
Some telemedicine platforms additionally feature billing modules, virtual waiting rooms, and e-prescribing features. However, regardless of the functions offered and the device used for e-consultations, all telemedicine systems must include data encryption and security features to ensure data safety and confidentiality.
Examples: SOC Telemed, Doxy.Me, Chiron Health, Avizia, MD Live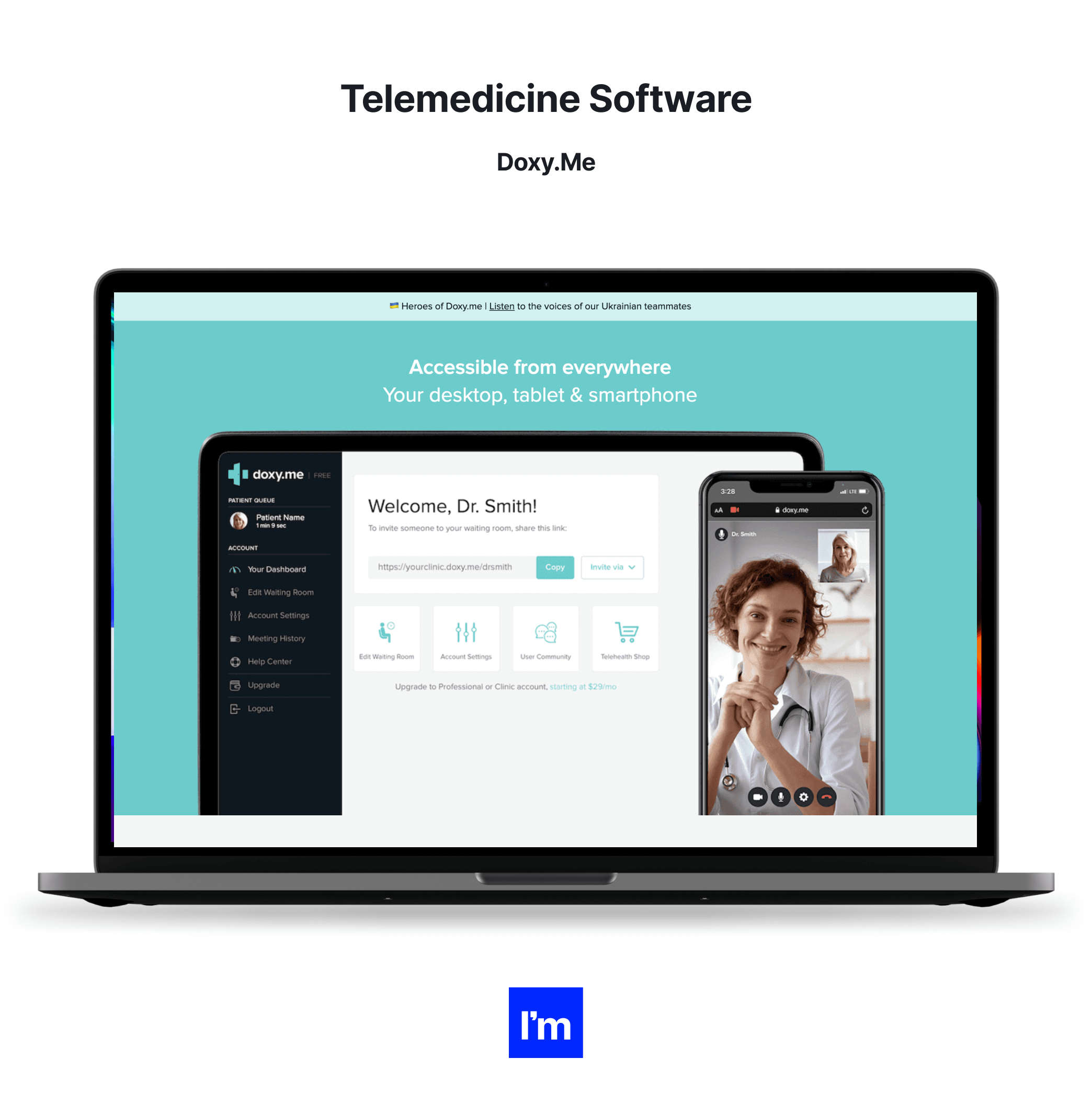 Medical billing software
Medical billing applications automate the healthcare billing process. They help practices and hospitals process invoices, payments, insurance claims, and other issues related to finances. Advanced billing software offers extensive analytics and reporting functions and can even include predictive components to optimize financial decision-making for healthcare facilities.
Apart from systems used specifically for billing and payments, many companies also use healthcare contract management software for settlements with third parties and subcontractors.
Examples: NextGen, AdvancedMD, EpicCare, CureMD, DrChrono
Healthcare compliance software
This type of software ensures that healthcare organizations adhere to compliance guidelines and regulations. It supports incident monitoring, reporting, auditing, conducting risk assessment, and training personnel.
Healthcare compliance platforms include automated audit tracking and management, customizable dashboards with alerts and visualization, and incident management modules. Altogether, they facilitate the deployment and maintenance of audit and regulatory compliance.
Examples: Healthicity, MedTrainer, HIPAAReady, Dude Solutions