London is a great destination for aspiring entrepreneurs. No wonder this city is called "the financial capital of the world" - here every second business is growing by leaps and bounds.
Startups have become a whole industry, a huge investment sector. Interest in this will not fade away but only grow, as in everything new like modern ideas of authors and founders of companies.
But in order to understand the full picture, it must be said that according to statistics, 70% of startups stop working in the first year, and only 5-10% of companies become successful. But it is this 5-10 % that gives a huge profit to their investors, which can easily cover the losses of unsuccessful investments.
Moreover, it is crucial to launch a company in the right place. One of the greatest examples of such a territory would be London.
Why exactly this city? What are the benefits and advantages of the London startup scene? See further in this article!
Want to learn more about European startup scene? See our piece on Stockholm Tech Scene: Best Startup Hubs, Accelerators and Events!
London Startup Scene. What makes it unique?
According to a 2017 StartupGenome study, London ranks third among the world's startup ecosystems (in total, researchers analyzed 55 ecosystems in 28 cities). Ahead is only Silicon Valley and New York.
London is the fourth largest ecosystem in the world for the number of startups. It includes 4300-5900 active companies, which is several times more than on the Tel Aviv startup scene (2200-2700) and Berlin (1800-2400). In 2016, it hosted 22 thousand meetups for startups - three times more than in any other European city.
In 2016, according to the then mayor of London, Boris Johnson, 528 thousand people were employed in the startup industry in the British capital, that is, every sixth resident. The average salary in a startup is £61.8 thousand per year.
The city boasts high-profile success stories. For example, the media company Shazam has attracted tens of millions of dollars in investments several times. In 2016, everyone's attention was riveted on ARM Holdings: Softbank acquired the company for $32 billion. This deal, the largest in the world, according to experts, is a landmark indicator of the development of the ecosystem.
The city administration is working to ensure that London continues to improve its position in the ratings. Recent achievements include improved access to finance (now London is in 4th place in the world - against 10th in 2015), conditions for doing business (10th place - against 13th in 2015).
New Silicon Valley in London - Tech City
A landmark event was the emergence of Tech City, an IT cluster that includes the Hackney and Shoreditch districts. This place is also called Silicon Roundabout.
In 2010, Prime Minister David Cameron proposed turning the area into a leading global technology hub that rivals Silicon Valley. To do this, Cameron enlisted the support of leading IT companies, initiated the introduction of start-up visas, etc. By the way, the development of Tech City was included in the government's program to create new jobs, diversify the economy, and support sustainable economic growth.
Cameron's initiative has generated a lot of interest from big international business. The desire to invest in Tech City projects and real estate was voiced by Vodafone, Google, Facebook, Intel, McKinsey & Co.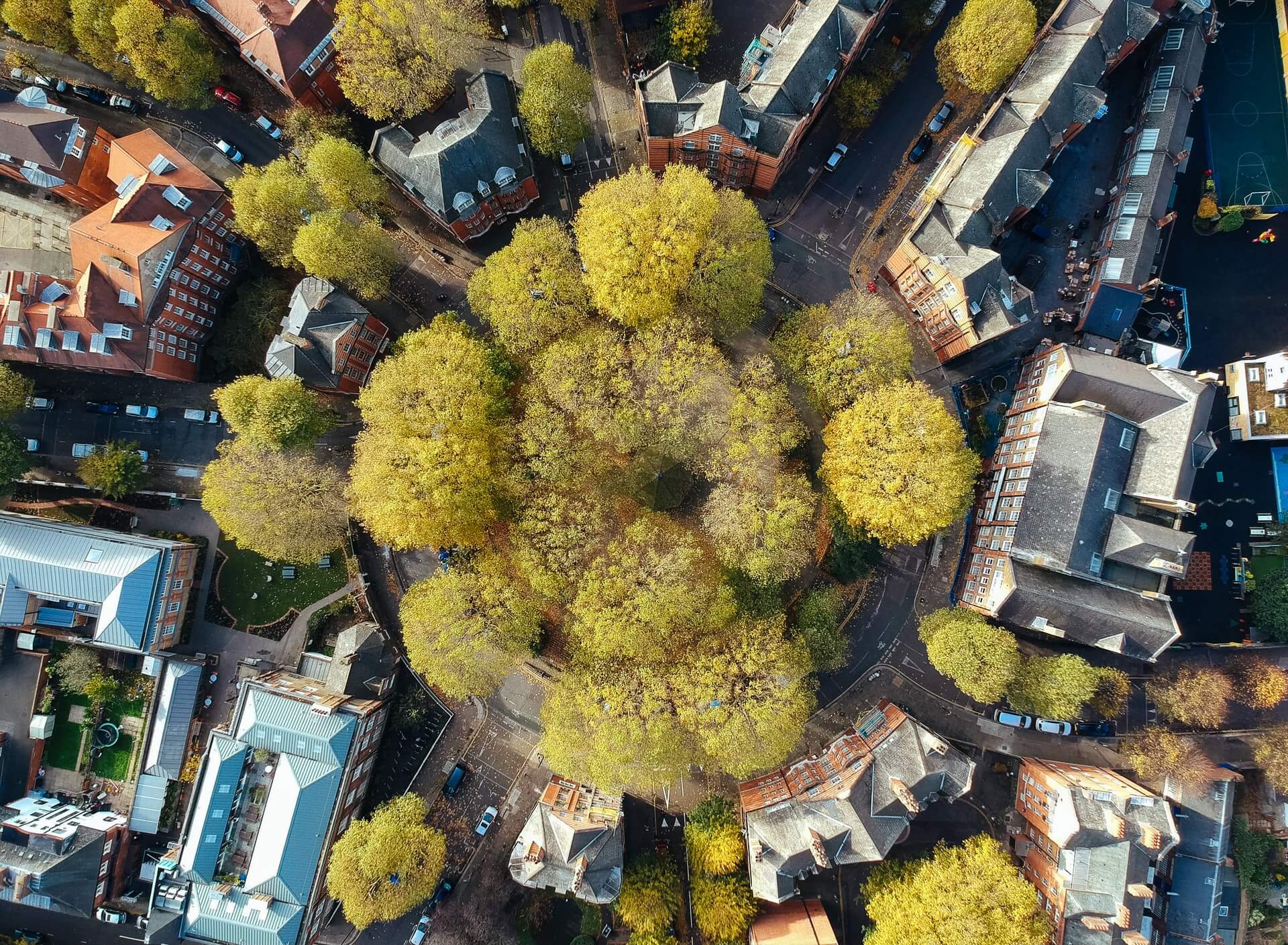 As a result, if in 2010 there were 85 startups in this area, then in 2011 there were 200 of them. And in 2012, according to Wired, 5,000 IT companies were already working here.
True, in recent years, there have been skeptics at Tech City. According to The Guardian, many startups refuse to open an office here due to high rent. In just a few years, it has grown from £ 35-40 per 1 sq. m. - up to 65.
"Paying 3000 pounds a month for an office is too much for us," founder of the startup Experiently admitted in an interview with Matthew Twist.
One way or another, but today Tech City is one of the main "places of power" in the London tech scene. Here you can find the best coworking spaces and offices of such top players as:
Amazon,
Cisco,
Facebook,
Google,
Last.fm,
Mixcloud.
Interestingly, the cluster includes educational institutions:
Imperial College London,
Loughborough University,
University College London.
Points of Interest in Tech City:
Favorable Microclimate for Business
Many entrepreneurs choose London: they are attracted by the tax system, an extensive base of financial support (government programs, business angels, accelerators), a variety of markets, excellent infrastructure, and excellent living conditions.
There is no shortage of worthy personnel here: graduates of prestigious universities, talented specialists who come to try their luck from other countries.
Tax incentives
There is no difference between taxes paid by startups and firm businesses. However, there are various tax deductions for startups that can significantly reduce the fiscal burden. There is a corporate tax credit for the purchase of furniture and equipment during the first year of the company's existence.
In England, there are 24 zones (Enterprise Zones), in which businesses are 100% tax-exempt for five years (in total, the discount reaches a maximum of 275 thousand pounds sterling). In London, such a zone is the Royal Docks (southeast of the city).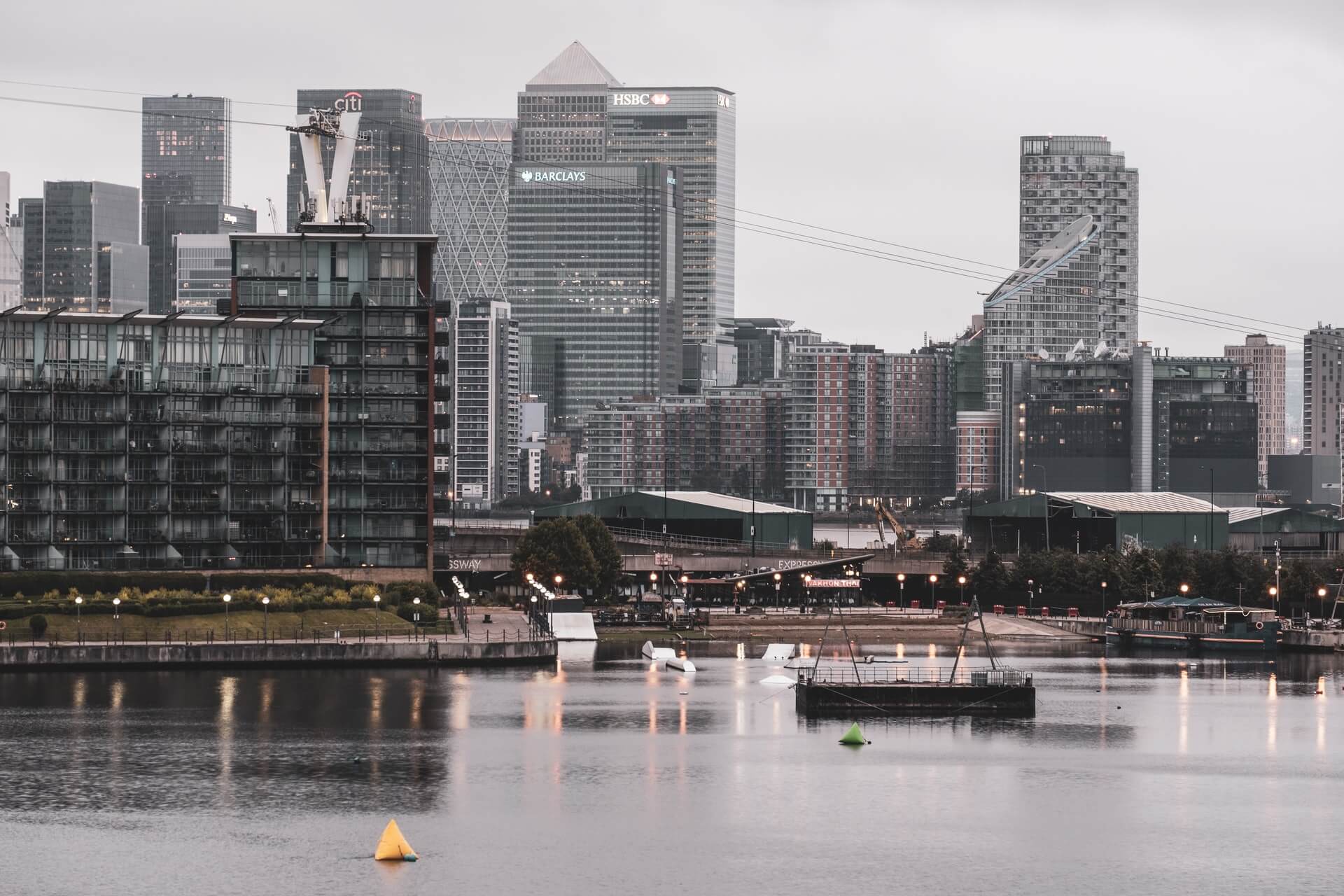 Royal Docks - London's special Enterprise Zones
As for the tax situation in Tech City, the main help of the British government is in drawing attention to the cluster. This is done through government tax incentives for investors to invest in local startups.
In particular, there are:
patent box scheme that allows reducing corporate tax by 10% (on income from the development and development of patents and other intellectual property);
the Seed Enterprise Investment Scheme (SEIS), which provides a 50% discount on income tax for UK taxpayers investing in startups;
the Enterprise Investment Scheme (EIS), which offers a 30% discount on income tax for private investors.
Affordable rent price
When people talk about Tech City, they mean Shoreditch first. Initially, the area attracted businessmen with low rents and proximity to the City. However, it was an unpopular place with high crime rates.
But today, the former neighborhood of warehouses and questionable bars is turning into a trendy place with designer shops and hipster cafes. According to Knight Frank, house prices in Shoreditch have risen 46% in three years.
The median cost of housing in Hackney and Islington is £ 633,299 (as of January 2015), which is almost double that of the southern boroughs of Croydon and Sutton.
Renting offices and houses in Shoreditch is cheaper than in the "more central" areas. That is why the place initially gained popularity with companies. However, rental rates are gradually increasing as Shoreditch becomes more popular and attracts large, well-known companies.
Offices in Hackney are rented at prices ranging from £ 8,000 to £ 40,500 per year. You can rent a permanent job in the Shoreditch coworking space (Techspace London), in Old Street (Bath Street, Underwood Street, Great Eastern Street) for about £ 350 a month. Upon the conclusion of the contract, a deposit is made in the amount of the monthly rent.
Apartments in Shoreditch are rented at prices ranging from £ 1,000 a month (for a studio in a former pub) to about £ 7,000 (for an original spacious penthouse loft with high ceilings and unusual interior details). Room rentals start at £ 800.
Startup Visas
In the UK, entrepreneurs are issued a Tier 1 (Entrepreneur) visa for three years, subject to the following conditions:
Receiving investments in the amount of 50 thousand pounds sterling from qualified British investors. These include UK-based venture capital funds listed by the Financial Service Authority (FSA), business competitions approved by the UK Trade & Investment (UKTI), and even the government itself. If the source of funding is different, you need to get four times more money - at least 200 thousand pounds. In both the first and second cases, these funds are invested in your business.
Proficiency in English at the B1 level according to the Common European Framework of Reference (CEFR). To meet this requirement, it is enough to obtain an IELTS 4.0 certificate.
The availability of funds to support yourself and your family. For example, a family of three must have at least £ 4,800 in account when entering the country: 2,400 for the main applicant, 1,600 for the spouse, and 800 for the child.
The visa can be extended for another two years if two new jobs are created for citizens or residents of the UK. To obtain permanent residence in the country, you need to create 10 new jobs or increase the business turnover to at least 5 million pounds.
Best London Startup & Tech conferences and events
There is no shortage of activities in London, no matter what you are looking for. The main thing is to choose the event that is right for you. If you are a beginner, try to define the goals and scope of the event, this will make your choice easier.
Tech conferences and events
The following events would be of high interest for the London-based Software Developers, App Developers, App Designers and Software Consultants.
SaaSGrowth Live
Date: TBA
Organizer: SaaSGrowth
Exhibition Center: Old Billingsgate
Link: https://saasgrowth.co/
SaaSGrowth is Europe's first and only event designed for B2B sales and revenue leaders.
It's where professionals in sales, sales ops, sales enablement and marketing can get together, learn and network, alongside VCs, founders and CEOs.
Join 1000 other sales and revenue leaders at SaaSGrowth, as well as the UK and Europe's top CEO's, founders and VCs. Connect with the people who can help you achieve your goals and get to know your industry peers on a deeper level across sales, marketing, and product roles.
Blockchain Expo Global 2022
Date: 01.12.2022 - 02.12.2022
Organizer: Encore Media Group
Exhibition Center: Olympia London
Link: https://blockchain-expo.com/global/
The Blockchain Expo, the leading global business event, will arrive at London Olympia, bringing together industry leaders for two days of world-class content from leading brands embracing and developing the most advanced blockchain technologies. The Blockchain Expo is expected to attract over 6,000 dedicated blockchain delegates over two days.
Presented in a series of milestones, interactive panel discussions, and solution-based case studies with a focus on learning and partnerships in the emerging Blockchain space.
Blockchain Expo explores the industries that are likely to be disrupted by this new technology, including manufacturing, retail, financial services, legal services, healthcare, insurance, energy, music, government, real estate, and more.
PI LIVE - Affiliate & Performance Marketing Conference 2022
Date: 18.10.2022 - 19.10.2022
Organizer: PerformanceIN
Exhibition Center: Old Billingsgate
Link: https://performancein.live/london/
As the world's largest affiliate and effective marketing conference, the industry comes together to debate the challenges, opportunities, and direction of our ever-evolving channel.
Feel a combination of focused presentations, carefully selected exhibitors, work sessions, and exceptional networking opportunities. You will have the opportunity to gain knowledge and ideas from colleagues and share the future opportunities that open up for your business.
With the ever-evolving business models of affiliate marketing, you can be the next $4 billion marketing success story.
We bring together the leading technologies, networks, retailers, and publishers under one roof that can revitalize and help deliver profitable performance marketing for your business.
With our two best demographics, advertisers and publishers, you'll find tons of potential partners and tons of meeting areas to grow relationships.
Arrange meetings a month in advance with the event app, and after a busy school day, head over to our mix and chat in the beer garden and outdoor terrace, then head out to party with new friends and clients.
Startup conferences and events
Business Startup 2022
Date: TBA
Organizer: Prysm Group
Exhibition Center: ExCeL London
Link: http://www.bstartup.com/
Business Startup is a free exhibition for everyone from those who are thinking about starting or developing a business to Funding Consultants. As part of The Business Show, the exhibition provides any aspiring entrepreneur with all the knowledge needed to create a successful and profitable company.
With a global lead in seminars, vendors, and workshops that aim to provide guidance to entrepreneurs, this show is a goldmine of information when it comes to getting business from scratch.
The Business Show 2022
Date: 16.11.2022 - 17.11.2022
Organizer: Prysm Group
Exhibition Center: ExCeL London
Link: https://www.greatbritishbusinessshow.co.uk/
The Business Show is Europe's largest business creation and development event. The program includes more than 250 free seminars and 170 masterclasses on the most pressing issues for entrepreneurs. In the exhibition area, more than 350 companies will present products and services for business development. It takes place simultaneously with the Business Startup - one of the major London startup conferences for everyone who wants to start their own business.
Important players that shape the London tech scene
Fintech
The financial and technical sector accounts for 65% of all venture capital investments in England. London is rightfully considered the world capital of financial technology. Such well-known global companies as OakNorth, TransferWise, Monzo, Revolut were born here.
According to recent statistics, more than half of the population of the UK capital use financial and technical products. London is one of the largest financial capitals in the world. The country has an effective FCA regulator with special units for testing and providing support in obtaining a license for startups.
Government policy also contributes to the development of young projects: there are many support programs and grants for fintech companies. Last year, a FinTech Sector Strategy was adopted at the state level, contributing to the strengthening of England in the financial and technical sphere.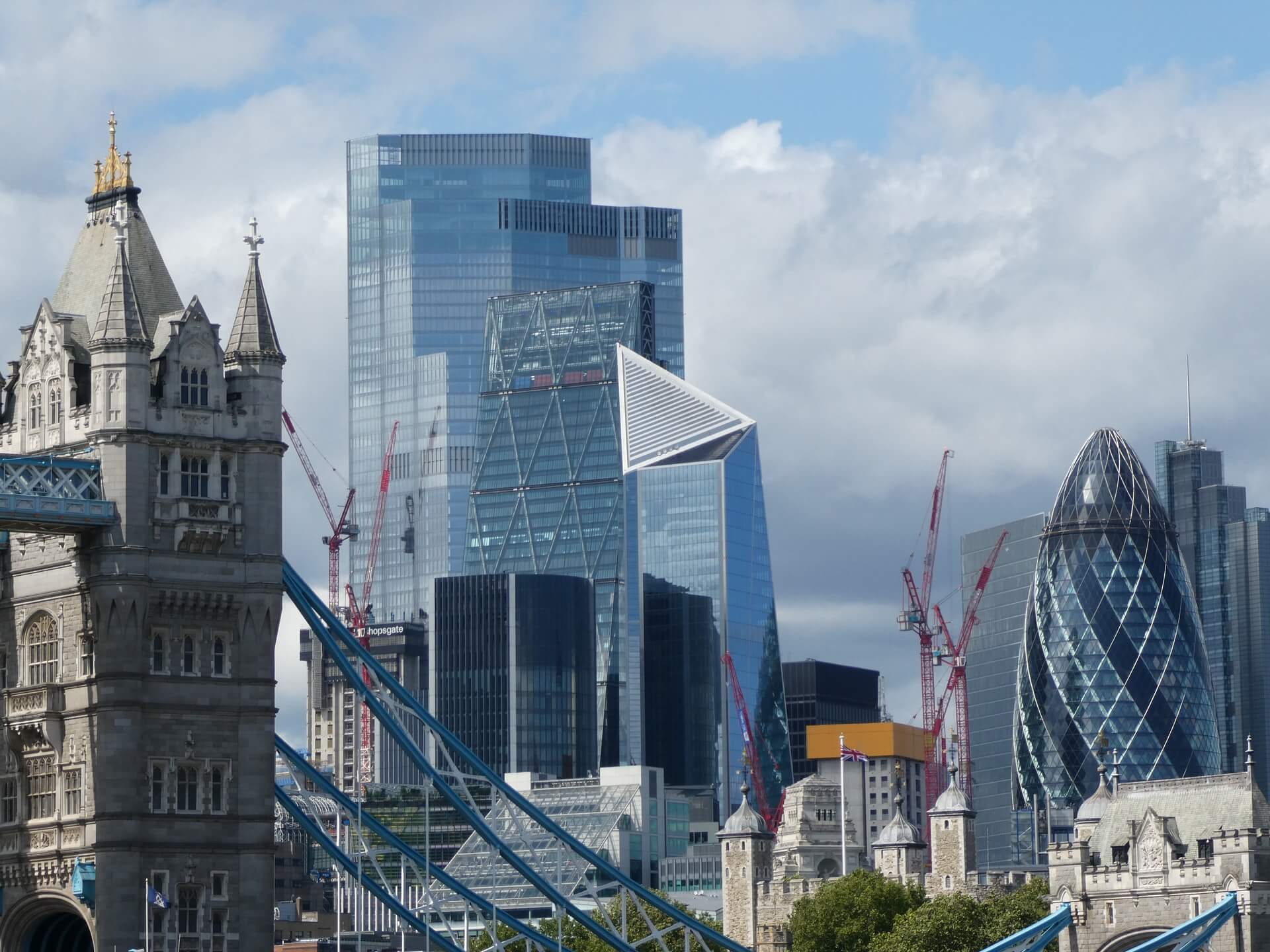 Despite the Brexit, London is undoubtedly a financial sector superpower
Healthcare
The second most popular in England is the medical tech industry, which employs about 165 thousand people. More than 4,500 companies are registered in the healthcare sector. These startups spend 5 billion pounds annually.
The main customer of Medtech products is the UK public health system. It interacts with each university and their incubators. Recently, a research hub was launched in the UK on the basis of a university in cooperation with a biomedical research center, which makes it possible to rent laboratory equipment. The total cost of the project was £ 800 million.
The MHRA (Medicines Regulator) is pretty democratic, and it takes 8 to 18 months to get certified, depending on the complexity of the startup.
The most interesting thing is that MHRA employees are interested in you receiving the necessary documentation and, in every possible way, contribute to a positive result. If your project is related to the medical tech industry, then the London startup scene is the best place for its implementation.
Natural products
The British prefer a healthy lifestyle and prefer to use natural products. Despite the fact that the "clean eating" concept was busted a long time ago, still many residents of Foggy Albion prefer "green" products, which greatly impacts startups of this niche.
The British are particularly interested in such product characteristics as "Green," "Eco," "Organic." Over the past year, the demand for natural cosmetics has grown significantly (almost 20%).
The British prefer to use self-care products without adding "chemicals." It is on such products that you can build a successful startup.
Coworking spaces
Now that you've learned about local startup communities and got to know potential opponents, it's time to find a place to work. London startup scene offers many coworking spaces, but here's a list of the best: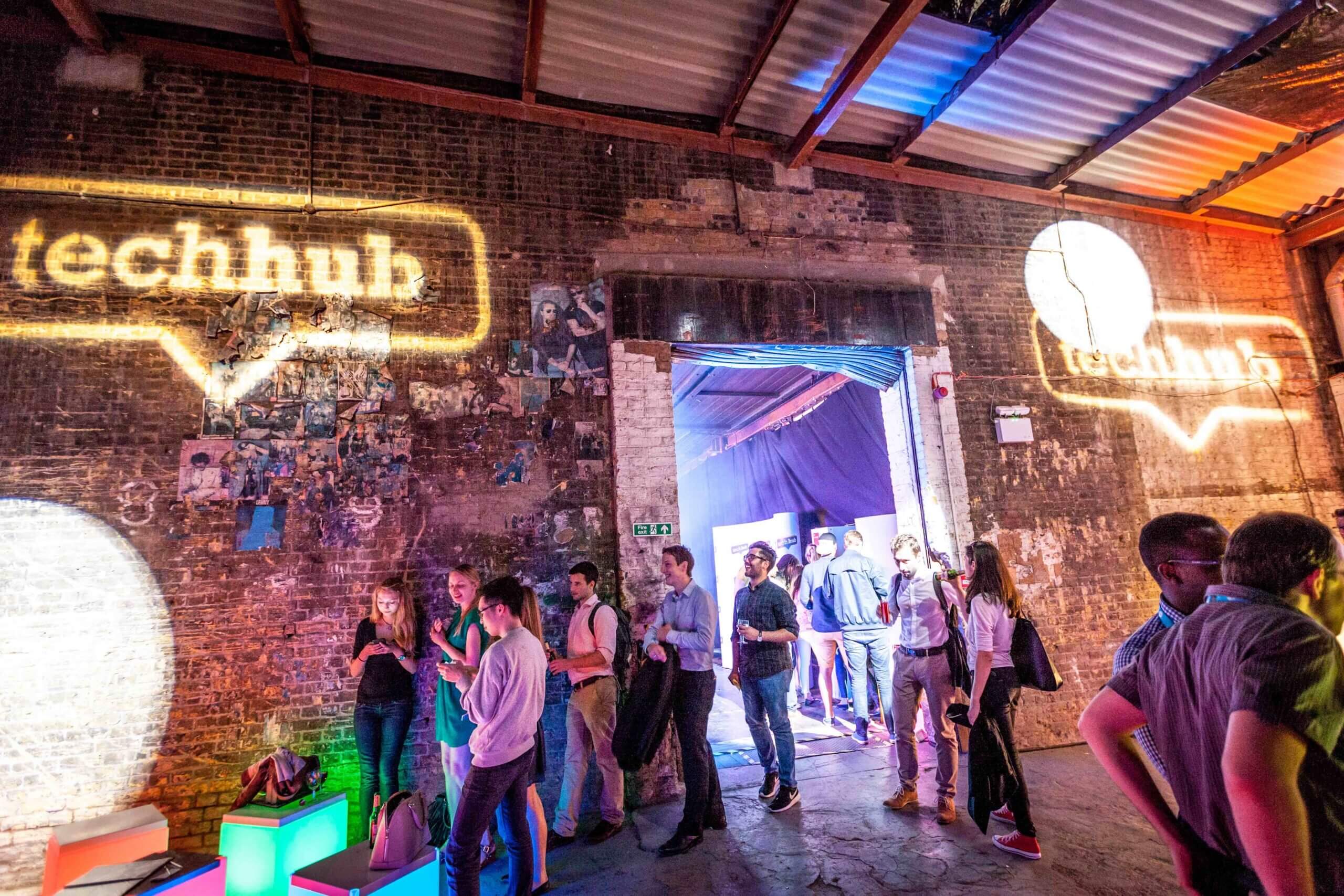 There is more than a few coworking spaces with a nice vibe and friendly atmosphere
Of course, you can choose suitable coworking spaces on the sites:
Comprehensive support
The status of the best city for startups in Europe imposes certain "monetary restrictions" on local financial institutions, grants, and programs from "potentially successful startups." At the same time, looking at the great variety of opportunities that the city provides, we can say with absolute certainty that there are very few chances for funding a startup at different stages of its development.
More than 30 incubators and accelerators are open for those who have just started their start-up journey. The Telegraph, for example, has created a dynamic map of 36 top programs for startups from different sectors. You can see their location. At the same time, only a few have received positive feedback from community members. Let's get a look:
London Startup Accelerators
Crowdfunding platforms
Seedrs

is one of the UK's leading equity crowdfunding platforms, raising £ 1.4m for 27 crowdfunding campaigns in its first year.

Crowdcube

allows both ordinary people and professional investors to invest in startups, small businesses through equity, loans, and other investment methods.

Funding Circle

is one of the largest peer-to-peer lending platforms in the UK.
London Angel Investors
On StartUS.cc, you can find links to other incubators and accelerators in London.
Do you want to quickly grow into a large company? If your startup is ready for it, here are a few places where you can find better capital:
London Venture Capitals
Summary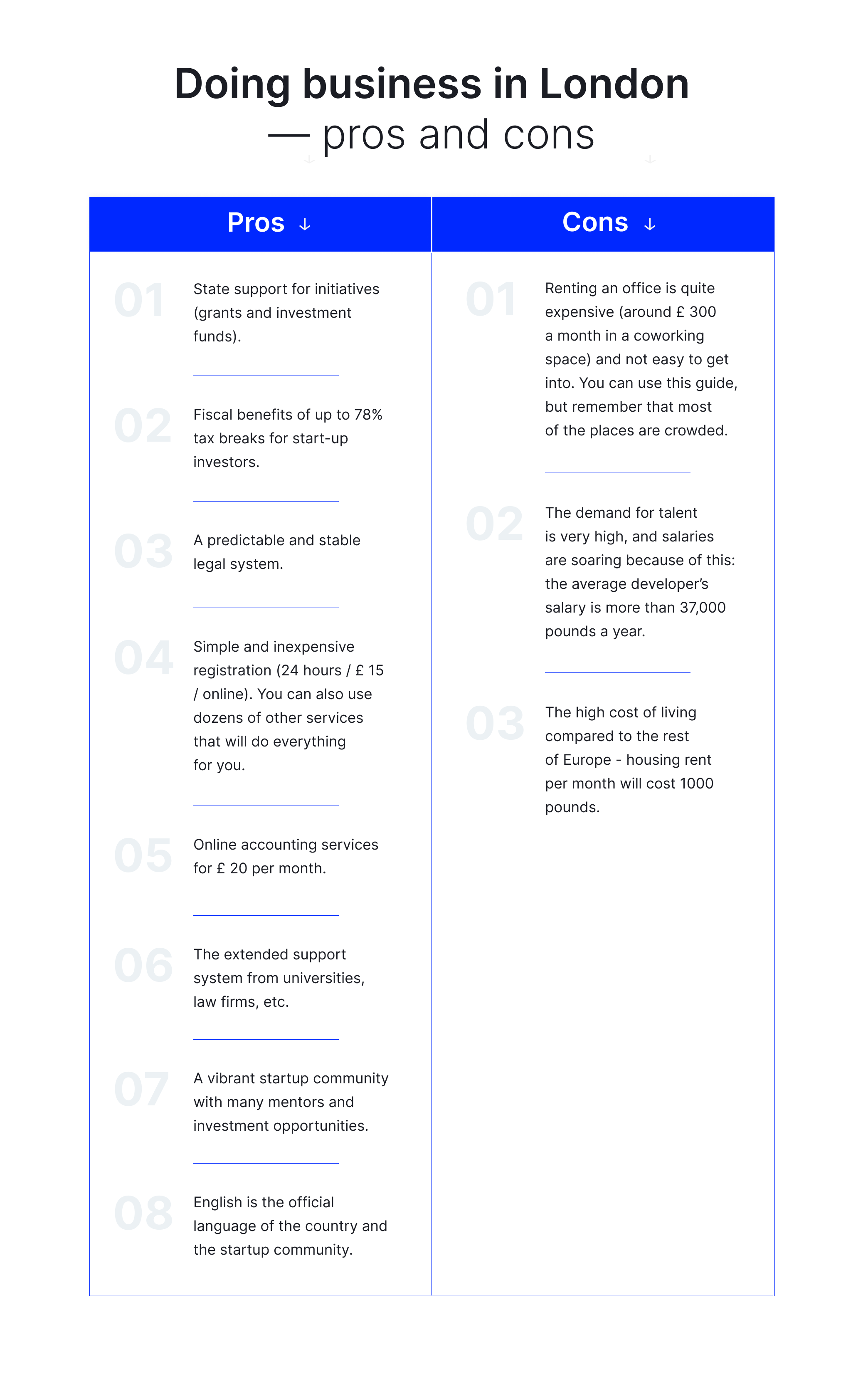 London is developing very dynamically, especially when it comes to developing new businesses and startups. Monitor and stay on top of new funding opportunities that arise. Go to the aforementioned events, talk to people, check the websites that the startup community members sit on. And remember, nobody has yet canceled bootstrapping as an independent strategy.
In general, the rest of the information on tax incentives, government resources, and business transactions can be found on the TechCityUK website. Stay on top of the latest TechCity News, find people, accelerators, funds, and investors at f6s.com. You can get documents for a visa and disassemble them using the migreat app.