React is the number one front-end framework worldwide. It has over 1300 contributors, more than 5.000 ready-to-use components and millions of downloads every week.
React was created by Jordan Walke, a software engineer at Facebook in 2012. Just a year later it was open-sourced and has been under massive development ever since supported by enormous and highly active community worldwide.
What makes React Web Development so unique? First of all, it's designed for scaling. The component architecture allows developers to write the code once, and then re-use it in all their applications. There is a vast community-driven component library online. React developers love the approach of reusability. From the business perspective, it saves a massive amount of time and lets you and the development team concentrate on the specific challenges of your project. It is a massive treat for every React development company.
As a React agency, we love great React based projects. Today we present you 8 stories of amazing React Web Development. Please, enjoy!
Facebook has to be presented here for the very obvious reason. As mentioned above, it was created by one of their software engineers and since then it makes its way to Facebook's front end.
In terms of code, Facebook is massive. Its codebase includes over 20,000 components, and, although it is heavily based on React, its tech stack is much more complex. Not to list every technology, they also utilize PHP and Python (namely: Tornado framework). ReactJS is used not only on the web version of the platform. It is also a base of other FB's products, such as Whatsapp and Instagram (description below).
Due to its component architecture, it allows notifications, comments and posts reactions to be displayed in the real time without the need of reloading the page. Same goes for the News Feed – new posts can appear there live.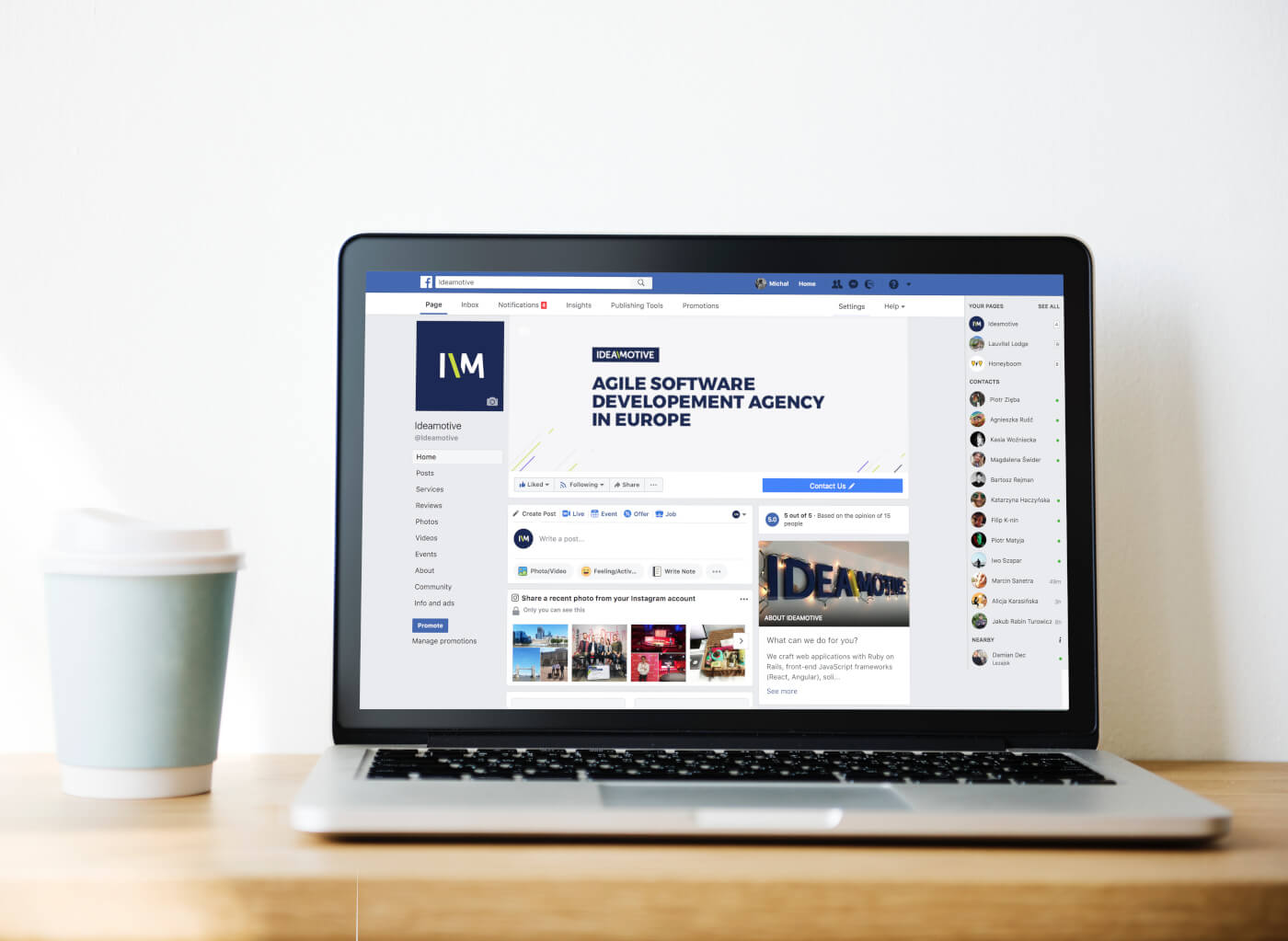 When Instagram was acquired by Facebook in 2012 it didn't have the web version of the app. But it was obvious that they had to create one. The library chosen was, no surprises there, ReactJS.
Since the very beginning of the web version of the Instagram is 100% based on the ReactJS library. There are several cool features within the web version of Instagram that are made possible thanks to React. One example is Geoshare which allows viewing photos in the real time on a world map. Others are live hashtag counter or Localgram which helps to find photos that people post around every given location.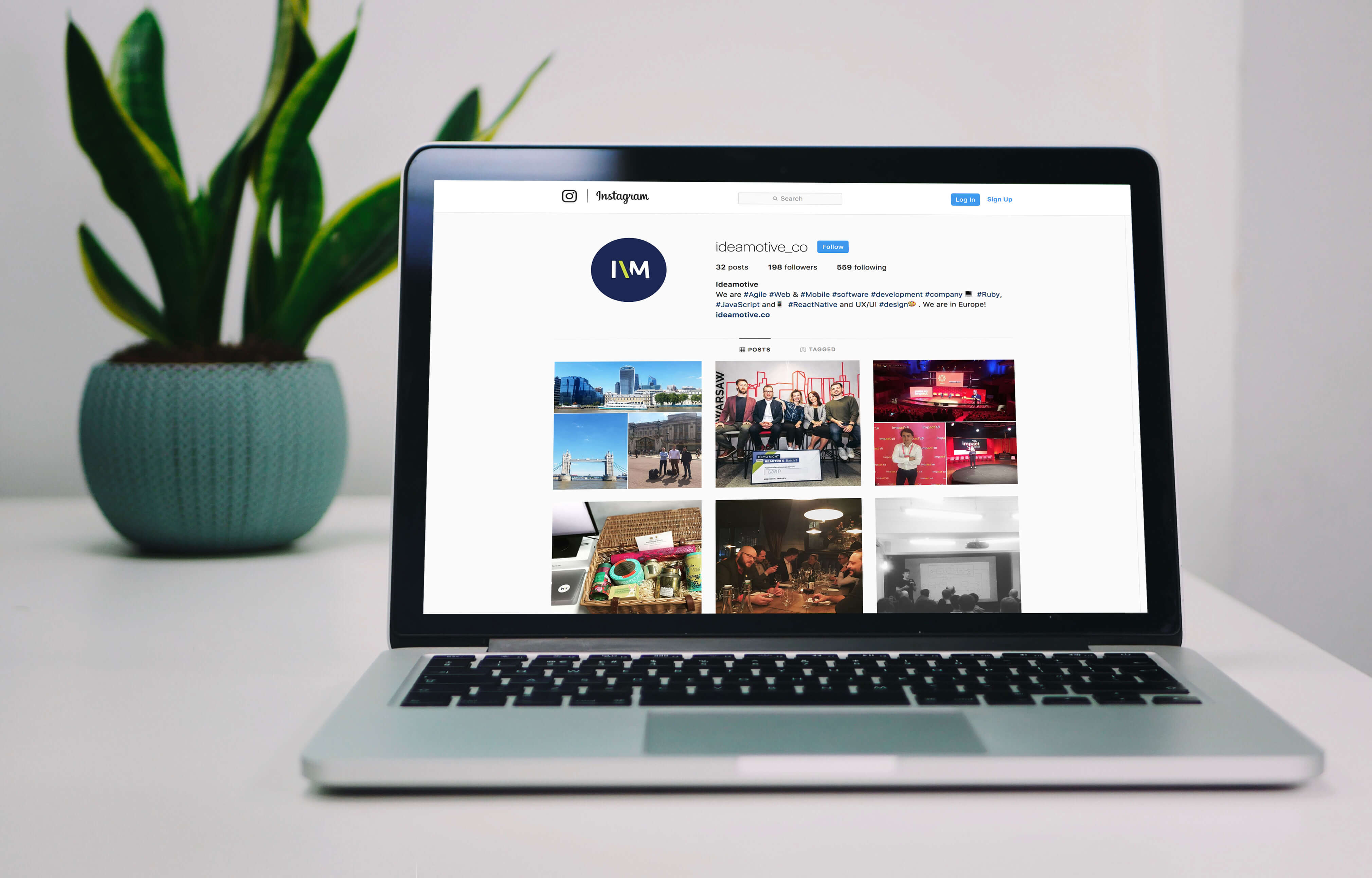 Asana is one of the best project management tools out there. It's a web and mobile application designed to help teams organize, track, and manage their work. Asana is experiencing constant growth since its launch in 2008. As for 2018, it has over 30,000 paying customers worldwide and recently raised 75 M $ in Series D round of funding. Among their customers, you'll find star companies like Spotify, Uber, Autodesk or Trivago.
Asana web application was initially based on Luna, but with the growth of the product, a bunch of problems appeared – mostly with scaling up. That's why they decided to rewrite the front end and chose React to do that.
There were solid reasons behind that: ReactJS is similar to Luna Views and it was fairly easy to integrate. Moreover, virtual DOM implementation helped to solve a lot of UI problems for us regarding focus and animation.
Incorporating functional purity in every component (…) has allowed us to develop large parts of our application in React while maintaining simplicity and performance.
Eric Pelz, Engineering Manager @ Asana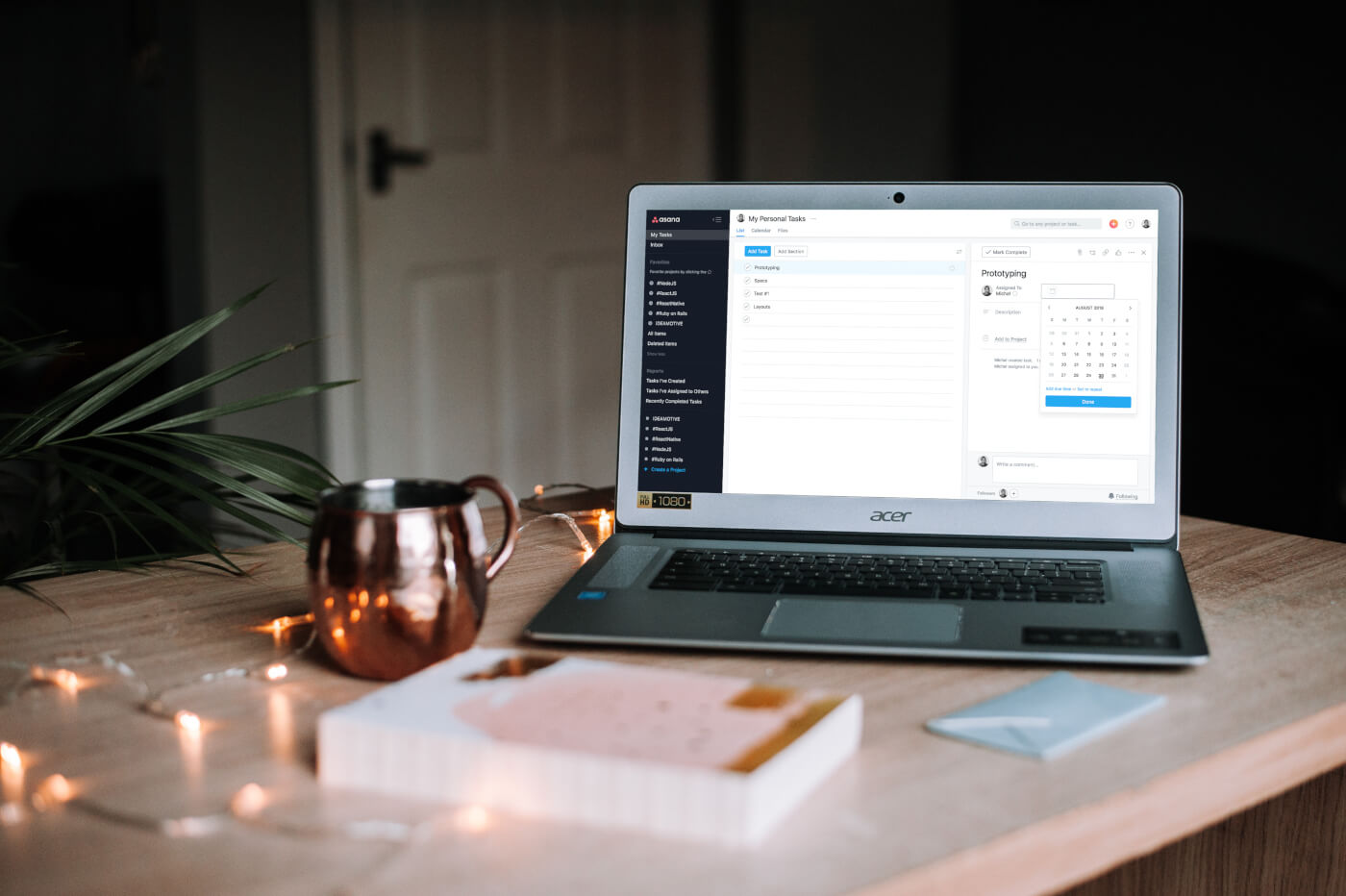 Reviewing huge chunks of material for an exam, trying to finally figure how math works, wishing to learn history from A to Z. However you wish to educate yourself, you can find all the resources to do so on Khan Academy, a platform that proves high-quality learning materials can really be free.
Khan Academy has been established as a non-profit organization back in 2008 by Salman Khan, an educator, and mathematician who wanted to make sure kids around the world get the free help they need when it comes to studying. After over 10 years of Khan Academy's existence, the online platform is now available in multiple languages and offers courses on such various subjects as math, physics, economics, and humanities. Each course is filled with professional videos explaining the topic and proper exercises.
The engineers at Khan Academy are using all the great features of both the standard React as well as React Native, the framework dedicated to mobile app development. The latter allows them to efficiently update their mobile apps for iOS and Android. To learn more about how Khan Academy uses React, it's also worthy to check its engineers' special, regularly updated blog.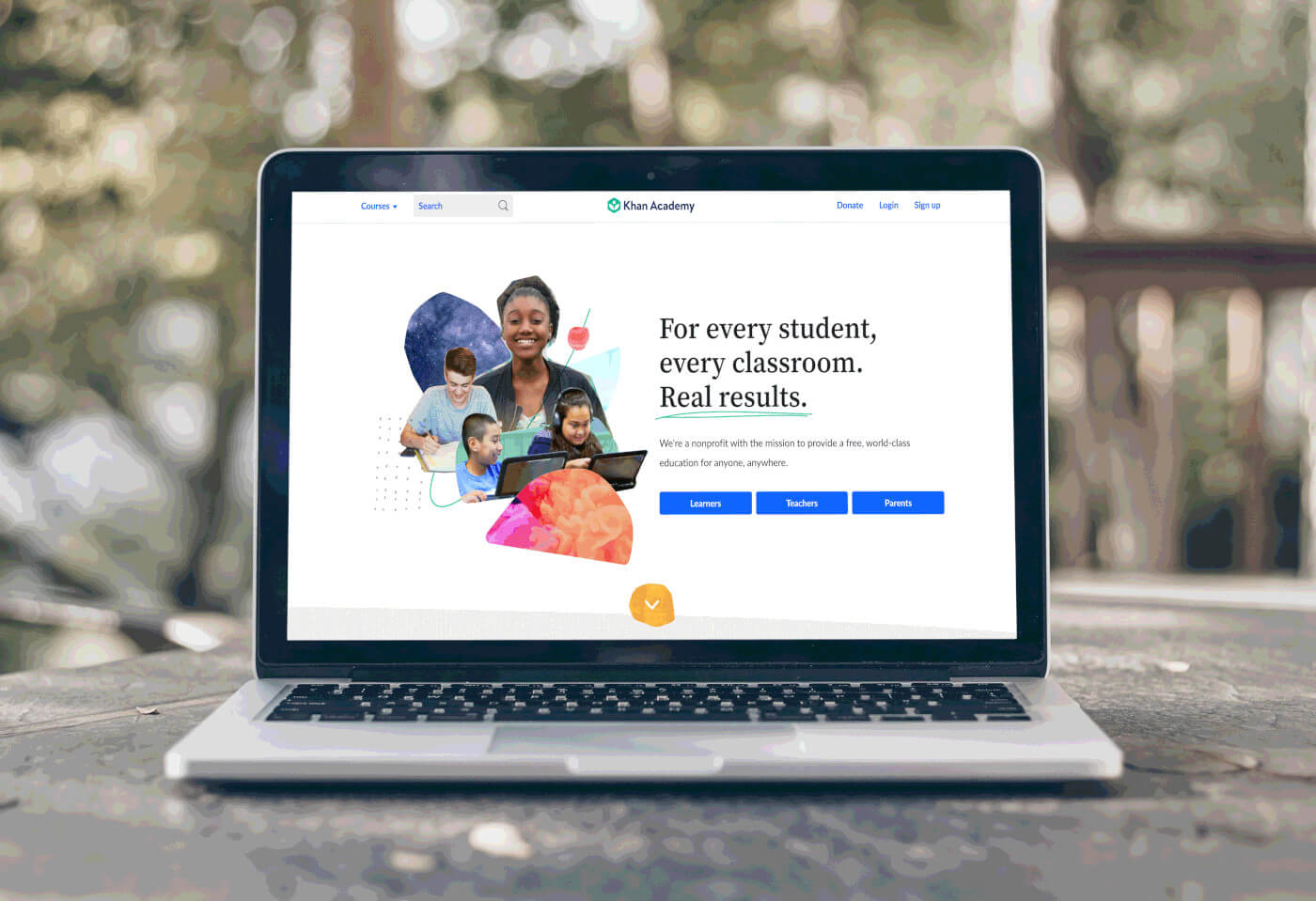 Codecademy is an online freemium interactive platform that offers free coding classes. It is one of the most popular educational platforms for future web developers and mobile app developers. Over 45 million people trusted Codecademy with their professional growth.
Codecademy dev team is extremely happy with its React web development. Because it is component based they were able to test individual pieces of the UI in isolation without interfering with the rest of the app. The possibility of serving a mostly-complete page to search engines significantly improved their SEO.
Furthermore, due to ReactJS compatibility with the legacy code, they were able to experiment with adding consecutive parts to the existing codebase. Bonnie Eisenman, Software Engineer from Codeacademy recommends experimenting with React in order to check how it might fit in with your code.
React is a lightweight, powerful, battle-tested library for building user interfaces with JavaScript. It's not a full framework, but rather a powerful tool that may well change the way you approach front-end development. We've found it to be an incredibly useful tool for our front-end development, and we're very happy with our choice.
Bonnie Eisenman, Software Engineer at Codecademy.com.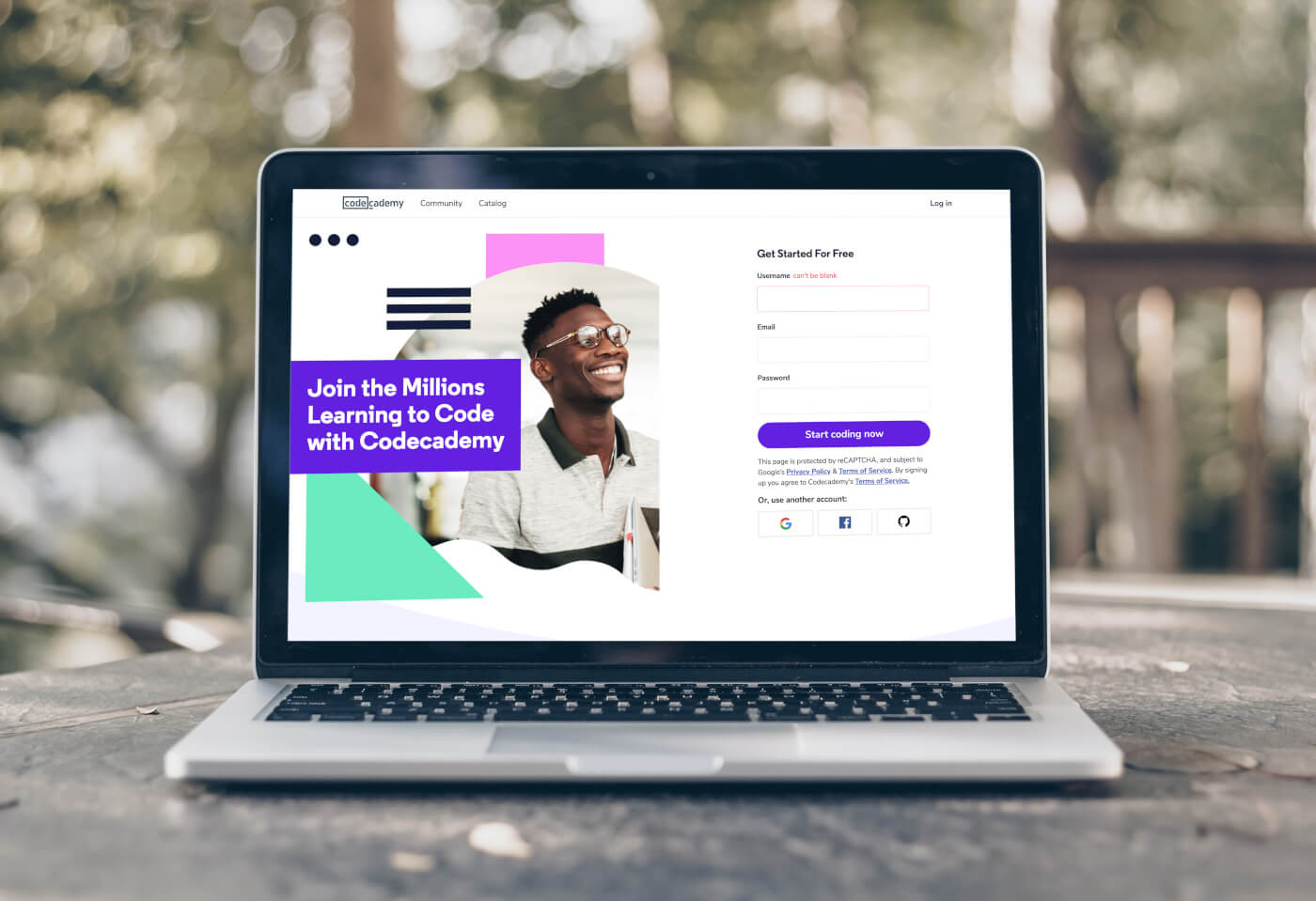 Yahoo! Mailing app came a looooong way. Created in 1999 with C++ and HTML it was evolving through Java and PHP to end with ReactJS and NodeJS in 2015.
At this point in time Yahoo! Mail service was in a deep need of changes. They had to implement predictable flow which would allow easy debugging, more up-to-date codebase and independently deployable components.
Before they decided to go with ReactJS, Yahoo! Team considered Angular JS and Ember JS, but they were lacking flexibility Yahoo! needed.
Finally, they decided to rewrite the architecture of the service with ReactJS and Flux. There were several reasons behind this decision, such as one-way reactive data flow and Virtual DOM which allows the client and server-side rendering. They also underlined the importance of the growing community around ReactJS.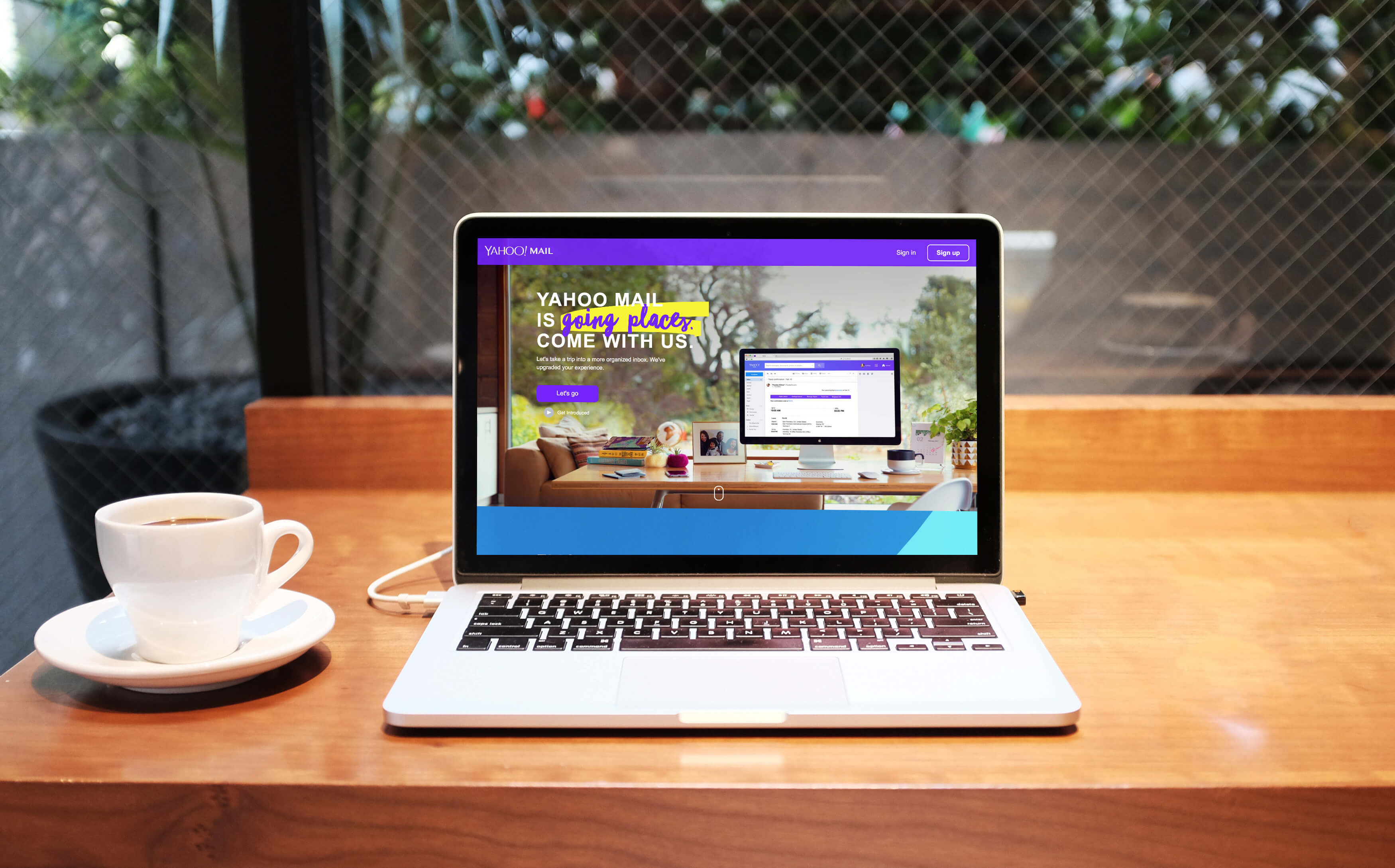 The presence of ReactJS in New York Times technology stack should be credited to their current CTO, Nick Rockwell. When he joined the NYT he faced the very diversified stack that had put in order.
Boy, did they take advantage of this freedom. Go, Scala, Hadoop, Redshift, Dynamo, SQS, and many others all had a moment in the sun, with marginal planning around permanence or scale. Physical infrastructure was also scattered.
Nick Rockwell, CTO @ The New York Times
Rockwell and his team simplified the stack. Now they use a combination of ReactJS, Node, and GraphQL which provides the New York Times with the more stable front end. This is quite a change from PHP loading HTML and JavaScript.
ReactJS seems to be working pretty well for the New York Times. Eventually, the entire online universum of the New York Times will be re-designed with React.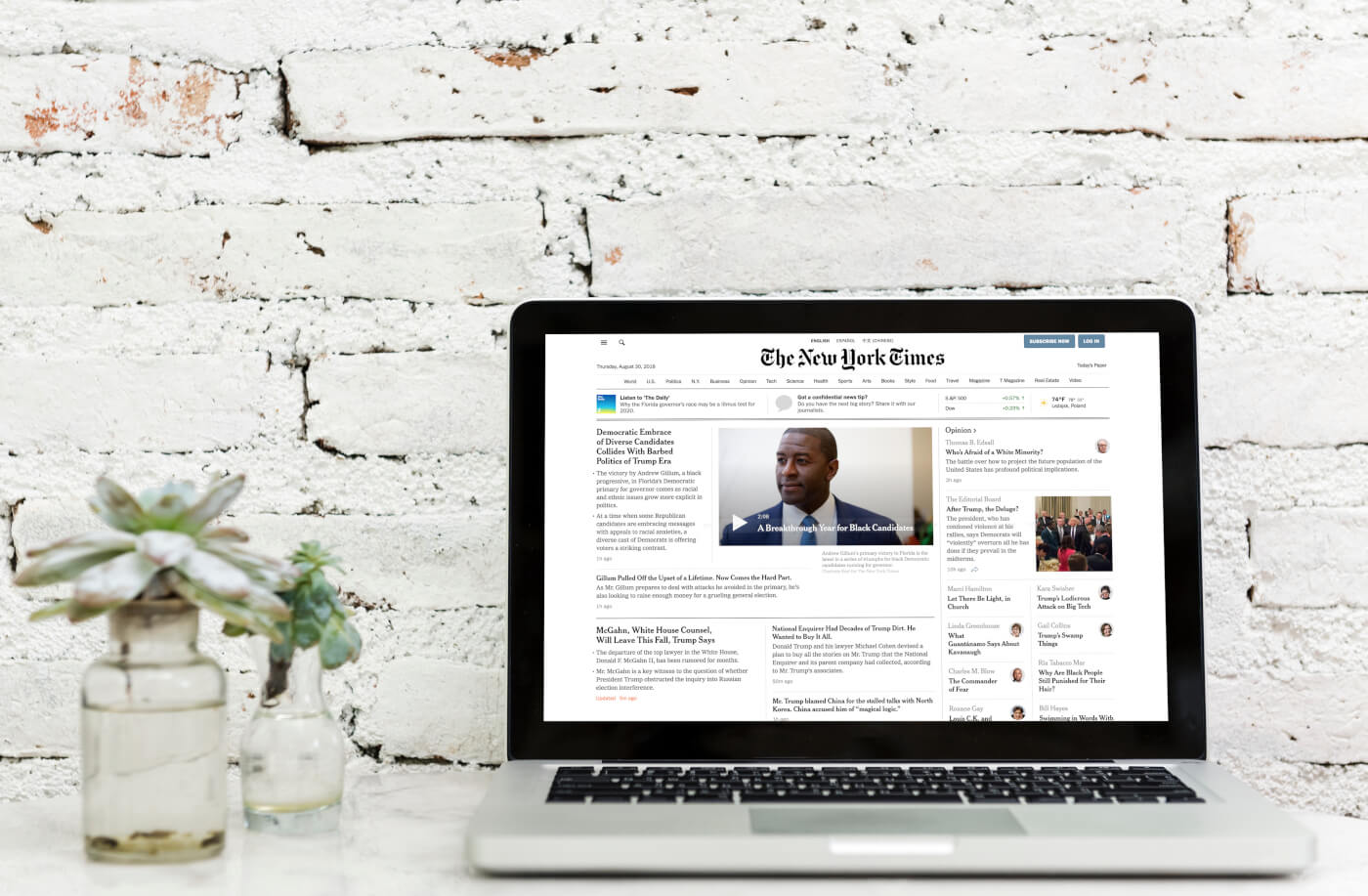 Atlassian is an Australian enterprise software company that creates products for software developers and project management. If you are a software development agency or a software house you probably use their products. Tools like JIRA and Confluence are in their portfolio.
Atlassian is truly a React company as they use React internally and externally. They benefit from many React features, such as deployability to the Web, mobile, and desktop which allows developers to reuse libraries between platforms.
If the software is eating the world, then JavaScript is eating software, and React is eating JavaScript. In this food chain, it seems React has a big part of our future.
Travis Smith, Developer Evangelist @ Atlassian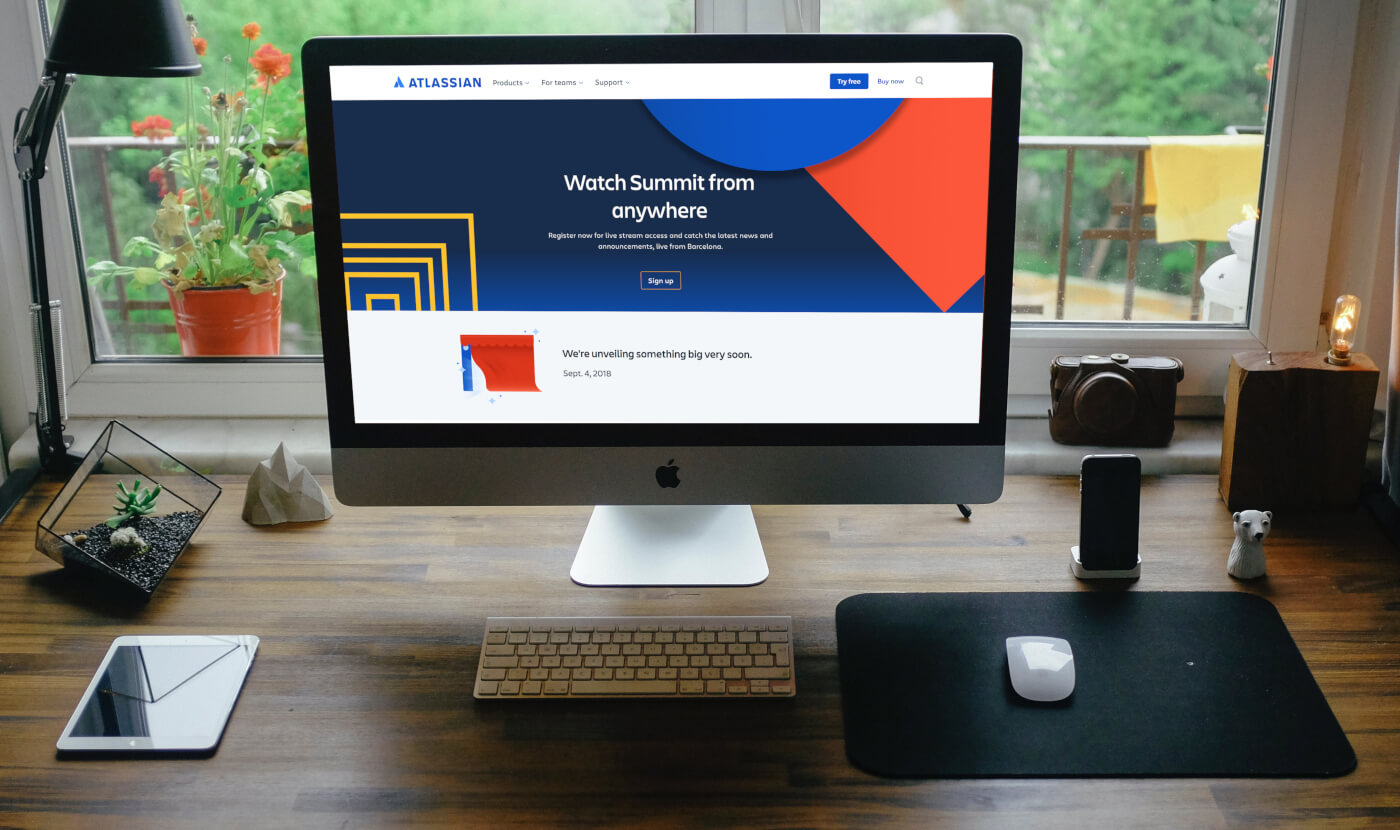 Although there are more and more ways of paying online and e-banking is growing, PayPal, often called the industry's pioneer, is still doing well. By the end of 2018, there were 267 million active user accounts and 21 million merchant accounts on PayPal. The company's revenue is also constantly increasing — in 2018 it went up to 15.45 billion dollars.
To support this growth and make sure the users are given a platform that meets all their needs and requirements, PayPal regularly updates its tech stack making sure the engineering team is using all the latest technologies on the market. Because of this, in 2015, the developers at PayPal started to implement React in their ecosystem.
As the engineering team wrote on their Medium blog:
Earlier this year, we started using react in our various apps at PayPal. For existing apps, the plans were to bring react in incrementally for new features and start migrating portions of the existing functionality into a pure react solve. Regardless, most implementations were purely client-side driven. But most recently, in one of the apps that we had to start from scratch, we decided to take a step forward and use react end to end.
Currently, React is one of the most important elements of PayPal's tech stack, making the company an incredibly important user of this technology.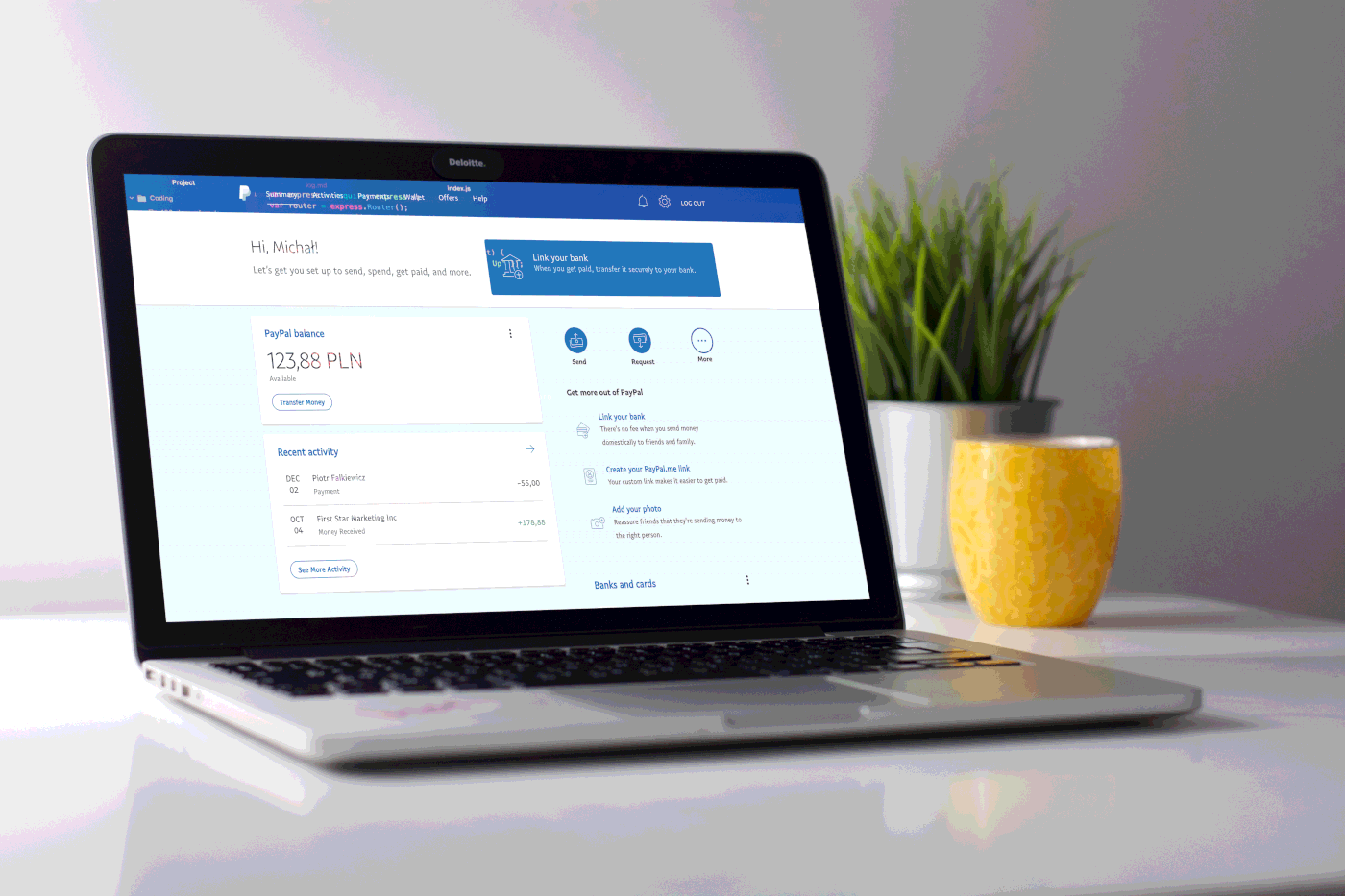 Ideamotive is a React JS development company. We build custom web apps suitable for your needs. Our main goal is to help you grow and scale up your business. Looking for skilled React developer? Drop us a line!