On Thursday, February 24, Russian troops launched a full-blown military attack on Ukraine, starting the largest war in Europe since WW2. The third month into the conflict, we can already feel its crushing impacts on international business, economies, and the balance of power.
And since Ukraine used to be one of the top go-to destinations for IT outsourcing until February 2022, the software industry will likely also suffer a blow. How big? This is yet to be seen. But to better understand where the Ukrainian IT market is now and what awaits it, we will analyze how it has changed following the breakout of the war and try to foresee what it means for companies in need of qualified offshore software specialists. So let's get to it!
Why hire Ukrainian developers?
Before we dig deeper into the market overview and predictions, we should understand why international companies would consider hiring developers in Ukraine in the first place. The answer is quite straightforward.
Year by year, IT specialists from Ukraine occupy top global positions in quality software development skills, side by side with Polish, Romanians, British, or Vietnamese programmers.
Read more: Hiring Software Developers From Poland - What Do You Need To Know?
As we demonstrated in our in-depth analysis of the IT outsourcing market in Central and Eastern Europe, there are multiple reasons why the CEE region has a reputation for being the hotbed of software development engineering talent. Please refer to that report for more details and the differences between particular countries.
Still, on the whole, we can say that outsourcing or offshoring software development in the CEE region entails the following benefits:
Large tech talent pool - over 1 million specialists altogether, with ca. 35-40% coming from Poland; Ukraine is second, with nearly 300,000 professionals. However, it needs to be noted that many of them relocated to other countries (mostly Poland) when the war started.


Excellent programming skills - the CEE countries are always ranking high in competencies contests and evaluations.


Commendable work ethics


Fluency in English - from moderate proficiency in Ukraine and Belarus to high command of English in Poland, CEE software programmers, QA experts, and

project managers

are fluent English speakers. In addition, they usually have extensive experience collaborating on international projects.


Strong academic tradition - CEE cities such as Prague (Czechia) or Krakow (Poland) have centuries-old academic traditions, with reputable universities providing top-class higher education since the Middle Ages. Additionally, former communist countries, including Ukraine, Bulgaria, Romania, or Poland, have excellent math, physics, and IT history. To prove that, these countries all occupy one of the top 20 positions at the

International Mathematical Olympiad

. They're also among the countries with the most significant number of medals won at

the International Olympiad in Informatics

.


Competitive rates - hiring software development teams in CEE is no longer cheap. But it is still affordable. What's the difference? Quality has its price, especially in the fiercely competitive IT market. However, the rates charged by software professionals in Central and Eastern Europe are still much lower than those of their Western counterparts at the same or higher quality. So, yes, you can pay less. The question remains 'Is the risk worth it?'. (See more in

Ukraine software developer rates

).


Strategic location and convenient travel - CEE is convenient because it is centrally located, facilitating travel from many countries. But, of course, traveling to Ukraine at the moment is not recommended and is often also impossible, considering mass flight cancellations due to the Russian invasion.
Lately, we've published a series of articles focusing on hiring software developers from Belarus and also telling us more about offshore web development in Romania.
---
Are you looking to build a software development team?
If you're planning to hire a successful team of software engineers and other IT experts, definitely check out our webinar!
See where to find the best specialists for your project, how to manage them remotely, and why it's not worth cutting corners on code quality.
[Watch the IT outsourcing webinar]
---
Ukrainian developers' profile
Demographics

Speaking of Ukraine specifically, as of 2021, the country had about 285K software developers and IT specialists. 71% of them were men, while the median age of a Ukrainian IT specialist was 31 years. Furthermore, 46% of those professionals were software engineers, 17% QA engineers, 8% IT managers, and the rest performed other roles.

In terms of seniority, about one-third of all people employed in the Ukrainian IT sector were senior-level experts, with 28% - middle-level, 11% junior, and just 1% of trainees and 4% Head. Additionally, when we consider the project nature of outsourcing and other IT involvements, we will learn that in 2021, 86% of Ukrainian companies cooperated with Individual Entrepreneurs (self-employed), and 9% used various forms of engagement. In contrast, only 5% consisted of all full-time employees.
[All data taken from: https://dou.ua/lenta/articles/ukrainian-it-during-war/ and https://reports.itukraine.org.ua/en]
Programming languages

Ukrainians' primary expertise in programming includes JavaScript, Java, C#, and Python (Source). Less popular technologies among developers from Ukraine are typically Kotlin, Ruby, Go, and Swift.

This means that over half of Ukrainian developers work in the back-end, with the front-end being a less popular option and mobile as a niche skill. Additionally, four in ten Ukrainian IT software developers are mid-level experts, while one-fourth can boast a senior level of expertise.
Geographical distribution

Before the war, over 70% of Ukrainian developers lived in Kyiv, Lviv, and Kharkiv, the country's largest cities. However, this changed after the Russian invasion. Namely, many professionals fled the country or relocated to other areas within Ukraine.

While Lviv remained a go-to destination for them, considering a relatively low number of Russian operations there, masses of IT specialists have abandoned the other two cities, finding shelter in the regions of Zakarpattia and Ivano-Frankivsk instead. In many cases, this shift has remained transparent for their clients and partners, as the massive adoption of the remote working model has eroded geographical barriers.
In conjunction with the strengths of programmers in CEE in general, Ukrainians hold a strong position in software development skills. This shows in world rankings for the best developers, where Ukrainian specialists always sit near the podium.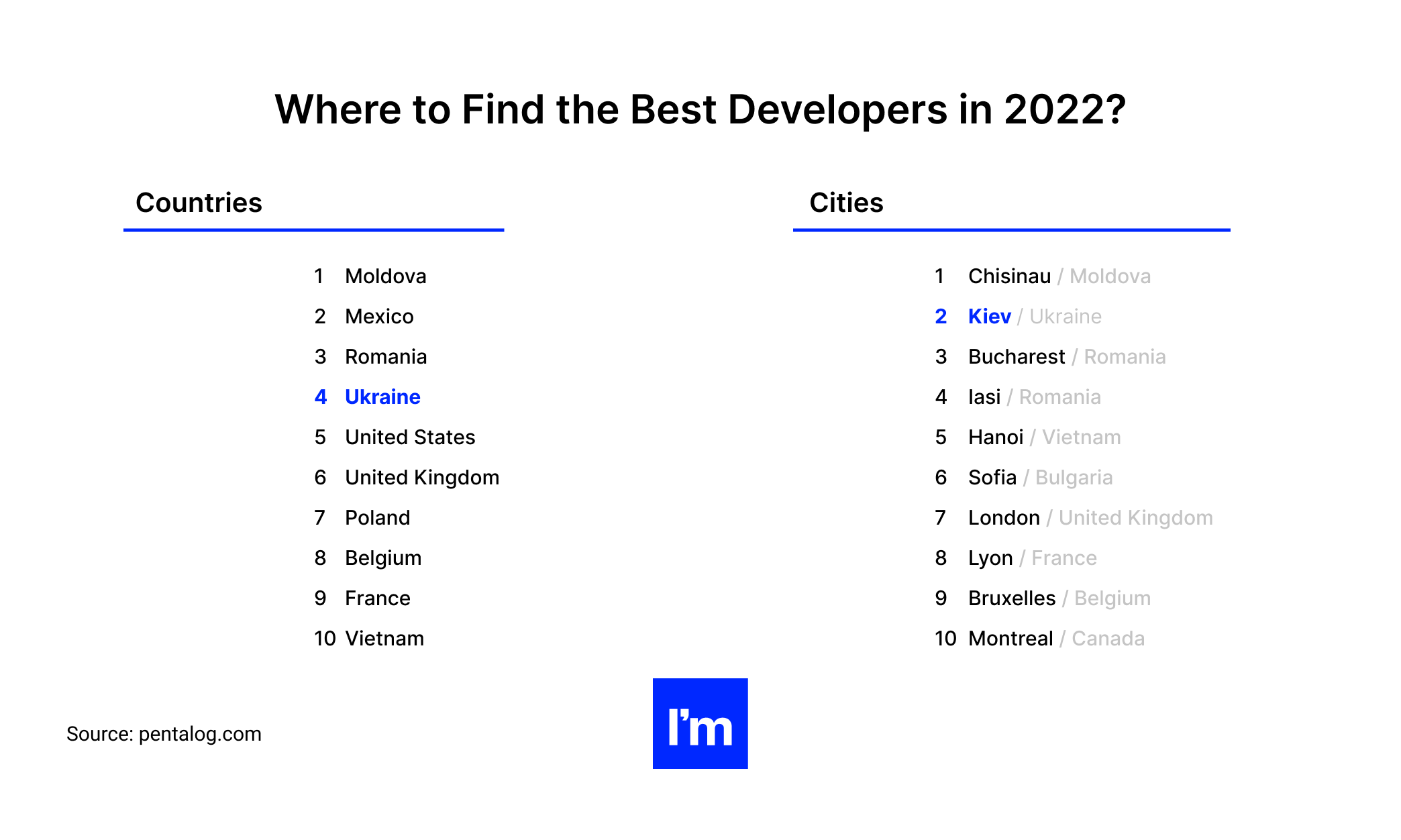 Ukraine has been occupying top places in global rankings of best software developers consistently for years
The state of the Ukrainian IT sector pre-war vs. now
The size of the Ukrainian tech talent pool
Before the war started, Ukraine's tech talent pool was one of the largest in Europe (in CEE, it only gave place to Poland). It was poised to grow due to the profound interest of young people in tech education (54% of Ukrainian high school students want to work in IT).
But as the outbreak of war threw every aspect of Ukrainians' lives into disarray, it's impossible to say how these numbers look now, considering general mobilization for all men between 18-60 and a mass exodus of Ukrainians abroad.
As of the end of April, the UN estimates that more than 11 million people have fled Ukraine. That includes many IT professionals, a vast proportion of whom had been offered relocation support by their employers and clients, including Wix, SAP, Fiverr, or Revolut.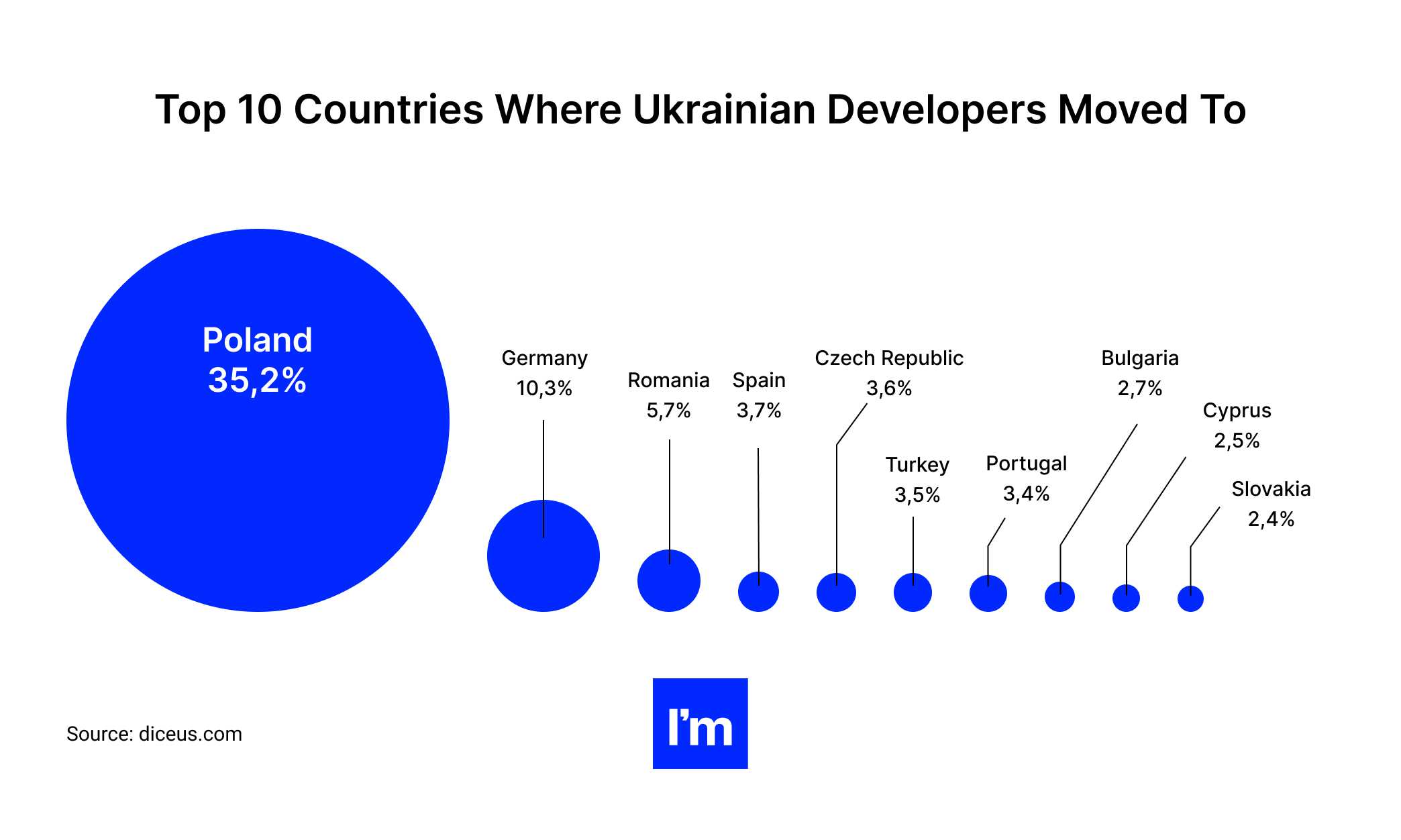 The list of countries where Ukrainian software developers moved to
Even so, many Ukrainian employees in the tech sector chose to stay (as confirmed by multiple statements from stakeholders in the companies that provide relocation packages for their Ukrainian staff). They don't put their guns on the floor but continue churning out code in their country while supporting the war efforts.
Still, cooperation with them becomes an increasing challenge amid air raid alarms and explosions hitting major Ukrainian cities several times a day. As a result, many companies are experiencing issues in collaborating with Ukraine-based businesses and individuals and decide to commission work to companies and freelancers in EU countries like Poland or Czechia.
"Our lead front-end developer fled to Lviv to his parents' rural house 40km outside the city and is still submitting pull requests," Eric Hovagim, CEO and founder of Los Angeles-based betting platform Pogbet, told CNBC. "He's returning to Lviv tomorrow morning to continue his work while helping with the fight."
[Source]
Overview of the Ukrainian IT market
Ukraine has long been among the leaders in IT outsourcing worldwide, and the country's tech sector has been consistently expanding each year. In 2021, the estimated value of its IT export was $6.8 billion, a 36% increase compared to 2020. At the same time, the share of computer services in the Ukrainian GDP amounted to 2.7%.
Pre-war, ICT was the third-largest export of the country, valued at $4.5 billion and growing at the CADR of 26% per year. In 2021, it was estimated that there were 4,000 IT companies and more than 1,600 IT service businesses in Ukraine, totaling 280 K software professionals. The government has greatly contributed to the blooming of the IT outsourcing industry, establishing the Ministry of Digital Transformation in 2019 to further the country's digitization, and launching a seed fund to finance early-stage startups.
An estimated 61% of IT specialists based in Ukraine relocated due to the war. Nearly half of them stayed in the country but moved to the "safer" regions.
[Source]
According to the website backed by the Ministry of Digital Transformation of Ukraine, there are about 1,750 product companies and 538 service companies. However, the report on the state of IT in Ukraine provides different numbers:
About 5,000 IT companies
1,405 startups
2,275 service companies
One in five Fortune 500 companies use Ukrainian IT services, and there are also about 100 R&D centers running in the country. Additionally, Ukraine can (or could) boast a robust startup environment, with five active unicorns: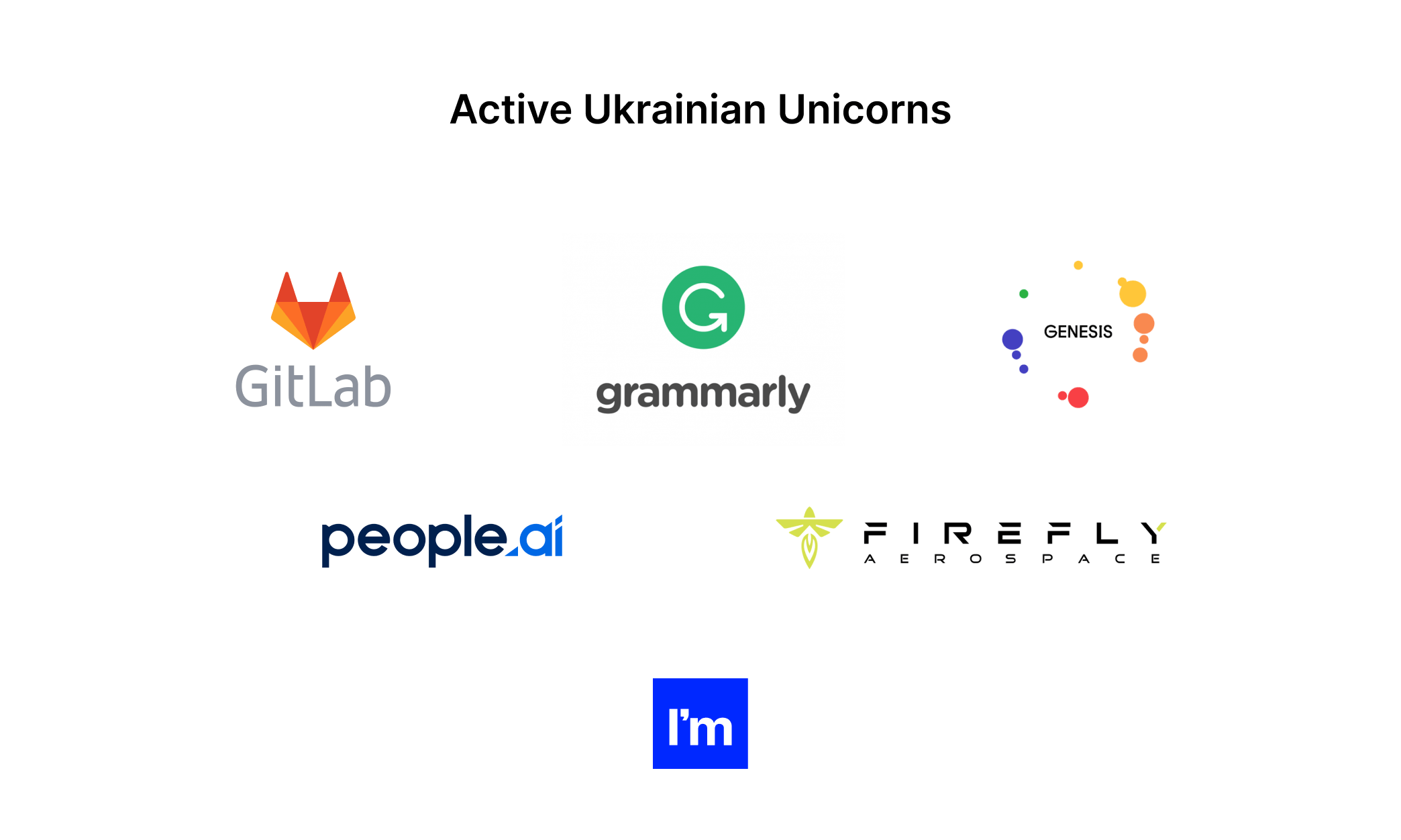 Major IT outsourcing hubs in Ukraine
Most of Ukraine's IT sector relies on services export. Therefore, many companies in the country had already supported remote and hybrid work modes between the conflict with Russia escalated into a full-blown military operation. However, they did not operate in a constant state of disruption.
When we look at the map of ICT services in Ukraine, we will find multiple IT clusters, mostly concentrated around major cities. They include Odesa, Kyiv, Kharkiv, Mariupol, and Lviv.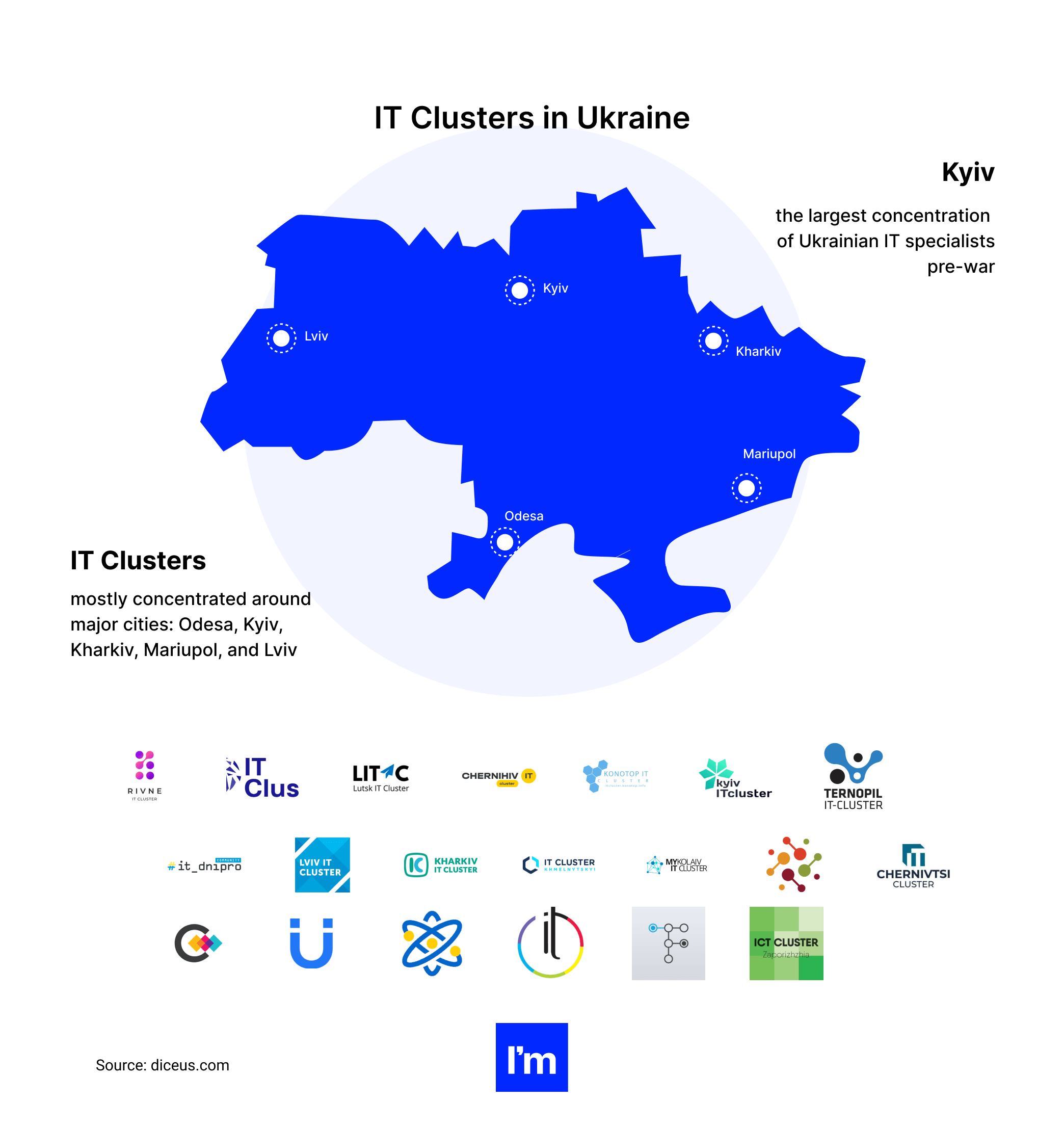 IT clusters are active in more than 20 Ukrainian regions
Again, since the outbreak of the Russian war, this situation in those clusters has dramatically changed, and the statistics that reflect it are truly appalling. Take Kyiv, the capital city with the largest concentration of Ukrainian IT specialists pre-war. Over 16% of them have left the country since the beginning of the conflict. In addition, 64.3% have moved elsewhere in Ukraine, while 19.6% joined the army.
The numbers for Chernihiv are equally shocking. Nearly 13% of software developers, IT project managers, and QA specialists living in the city left the country. Almost 77% moved to another region in Ukraine, and more than 10% enrolled in the armed forces.
Most horrific, in Ukrainian cities inhabited by smaller numbers of software engineers, including Kherson, Ivano-Frankivsk, Ternopil, or Lutsk (all with populations of over 200 thousand people), between 52-81% of IT specialists have joined the mission (all data from Dou.ua).
On top of that, plenty of those who remained home but did not join the army redirected their skills. Now, they use them to support the war efforts by raising money for charities, getting the world (and Russia in particular) informed about the war, or enabling the logistics around humanitarian aid.
App development companies in Ukraine
As mentioned, there are (or used to be) thousands of software companies in Ukraine. Therefore, we will check on just a few particularly noteworthy ones.
The current state of the Ukrainian business environment
Despite the best intentions, continuing work as usual often proves impossible for thousands of Ukrainian developers, QA experts, and network admins as Internet outages hit major Ukrainian cities.
For example, in early March 2022, 40 million Ukrainians lost access to the Internet for nearly an hour when the country's largest provider went down nationwide. A few days later, two major Ukrainian cities of Kherson and Kharkiv, were affected by outages. At the same time, at the end of the month, the country's coverage collapsed to 13% of the pre-war levels due to a mass cyber-attack. And these are just a few out of many examples.
Understandably, the war has had a disastrous effect on the Ukrainian economy. It's hard to make any predictions, considering nobody knows when and how the conflict will end, but the current forecasts are already alarming. Ukraine's economy is expected to contract by up to 35% by the end of this year.
The conflict has already inflicted massive damage on the country, with whole cities and sizable infrastructures (also connectivity networks) destroyed. The situation was exacerbated by suspended air and sea travel and transports, a blockade of imports and exports by the Russian army, and finally, the paralysis of outsourced tech operations.
"While geopolitical tensions with Russia had already curtailed Ukraine's access to markets, the escalation to an invasion of Ukraine by Russia and the full-blown war on 24 February has dramatically altered Ukraine's outlook," a report prepared by IMF staff said.
All things considered, the war is going to have massive repercussions for the Ukrainian IT sector and economy as a whole. Especially since many Western companies are closing down their Ukrainian offices or canceling IT outsourcing contracts and moving them to teams in other locations (including Ukrainian software teams but outside of the country, in places with a stable internal and political situation).
If the war continues much longer, Ukraine's technology infrastructure will be increasingly threatened. Damaging it beyond repair will set the country's outsourcing market back by a few years.
Hiring Ukrainian developers: Tech stack and industry expertise
OK, what if you decide to hire Ukrainian IT experts, be it those located in their country or working remotely from other places? What kind of technologies are you most likely to find among them?
Over 28% of Ukrainian software developers work with JavaScript when it comes to programming languages. Next up is Java - used by nearly 14% of programmers in Ukraine, followed by the Python programming language, which is familiar to less than 4.5% (data by IT Ukraine Association).
If we check these technologies in the respectable TIOBE index, which is a global indicator of the most in-demand programming languages, we will see certain discrepancies. Namely, Python, the universal language of AI development, leads this and many other ranks. On the other hand, Java occupies the third position, confirming that it remains relevant in many applications, such as desktop GUIs, enterprise systems, or web and application servers. Meanwhile, the main area of expertise for Ukrainian developers, JavaScript, takes the seventh position.
Looking at the least popular programming languages and frameworks, finding Scala (1.1%), Go (1.8%), and Ruby (2.4%) specialists will be the hardest. Of course, these technologies cannot compare to JavaScript, Java, Python, or C# when it comes to the number of projects.
Ukraine software developer rates
If you are thinking about hiring developers in Ukraine (or from Ukraine), you should check the average rates to understand a possible project evaluation.
First, it's worth mentioning that Ukrainian IT specialists' rates and salaries followed a pronounced upward trend before the war. The typical percentage growth in the remuneration budget for IT specialists was 8.5% in 2021.
Secondly, the differences between particular cities (especially Kyiv) could be significant, sometimes reaching 10-15% of the rate. Based on an analysis conducted in December 2021, the average national earnings of IT professionals were as follows: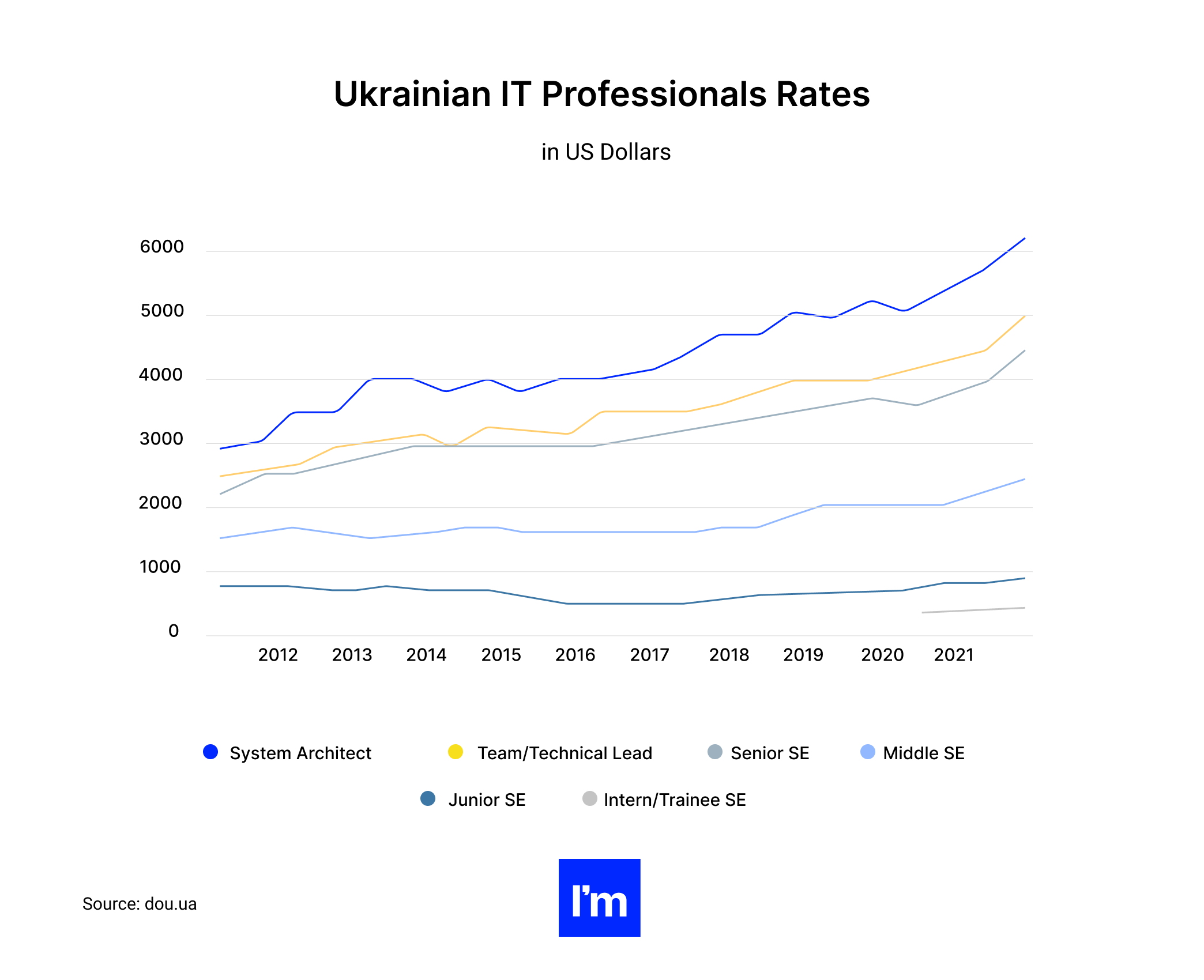 When we look at the technology breakdown, the lowest-paid languages include JavaScript, C#, and Angular (between $500-$2,000/month for a junior; $2,000-3,500 for a medium-level employee, and $3,000-$5,500 for a senior developer).
There are technologies like Ruby and React on the other end of the scale. For a junior developer in one of them, we need to pay between $1,200-$ 2400 - a few times more than in the case of the more popular technologies. A mid-level programmer will set us back anything between $2,500-$4,000. Senior developers charge $3,800-$5,500 for these and other less popular languages.
Pros and cons of software outsourcing in Ukraine in 2022
As of today, hiring developers in Ukraine might be a tricky business. Certainly, the risk will be lower if you do that through an agency or a marketplace that takes at least partial responsibility for filling your vacant roles, assembling a software team, and delivering your project.
But it doesn't really matter whether you start looking for software developers and QA specialists from Ukraine on your own or if you engage experts who will help you fill in all tech positions with top talent. Either way, you should understand what the chances and risks are when hiring Ukrainian IT staff.
Benefits of hiring Ukrainian IT experts
We have already discussed some of the unique benefits that Ukrainian IT specialists can bring to the table. Let's recap some of them:
Top programming skills at favorable rates. Ukrainian testers and programmers are usually extremely talented and demonstrate an impeccable work ethic. The high quality comes at moderate rates.


Strong English skills. Ukraine takes 40th place out of 112 countries evaluated for English proficiency in the yearly

EF English Proficiency Index

. While this corresponds to 'moderate' knowledge of English, IT experts usually demonstrate above-average skills, with 80% communicating freely in English in the business setting.


Reliable infrastructure. This point was relevant before the war. Despite many well-connected IT clusters and good Internet speed at relatively low prices, no one can tell whether this benefit will remain valid when the war is (hopefully) over.


Simplified and favorable taxation. The Ukrainian authorities realize that special taxation for the IT market provides a strong incentive for investors and enterprises to engage with the local software companies. Therefore, the country offers an attractive taxation model (see the image below) that includes low-income taxes for IT specialists and plenty of VAT exemptions. In addition, further incentives were implemented shortly before the war under the

Diia City framework

. In a nutshell, it is a special economic zone that provides unique benefits to its corporate residents, including the choice of the more favorable taxation and lower personal tax for IT specialists.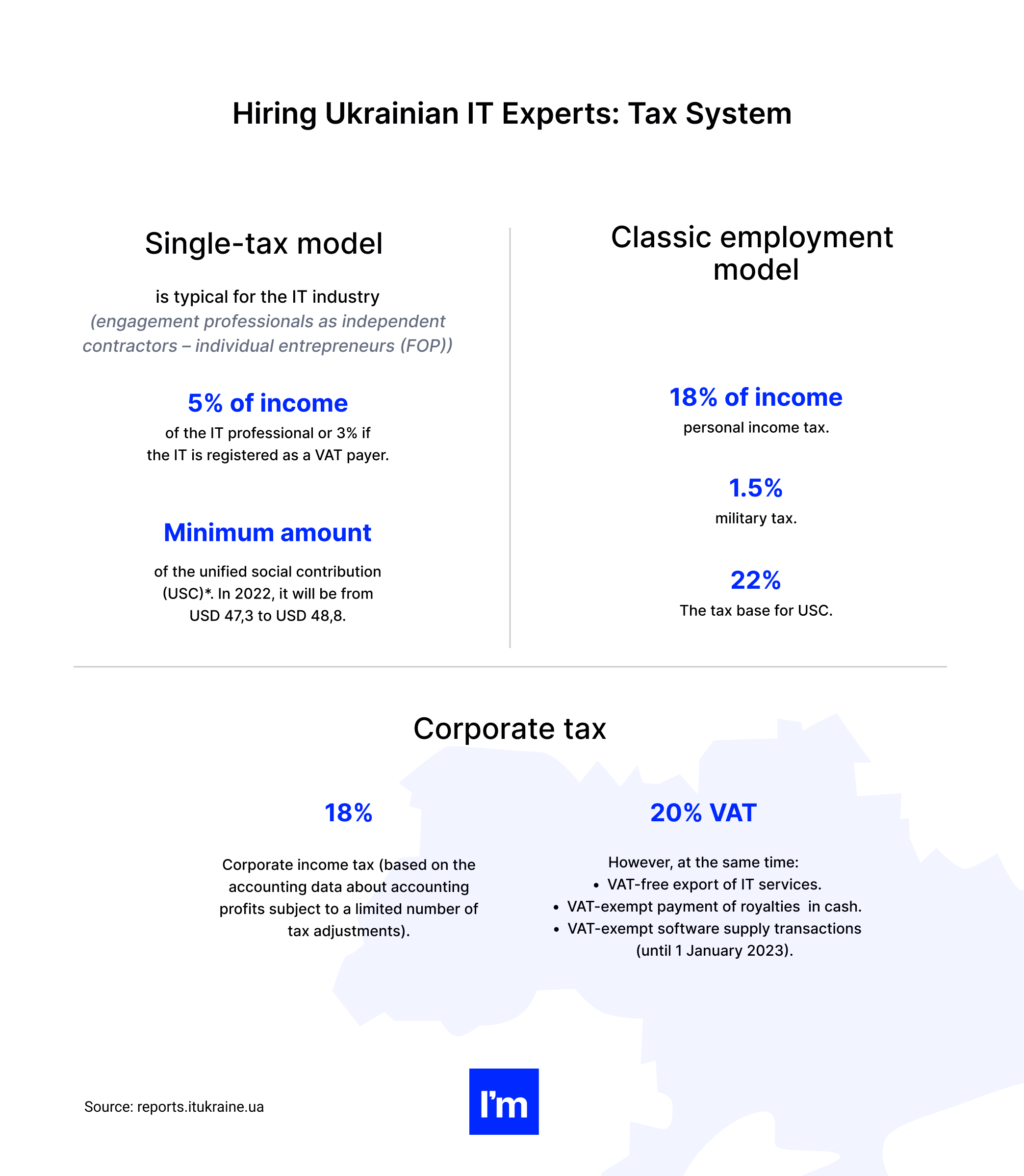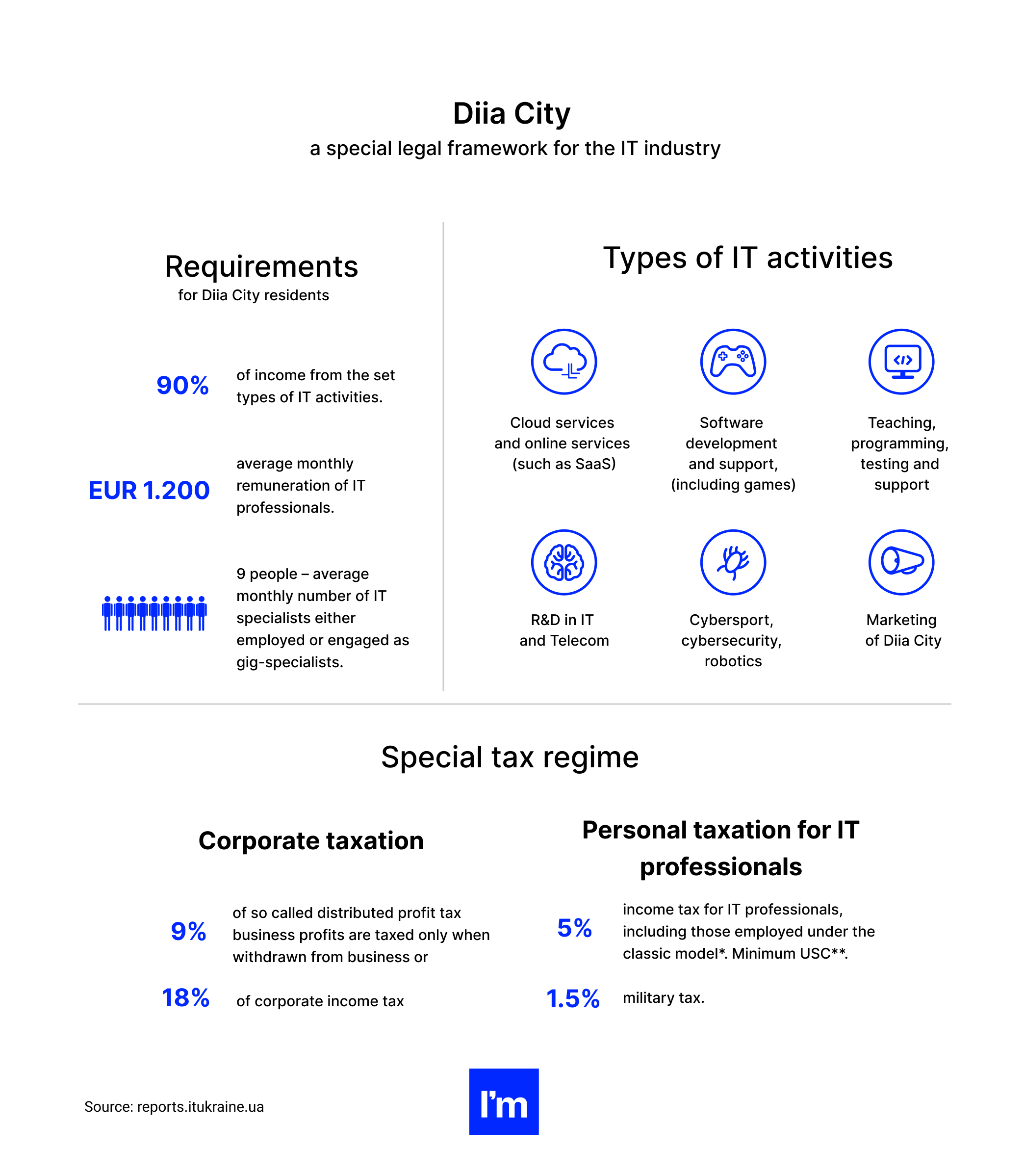 Potential risks of hiring software experts from Ukraine
Those benefits sound tantalizing, but there's also another side. Ukrainian software specialists are usually highly skilled and very reliable. However, the reality of engaging them against the backdrop of war might raise some concerns.
What risks should you consider before hiring Ukrainian developers?
Dwindling economy. Of course, the collapse of the Ukrainian economy is majorly affecting Ukraine itself. However, many foreign companies may fear engaging in cooperation with entities registered in the war-torn country that is possibly facing an economic crisis.


Work disruptions. Unstable infrastructure and constant bombings inevitably lead to remote teamwork and communication disruptions. Even before the war, the

Internet penetration rate

in Ukraine was rather on the low end, at 82-85%. However, since the unpredictable Russian military operations began, the entire country has been experiencing issues with access to the Internet and increased exposure to cybersecurity threats.


Diminishing talent pool. Even specialists who choose to flee the country or move to another region (which might not be a long-term arrangement, considering how unexpectedly the war front progresses in this conflict) need some time to relocate and accommodate. In addition, some still either decided to join the army or might be facing conscription any minute. This leads to the situation when it is hard to predict when some of those experts may become unavailable, and you'll need a quick replacement.
Hiring developers in Ukraine. What will change after the war?
This is a question no one can answer for now. Even though Ukrainian companies and IT specialists are doing their best to fulfill their obligations and minimize project disruptions, their country is in the middle of a harrowing conflict, which is already taking its horrific toll.
In 2021, IT was Ukraine's fastest-growing sector, and the country was a hotbed of innovation and technology outsourcing. Today, the abundance of talent is still there. The IT industry tries to hang on and continue operations, and Ukrainian companies are scrambling to keep their employees protected.
While we cannot predict how the events will unfold, Ukraine is certainly facing a technology brain drain, even if temporary. Unfortunately, we can do little to plug it in. But remember that the Ukrainian software specialists did not vanish overnight. They are still there, some working abroad, some doing their best to deliver work in these extreme conditions. Many are seeking remote or relocation opportunities and looking to connect with companies like yours in need of highly skilled software experts. We will be delighted to help both of you.