When it comes to European startup capitals, first of all, it is customary to talk about the largest ecosystems, such as London or Berlin. Cities like Dublin are sometimes undeservedly left aside, and as a result, the business community knows less about them.
Meanwhile, according to the European Digital City Index/EDCI, 2016 (unfortunately, 2016 was the last one) by Nesta, Dublin is ranked eighth in the ranking of the best European cities for an Internet business - after Paris and Berlin on the list.
According to Startup Europe Partnership, the capital of the Emerald Isle is on a par with Madrid and Paris in terms of the number of startups that have raised investments of more than 1 million euros.
A pint of fresh Guinness after work? The Temple Bar is one of THE places to visit!
The Wired reports that there are currently about 2,500 startups and about 200 global high-tech companies operating in Dublin. In 2015, such businesses attracted a total of more than 300 million euros in investments.
The Dublin startup scene has many offers for young talents as well as both rookie and well-established businessmen.
Intrigued? Let's delve into more interesting insights!
Want to read more about other European tech capitals? Check out our guides to London, Paris, and Stockholm!
What Makes Dublin Tech Scene Unique?
Ireland is a state in Northern Europe that occupies most of the island of Ireland. In the north, it borders Northern Ireland (part of the United Kingdom). The capital is Dublin, which is home to about a quarter of the country's population.
Ireland is an ideal country for those who want to implement their business projects. Various state support programs, low taxes, simple procedure for obtaining a startup visa. All this allows Ireland to be included in the ratings of the most attractive countries for entrepreneurship every year. The number of people wishing to get here is much smaller than in neighboring Great Britain. Therefore, the chances of turning your business ideas into reality are significantly increased.
Ireland is one of the richest member states of the European Union and the International Organization for Economic Cooperation and Development. Over the past 20 years, the country has made a huge economic leap forward. Now it occupies a leading position in the global financial arena. The largest exporters and investors of Irish companies are Google, Facebook, Paypal, Intel, Roche, Johnson & Johnson.
Dublin docks in the evening
It will not be difficult for a business that started its journey in Ireland to enter the international market. Newbie entrepreneurs have access to a wide range of funding and support programs at all levels of startup development.
The country has a convenient system of corporate taxation: income tax for most areas of entrepreneurial activity is 12.5%. And for business in industrial sectors, in the field of financial services and engineering, a preferential tax is provided - 10%.
This is one of the lowest rates in Europe. Therefore, Ireland remains an attractive country for both experienced and emerging entrepreneurs.
Brexit and Dublin Tech Scene
An interesting fact - Brexit has made Dublin an even more attractive destination for tech startups.
After the announcement of the results of the referendum on the withdrawal of Great Britain from the European Union, many are trying to find answers to the questions: what will happen to Great Britain, will London retain its financial status, and which European city could, under the new conditions, take away the palm from London?
However, in addition to being a financial center, London is also an extremely attractive destination for tech startups. Will it stay that way? Ireland seems to have its own opinion on this matter.
After the results of the referendum rocked the world like a bolt from the blue, Dublin's Commissioner for Startups, Niamh Bushnell, issued a press release entitled "Thanks to Brexit."
In her opinion, with the exit of the UK from the European Union, all those attractive features that made London a world-class technological center are called into question:
Access to talent,
To investments,
A large client base,
A stable economy,
A culture open to business.
However, thanks to Brexit, new opportunities are opening up for Dublin.
According to Niamh Bushnell, it is right now that entrepreneurs from Europe, Russia, and other regions of the world are most open to relocating their businesses to Dublin. However, one should not forget about the competition from other European cities.
Results
The UK's secession from the EU could have both positive and negative consequences for the Dublin startup scene. The latter will most likely appear in the short term. In turn, Ireland has good opportunities in the long run that should not be missed.
In the long term, Ireland may receive a certain portion of the flow of foreign investment that would otherwise go to the UK. This applies to both the financial sector and the technology one.
In order to remain visible and competitive in the global market, many companies will choose to move from the UK to countries that are part of the EU. And Ireland is among the first applicants here.
No wonder that it was the representatives of large companies and the financial sector of Great Britain who were ardent opponents of Britain's exit from the EU - they knew too well what consequences this threatened for their business.
In turn, other countries of united Europe are already invitingly open their arms to British companies and banks.
Can Dublin Take the Status of a Financial Center Away from London?
Lawyer and journalist for The New York Times, James B. Stewart, conducted his research by asking experts to assess certain indicators of European cities in terms of replacing London as a financial center.
Parameters assessed were:
English language skills of the population,
Regulatory system,
Airports,
Education system,
Cost and availability of office space and housing,
Restaurants and cultural life of the city.
Dublin came in fourth in this ranking.
According to James B. Stewart, the TOP-9 European cities capable of taking over some of the functions from London looks like this:
Amsterdam, Netherlands (55 points out of 60)
Frankfurt, Germany (54/60)
Vienna, Austria (51/60)
Dublin, Ireland (50/60)
Paris, France (43/60)
Luxembourg, Luxembourg (40/60)
Warsaw, Poland (24/60)
Milan, Italy (24/60)
Barcelona, ​​Spain (23/60)
In turn, London received an almost ideal result according to this rating system - 58 points out of 60. The only drawback was the quality of life, due to the high level of prices.
How Does Dublin Appeal to Tech Startups?
The capital of Ireland has long been an attractive destination for founders of various tech startups and industry giants. Dublin is home to companies such as Twitter, Airbnb, Slack.
Central Dublin is literally filled with big tech companies
About 2 thousand Microsoft employees, 2.5 thousand Dell employees, 5.5 thousand Apple employees, and about 6 thousand Google employees work in Ireland.
There are several reasons for this popularity, but the main one is undoubtedly the lowest corporate tax rate in Western Europe - 12.5%.
In addition, Ireland offers excellent licensing conditions for intellectual property rights, tax on income from patents and copyrights is in many cases only 6.25%, and 25% of taxes can be spent on research and development.
The following sectors are well developed in the industry of Ireland:
Components,
Computers,
Semiconductors,
Software development and production,
Telecommunications and information communications.
In terms of total production in these sectors, Ireland ranks 19th in the world.
The country has an advantage over its European neighbors thanks to the next reasons:
Large US investment,
Low operating and trading costs,
High labor flexibility,
High levels of productivity,
Close links between educational institutions and industry.
Ireland has subsidiaries of six of the world's largest computer manufacturers - IBM, Intel, Hewlett Packard, Dell, Oracle, Microsoft, as well as about 300 large local companies, which together account for about a third of the country's total exports.
One of the Largest Offshore Zones
In the 2000s, Ireland became one of the largest offshore zones, which had a positive impact on the success in attracting international financial institutions. If an offshore company is located in Ireland, its worldwide income is subject to Irish corporate taxation. IT companies are often registered in Ireland and operate in the EU markets.
However, Ireland's corporate tax policy has been criticized more than once by the countries of the European Commission.
The ecosystem of startups enjoys the advantage of being close to the world's leading IT companies and a well-established system for the internationalization and commercialization of their business and has direct access to the European and American markets. Thanks to this, Ireland is now one of the richest member countries of the European Union and the International Organization for Economic Cooperation and Development. Over the past 20 years, the country has made a huge economic leap forward. Now it occupies a leading position in the global financial arena.
More than 14,000 companies have been opened in Ireland every year since 2008, a very high figure for a country of 4.6 million people. The assets registered in Ireland are over € 2.5 trillion. This demonstrates the simplicity and efficiency of the Irish tax and legal system and the advantages of Ireland as a venue for global business.
Ireland has a reputation as an innovative hub. A large number of offices of international corporations are concentrated in Dublin: Facebook, Google, Intel, LinkedIn, Microsoft, PayPal, Twitter.
Google's amazing HQ in Dublin is certainly worth visiting if you ever have a chance to do that
Ireland's pluses can also be added: a young and educated population of 4.6 million, openness to talent from abroad, and support from the government.
Coincidental or not - the Irish government announced plans to spend about 2 million euros to attract about 3,000 technology workers. The target audience is expected to include residents of central and southern Europe.
With the UK leaving the EU, Dublin remains the only English-speaking capital there. Many companies previously based in London are already beginning to show interest in the Irish capital.
Dublin Tech Hub: Promising Areas
To give your project's development in Ireland, first of all, you will have to prove that the proposed project is included in the category of "high potential." That is, it presents an original and innovative business idea.
The most attractive areas for startups in Ireland from the point of view of Irish and international investors are:
Electronics and Engineering
Computer systems, software, and mobile application development, game design
Pharmaceuticals
Manufacture of cosmetics
Production of security systems, automotive components
Medical equipment development
Biotechnology
Food production
Ireland is home to 9 of the top 10 medical technology companies such as Boston Scientific and Medtronic. Therefore, it is important to understand that competition in this market is extremely high. However, just like in the IT industry.
Best Dublin Tech Conferences and Events
Dublin Tech Summit Virtual 2022
Date: June 15 - 16th, 2022
Exhibition Center: RDS, Dublin
Link: https://dublintechsummit.tech
The Dublin Tech Summit Virtual will bring together the world's most influential technology and business leaders.
For 1 day, experts from over 70 countries will come together to share knowledge, discuss the latest trends, and chat, all in our virtual event space.
Are you interested in expanding your startup? Do you want your business to meet the demands of tomorrow? Learn more about the variety of technologies? Make global changes? Join the community of leaders on DTS21, the platform of choice to accelerate global growth.
Startup Grind Global Conference
Date: February 2022
Link: https://startupgrind.tech/conference
Nothing can displace human interaction, but the power of the Internet allows us to bring education, access, opportunity, and inspiration from the Global Startup Grind to startups around the world.
The new 'choose what you pay' virtual model makes this year's event more accessible to startups around the world than ever before.
Join the speakers and 15,000 visitors to connect and collaborate on technology, startups, and the future of innovation.
All-Ireland Business Summit
Date: N/A
Exhibition Centre: Croke Park, Conference Centre
Link: https://allirelandsummit.com
This year the event's focus is your business and your growth.
2022 is the year of ideas when those who get the right ones and act on them will have this important competitive advantage for business success, regardless of the economy, political outcomes, and what their competitors are doing.
You will learn cutting-edge skills and strategies for implementation - from protecting your business from a recession, scaling your business, selling your product, hiring and retaining the best talent, thinking about business success, and more.
You will also have the chance to participate in the world-class results-based networking sessions, where you will attract leads, find new companies, partners, suppliers, and more.
The organizers invite the brightest business owners, entrepreneurs, and experts to share everything they've done to succeed, and even their mistakes, so you can avoid them.
Over the course of one day, you will have the opportunity to learn, chat and interact with the brightest entrepreneurial minds in modern business.
If you wanted to participate in the past but were unable, or if you have attended and want to be part of the tumultuous, exciting, and life-changing event (All-Ireland Business Summit,) you should do everything in your power to participate.
Startup Community
Dublin's appeal doesn't just stop with stag parties and short breaks. Ireland's bustling capital also hosts a large number of foreign visitors who stay here for longer periods to immerse themselves in the city and often to work. As in other cities around the world, young Dubliners are increasingly looking for flexibility in where and how they work, and this is where collaboration spaces come in.
Coworking spaces offer shared desks and private offices for hourly, daily, weekly, monthly, or annual use for both individuals and small businesses. Dublin's many collaborative venues are scattered throughout the city, from the city center to the suburbs.
Great restaurants and even better pubs - this is Dublin in the nutshell
If you are planning to spend time in Dublin for any length of time and are looking for a collaborative space to use during your stay, we did a little research and selected the top 12 based on various factors, including rates, flexibility, location, and services.
Coworkinn
Location: The Cubes Offices Beacon South Quarter
Website: www.coworkinn.com
Located in the Dublin suburb of Sandyford, five minutes from Stillorgan Luas Station, Coworkinn is home to a bustling community of self-employed workers.
The premises include a conference room, printing, and faxing equipment, lockers, broadband Internet and Wi-Fi, and tea/coffee making facilities.
There are two types of membership - dedicated and direct - with prices starting at € 55 per month for flexible workspace, including conference room use, for 1-31 days per month. A day pass is also available for € 30 per day.
The Tara Building
Location: Tara Street
Website: www.thetarabuilding.com
This downtown location, a short walk south of the River Liffey, sits on two open-plan sites and offers a wide range of flexible packages with 24/7 access.
It has a strong community orientation, with a busy calendar of events for participants, from community events, wellness classes to creative development workshops.
Both workspaces are dedicated to hot tables, helping to create an atmosphere of collaboration and inclusion.
There are conference rooms, storage facilities, postal and printing services, telephone booths, lockers, bicycle storage, showers, and a shared kitchen.
The price is 75 euros per week and 220 euros per month.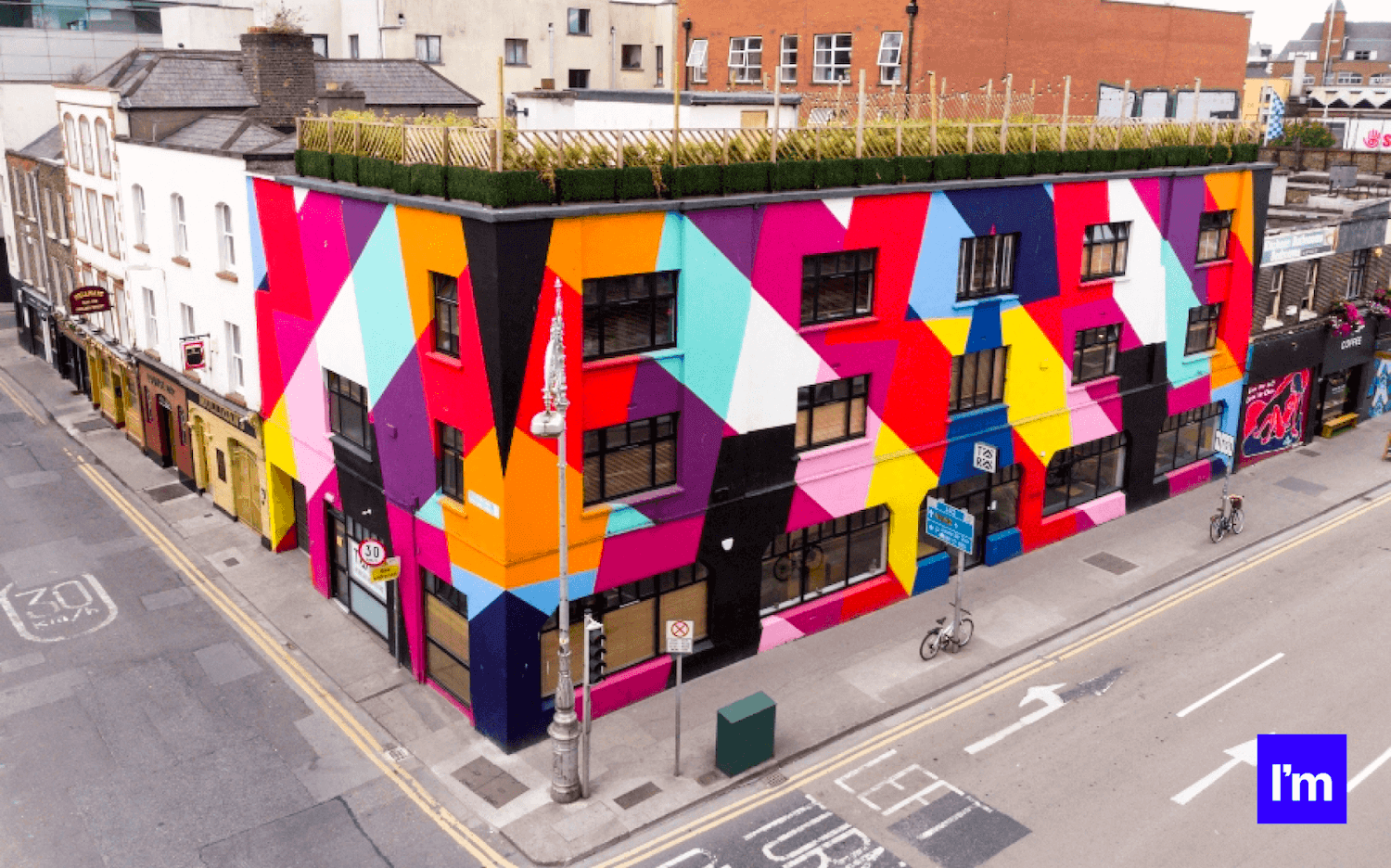 The Tara Building and its colorful facade
Huckletree D2
Location: 42 Pearse Street, The Academy
Website: www.huckletree.com/locations/dublin-d2
Huckletree D2 facility is centrally located south of the River Liffey, close to Trinity College. This is a 30,000 square foot collaboration center. It offers both hot tables and private studios.
It offers meeting and event facilities, a zen-style forest room, and a yoga and massage studio where you can take a break from work.
It also hosts regular seminars, product presentations, and launches, as well as weekly breakfasts.
Unlimited use of the hot desk can be rented for a minimum of one month at a price of € 300 per month.
Helpingnetworks
Location: 23 Mountjoy Square East
Website: www.helpingnetworks.com
This small but well-equipped establishment is one of Dublin's newest collaborative spaces. It is part of Helping Networks, a young company that offers a support network for entrepreneurs across all industries.
A total of 11 desktops are available for visitors, as well as a conference room and multimedia class.
Leisure facilities include a common room and a tea/coffee room with a dining table.
Part-time and full-time contracts are available with monthly rates ranging from € 160 to € 250 for full-time access.
Element78
Location: One George's Quay Plaza, George's Quay
Website: www.element78.co
The Element78 is located in George's Quay Plaza in Dublin's Docklands, next to Tara Street Train Station.
It offers a beautifully designed flexible workspace with 24/7 access for members and guests.
Both small business freelancers can be accommodated here with different desk configurations.
The facility has seating areas, conference rooms, a shared kitchen, storage rooms, and showers.
The monthly membership rate is € 350, and short-term visitors can sign up for a month or two without being limited by a long-term contract. Those looking for easier access can buy day passes for € 45.
The Brickhouse
Location: Clanwilliam Court, Block 1, Lower Mount Street
Website: www.iconicoffices.ie
The Brickhouse is placed just a short walk from Dublin's Silicon Docks, in the heart of the city's CBD. It offers its members a range of 24/7 collaboration options, from private offices, dedicated and floating tables to conference and event rooms.
Services include meeting rooms, printing, and copying, desk lockers, mail handling, community support, concierge services, private telephone booths, personalized phone answering, daily cleaning, kitchen use, showers, continental breakfasts.
A Light membership is available at a monthly rate of € 49, which includes 8 hours of access per month (€ 5 for any additional hours). Day tickets are not sold here.
Cluster
Location: 1-3 Westmoreland Street
Website: www.cluster.ie
Another popular downtown coworking space, Cluster, is home to a small, dynamic community of members. These include startups, remote workers, and freelancers who all come here to enjoy a combination of great amenities, competitive prices, and a central location that provides easy access to all of Dublin's major attractions, including a huge selection of bars and restaurants on your doorstep.
They can subscribe to monthly hot desks for € 220 or longer.
Dogpatch Labs
Location: The CHQ Building, Custom House Quay
Website: www.dogpatchlabs.com
This huge and impressive complex, opened in 2015, is located on the banks of the Liffey, in the historic CHQ Building, in the heart of Dublin's emerging technology and financial district.
The coworking space includes dedicated work areas, hot desks, and private offices spread across three separate areas.
Most of the hot desks can be found in the city's purpose-built garden, which also serves as a meeting place, hackathon, and innovation seminar.
Hot desk rates start at € 200 per month.
Dublin's iconic CHQ Building, located on Custom House Quay in the heart of the Docklands
CoCreate North
Location: 57 Gardiner Street Lower
Website: www.cocreate.ie
Centrally located, CoCreate hosts a community of freelancers, creatives, techies, entrepreneurs, and other professional remote workers.
You can rent a cozy workspace with a homely feel, tables paired with ergonomic chairs. Besides, you can get 24/7 access to a well-equipped kitchen and living room.
The site also hosts a regular program of seminars, courses, and various networking events.
Hot desk prices start at € 100 for a 5-day pass, which entitles you to use for 5 days over a 30-day period, up to € 200 for unlimited access. Dedicated desktops can also be rented for a minimum of one month at the cost of € 280 per month.
DoSpace
Location: 23, Trinity Technology & Enterprise Campus, Pearse Street, Grand Canal Dock
Link: www.dospace.io
DoSpace, located in a converted warehouse in the heart of Dublin's Silicon Docks, is home to over 60 members, from start-ups to sole proprietors across a wide range of industries.
The meeting point offers high-speed Internet access, conference rooms, standing tables, and event space.
For extracurricular activities, there is a bar serving draft beer, a cozy lounge, weekly social events and networking events, and social events, including yoga.
Workers who require only short-term use of the premises can purchase a five-day pass for € 125 or a 10-day pass for € 200.
Guinness Enterprise Centre
Location: Taylor's Lane, Ushers
Website: www.gec.ie
A non-profit collaboration space located in Dublin's Liberties neighborhood, the Guinness Enterprise Center was named the world's best business incubator last year for its "world-class premises, startup-friendly ecosystem and strong culture community".
The place has meeting rooms, photocopying and faxing, parking, cafes, and showers.
Employees of various companies can also use the virtual office address, as well as regularly host business seminars, social media events, and recreational activities. There are also running and yoga clubs.
Rates start at € 120 per month for 10 days of space usage per month. Workers must sign for a full 12 months, although you can terminate your contract with one month's notice. Day tickets are not available.
Guinness Enterprise Centre
Us & Co
Location: St Stephen's Green
Website: www.usandco.com
This versatile coworking space is located in the heart of Dublin's business and entertainment district. The atmosphere here is relaxed but dynamic. Offering both day passes and monthly memberships, this place is ideal for those who come and work part-time, as well as those who need a hot table no more than ten days a month.
Services and amenities on offer include ultra-fast Wi-Fi, high-tech meeting rooms, a club space for members, regular events, secure bike storage, showers, and a drying room, and freshly ground coffee.
To find out more about coworking in Ireland and find the right one, visit the Coworking in Ireland website.
Dublin Venture Capital: Financing and Investment
To help young companies - Irish venture funds, government agencies, business incubators, and accelerators, ready to provide financial support.
For about ten years, competitions have been held among the founders of startups. The winners receive:
large investments
information and visa support when moving
and much more to help you grow your business in Ireland.
Competitive Start Fund
The largest state agency Enterprise Ireland, together with the government of the country, organizes a competition for startups, "Competitive Start Fund," twice a year.
The terms of participation:
The startup is not older than three years
Previous investments were no more than 100 thousand euros
The company's turnover does not exceed 60 thousand euros per year.
Ten winners receive an investment of 50 thousand euros, visa support, and all kinds of assistance in subsequent immigration and incorporation. It is noteworthy that the competition and the winners' assistance program are intended only for foreign (non-Irish) start-ups and early-stage companies.
Applications with a description of a business idea or an existing company, along with a video presentation, must be sent to the organizers.
Twenty successful candidates are invited to Dublin to present their business projects (travel expenses are paid by the organizers).
As a result, the commission selects the ten most suitable startups for the country, and their representatives will have to move to Ireland. However, there is one detail. To receive financing from Enterprise Ireland, the founder must invest 5 thousand euros of their own funds in their project.
The expert committee of the competition highlights the following business areas:
Pharmaceuticals
Software
Games
Mobile applications
Biotechnology
Oil and gas industry.
Program from NDRC and Pulsar Venture Capital
All the same agency Enterprise Ireland, together with the accelerator NDRC, announced long-term cooperation with the Russian branch of the Pulsar Venture Capital venture fund. Thanks to this tandem, rookie companies will be able to receive investments and participate in accelerator programs in Ireland.
Here, preference is given to founding members of startups in tech industries:
IT and software
Petrochemical industry
Medicine of the future and biotechnology.
Prerequisite: the candidate must have a complete prototype or a ready-made project.
Other VC Funds, Accelerators, and Business Incubators
Other VC funds, accelerators, and business incubators in Ireland that help in the development of foreign startups:
Propeller Venture Accelerator Fund

is one of the largest startup incubators in Europe. They are supervised by the City University of Dublin. New entrepreneurs are invited to go through a five-month accelerator program at the Silicon Docks in Dublin (offices of world companies such as Facebook, LinkedIn, Google are located there) and an investment of 30 thousand euros in exchange for 7.5% of the company's shares. The incubator primarily supports businesses in technology areas.

Startupbootcamp

accelerator offers startups a three-month training program, an investment of 15 thousand euros, an office for 6 months, and meeting hundreds of potential investors at various conferences. Priority areas of project activities: IT, biotechnology.
Medical founders should look to

HealthXL

, which helps find investors and advice on health-related issues.
Dublin Startup Scene: Startup-Visa
In 2012, a special program for foreign citizens immigrating to the country to start a business appeared in the Republic of Ireland - the Startup Entrepreneur Program (STEP), or "startup visa."
It gives the right to live and work in Ireland for 2 years with the possibility of extension for another 3. After 5 years of stay in the country, you can apply for a permanent residence permit. And after another three years - become a citizen of Ireland.
Conditions for obtaining an Irish startup visa:
Investments in the project amount to at least 50 thousand euros. It can be both the entrepreneur's own funds and money from funds, accelerators, and other sources;
A certificate of no criminal record (it is advisable to order it from the Ministry of Internal Affairs in advance since it is prepared exactly 30 days from the date of application);
The company is not older than 6 years;
The business meets the HPSU (High Potential Start-Up) standards, that is, it is unique and innovative;
The company is run by experienced entrepreneurs;
During the first 3-4 years of its work in Ireland, the company must create at least 10 new jobs, and the company's turnover must reach one million euros per year;
A well-developed business plan;
A standard package of personal documents (application form, photographs, identity card, higher education diploma, marriage certificate, and so on).
All documents are submitted to the immigration office. A temporary residence permit is also issued there (cost - 300 euros). Spouse and children receive visas together with the applicant.
Useful Resources for Startups
Those who are interested in starting a business in Ireland should visit this useful resource - StartupIreland, where all information about foundations, accelerators, business incubators, embassies, consulates, immigration services located in Dublin and other cities is collected.
All of these organizations can also be contacted directly through this site.
Summary
The main positive characteristic of Dublin as a city suitable for business development is the availability of financing.
Other advantages of Dublin include:
the presence of prestigious universities: Trinity College, University College Dublin, and Dublin City University, which consistently "supply" qualified personnel, annually graduating about 26,800 specialists;
convenient geographic location and time zone, regular flights to New York and London: many entrepreneurs consider Dublin a bridge between continental Europe and Silicon Valley;
a large number of offices of international corporations: Facebook, Google, Intel, LinkedIn, Microsoft, PayPal, Twitter;
relatively low corporate tax (12.5%);
English speaking environment;
European currency.
The disadvantages include the following factors:
relatively high cost of living: living in Dublin is cheaper than London and Paris, but more expensive than Amsterdam, Berlin, or Moscow.
In 2013, Forbes ranked Ireland as the best country in the world for doing business. Every year it maintains its reputation as a country with huge opportunities for entrepreneurship, continues to attract aspiring foreign startups and the world's largest investors.
The island's mild climate, high standard of living, and EU membership are the indisputable advantages of Ireland as a country for life.
Undoubtedly, the Dublin startup scene and Ireland per se is the land of opportunity.
All you need to conquer its business industry is a well-experienced team of experts. That's why Ideamotive strongly recommends hiring only the best professionals:
Don't hesitate and hire top talent perfectly fitted for your company!