Picture this: you're a CTO in a software company experiencing explosive growth. Your business expands into new services and territories, with the customer base burgeoning – but your website is slowing you down. It can't handle a sharp increase in users and load, killing your conversions and hindering customer retention. Each change, even the tiniest update, means involving the programmers to hammer out long lines of custom code.
That's the challenge our team faced when we took a sharp turn towards a new business direction. A new, exciting chapter was opening for our business, but our website couldn't catch up. To support our transition from a classic software house to a global IT talent marketplace, we had to revisit its core functionalities, integrations, and design, among other things. In the end, we decided to tear it down and build a new one from scratch. But first, we needed to choose the right content management system (CMS).
What we needed
First, we identified key goals for the new CMS:
extensive customization features,
ease of use for non-techie team members,
marketing tools and integration capabilities,
scalability.
Gorgeous, functional, and aligned with our strategic goals – that's what we were after. The ability to easily adjust the CMS to our demands was particularly important — we needed an advanced and flexible solution that wouldn't require a designated developers' team to run it in the future. Also, we wanted a platform that would aid us in our marketing efforts, centered primarily around SEO, inbound, and content.
HubSpot's low code development platform is known for its CRM functionality way more than for its CMS. However, the latter works perfectly fine too and offers a rich set of features. There are numerous reasons why you should host your website on HubSpot, from the easier development process to better business management.
We can confirm this from our own experience. Our website was previously built with Nunjacks and had a WordPress blog. Such a structure wasn't allowing much flexibility, as team members with little tech knowledge couldn't make modifications to it by themselves.
HubSpot CMS has a wide variety of pre-made modules to use, however in order to unleash HubSpot's full potential our dedicated development team has created multiple custom-made modules to fully meet all of our needs.
In this honest HubSpot CMS review, we want to share our experience of using CMS Hub and tell you about all the benefits and drawbacks that we have noticed on our way.
But first of all...
What is HubSpot CMS?
HubSpot CMS is a no-code (or in some cases: low-code) tool that helps to create, design, customize, and maintain the website without or with little knowledge of web development and coding.
It works as a drag-and-drop. You have hundreds of pre-made modules and templates that you change with a few clicks to correspond to your brand's identity: add logos, use corporate colors and fonts, etc. You can also use app integrations to add more functionality to your website – they work like plugins in WordPress.
If you want to publish new content, you do not need any special skills as well. The interface of the content publishing tool looks and works like those of text processors (Google Docs, Microsoft Words, etc.).
Such a CMS is a great solution for those who want to create their website but have no front-end knowledge and no opportunity to hire web developers and software consultants.
If you can afford front-end developers but want to add content and maintain the website on your own, HubSpot CMS is the perfect tool as well. HubSpot automatically updates the website, integrates security tools (web application firewall, SSL, HSTS Max Age Directives, anomaly detection), and makes interactive elements implementations easy (forms and popups specifically).
As we have mentioned in the beginning, HubSpot is also a customer relationship management solution. It means that you can not only create and manage your website but also power it with marketing automation tools. HubSpot offers the following features: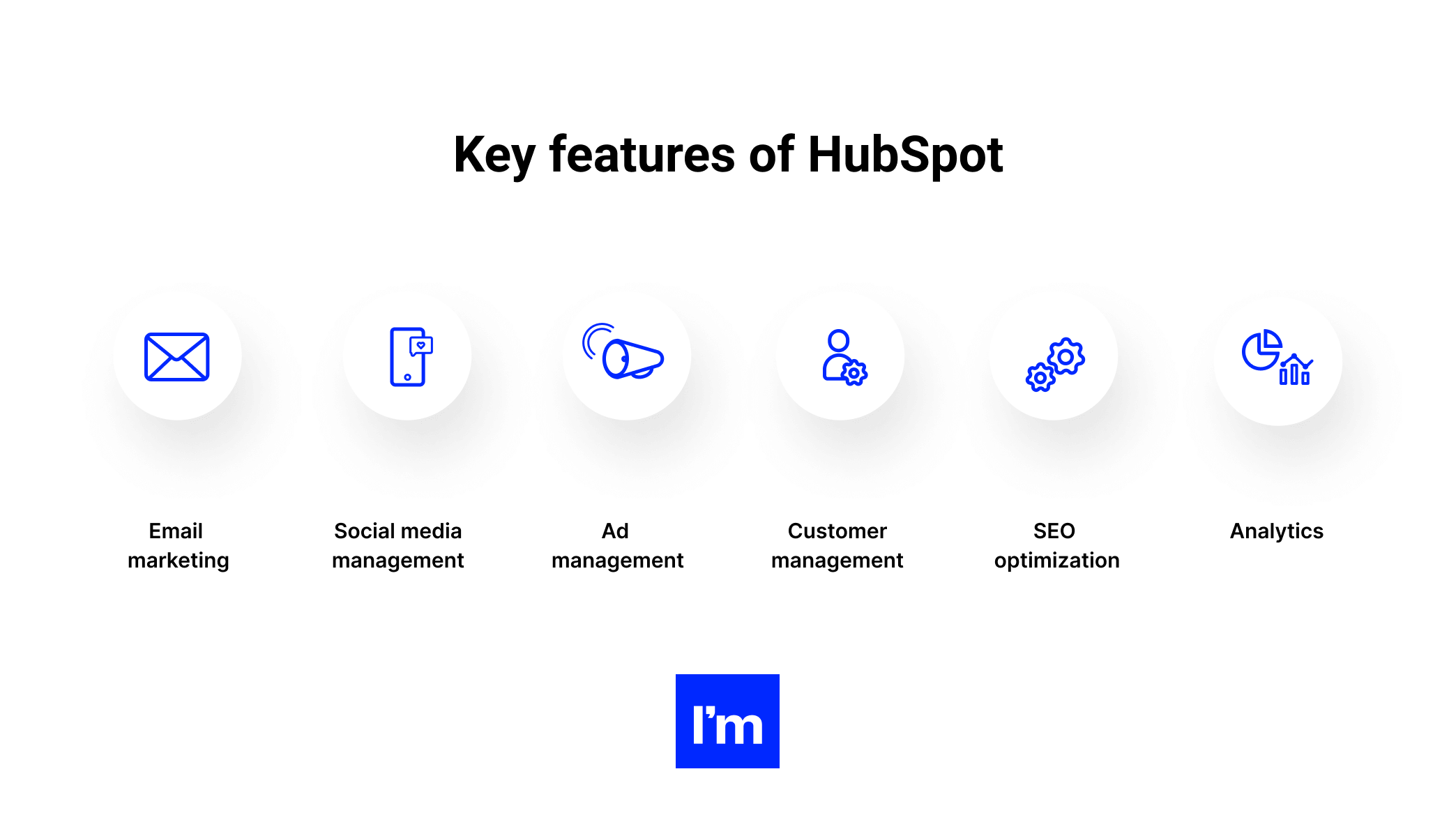 As a result, you get an all-in-one platform. You do not need to use any other analytics, SEO, email, and social media tools: manage all aspects of your online presence within one tool.
Why Did We Choose It Over Other Systems?
Upon carefully evaluating different tools and approaches, we opted for HubSpot CMS development to support our business growth — and that choice turned out to be one of the best we've ever made. Here are some reasons why.
Last year our company underwent a significant change in our business and hiring models. In order to meet the ever-changing market needs, we wanted to enable our marketing, sales, communication and hiring teams to make changes to the website by themselves. So we were looking for a CMS that will: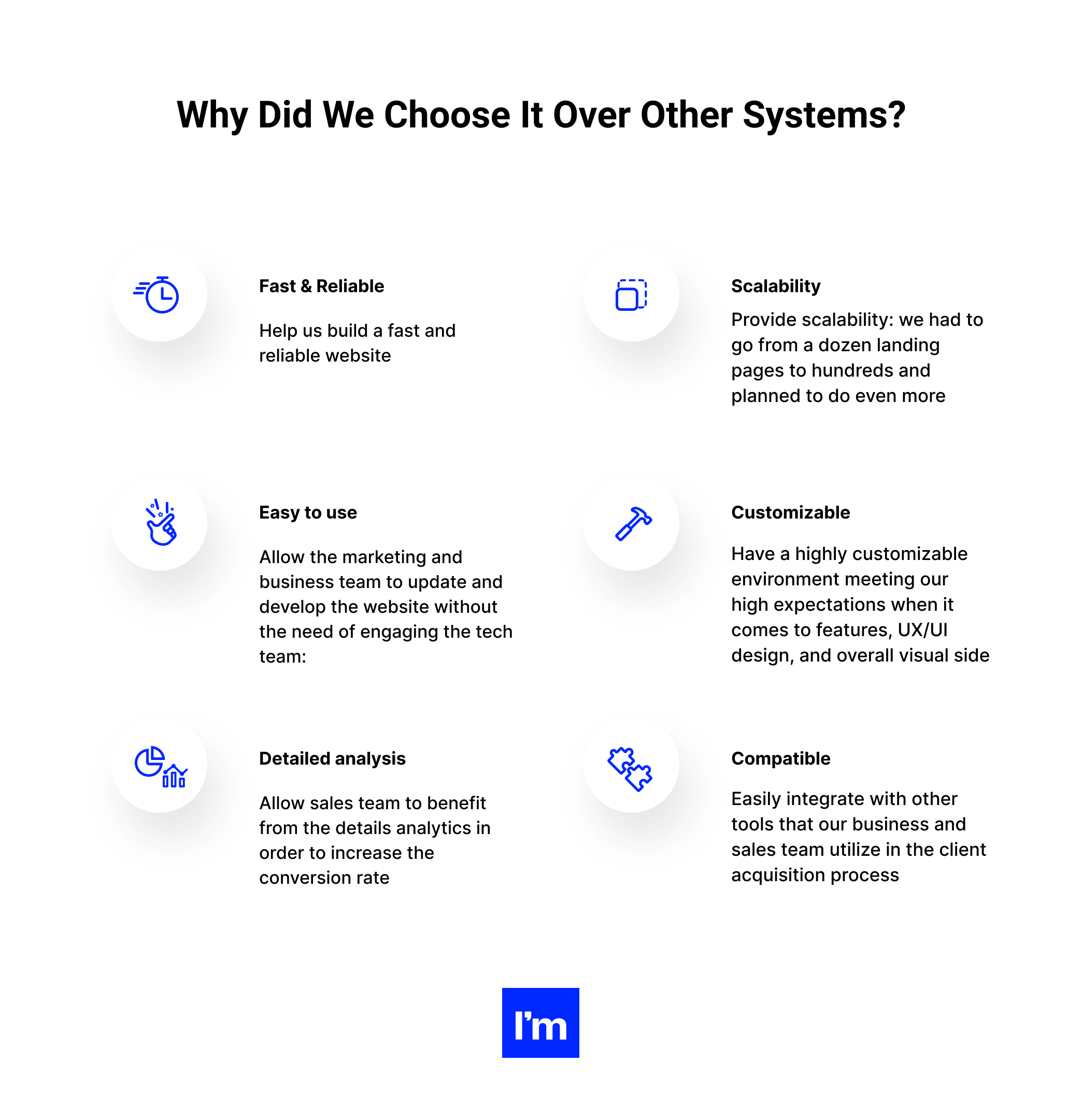 We have analyzed the existing systems and assessed our previous experience with both WordPress and HubSpot to make the final decision. HubSpot met all our business needs perfectly so we decided to go for it. Even though we knew about certain limitations of the system from the very beginning and HubSpot CMS pricing, it was still the best solution on the market. With some help from back-end developers, we created lots of custom modules not to be limited with the default HubSpot features.
So... what made us opt for HubSpot CMS?
You can make it truly yours
Custom-made platforms offer the highest flexibility but require the most investment in terms of time and funds, especially when it comes to maintenance. On the other hand, ready-made CMSs are more affordable and have core functionalities already in place at the cost of reduced customizability.
Meanwhile, HubSpot CMS combines the best of both worlds: it provides solid foundations that you can build on to develop a website that meets your every expectation. And that's what we did, engaging our in-house HubSpot developers. Leveraging the core platform capabilities, they designed tailored modules and coded them with JavaScript and a CSS extension. Thus, we achieved the exact look and feel that we wanted.
A one-stop-shop
Another factor that tipped the scales for HubSpot custom development was that our sales staff had already been using it as a CRM for some time. Now, we wanted to expand their positive experience with the platform to our marketing team.
This was possible because HubSpot comes with a set of 'hubs,' or modules. They include email marketing automation, SEO optimization, and off-the-shelf website and blog development tools. Pieced together, they form a single, integrated environment that enables a smooth information flow and handover between multiple teams.
On top of that, HubSpot offers integration with over 200 apps like Slack, Salesforce, Facebook, and Google Ads. They can be readily implemented directly from the marketplace, through the Zapier app, or via API. As a result, this coherent package can replace several external solutions with an all-in-one system that various teams and roles can manage.
Anyone can use it
Our idea was that once our HubSpot developers set up the website, business users could easily manage it without involving developers. As a no-code CMS platform, HubSpot meets that criterion, making it straightforward to create and manage diverse types of content, such as blog posts, pillar pages, case studies, or talent pages, without the need for programming.
Since Hubspot CMS uses modules and a drag-and-drop interface, our content and marketing specialists can build landing pages in a matter of minutes. Additionally, the tool consolidates our blog (previously running on WordPress) and website within one environment, resulting in a flawless user experience.
It grows with your business, seamlessly
From day zero, one thing was crystal-clear: we needed a tool that could handle hundreds of landing pages and assets, with more to come in the future. Popular CMS solutions, like WordPress, offer similar capabilities to HubSpot CMS when you first set up your business website. However, as your company grows, they often become incapable of meeting the needs of high-traffic, large-scalable websites.
Unlike them, HubSpot was designed to serve growing businesses: it allows you to add new accounts on-demand without disrupting the current setup. More importantly, you can wave goodbye to the bothersome task of maintaining a plethora of plugins (yes, WordPress, I am talking to you!).
Benefits for Our Development Team
Our main aim was to reduce tech team involvement in the website's management. And we achieved it! We were able to cut time and effort spent on content and website updates. In fact, the marketing team can do everything on their own now: they add new landing pages and edit old ones without our interference, the security updates and website updates are run automatically by HubSpot too. It turned out to be way more effort- and cost-efficient than self-host
Benefits for Our Marketing Team
The marketing team can finally do all they need as soon as they need it. They do not have to wait for tech team availability. Now they create lead generation, recruitment, paid campaigns, and other kinds of landing pages and actually enjoy the process because it is that easy. The marketing and communication teams also implement A/B tests, forms, CTAs, automation, and workflows on their own.
The other big benefit they have noticed is a unified environment. We hosted our blog on WordPress, self-hosted our main website, and used HubSpot and other tools for marketing. After we moved to CMS Hub, we could do everything in one place.
Benefits for Our Customers
Customers can enjoy a seamless digital experience because we finally got to use HubSpot CRM tools to their fullest. We've utilized the power of the Smart Content feature in order to provide website visitors with content that is tailored to their needs. We also took advantage of the HubSpot analytics to draw meaningful insights from the analysis of user behavior.
Why Did We Switch From WordPress When It Comes to Managing Our Blog?
As we have mentioned, our website was previously developed with Nunjacks and had a WordPress blog. WordPress is the most popular solution for blogs out there since it is free and open-source. Yet, we decided to move the blog to HubSpot CMS as well.
It was really difficult to switch between website and blog management and analyze how both influenced each other. We also were limited in HubSpot CRM tools on WordPress because the official plugin does not integrate all necessary features.
After we moved the blog to HubSpot, we also noticed the following HubSpot advantages compared to WordPress: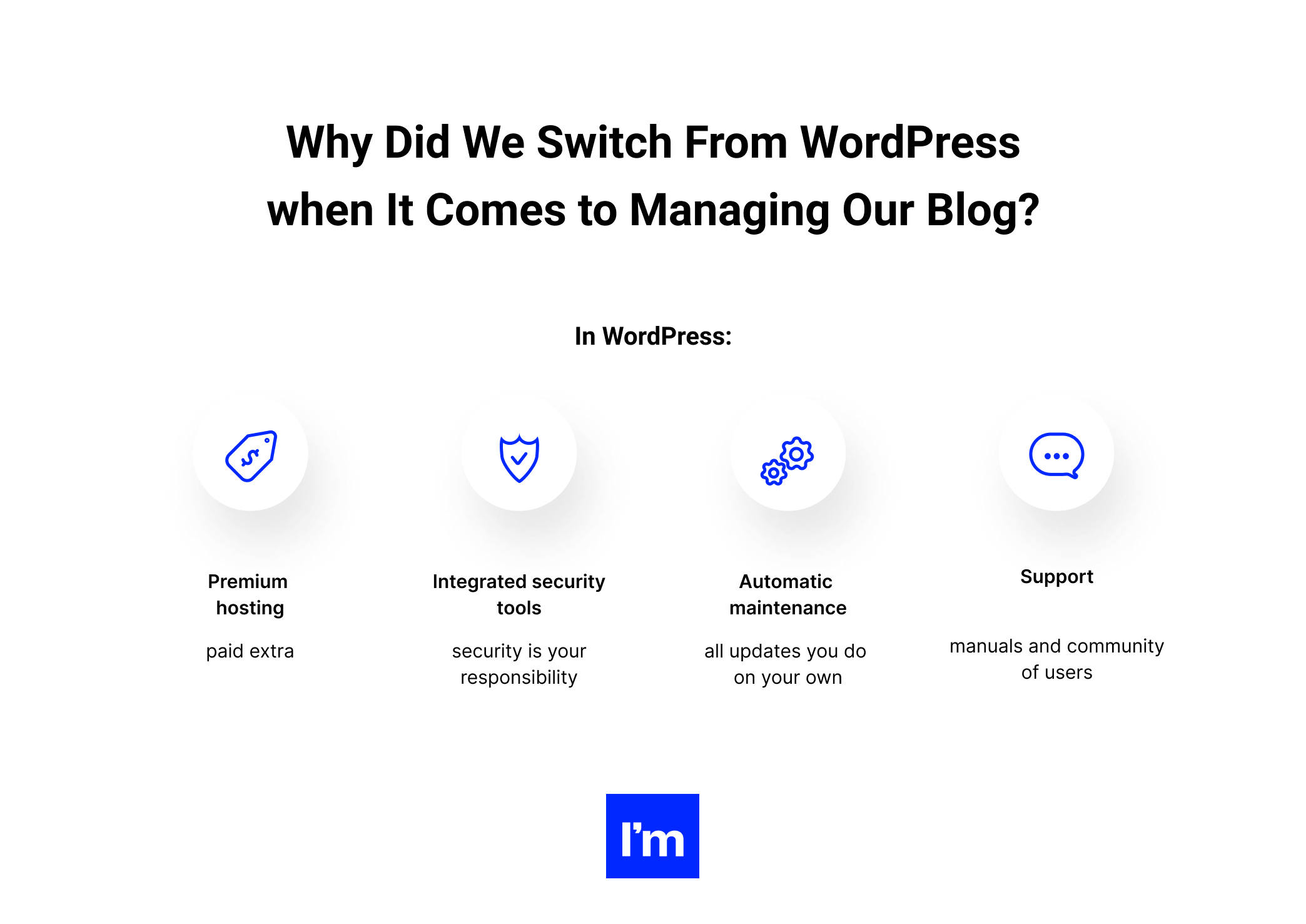 As for the development, we have noticed that you will need help from professional developers in both website and blog development if you want to have an advanced final result.
The Decision To Move Our Website To HubSpot CMS Was A Game-changer. Here's Why.
We can not claim that HubSpot is a flawless solution. There won't be other products on the market if the perfect one would have already excited. However, we do find that HubSpot CMS turned out to be the most beneficial option for our business needs.

Speed of Development
When you are creating a fully custom, self-hosted website, it takes a lot of time to design, code, integrate different tools and features and make everything work. With HubSpot CMS, you have many pre-made customizable themes and modules and integrate tools easily. We were able to skip repetitive code for the same features, make many pages without coding efforts, etc. It significantly reduced the development time and helped the website to be up and running in no time.
All-In-One Platform
After we moved to CMS Hub, we were able to manage everything in one platform. We did not need to use any other external analytics, lead gen, email marketing tools, etc. When we had to use other services with self-host, we always had to deal with difficulties of integration: tools did not work to their fullest and sometimes showed unrealistic data. It was also troublesome to switch between all the applications.
As for now, we do everything within HubSpot, both website- and marketing-wise. It created more room for team collaborations, eliminated any errors driven by multi-platform business management, and drove more accurate analytics.
Analytics
The analytics capabilities of HubSpot go beyond any imagination. We market on many platforms: YouTube, Instagram, Facebook, LinkedIn, Twitter, paid search, etc. It was difficult to understand how all of these channels work together and influence user decisions. HubSpot helps to track everything on one platform, helping to analyze what channel drives the most conversions and to track every step of the customer journey. We were able to optimize our channels, identify our best-performing pages on the website and find out what made them so popular.
Experimenting
Real-time analytics and easy-to-implement A/B testing functionality of HubSpot allowed us to experiment with landing pages, CTAs, contact forms, homepage, and marketing emails. In such a way, we discovered valuable insights into visitors' preferences and behavior. We are able to make informed decisions about our design and functionality that improved our time on the website and conversion rate significantly.
Multiple Landing Pages Publishing
Before we converted into a tech talent marketplace, we had around twenty landing pages. We then had to create a hundred more. Normally, our developers had to do all of that following the instructions of the marketing team. Now our marketing team is in full charge of landing page creation: they decide on the structure, embed forms and popups, add images, videos, and texts, run tests, etc.
Global content makes the process way easier and faster too: some elements (logos, copyright date, menu, website heads, etc.) are automatically added to the page during the creation stage. So all pages are visually consistent and require as little effort as possible.
Moreover, our marketing team can also publish multiple pages at once which drastically reduces the website update and development process. Speed and no tech skills involved were our main business needs and we did get them.
Smart Content
Smart Content is probably our favorite feature in the system. Basically, an individual user sees the particular landing page based on their location, device type, referral source, preferred language. If you already have the contact of the person, you can show them even more personalized content.
It requires zero effort on our side, works perfectly in CMS Hub native environment, and skyrocketed our conversion rates.
The CMS platform is designed for seamless integration with the HubSpot CRM and the full marketing suite. This means that you can create dynamic, personalized website experiences for visitors based on the data you already have, which can significantly improve user engagement and conversion rates.
Developers can use the HubSpot CMS CLI (Command Line Interface) to build websites locally, providing them with the flexibility of using their preferred tools and technologies.
What We Do Not Like About HubSpot CMS
Limits in Customization
We have a high design, UX/UI, and functionality expectations and wanted to make the website as custom as possible. It meant that we had to write a lot of custom code since the CMS Hub options are a bit limited.
We were also not really satisfied with native popups – they look unpleasant in the end, which drives away potential customers. We created a custom design and tried to implement it on the platform as well.
However, we later discovered that it is not so easy to add customizations, especially in lead forms. We had to find a way to work around the said differences: our developers wrote custom modules in JavaScript that we later uploaded through HubSpot's CLI.
Performance
If you do not need a website that is too advanced, you are unlikely to run into this issue: HubSpot CMS actually takes pride in the speed of its website.
However, we wrote a lot of custom JavaScript code to create custom modules which have negatively influenced the website performance. We had to optimize the entire code once again but were not able to get rid of all redundant parts.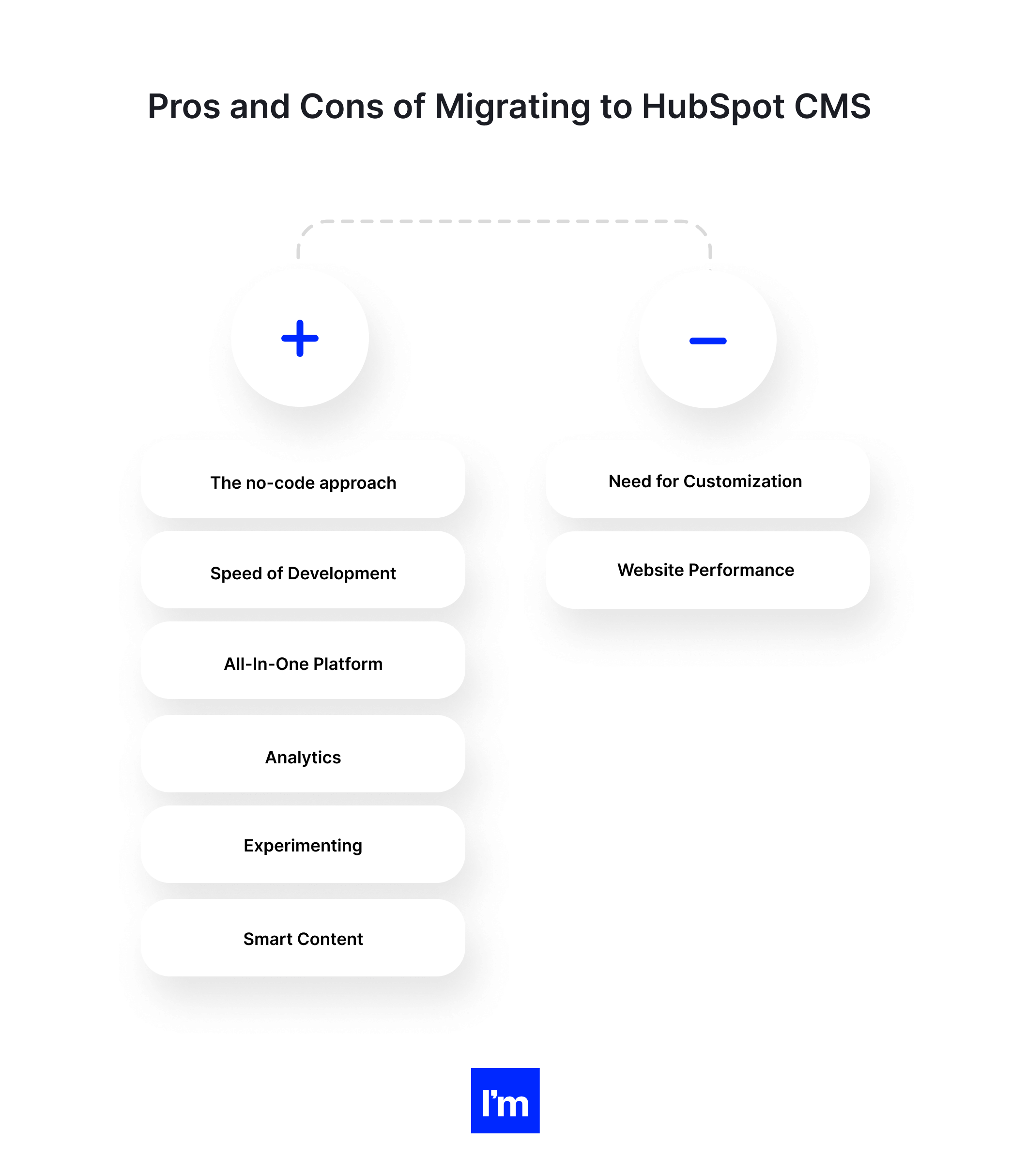 Where we are now
Certainly, there's no one CMS that works for everyone, and HubSpot is no exception. But if yours is a fast-growth business that relies heavily on actionable, personalized content to generate traffic and sales, we'd strongly recommend exploring the tool. Anyway, let the numbers speak for themselves.
After we launched our new website, the advantages of HubSpot CMS soon translated into gains measurable in key metrics. Among others, we have observed a 100% increase in traffic and conversion rate and quadrupled the number of generated leads (we've published an extensive analysis of our HubSpot implementation that features more details and outcomes). To this day, we have pushed and delivered over 200 landing pages in HubSpot, plus several successful client implementations. And we continue to take advantage of the system to create delightful user experiences, convert more visitors, and boost revenue.
After a year from the release, we are more sure than ever that Hubspot CMS was a perfect choice for our needs.
Compared to our previous experience with a self-hosted website built with Nunjacks and blog set on WordPress, we would rate HubSpot CMS solid nine out of ten. It has minor inconveniences with customization but you would barely notice them if you have a less advanced website. We enjoy speedy development, amazing marketing and analytics tools, and options for non-tech marketing team members.
The CMS Hub is excellent for businesses that rely heavily on content marketing and SEO. If you want to combine your marketing, sales, and website management efforts in one tool, this solution is a savior. However, if it is a small business with little customization needs and content marketing dependence, you will probably like free solutions on the CMS market.
Move your website to HubSpot, spruce it up, and double the traffic: that's what we did, and you can, too.
If after reading this HubSpot CMS review you still have some questions left about the HubSpot itself or our experience with it, feel free to contact us. We'll be glad to answer all of your questions in detail.
In case you've already decided that HubSpot CMS is exactly what you need, our Hubspot Developers could profoundly analyze your unique case and offer the best-fitting technical solution.