With the "advent" of COVID19, we have witnessed a radical change in work culture around the world after 2019 and into the present. Working from home is the main result of lockdown. Even though life is returning to normal, the culture of hiring remote software engineers will only flourish in the coming years.
Product owners, CxOs, and startup owners in all walks of life are looking for talent online, using networks that help these people connect with talented guys across the board. "Talented" is in the spotlight here. Due to the high demand for qualified employees, the number of networks/websites playing a third-party role between the company and remote workers has also increased exponentially.
This is where the problem comes in for companies and/or employers because all freelance networks are different in terms of the services they provide, so it is wise if you want to hire freelancers you should spend some time researching the developers/freelancers that suit your needs. Just relying on Toptal can lead you to a dead end. It's a good place to start, but it's also wise to explore alternatives to Toptal while you're at it!
In this blog post, we will take a detailed look at networks such as Toptal and Toptal alternatives. We'll see if there are other decent places to look for help.
What is Toptal?
Toptal is one of the most accessible and easy-to-use websites that cater to both freelancers and companies. They help companies find the top 3% of freelancers worldwide.
It has a huge notice board where you can find freelancers. Toptal has many rules and standards in place to ensure that all of its employees are highly qualified and trained, leaving no room for doubt.
Toptal has made a name for itself by providing companies with top-notch performers in the areas of product and project management, web design, and software development. Qualified and highly qualified professionals in the field you need are hired for you, which will take a huge burden off your shoulders. Many take Toptal as the perfect site for long-term teamwork.
Why opt for Toptal alternatives?
If Toptal is so popular, why did you decide to outsource your talent search? Well, there are some key differences in how Toptal and others work that might convince you to consider a different service.
For example, maybe you are worried about the price. Some customers find Toptal's fixed prices to be more expensive than other subscription model services. Or maybe Toptal doesn't offer the specific talents you're looking for, or their screening process isn't reliable enough for your tastes.
Toptal has a good reputation and has made a name for itself by providing efficient services. However, no network or business is perfect and there is always room for improvement.
This is where Toptal alternatives come into play. Toptal alternatives are websites that provide basic services similar to Toptal. However, you may experience some differences and policy changes. You may find that the difference is what you are looking for but didn't find in Toptal!
To be more precise let's see the top 3 Toptal's drawbacks:
1. Total costs
The first thing to keep in mind is that Toptal services come with a noticeable commission. If you are looking to hire a remote developer, the hourly rate can range from $80 to $200. A complete package that guarantees an efficient recruitment process can hit the budget of startups and small businesses too hard.
In addition, Toptal's initial deposit is $500, covering the first bill to start the process. The company will return the guarantee if the client does not find a suitable candidate. However, the deposits do not cover the time spent, and the hiring process reduces the productivity of the team.
2. Inflexible structure
Another point to consider is the rigid structure of employment contracts. Toptal offers a scalable solution for different business sizes, but clients only have a few contract-type options. For example, you can only hire 20 and 40 hour weekly contracts without customizing the agreement to suit your requirements.
In addition, Toptal does not allow you to reduce the cost of long-term commitment and cooperation. If you're looking to hire a remote developer for more than six months, Toptal's alternatives are a better fit - unless you're willing to pay extra fees along the way!
3. Lack of direct support
Before starting the hiring process, Toptal follows several touchpoints, with a cycle of 1 to 3 weeks. The customer service has different contact points rather than giving one link. Typically, a company completes an online questionnaire depending on the size of the business. The Toptal representative then reviews the requirements with the client and starts the selection process.
They then select the best candidates for your project and present them to the client for approval. If the candidate does not meet expectations, the representative connects the company with other candidates. This process may take longer than planned and customer service is not always available.
Because of these three main reasons for startups and small businesses, Toptal alternatives may be the best option for your project. When you're building a team, a lack of support during the hiring process can slow down the company's progress. In addition, a fixed contract can be a limitation for a company starting a project. More flexibility in time contracts and lower agency costs can give you more room to adjust your team structure and build a strong company culture.
Features to look for in a Toptal alternative
We recommend that you consider these top five features when considering a Toptal alternative for remote developers:
Talent pool
When considering talent, look at the selection process on the platform. What experience do talents usually have and how big is the talent pool?
Pricing
Determine how much your project will cost by calculating the price of the platform.
Does the service have fixed hourly rates or do they offer subscription options?
What are their conditions?
Do they offer a trial period?
What about additional fees?
There are enough platforms with quality talent that you shouldn't give up on the overall cost.
Hiring process
Explore the platform's hiring process to find the right developer. How to choose the right talent and start collaborating on your project? Do you hire freelancers one-time or can you hire a team?
Make sure their process suits your needs.
Timezone
Find out which timezones your talent is available in.
Can they work in your time zone if you need them to work in sync?
What is the turnaround time for reviews, drafts, and finished products if they run asynchronously?
Quality assurance
Make sure the platform has a quality control process for your project and that it's clear what that process will look like. Ideally, a quality assurance operation should be performed throughout the development process.
Best Toptal alternatives
Moving forward, we are going to list some of the best Toptal competitors. They can be of great benefit to you. Let's discuss how they provide services that may be better suited for your needs.

Flexiple is a network of pre-vetted freelance developers and designers focused on top startups.
Talent
Flexiple analyzes the past work of its talents and evaluates their communication and technical skills. Their freelance network includes:
Android Developers
AngularJS Developers
Azure Developers
Backend Developers
Full-stack developers
iOS Developers
Java developers
.Net developers
Node Developers
PHP developers
ReactJS Developers
React native developers
VueJS developers
Pricing
Hourly rates range from $30 to $100 and include a one-week risk-free trial period.
Hiring process
When you sign up, you provide Flexiple with all the information about your project's requirements. They then give you personalized recommendations for interview candidates. As soon as you select a candidate, the trial period will begin.
Time zone
Time zones depend on the location of your talent.
Quality assurance
Flexiple verifies talent, but you are responsible for quality control of the work.
Pros
The cost of Flexiple is 40-60% lower than that of Toptal for developers of the same class.
Flexiple guarantees 24/7 service with a dedicated support manager at the time of interaction, focusing on customer satisfaction.
Cons
Compared to Flexiple, Toptal, being a much larger company, may have more developers with special abilities.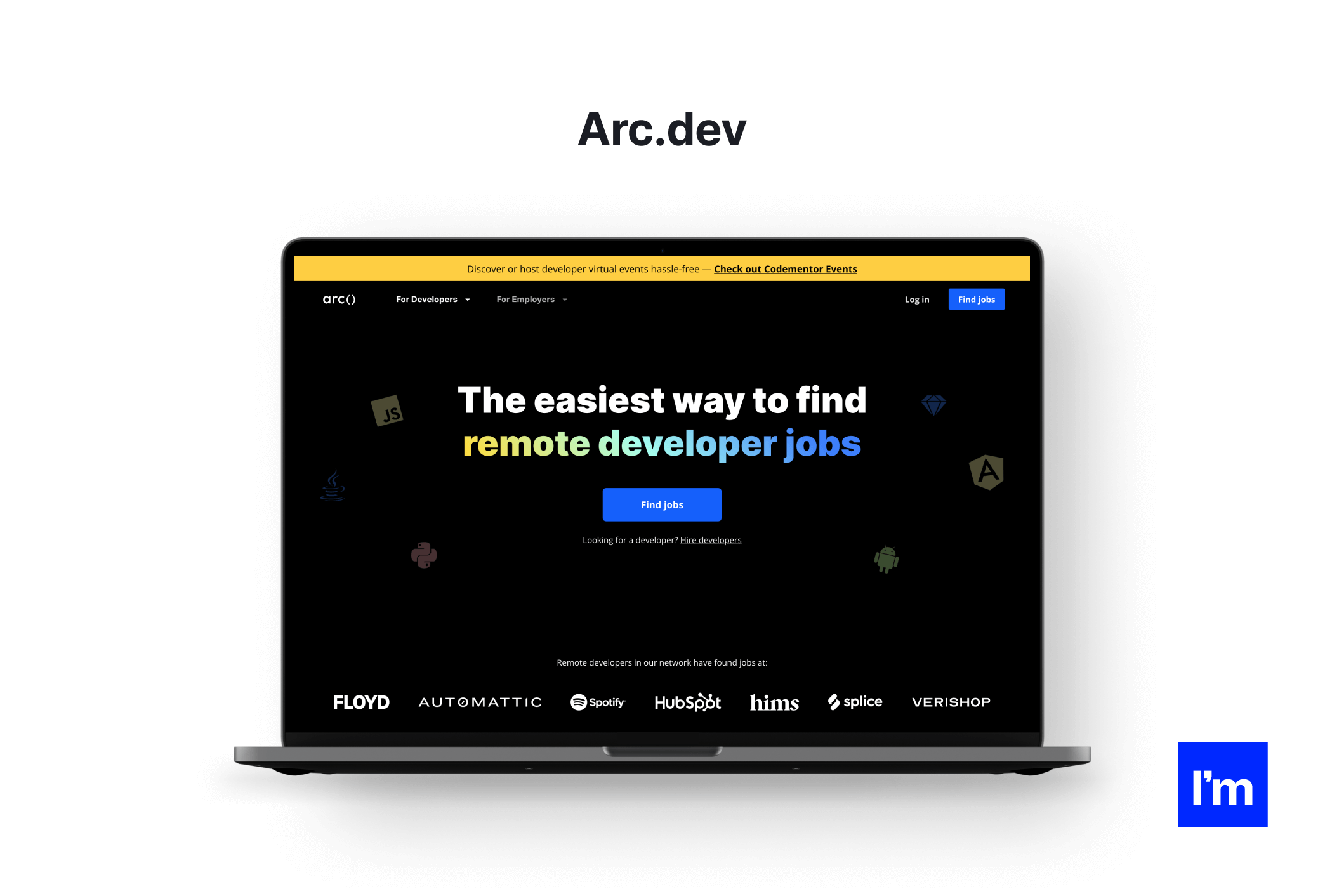 Arc is a platform that aims to make it easier to hire developers working remotely from a network of over 34,000 developers.
Talent
Arc vets its remote developers through a six-step process, from hand-picked profiles to technical interviews and pair programming. Arc promotes talent in the following popular tech stacks:
Backend Developers
DevOps developers
Frontend Developers
iOS Developers
Java developers
PHP developers
Python Developers
React developers
React native developers
Ruby on Rails Developers
Salesforce Developers
WordPress Developers
Pricing
Pricing varies as developers set their salary expectations and you pay commission based on that salary. Arc also offers a risk-free trial period. The Arc.dev team will match you with another developer free of charge within the first three months if you are unhappy.
Hiring process
Arc gives you the option to hire full-time or freelance remote developers. Their three-step approach includes:
Request: You describe the role and provide details about your ideal developers.
Interview: Next, you interview the candidates. It takes an average of two interviews to get to the hiring stage.
Recruitment: Finally, you select the best candidate and Ark handles the paperwork.
Time zone
Time zones depend on the location of your talent.
Quality assurance
Arc verifies talent, but you are responsible for quality control of the work.
Pros
Arc.dev focuses on long-term hiring by helping companies hire full-time remote developers.
It takes care of compliance, payroll, and benefits.
It has a very strict vetting process.
Software developers are available in niche skill sets.
Cons
Pricing is similar to Toptal, hourly rates for developers range from $60 to $200+. Hence, as with Toptal, this makes it unsuitable for startups or smaller projects.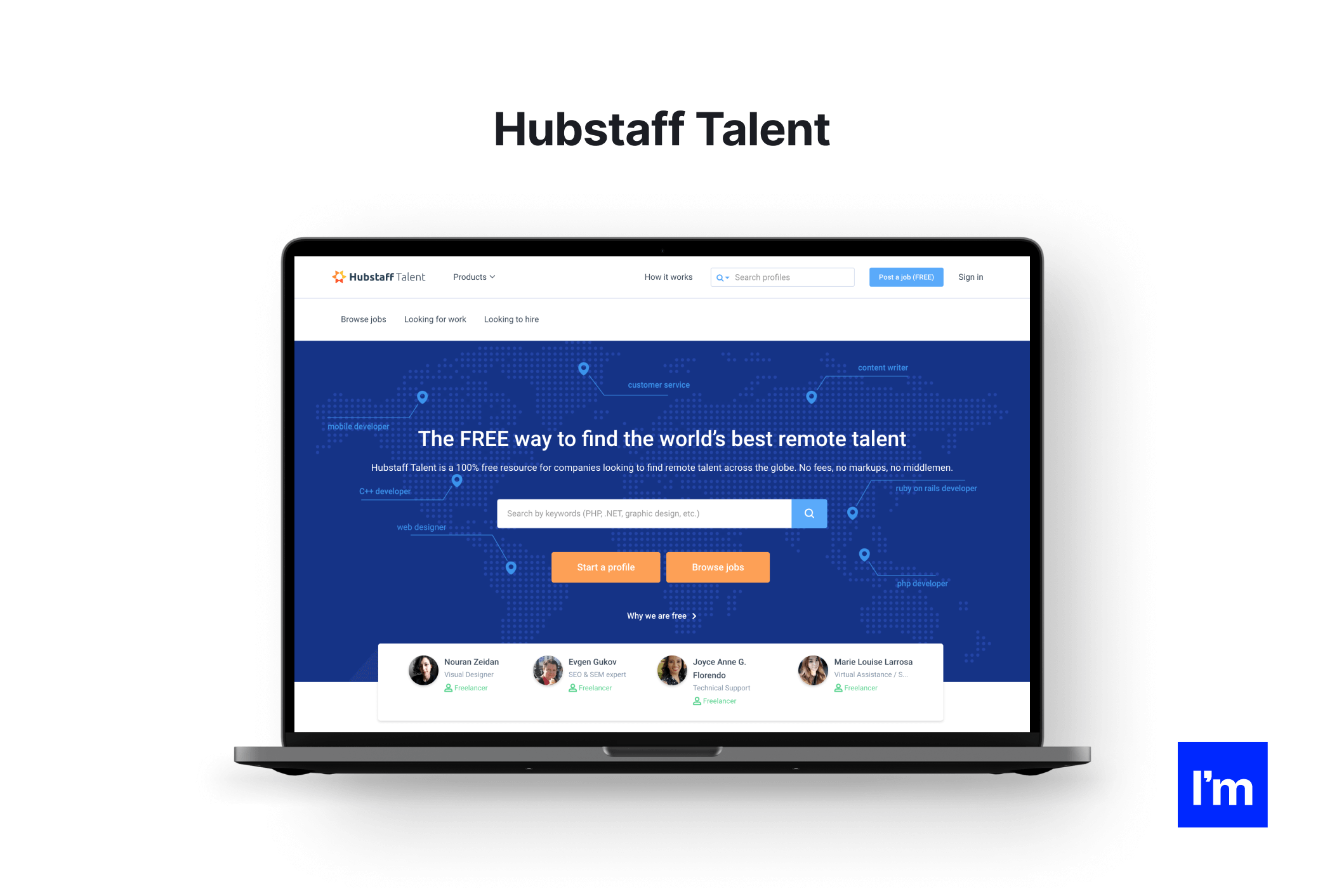 Hubstaff Talent is a 100% free resource for companies looking to find remote talent around the world. No commissions, no markups, no intermediaries.
Talent
It is more of a database of freelancers registered on the platform. Their team includes:
Full Stack developers
Product managers
UI/UX designers
VP team
QA team
DevOps team
Pricing
Free
Hiring process
There's no built-in mapping feature like some options do, but there's a lot more freedom if you want to be in control of the whole process.
Time zone
Time zones vary depending on the location of your talent.
Quality assurance
It does not have a manual review mechanism to determine the quality of developers. Rather, it emphasizes the use of tools to connect freelancers to jobs.
Pros
Unlike Toptal, Hubstaff Talent is a transparent marketplace that allows customers to view developer profiles and contact them directly, without a middleman.
It's free for both user groups - business owners (clients) and freelancers.
Cons
It doesn't have extra features to help you hire the best people for your needs.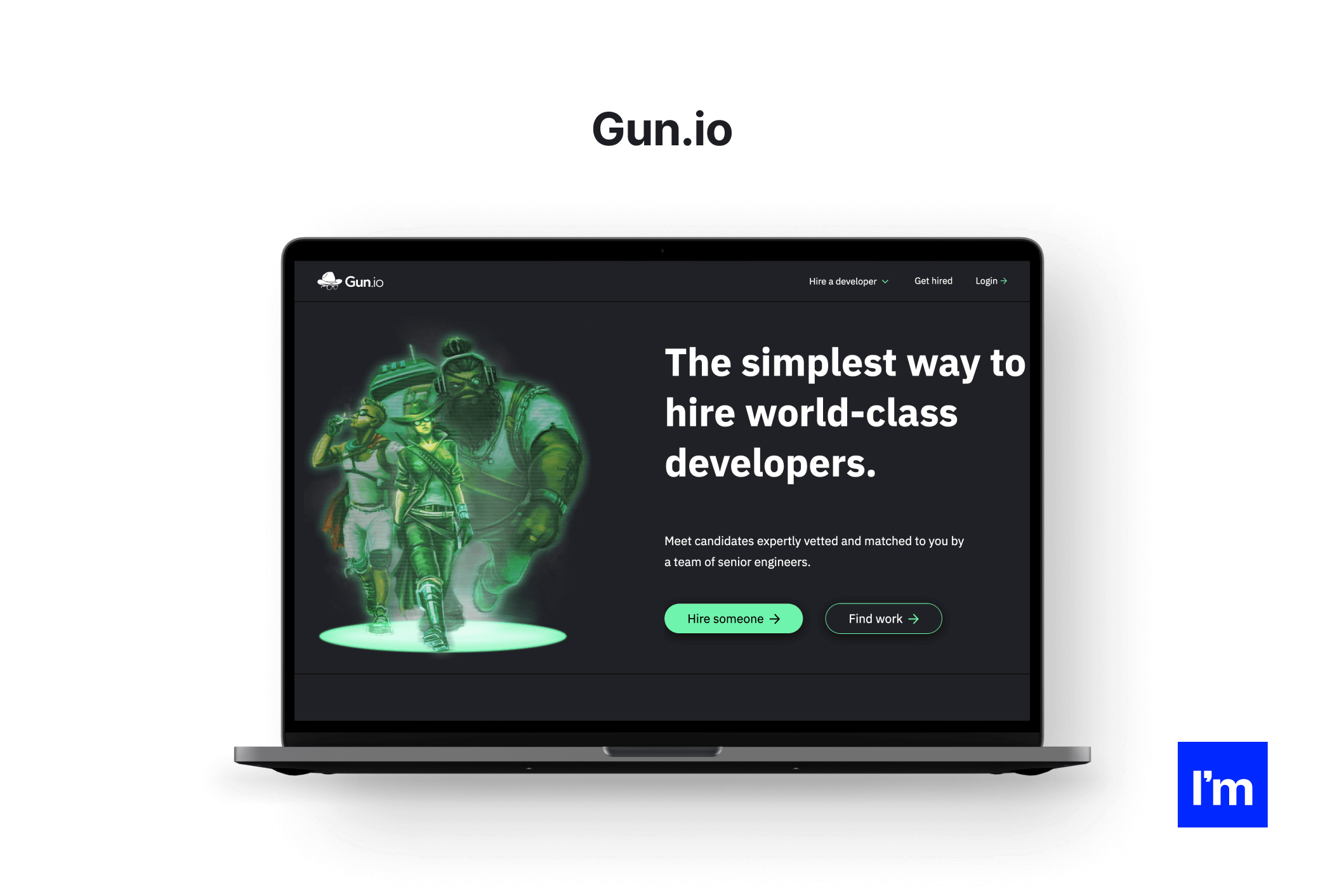 Gun.io is a software development platform that helps companies build custom engineering teams.
Talent
A team of senior engineers screens and selects candidates according to your needs. Gun.io boasts over 10,000 remote technology professionals in its freelance network, including developers for:
Android
ASP.NET
C, C#, C++
Go
iOS
Java
JavaScript
Kotlin
Node.js
Objective C
PHP
Python
React
React Native
Ruby
SQL
Swift
TypeScript
Pricing
You can hire freelance developers on a monthly or hourly basis, or leave them as low as $1,000 per month without a long-term contract. Gun.io also offers you the opportunity to hire full-time employees.
Hiring process
The Gun.io approach starts with your job posting, which network candidates can apply for. You then screen your top candidates and schedule interviews on the platform. Gun.io deals with contracts, time tracking, and payments.
Time zone
Time zones depend on the location of your talent.
Quality assurance
Gun.io verifies talent, but you are responsible for quality control.
Pros
Gun.io is a tight-knit invite-only network of elite software developers.
Gun matches developers with companies through a personalized recommendation process as well as rigorous developer vetting.
Cons
It has a relatively small pool of freelance developers.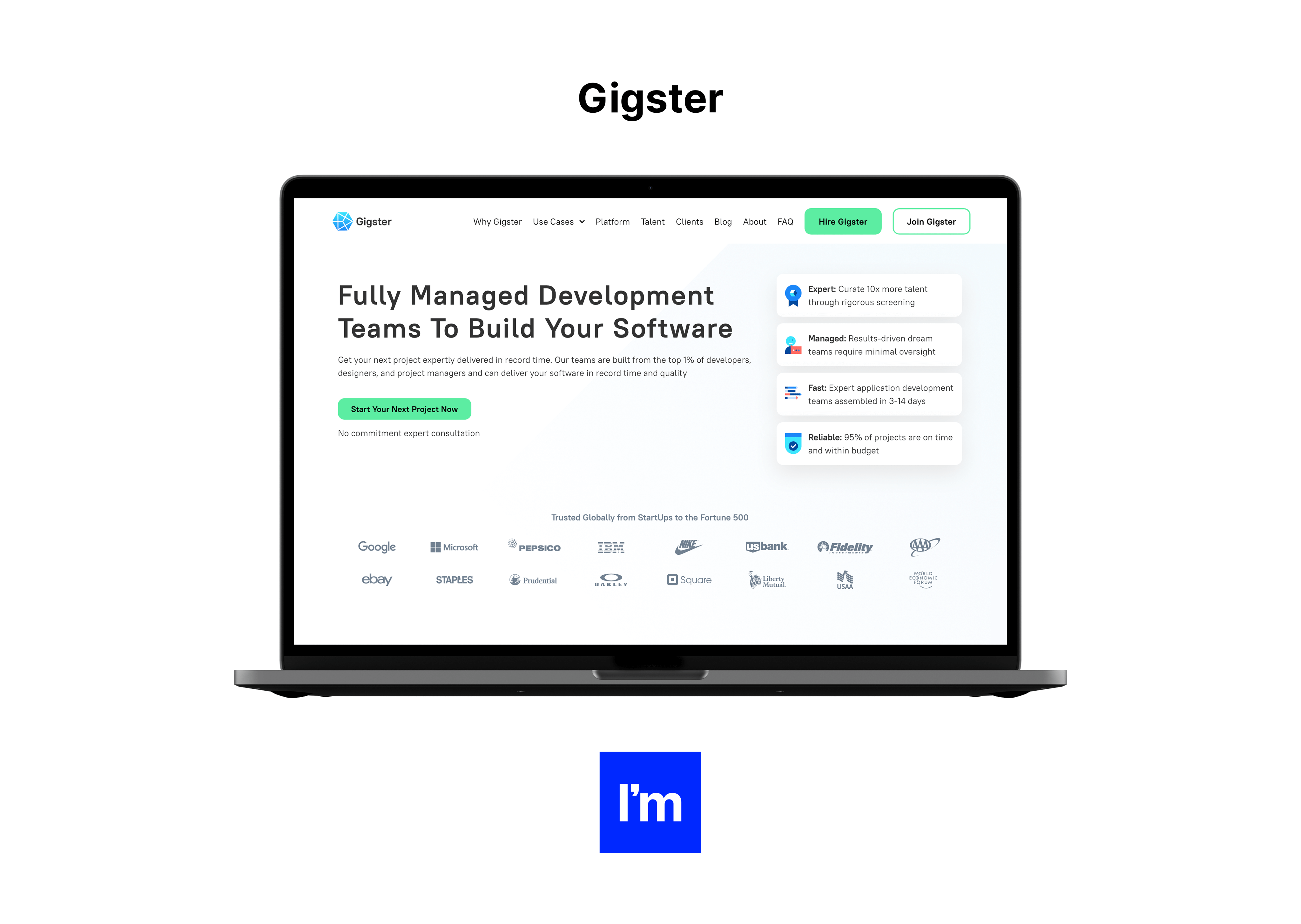 Gigster helps create technical projects on demand. It delivers enterprise applications through its global network of subject matter experts and a fully managed service.
Talent
Gigster curates teams of leading technology companies, startups, enterprises, and academia from around the world.
Pricing
The price based on the contract depends on the project and is determined after consultation. Gigster also offers a corporate option for individual services and rates.
Hiring process
Gigster uses a team approach and focuses on delivering projects. A typical Gigster team consists of key stakeholders for developing your application, such as project managers, developers, quality assurance specialists, and UI/UX designers.
Time zone
Having a project manager, you can work synchronously or asynchronously.
Quality assurance
Gigster teams offer comprehensive testing, 24/7 bug fix support, and on-demand maintenance.
Pros
It has a pool of high-quality developers and project managers.
Based on scope and requirements, Gigster uses AI-based algorithms to put together the right team for your project.
Cons
They take only projects whose cost exceeds a certain minimum threshold (less than $52,000).
Gigster only provides expertise in the field of software development.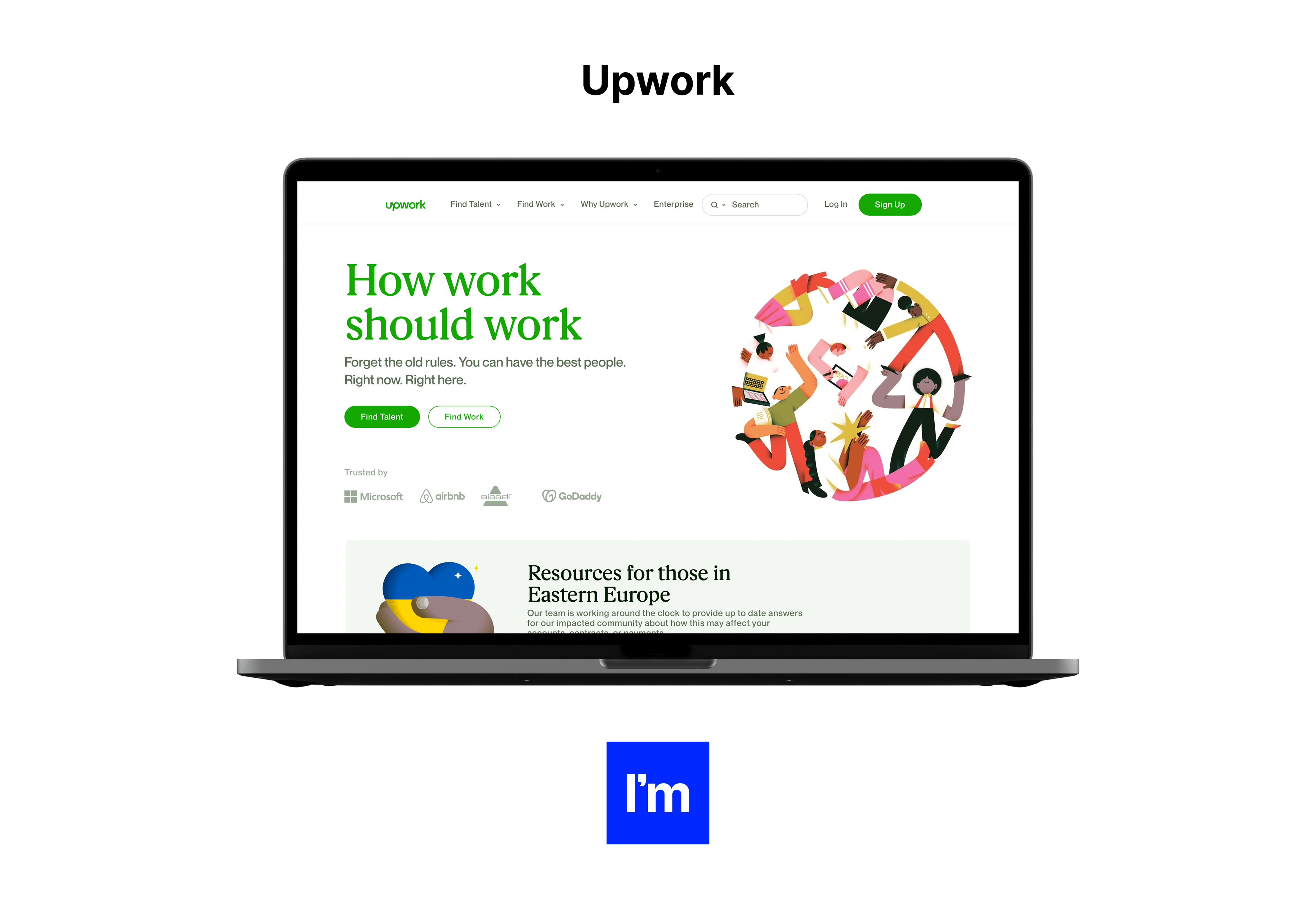 Upwork is a freelance exchange that boasts an extensive database of freelancers in over 50 verticals. Not the best option for startups. There are many Upwork alternatives.
Talent
There is no verification process as such. Freelancers create profiles on Upwork and can bid on jobs posted by companies or individuals. Job posters can also invite specific people to bid. Through this setup, Upwork is able to provide a wide range of technical talent, from web developers and web designers to JavaScript and WordPress developers, all of which vary greatly in skill level.
Pricing
You negotiate rates with your candidate(s) and there are no costs until you hire. Prices start from $8.00 to $200.00 per hour. Upwork also offers an enterprise option for customized services and rates.
Hiring process: You can create a job posting, search for talent directly, or hire Upwork to search for talent for you. There's no built-in mapping feature like some options do, but there's a lot more freedom if you want to be in control of the whole process.
Time zone
Time zones depend on the location of your talent.
Quality assurance
You are responsible for checking talent and their work. Thus, in case you leverage this option, be sure to use one of the six amazing AI applications in your HR department.
Pros
Cons
Upwork is not so suitable if you are looking for developers for a long-term project.
Poor quality of jobs done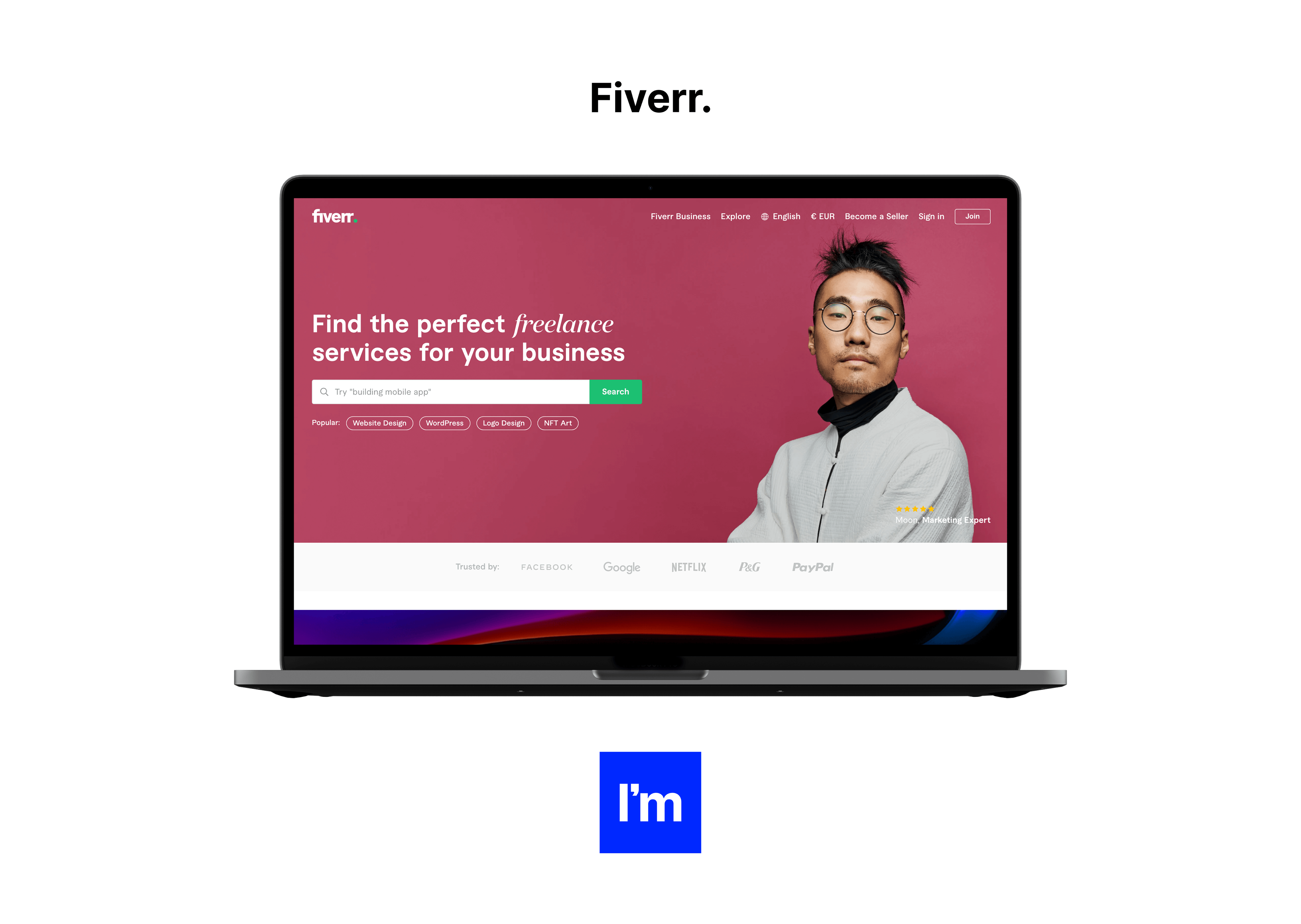 Fiverr is an online platform for freelancing services around the world. The platform allows you to list and apply for one-time vacancies or gigs. Just like Upwork, it is not the best option for startups. There are many Fiverr alternatives.
Talent
As with Upwork, there is no vetting process for their standard platform, but talents can take tests to demonstrate mastery in their fields. However, Fiverr has a "Pro" option that gives customers access to hand-tested talent. Freelancers create Fiverr profiles and can also bid on jobs.
Pricing
Project-based pricing varies by talent and project, including the Fiverr Pro option. Each experienced worker on the platform can set their own rate for the work they do, so prices vary widely.
Hiring process
You can create a job posting or search for talent on the platform.
Time zone
Time zones depend on the location of your talent.
Quality assurance
You are responsible for verifying talent and their work, but the platform offers customer support.
Pros
Chance to find cheap services.
Cons
Fiverr is more suitable for small tasks, rather than complex projects.
It offers a wide pool of freelance developers, albeit without verification. Therefore, there is no guarantee of the quality of work.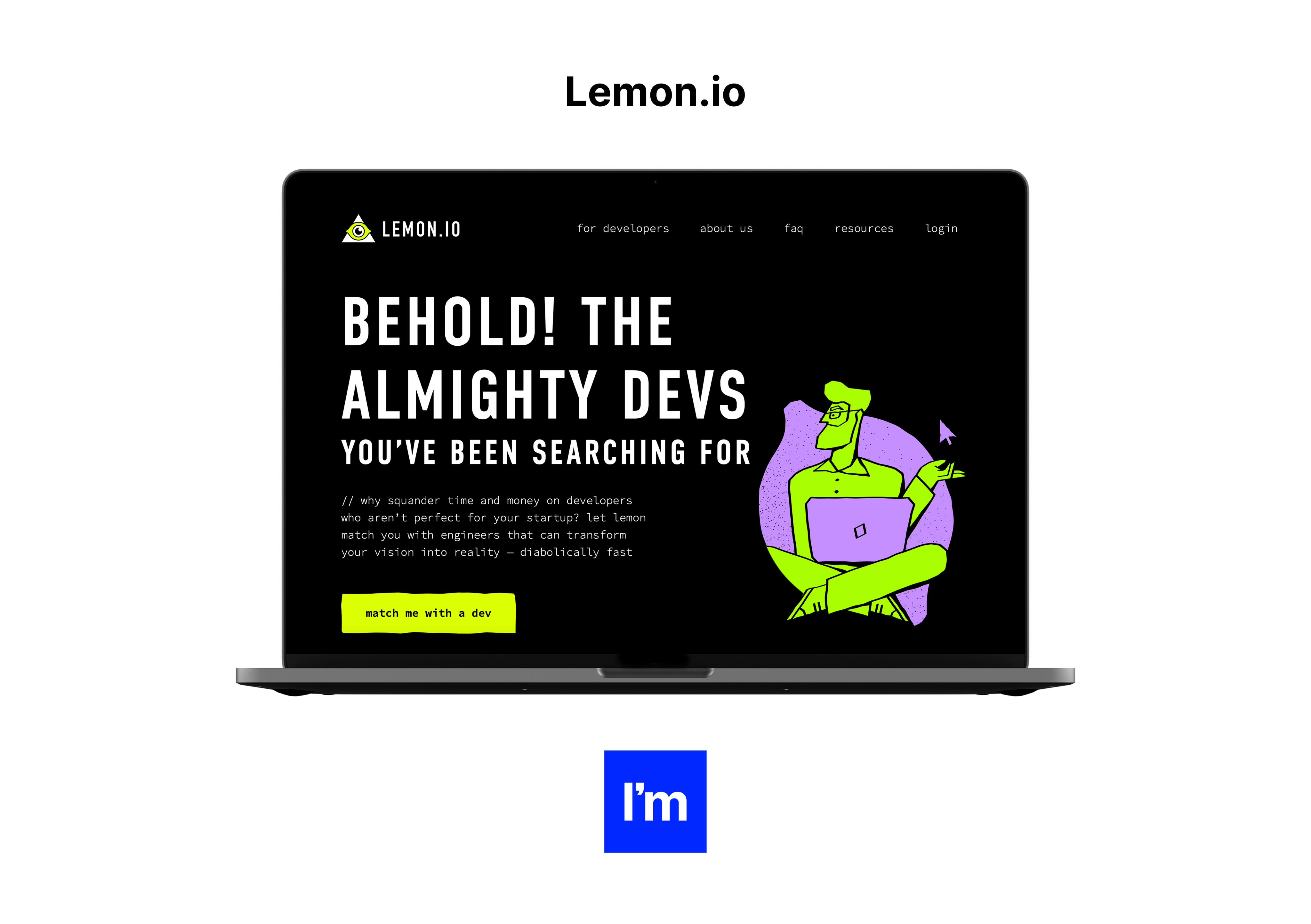 Lemon is a developer marketplace aimed at early-stage startups.
Talent
Lemon verifies its developers through a four-step process, from reviewing resumes to checking soft and hard skills. Their developers are experts in the following technologies:
Data science
Java
JavaScript
Python
Ruby on rails
Pricing
The startup plan costs between $45 and $80 per hour. Lemon also offers a CTO plan, but you must contact them for custom pricing.
Hiring process
First, you answer a couple of questions about the project. Lemon then proposes the most suitable candidate. After that, you fund your account to start the project.
Time zone
96% of Lemon freelancers are located in Eastern Europe, but synchronous or asynchronous work may vary depending on the candidate.
Quality assurance
Lemon verifies talent, but you are responsible for project quality control.
Pros
Since all the devs are verified you can go straight to business.
Cons
Freelancer quality can vary.
They focus exclusively on startups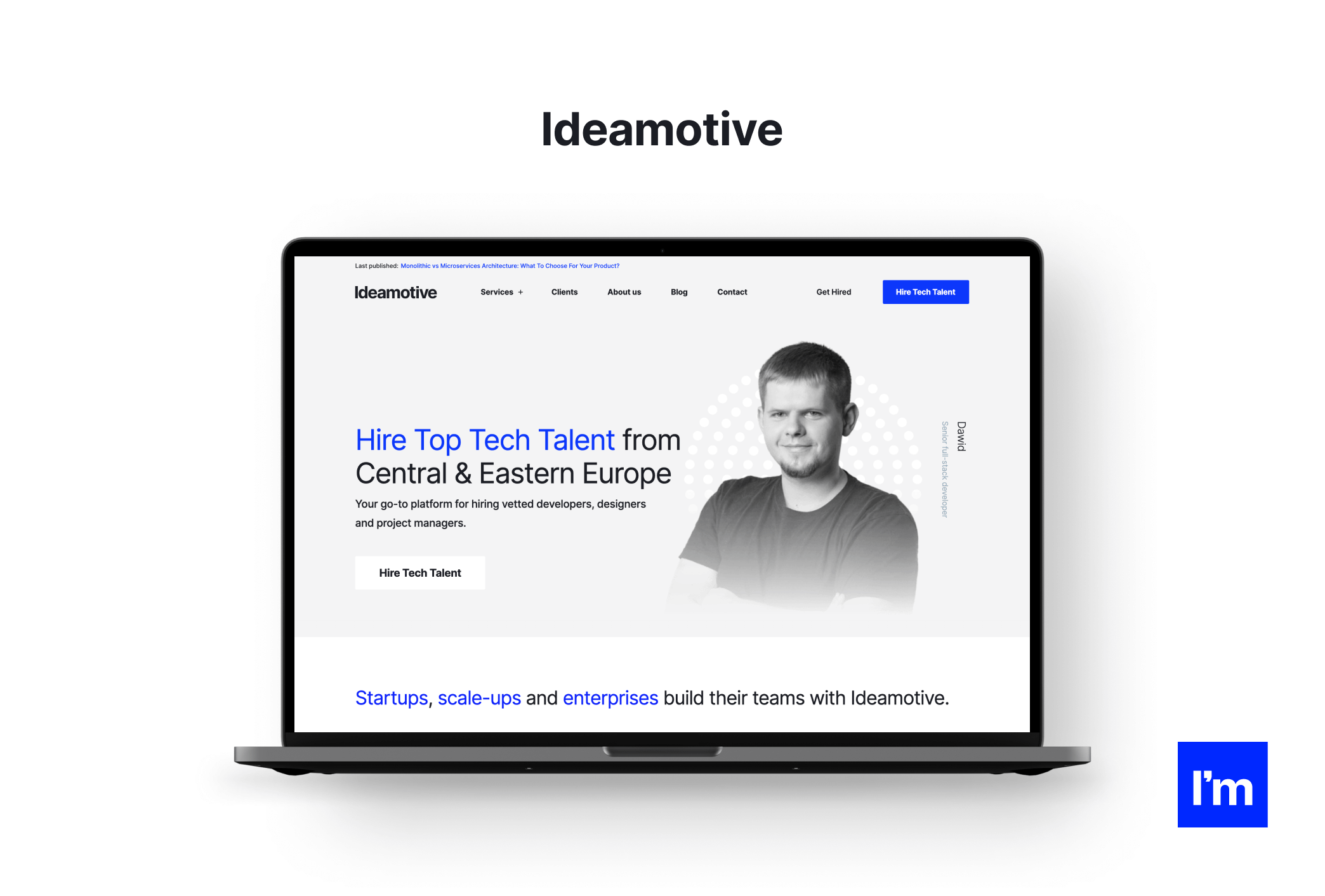 Ideamotive is a tech talent marketplace that provides on-demand individual software development contractors and IT consultants for startups, scale-ups, and enterprises. It is considered one of the best (if not the best) Toptal like platforms.
Talent
Ideamotive's unique talent pool includes hundreds of field technology veterans, remote workers, and leading software companies from the Central and Eastern Europe region. Their database of IT performers is quite overwhelming. Just see the list of specialists they provide:
Ruby devs,
Java engineers,
Python coders,
React devs,
React Native coders,
.NET programmers,
UX-UI designers,
Project managers,
Ideamotive also gives access to experienced eCommerce marketplace developers and Machine Learning consultants(who 100% follow 10 golden rules of machine learning consulting).
Pricing
As mentioned above the platform mainly features candidates from Eastern and Central Europe, so the prices are very affordable. Compared to the ones of the US-based experts, the rates of Ideamotive's guys are much lower (given quality is the same or even better).
Hiring process
It doesn't work like previous platforms - it's more personalized and easier to use. You simply list your requirements and the platform selects the most suitable candidates within 24 hours to choose from.
Time zone
The majority of experts are located in Eastern Europe, but synchronous or asynchronous work may vary depending on the candidate.
Quality assurance
Applicants are carefully screened before they can be listed on the websites. They are open to both short and long-term projects and can easily help you scale as you grow.
Pros
Wide range of talents from devs and designers to

business analysts

and

funding consultants

.
As compared to Toptal, Ideamotive provides a higher quality service for a slightly lower price.
Ideamotive is suitable for businesses of any size.
Top HR department & hiring process support.
Cons
Difficulties in communication in case you don't speak English.
Company

Company type

Why choose it

Flexiple

Network of freelance developers

Arc.dev

Remote career platform

Very strict vetting process
Software developers are available in niche skill sets

Hubstaff

Remote company

Gun.io

Software development platform

Features elite software developers

Gigster

Freelance software development company

Uses AI-based algorithms to put together the right team for your project

Upwork

Freelancer platform

Bigger hiring pool
Lower costs

Fiverr

Freelancer platform

Bigger hiring pool
Lower costs

Lemon.io

Developer marketplace

All the devs are verified

Ideamotive

Tech talent marketplace

Individual approach
Only proven and vetted professionals
Takes both short and long-term projects
Offers business advice
Summary
As you can see, there are many online platforms for hiring developers. Each one of the Toptal alternatives is different and distinguished by its value proposition. Ultimately, however, the choice will be determined by defining your specific needs. It's important to consider what each platform has to offer and choose the one that works best for your specific requirements.
If you are unsure of your needs, feel free to contact Ideamotive. We work with companies of all sizes and can turn the most ambitious idea into a well-functioning product capable of conquering the market.
Hire the best talent matched with your product and industry!