Hiring remote software devs have long become a norm in the current labor market abundantly saturated with digital communication channels. The recent lockdown-induced paradigm of "remote everything" has just added fuel to the fire. A particular self-perpetuating process is observed: the continuous digital progress creates demand for professionals capable of proliferating tech projects that, in turn, require more staff to keep the tech sector unfolding onwards.
Gigster is one of the examples of how the world freelancer community responds to the growing demand for developers, engineers, designers, and other tech experts. Gigster is a software platform where employers and freelancers can meet. However, even such a large and popular marketplace alone can hardly satisfy the needs of the world's labor market: no killer app is possible in the highly competitive environment of digital networks. That's why worthwhile alternatives to Gigster do exist.
The talent-seeking routine benefits significantly from the diversity of platforms like Gigster once they focus on different aspects of the recruitment practice. Let's observe the best web services that provide decent Gigster alternatives in terms of their inherent properties.
Why Gigster Is Not a Panacea
Any market has leaders and underdogs. Gigster is widely considered one of the leading providers of freelance labor resources for the digital tech sector. At the same time, the very motto of Gigster "We deliver projects, not bodies" hints at a specific way of doing their recruiting business. This is great to have a unique voice among competitors, of course. But in terms of the current market situation, it remains questionable whether such an approach is a win-win strategy.
It seems reasonable to review Gigster services through the lenses of both talent seekers and freelancers to realize the competitive position of Gigster amid the available Gigster alternatives. This can deliver insights into the pros and cons of the platform.
1. Gigster and talent seekers
Let's begin with Gigster properties focused on potential employers.
This is not about the labor market share that Gigster strives to occupy. This is about the range of tech companies satisfied with Gigster services. The following business segments are indicated on the home page of the official Gigster website:
Non-fungible tokens (the very hype of nowadays);
Artificial intelligence;
Custom development.
On the one hand, the most dynamically developing sectors are indicated. On the other hand, they hardly cover the lion's share of what modern tech companies do. Besides, there is a particular discrepancy in the scale: NFTs constitute just a tiny fraction of the blockchain industry while "custom development" implies an excessively broad definition to interpret.
The segments are mixed with some services under the same category:
Prototyping;
Design;
Maintenance.
Which one should be selected by a potential customer who needs specialists in cloud migration, for instance? A little bit more detailed info on tech segments can be found in the "talent" section, where the "technologies used" indication poorly corresponds to the "expertise used" one. None of the mentioned technologies match the indicated blockchain expertise, for example. Most companies like Gigster demonstrate a more detailed coverage of industries and segments.
Gigster is proud of its screening process, showing that only 0.2% of all applicants appear to fit the "experienced member" status of its freelancer network. That sounds weird if we consider that Gigster invites tech engineers from Silicon Valley mostly. It seems such a severe screening process hints that Silicon Valley is a shindig of random people instead of being the world's digital tech center.
A typical talent seeker may have a couple of concerns regarding the issue:
A dedicated team composed of such "superheroes" has to be very expensive by default. Hence, Gigster services are unaffordable for my middle-sized project most likely;
Who qualifies Gigster with their screening to make me sure that 99.8% of the declined freelancers can not meet my expectations? Doesn't such a stringent screening process reflect just the arrogant arbitrariness of the Gigster moderators?
In an attempt to demonstrate sky-high professionalism, Gigster seems to do a disservice to its customer audience. Companies rarely look for Olympic champions to accomplish some outsourced tasks. Unlike Gigster alternatives, the freelancer network of Gigster (600+ devs, 200+ managers, and 100+ designers) is insufficient to play on a global scale.
Many small and middle-sized companies are looking for freelancers, not dedicated teams. Teams always imply control and management executed by a service provider. In contrast, individuals are subordinate to the employer directly. Besides, only some of the talent seekers are ready to disclose the details of their projects to a service provider.
Gigster promises your project to be exposed to their thorough supervising and monitoring. Why? Because Gigster cares about keeping your dedicated team happy to be productive. That's great, but what about the risks of confidential information leakage?
In the case of freelance individuals, a personal non-disclosure agreement regulates access to commercial secrets. Besides, watching individuals is much easier than watching teams.
Hence, focusing on teams ("We deliver projects, not bodies"), Gigster seems to appear more appropriate for large and prosperous companies with enough power to provide serious legal effects in case of any data leakage. The other market players should look for alternative platforms like Gigster that represent a wider choice of remote staff.
2. Gigster and freelancers
Talent seekers constitute only one side of the coin. Another one is freelancers. What can a typical freelancer find interesting in cooperation with Gigster?
The "Join Gigster" button drives potential applicants to the section of vacant positions with only three filter options: location, team, and work type. In general, a candidate can be either a full-time employee in US companies or a remote contractor. Development engineers (iOS, Android, DevOps, backend, frontend, QA), project managers, and designers constitute the full scope of the available jobs.
All of them belong to the Gigster network - some sort of a waiting list of specialists admitted to the community of Gigster. Neither info about actual employers nor details of current projects is available.
Hence, a candidate can apply for a few positions in Gigster's waiting list to hopefully become a member of the "invite-only network of world-class developers, designers, and product managers''. And then… What then? Waiting in total uncertainty until Gigster includes you in a dedicated team for a particular project. When? Who knows.
It seems an admitted freelancer has no chance to communicate directly with talent seekers. At least until Gigster "assembles a dream team" with such a freelancer for a specific customer. Freelancers can indirectly assess potential clients by testimonials from former customers in the "Clients" section.
What about a communication channel with other members of the Gigster network? Any network implies communication between its members. Such a channel probably exists, but the Gigster website provides no info about it.
Potential applicants considering whether it makes sense to join the Gigster community can get neither suggestions nor any other info from the existing network members. Even the FAQ section is created for clients only, not for freelancers. The only way to get some insights about Gigster for freelancers is to look for third-party web resources (chatrooms, messengers, etc.) where both former Gigster members and the existing ones can publicly share their experiences.
What is the promise of Gigster for freelancers? Any respectful remote-job platform should send a clear message to job seekers such as "Join us to…". To find a decent job after all, right? Gigster invites freelancers to become a member of the invite-only talent network. What tells freelancers that they will find the dream job after being severely examined?
The Gigster screening stats show that you must be better than 500 other applicants to swell the rank of the "experienced members'' of the network. Hence, joining the Gigster labor resource sounds like an end in itself.
Probably this is an excellent way to boost your ego. But does it really add value to your CV when mentioning that you were a Gigster network member? Of course, it won't hurt to pass another examination for any programmer. If there is anything else to do.
The problem is that no clear positive outcome of being a Gigster member is indicated in terms of job seeking. How fast can you be employed as a result? Isn't it better to try your luck on other freelance platforms like Gigster? Definite answers are absent.
To summarize, while surfing through the Gigster website, both potential employers and freelancers can find a lot of information about how great Gigster is and how cool it is to be a member of the Gigster network. Dream teams of super professionals fully managed by Gigster are waiting for employment. Just check the testimonials of former clients and take the word.
Potential employers have no opportunities to assess the available job seekers directly. And freelancers, in turn, have no chance to introduce themselves to talent seekers personally. It seems Gigster is a sort of an excessively dense filter between talent seekers and job seekers in contrast to some other Gigster alternatives. Hence, the alternatives are worth reviewing.
Best Gigster Alternatives
The arguments above suggest choosing Gigster only after other platforms like Gigster are considered. Besides, only comparison with analogs can provide an objective set of eyes. The following Gigster alternatives constitute only a small fraction of the global pool of remote job web resources. The present ones are listed as the platforms able to interest the same user audience that visits Gigster searching for jobs or workers.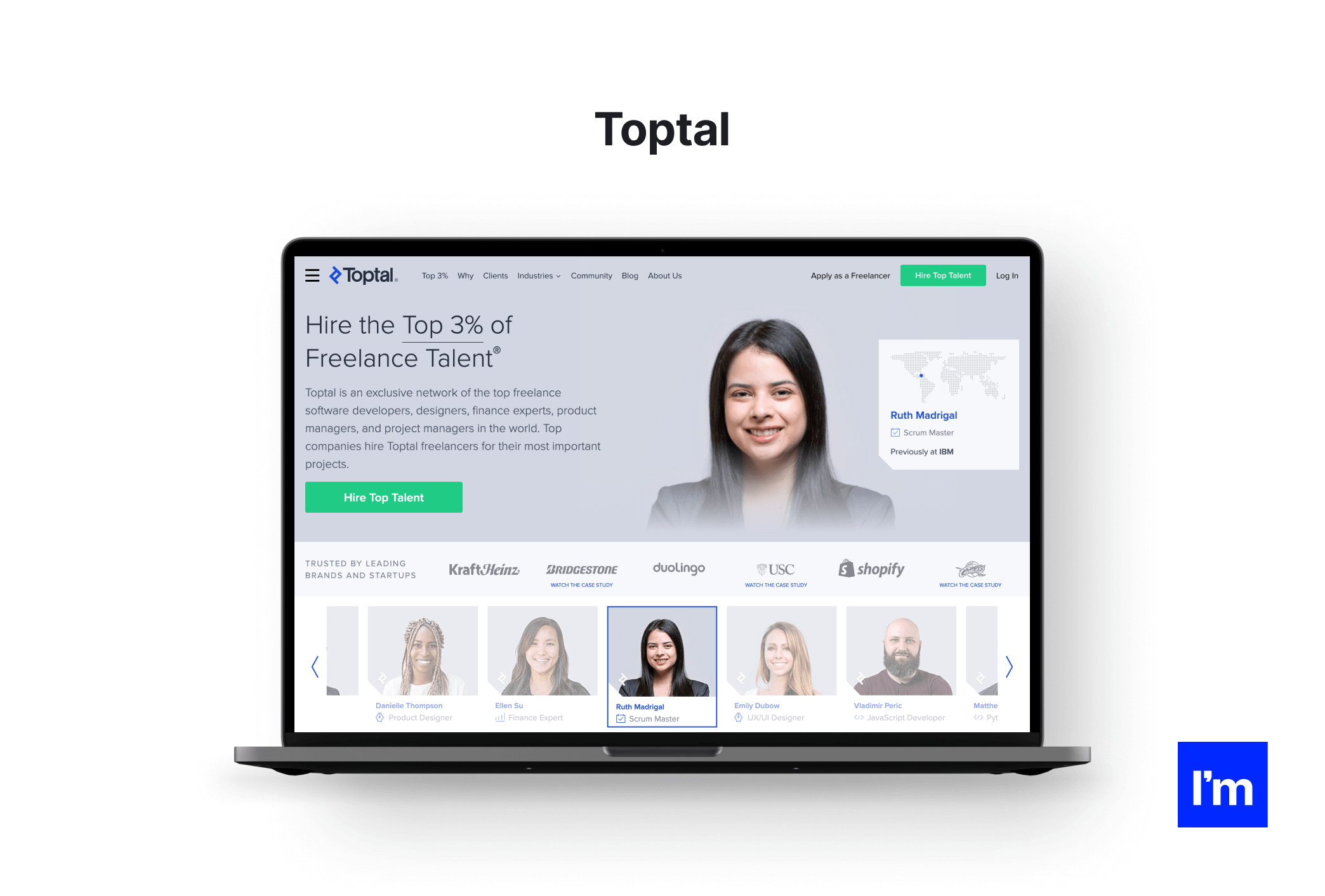 Even being similar to Gigster in the very business model, Toptal looks more open and honest. In contrast to Gigster, the main page of the Toptal website starts by introducing freelancers with their full names (Gigster never discloses family names of freelancers) and previous occupations. One gets the impression that the primary value of Toptal is people, not the company as it feels with Gigster.
However, the greatest asset of Toptal becomes a little less obvious when you see the 3% screening result indicated by Toptal. Hence, 97% of all freelance applicants leave the platform with nothing. Does that ring any bell? The similar Gigster-style closed community of admitted applicants severely filtered via a 5-stage examination process takes place here as well.
The only difference is the scale: Toptal claims to have "the largest, globally-distributed network of top business, design, and technology talent" that does not revolve around Silicon Valley as in the case of Gigster.
In addition to developers, designers, and product managers, Toptal offers project managers, business strategists, and funding consultants. Unlike Gigster, the scope of the available industries positively impresses:
Healthcare & life sciences;
Consumer products & services;
Financial services;
Industrials;
Communication, media, and entertainment;
Technology.
Indeed, Toptal looks like Gigster on steroids in terms of market coverage.
Another distinctive feature of Toptal is a non-risk trial project in the form of a two-week test period during which employers should either accept or reject the proposed freelancers. However, this conditionally free "non-risk" project should not be confused with conventional trial periods: a $500 deposit is requested by Toptal to engage customers to further interactions even if they reject the firstly proposed team.
By the way, Toptal "delivers bodies, not just projects" to use Gigster's language. It means individual professionals, in addition to dedicated teams, are widely offered by the platform.
From a freelancer's perspective, Toptal behaves similarly to Gigster: the "Apply as a freelancer" button directs you to a multi-page application form, the final stage of which is lost somewhere in the screening procedure. The true Toptal attitude to job seekers can be grasped to some extent by analyzing the "Career" section where the employment culture of the company is described.
As a bottom line, Toptal looks less pretentious than Gigster. This freelance platform offers more options to talent seekers in terms of covered industries and freelance specs. As a platform like Gigster, Toptal is strictly customer-centric while still delivering quite a vague promise to freelancers.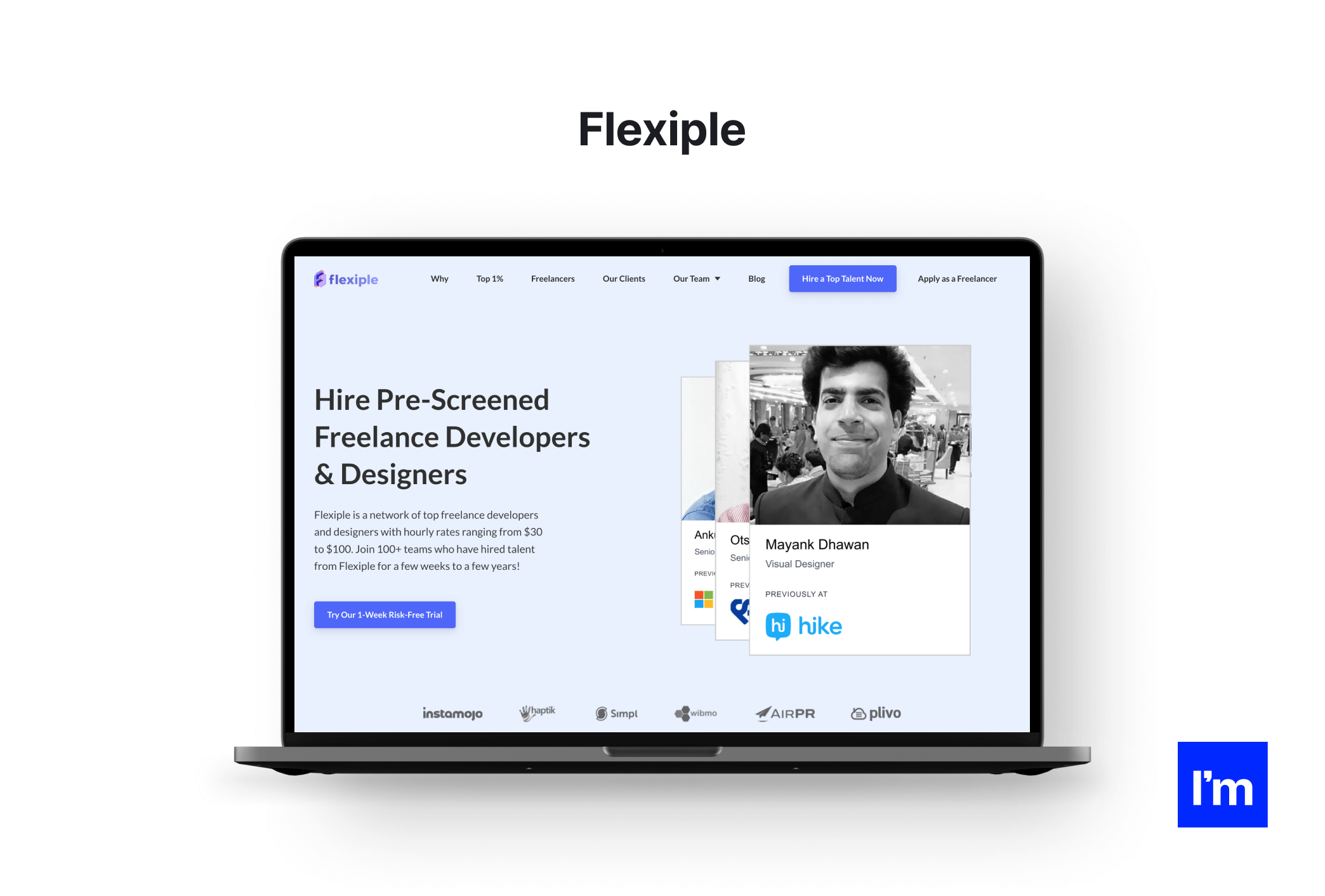 At first glance, this Gigster alternative looks like a replica of Toptal but simpler. The similarity intensifies when you see the website footer: the "Toptal alternative - Flexiple" blog post is indicated first in the list of the website top pages. Forewarned is forearmed, right?
Flexiple does not reinvent the wheel in terms of a business model showing the same approach to recruitment services as both Gigster and Toptal do. It seems these three platforms are competing whose screening process is more brutal towards applicants. Flexiple sits between Gigster and Toptal with its Top 1%. Hence, 99% of all Flexiple applicants may relax.
But the situation changes dramatically when you visit the section for freelancers. The same Toptal's button "Apply as a freelancer" directs you to a pretty typical application form where (unbelievable!) there is something that breaks the rules: a "check out open opportunities" link.
Applicants seem to experience a true wow-effect when they see what many other platforms like Gigster carefully conceal: a list of projects with brief but comprehensive descriptions. In addition, the most appropriate project can be quickly selected with such filter options as Skill, Team size, Project duration, Industry, Fee type, and Weekly availability. Besides, each project can be reviewed through a separate page where enough information is available to assess both the job and the employer.
Freelancers may suppose that the authoritarian approach inherent in Gigster and Toptal has nothing in common with Flexiple. However, their enthusiasm has to be reduced because they do not choose jobs, but they are chosen. Moreover, not talent seekers but Flexiple team decides which of the applicants deserves to be among that Top 1% who has a chance to be employed.
Hence, Flexiple is a step forward in attitudes to job seekers. But the attempt to emulate the sector's behemoths with a severe screening process seems to neutralize the chance to be the best Gigster alternative.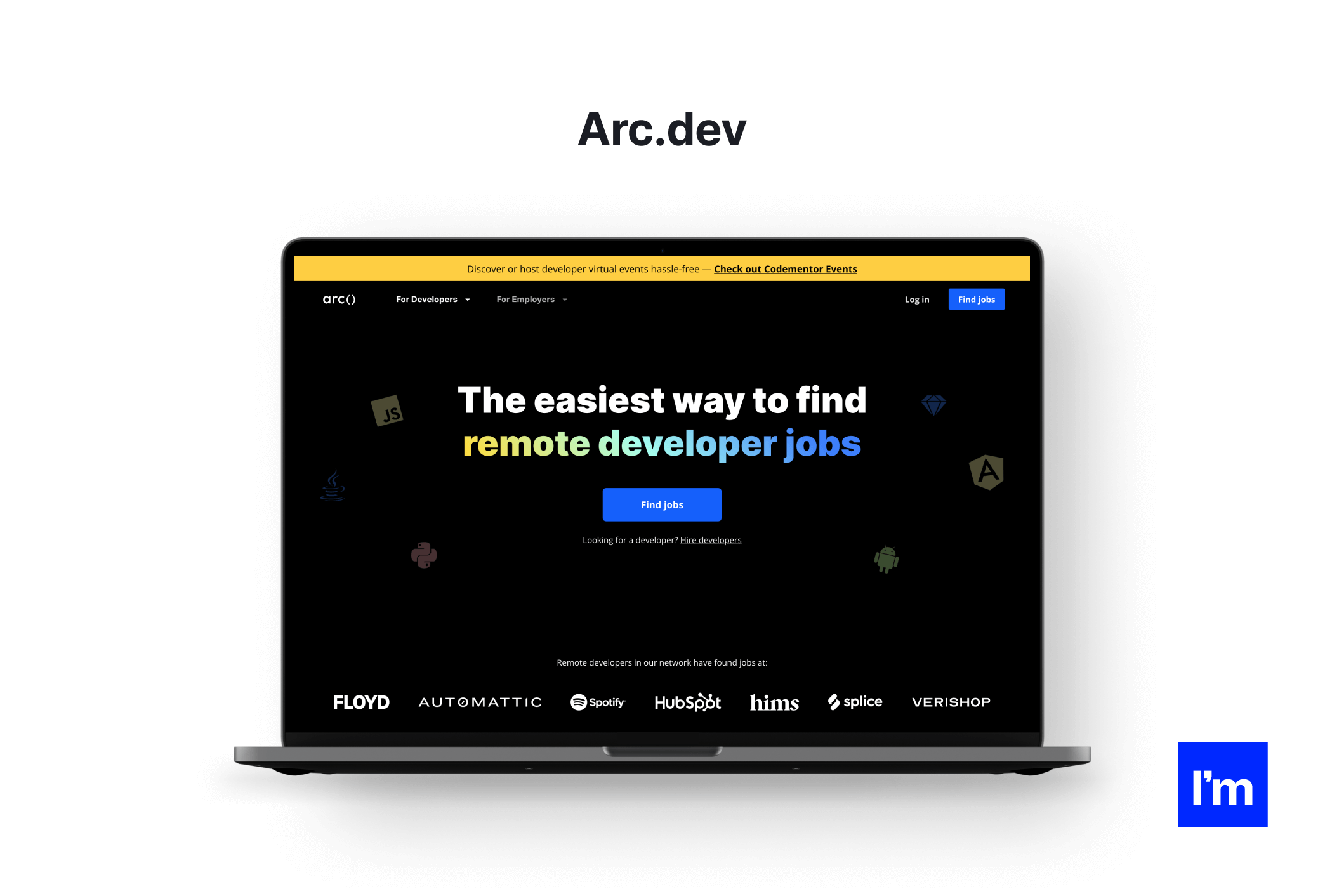 In contrast to previous Gigster alternatives, the main appeal of Arc has been directed towards freelancers, not talent seekers. Almost the entire website's main page content communicates to remote tech specs. Only some last questions from the General FAQ list are dedicated to potential employers. Thus, we see an inverted model compared to other platforms like Gigster.
Even though Arc is definitely a worthwhile alternative to Gigster, the "platform like Gigster" definition is hardly applicable to Arc. Arc is different. What are the most apparent distinctive features of Arc?
User audience. Both talent seekers and freelance specs visit Arc. But the company demonstrates its freelancer-centric nature unequivocally: both the scope and quality of services for remote employees outperform the ones for employers. Even an inbuilt CV maker is available;
Tech sector. Only software developers are invited to join Arc. This is even narrower than the market coverage of Gigster, which, as we know, does not sparkle with sector diversity. An illustrative proof of this is a specific channel to sign up quickly: GitHub is the fiefdom of programmers;
Business model. Two types of employment are available: jobs from Arc's partners and jobs from other remote companies. It implies Arc acting as a sort of job aggregator that crawls the global web in search of freelance vacancies;
Vetting process. No severe segregation is available. Signing up to create the simplest profile is enough to access the essential services: applying for jobs, receiving personalized recommendations, and joining the Arc's community. Upgrading your profile to become a "verified developer" is possible via a vetting process. This represents some advantages such as skipping early interviews, getting recruitment support and accessing exclusive information.
Arc has a specific look-&-feel amid other Gigster alternatives. Arc actively propagates remote employment: a lot of related educational content is available on the website. Even a special podcast (!) is offered to remote professionals.
Arc is reasonably liberal towards job seekers: no draconian screening offends freelancers with lower skill levels. The platform shows little piety to potential employers while providing them with sufficiently progressive recruitment services.
Hence, Arc is carving its own niche in the remote job market. The niche is relatively narrow but comfortable enough for a specific audience of freelance coders.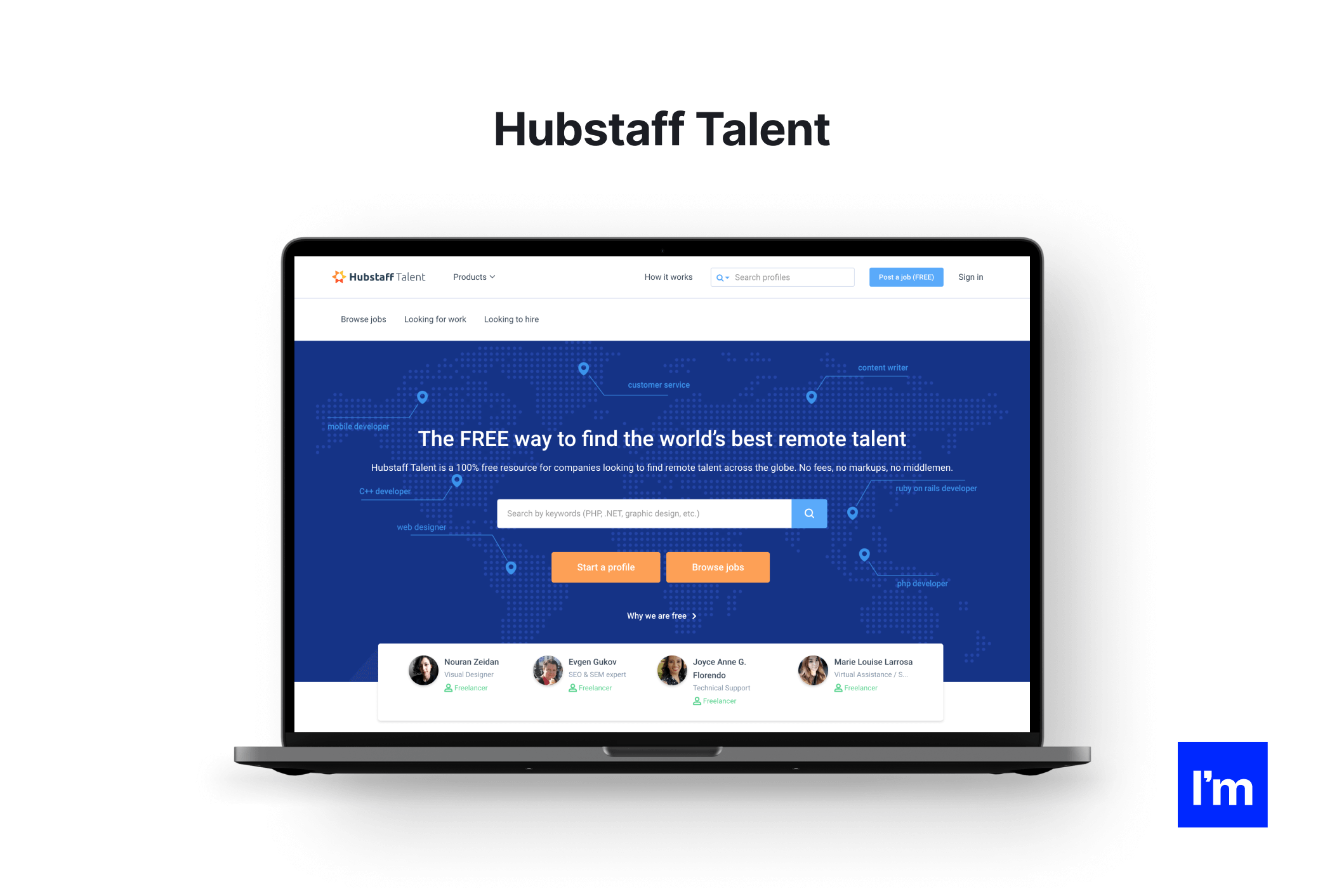 "Hubstaff Talent is a 100% free resource… No fees, no markups, no middlemen" is what meets you on the homepage of this Gigster alternative. That sounds promising, right? It seems Hubstaff has invented a different business model compared to other platforms like Gigster. How does Hubstaff earn from recruitment if "no fees" take place?
The clue lies in the broad diversification practiced by the platform. It turns out that Hubstaff Talent is just a part of a multifaceted business project that also includes Hubstaff Time, Hubstaff Desk, Hubstaff Field, and Hubstaff Tasks.
Hence, Hubstaff is a software platform working under a subscription model. It represents a variety of features to track and execute whatever a remote team may ever need: mobile time tracking, geofencing, productivity measurement, employee scheduling, and even project budgeting. Earnings from those services allow Hubstaff Talent to require no middleman commission. A special explanatory page "Why we are free" is accessible via a corresponding button on the main page of Hubstaff Talent.
The very free nature of Hubstaff recruitment allows the platform to hide nothing from both talent seekers and freelancers. The detailed profiles of all registered freelancers including even their hourly rates are publicly accessible. The same relates to the list of available jobs and projects.
The platform statistic is encouraging: more than 137 K profiles, 2882 agencies, 209 countries, and 1377 available jobs. Hubstaff puts any limitation to neither skills nor industries: whichever remotely executable work can find potential executors here.
Hubstaff Talent belongs to platforms like Gigster only conditionally. It could hardly see the light unless other Hubstaff sources of income were bringing money to the platform owners. Hence, the platform is really a hub where both job seekers and employers can meet, being, at the same time, left almost on their own. Unlike other Gigster alternatives, Hubstaff Talent does not seem to be financially interested in lucky deals between employers and freelancers. This is why no screening process is available, by the way.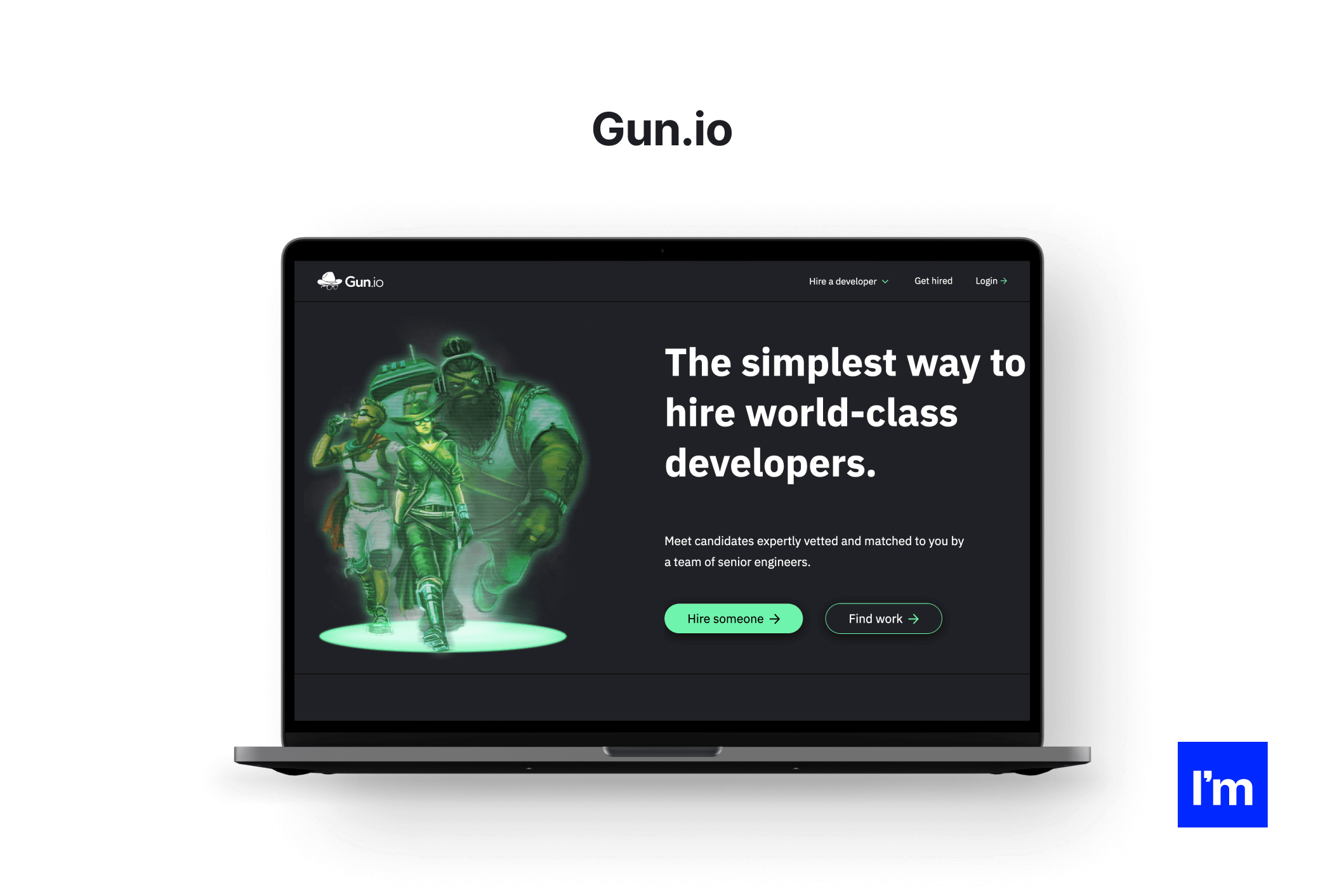 Unlike Hubstaff Talent, this Gigster alternative earns exactly from remote recruitment: 15% of the first-year's salary is requested by Gun.io if an employer hires directly from the Gun.io network. If a "network" is mentioned, as we know, a vetting process is implied automatically. And this is what Gun.io is proud of, similarly to Toptal, Flexiple, and some other platforms like Gigster.
In contrast to them, however, Gun.io delivers some arguments in favor of its meticulous screening process. Their exclusive network consists of 10K+ world-class professionals who have been examined by Gun.io's "own team of senior engineers". Even a poor explanation is better than nothing, right?
The design of the Gun.io website leaves no doubt that those "senior engineers" are true professionals. Gun.io looks outstanding; the ones who create the website really know how to impress. Hence, potential applicants may at least know who to blame when their attempts to become members of Gun.io's network fail.
The professional level of the networked freelancers is indirectly approved by the customers of Gun.io among which Apple is available. This is serious. And this clearly hints at a typical customer audience of Gun.io: rich tech companies predominantly from the USA.
Another clue about the clients is in the indicated hourly rate of the curated freelancers: $75 - 150 per hour. Even West European companies can hardly accept such a rate affordable, not to mention clients from other parts of the world. The covered industry seems to be software development only if referring to the website design, which is created in the style of computer games. Besides, the "Get hired" page delivers some samples of job openings: all of them imply software engineers. This means that you may find affordable assistance for elaborating even the most complex tasks (e.g., proper AI and machine learning implementation).
We have to use "seems to", "indirectly", "clue", and other words that express a sort of vagueness because no open info about both employers and freelancers is publicly accessible on the platform. Both "Start hiring" and "Find work" buttons direct you to a signup form. Four exemplary profile previews only are available on the "Talent" page to demonstrate what kind of data the profiles contain. In contrast to Hubstaff's user audiences, random visitors of Gun.io can not freely surf through the website to see who looks for freelancers and who seeks a job.
To summarize, Gun.io is a typical platform like Gigster that earns from building a closed network of remote professionals to be offered to rich tech companies from the US market mostly.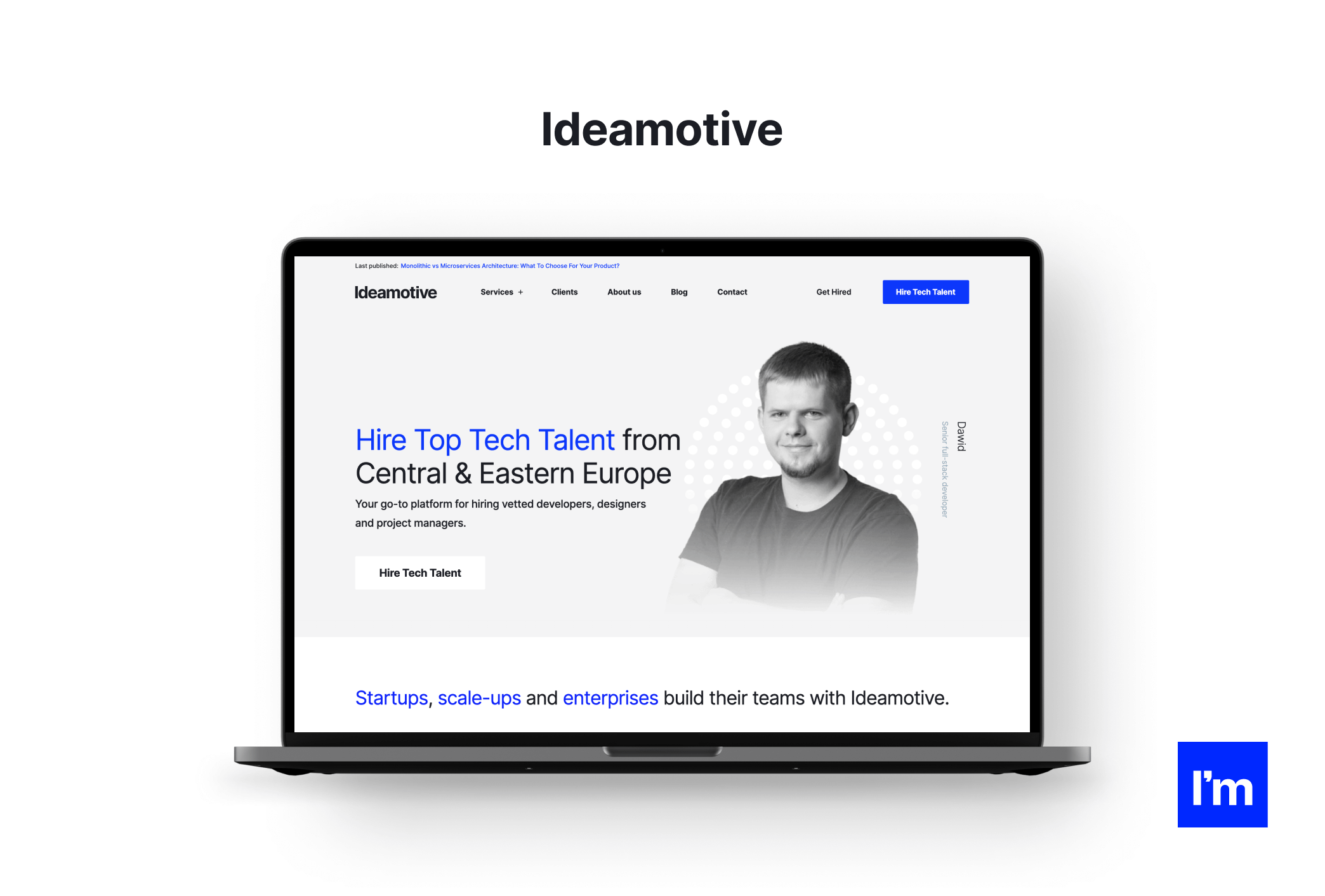 This worthwhile Gigster alternative takes the best from both worlds. On the one hand, the platform makes money on the carefully managed recruitment business with vetted candidates and other attributes of typical platforms like Gigster. On the other hand, Ideamotive delivers as much helpful info to users as possible within such a business model.
The first thing that jumps out at you is a good balance between the interests of both talent seekers and remote specs who may visit the website. No distortions in favor of one audience at the expense of another one are observed.
Maximum customer retention seems to be the main driver for Ideamotive when they bend over backward (in a good sense) to serve any visitor. Continuous customer care is invisibly present on every page: the request form, for instance, is created by "tech business veterans" to help talent seekers specify which engineers they expect to find on the platform.
Another thing that positively impresses is the abundance of carefully selected information on every aspect of recruitment. To put it simply, the content of the Ideamotive website is a sort of "all you should know about remote employment". The list of types of software developers alone can open one's eyes to what hiring technology engineers means, in fact. Ideamotive shares knowledge in the form of free e-books and webinars available right on the platform.
Even though Ideamotive focuses on software developers and web and mobile engineers, the market coverage appears flexible enough to hire specs according to your needs. Individuals for short-term projects can be found along with cross-functional tech teams. Moreover, Ideamotive extends the ordinary meaning of "dedicated teams" when offering long-term team extension, team scaling for startups, and establishing developer centers.
No redundant pathos of "global coverage" is available when the platform clearly indicates the origin of their labor resources: from Central and Eastern Europe. This is obviously a winning strategy in terms of the price/quality ratio inherent in tech engineers from those locations. They demonstrate the highest professional skills while their hourly rates sit somewhere between American specs and Indian ones.
Ideamotive follows the zeitgeist when using AI technologies to facilitate hiring talents according to the highest recruitment standards. At the same time, you can always contact "human" software consultants via phone, email, and various social media, including GitHub.
The company's motto "Hire with ease and confidence" reflects its dual nature: an extremely customer-centric one-stop-shop platform for freelancers and an abundant educational resource for remote recruitment at the same time.
As one of the best Gigster alternatives, Ideamotive implies a company of the golden ratio when neither talent seekers nor freelance specs can leave the platform unsatisfied.
Pros and cons of Gigster alternatives
Advantages and disadvantages of platforms like Gigster is a matter of a particular perspective: some may consider the excellent knowledge base of Ideamotive, for instance, an irrelevant attribute while others prefer to be suggested about remote jobs rather than to be impressed by the game-like design of Gun.io, for example.
To somehow summarize our review of the best Gigster alternatives, we propose to assess them via some specific properties collected in the following table: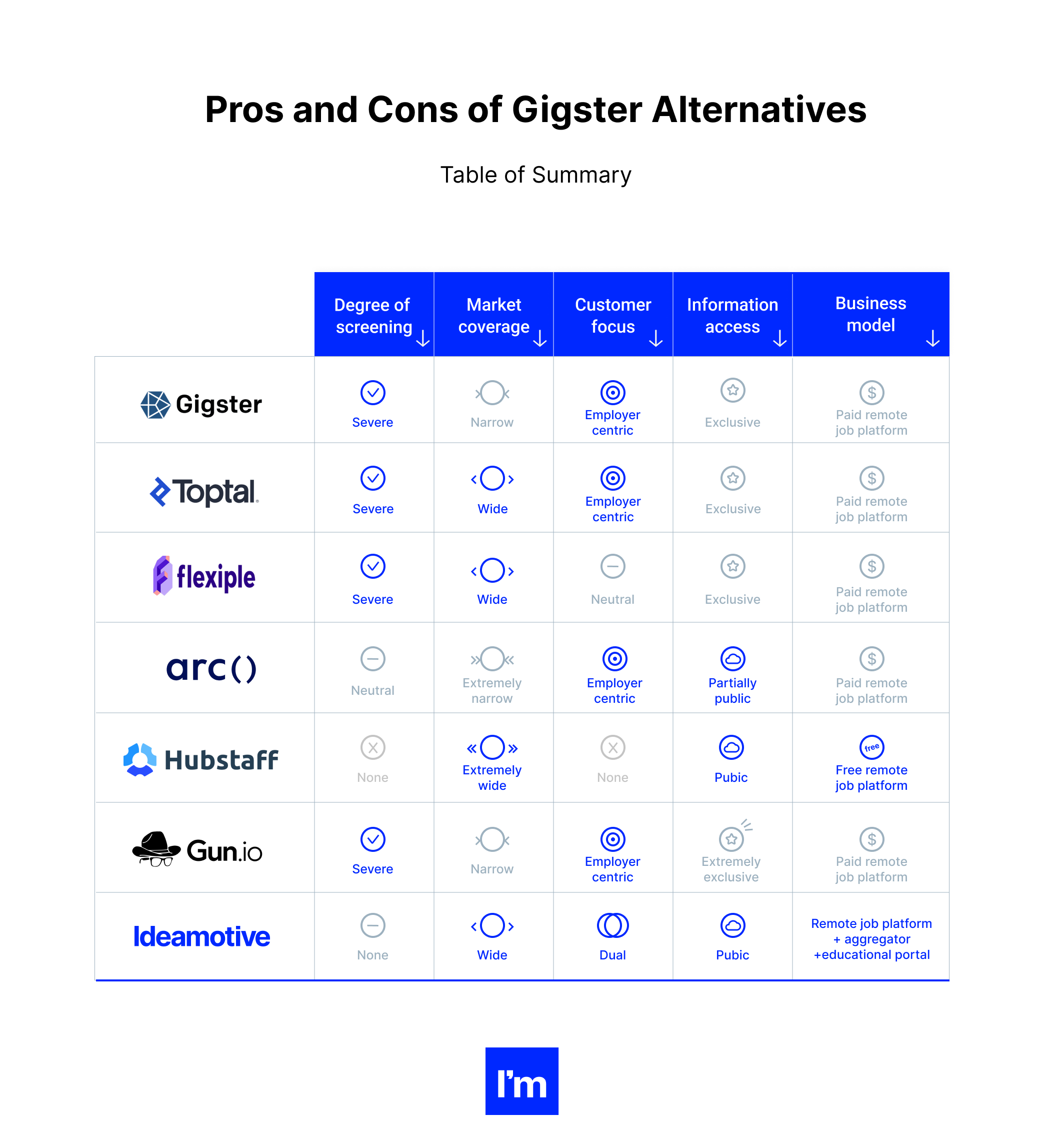 Conclusion
Hiring remote tech specialists has never been such a burning topic as it appears these days. At the same time, many freelance platforms have already emerged on the internet to help talent seekers and remote engineers find each other.
We provide you with comprehensive descriptions of essential features of the best Gigster alternatives to save your time. Those platforms like Gigster differ in many aspects to offer diversity and healthy competition to the remote job sector. So the choice is yours.
---
But if you are still hesitating about what to choose, contact us today for the best-in-class remote job expertise delivered by seasoned developers, business analysts, and profiled consultants.