MedTech has been booming in the past years, with both startups and major IT players trying to enter the market with creative solutions and new technologies.
We've assembled the coolest recent MedTech products for you to get a glimpse, too. But first, let's take a step back and look at the whole picture.
After reading this article, you'll get to know more about the MedTech industry, discover the products and key statistics that will get you acquainted with the market. As the title suggests, we will also discuss different breakthroughs, popular and useful MedTech products that are present in the market right now. We'll tell you the product, its aim, technologies, and special features the product utilizes in order to achieve its unique purpose.
What is MedTech? What types of MedTech products are on the market today?
Medical Technology, or MedTech, is a broad discipline right at the intersection between healthcare, medicine, and technology. It is concerned with the development of solutions for prevention, monitoring, diagnosis, treatment of health issues, as well as maintenance of the high quality of care.
Medtech products can be diagnostics tools, bionics, instrumentation, digital platforms, and more. Most MedTech organizations, such as HIMSS, WHO, or MedTech Europe, tend to differentiate the range of solutions the industry encompasses into three categories: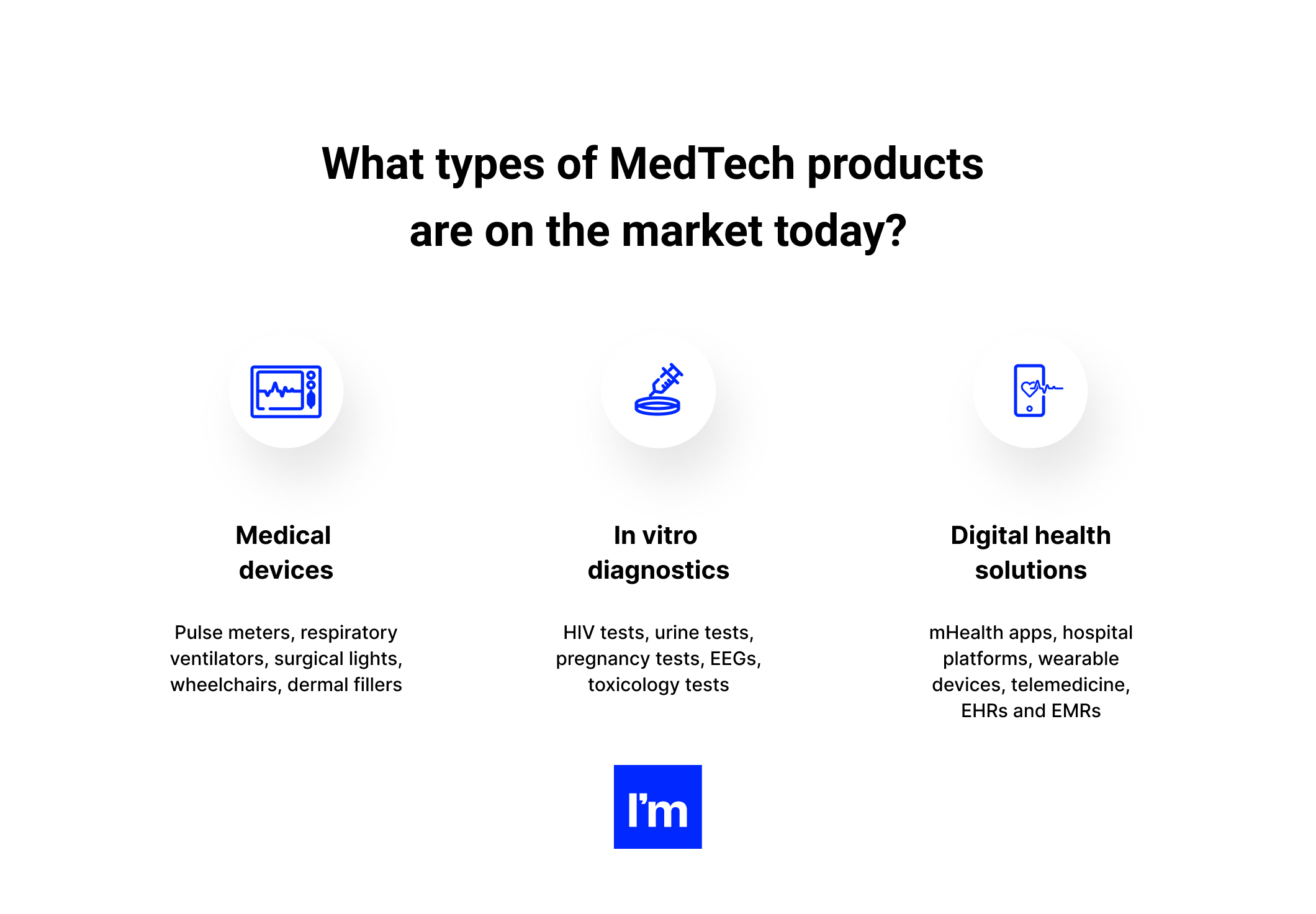 Medical devices
The broadest of all three. All the instruments, machines, apparatus, appliances, implants, and materials that are used for the treatment of a patient are considered medical devices.
For instance: Pulse meters, respiratory ventilators, surgical lights, wheelchairs, dermal fillers.
In vitro diagnostics
Meaning "in a glass". These are medical tests that are performed on samples (such as isolated tissues, organs, or cells) taken from a human body.
For instance: HIV tests, urine tests, pregnancy tests, EEGs, toxicology tests.
Digital health solutions
Tools and services that use ICTs in order to improve healthcare quality and delivery, also to promote wellness. In many cases, digital health solutions are developed as a part of medical devices or tests.
For instance: mHealth apps, hospital platforms, wearable devices, telemedicine, EHRs, and EMRs.
Technologies are gaining momentum in healthcare. The latest US government HITECH report says that 48% of office-based clinicians and 90% of non-federal acute care hospitals send and exchange digital healthcare information about their patients.
For us, as both MedTech product developers and users, it is always exciting to follow the latest trends. Innovation in MedTech isn't only tech-savvy, but also provides better medical care. AI, Machine Learning, VR, and robotics have been enhancing healthcare broadly in many unexpected ways.
Without further ado, here are 20 of the most interesting cases of MedTech product development we've seen around.
20 examples of cool MedTech products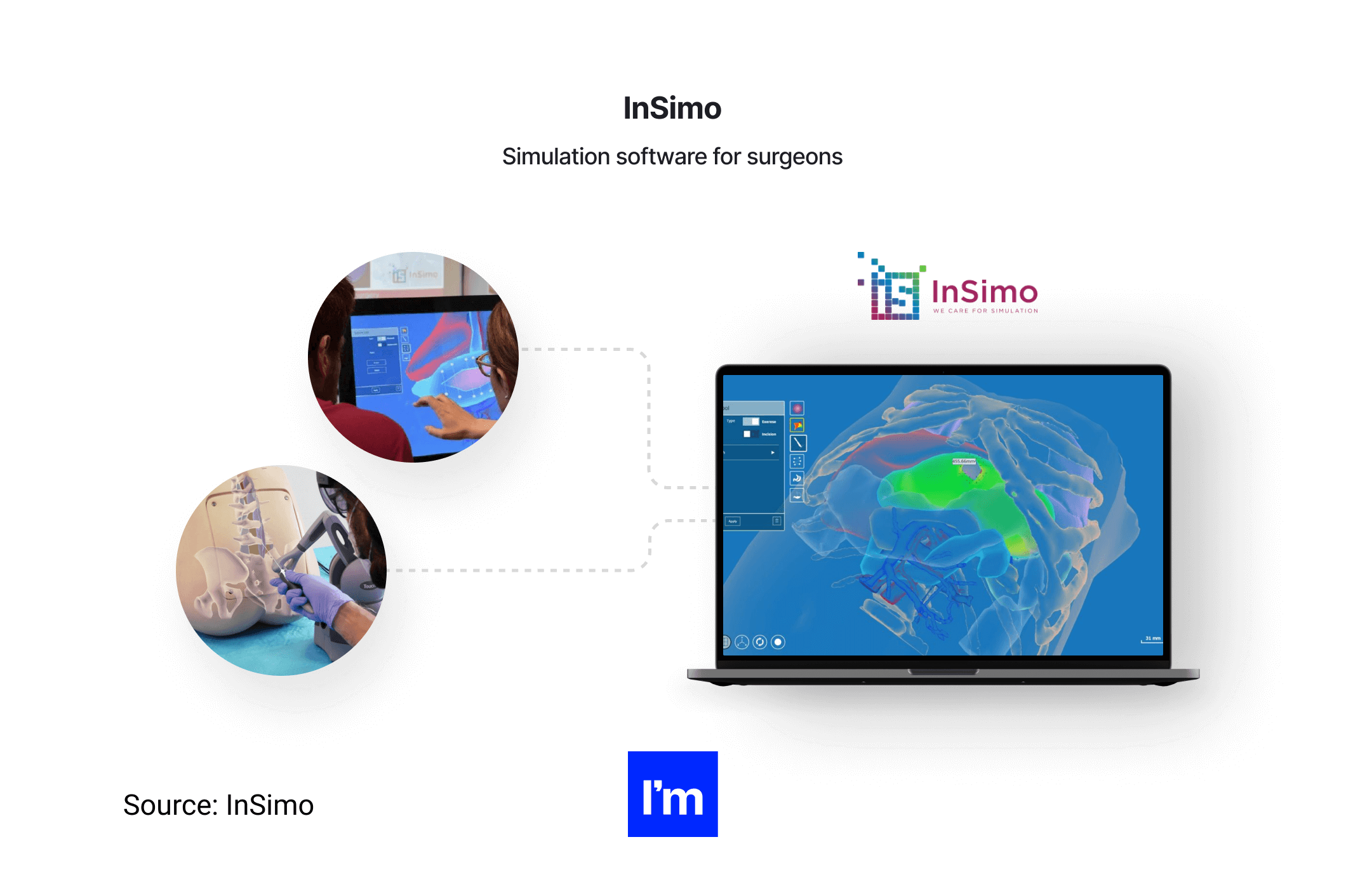 Product: Simulation software for surgeons
What it does: The company offers a range of surgeon simulations for practice and learning. They offer any simulation imaginable, from pulmonary to urology, to lumbar puncture, and even eye surgery simulation.
Country: France
Key features and technologies: Customs simulations, displays, and other simulation tools, VR headset.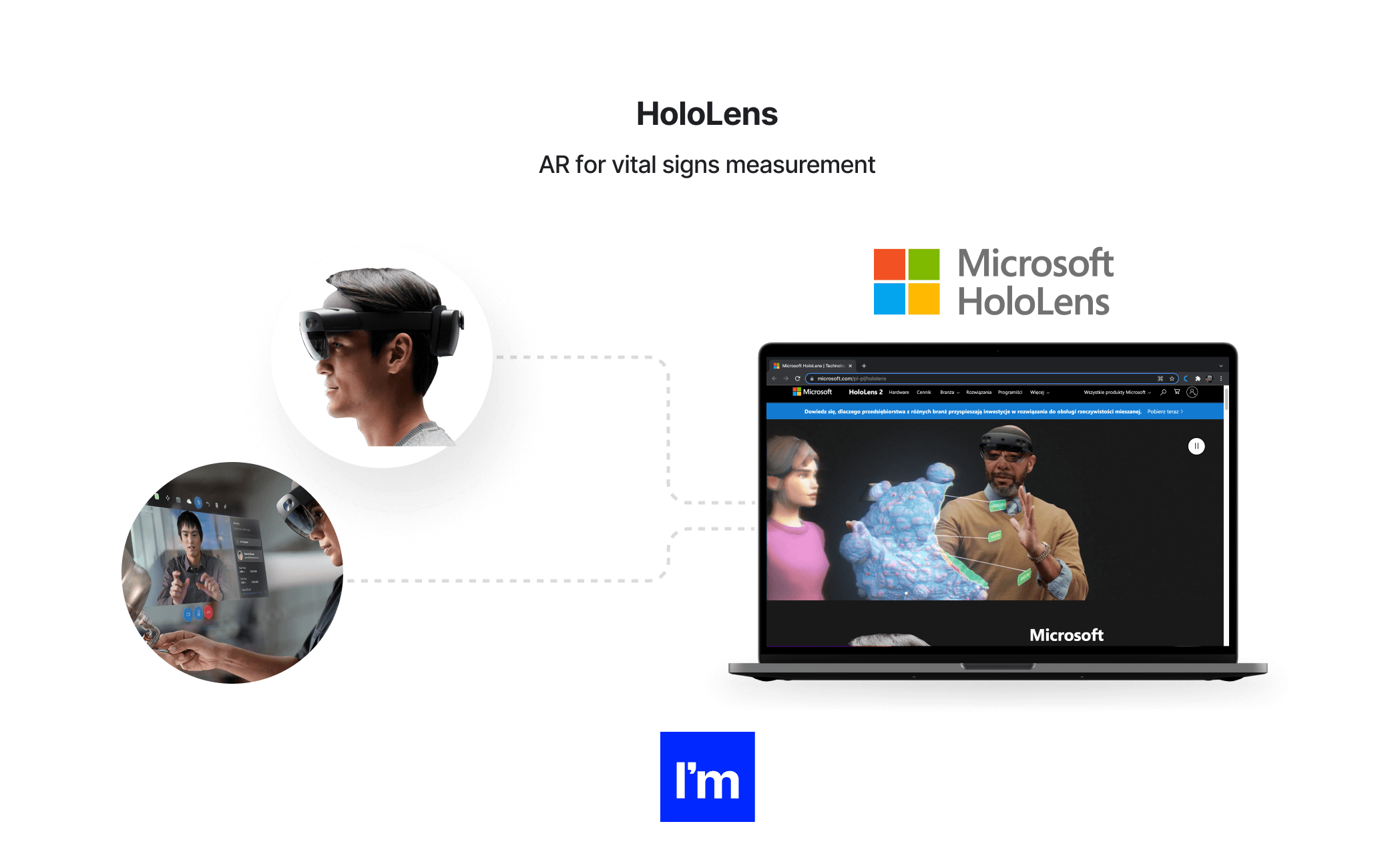 Product: AR for vital signs measurement
What it does: Just a prototype for now, but an interesting one nonetheless, HoloLens is a mixed reality tool. Through video recording and real-time image and wave processing, it allows a wearer to see the pulse of people they're looking at through a pair of glasses. Imagine a square over a person's face that says their exact pulse each moment. That's HoloLens.
Country: France, USA
Key features: Mixed reality glasses, innovative and futuristic approach to vital sign measurement.
Technologies: Webcam, imaging photoplethysmography, imaging ballistocardiography, holographic composition.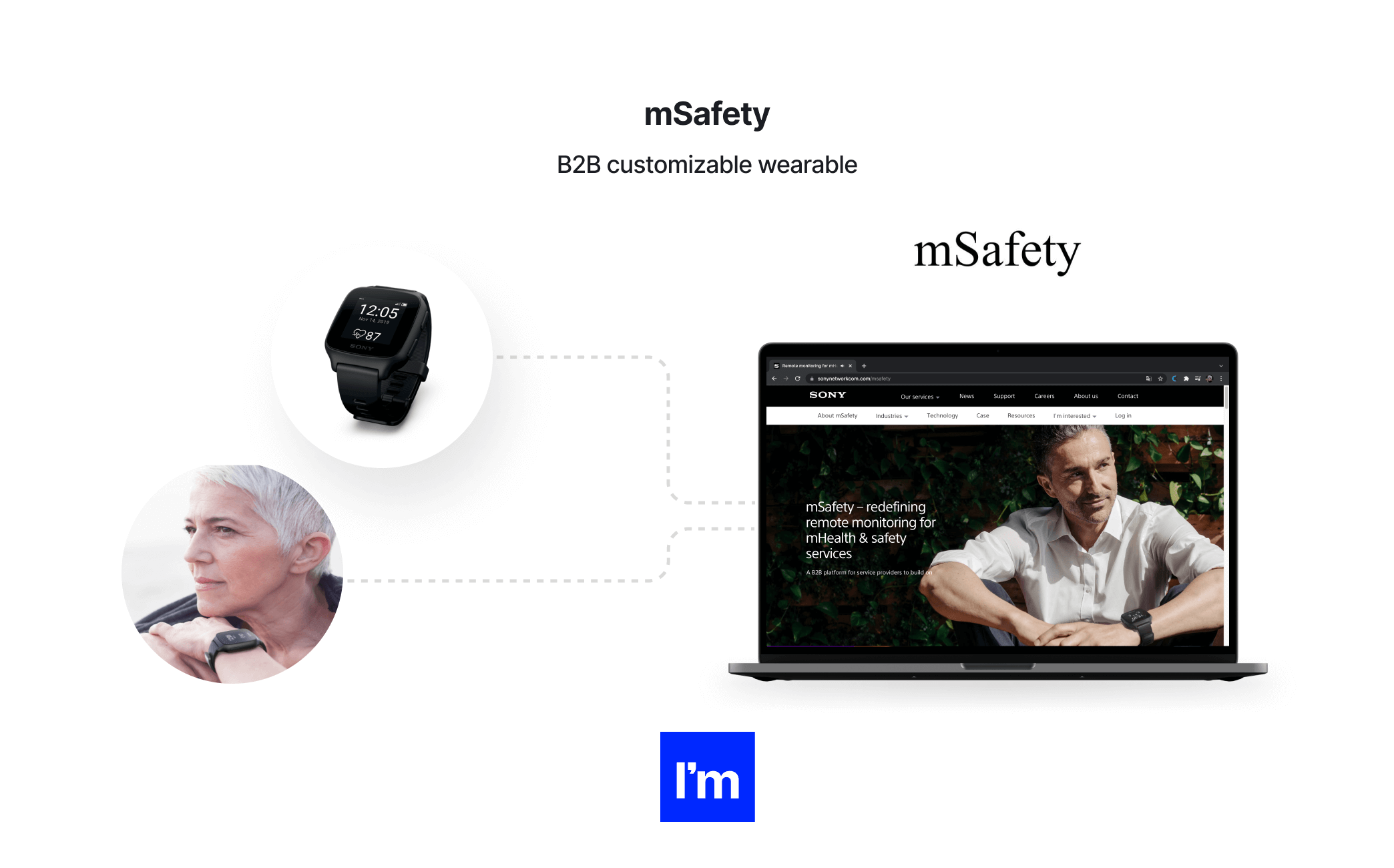 Product: B2B customizable wearable
What it does: mSafety is a customizable smartwatch. Except for providing information to the patient, it also has a remote monitoring function. Rather than introducing this as a product, Sony offers the wearable for another MedTech product development project, often a software. This way, they help businesses eliminate time-to-market with a customizable piece of hardware. As an example, a smartwatch can be used for remote clinical trial monitoring, chronic disease management or just keeping an eye on patients.
Medical IoT has a list of advantages, from reducing costs (from the ability to track patients remotely) to disease management and error reduction. Specifically, smartwatches are extremely popular among users. Statista estimates about 445 million smartwatches sold worldwide, which is projected to grow, with more than a quarter of a billion units projected to ship by 2025.
Country: USA
Key features: Fully customizable, easy to integrate.
Technologies: Apache HTTP Server, Bootstrap.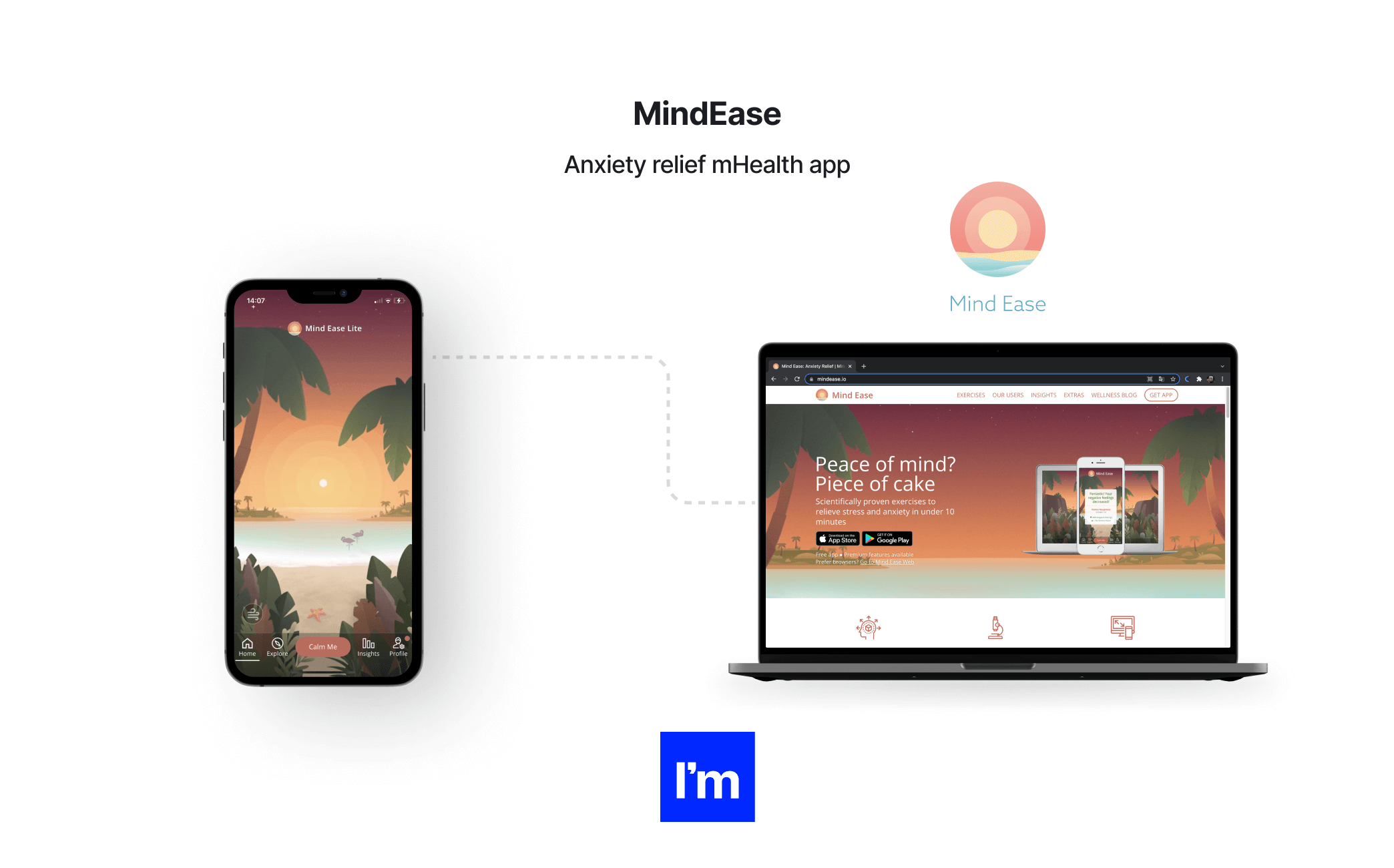 Product: Anxiety relief mHealth app
What it does: With the rise of mental health apps in recent years, MindEase stood out. It offers both quick and long-term relief for anxiety symptoms on-demand. Here, AI developers took it to a new level. Over time, MindEase AI learns to treat your specific anxiety case by learning what works best for you and offers treatment accordingly.
Country: UK
Key features: App, variety of calming techniques, available for iOS and Android.
Technologies: AI for personalized treatment, Machine Learning.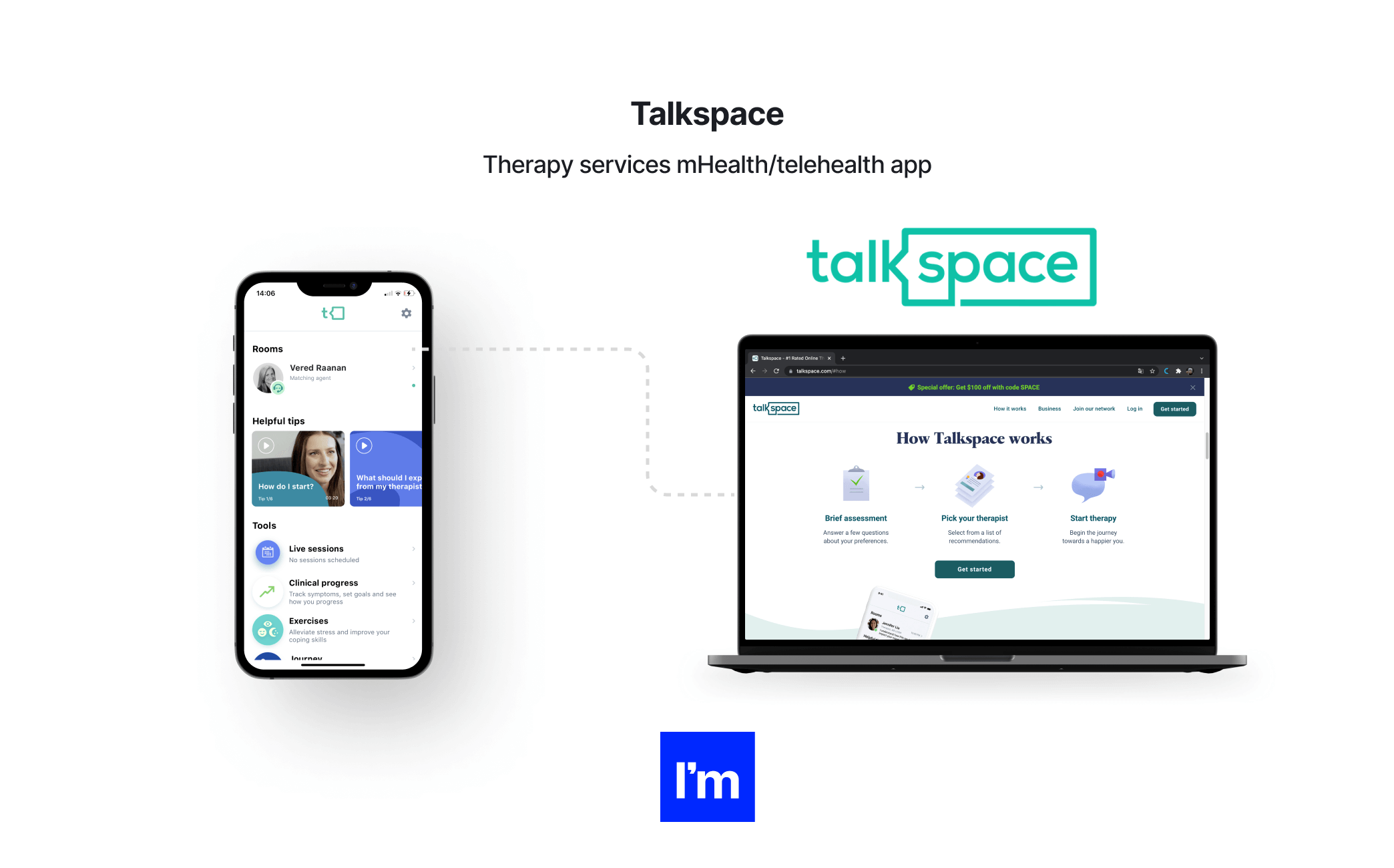 Product: Therapy services mHealth/telehealth app
What it does: Continuing on the topic of mental healthcare and its digitalization, Talkspace is another great example. This is an app that connects licensed therapists and psychiatrists with people who need them when they need them. Moreover, the app provides unique patient and therapist matching according to system algorithms. Though facing criticism from some practitioners, Talkspace is still a viable option for cheaper or emergency therapy.
Telehealth adoption in psychiatry is the absolute highest among all specialities. As recent as February 2021, about 50% of all psychiatry visits were done digitally, through telehealth software.
Country: USA
Key features: On-demand mental health services, available for iOS and Android.
Technologies: HTML5, Google Analytics, and jQuery.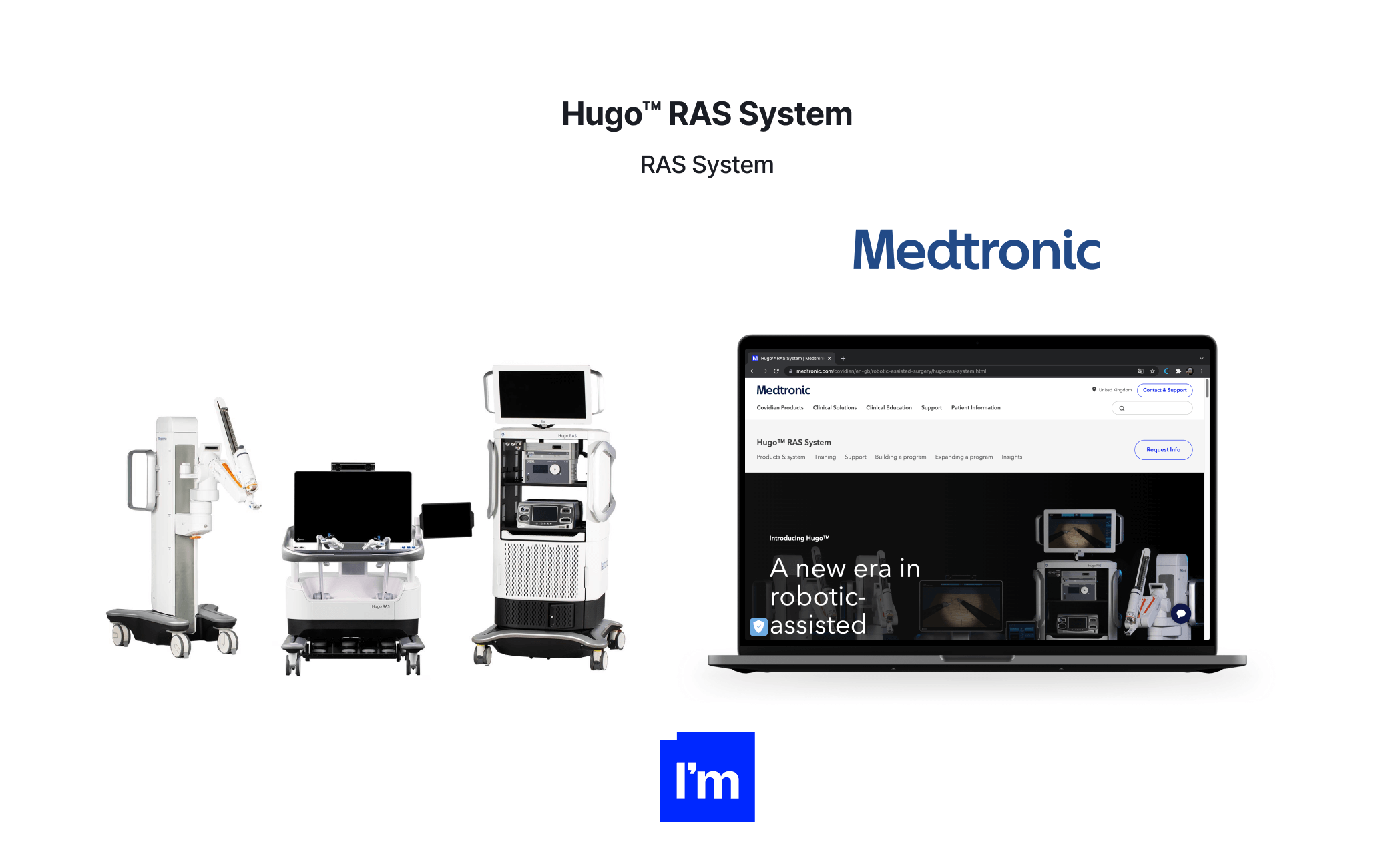 Product: RAS System
What it does: This remote surgery robot facilitates minimally invasive surgery for soft tissue procedures, which could potentially minimize post-surgery complications, scars, and marks. So far, it has been used for operations in South America and Asia. Though it might be early to talk about wide adoption due to the robot's novelty and extensive training needed to operate machinery, Hugo RAS has already shown to be highly successful in conducting operations.
Country: Ireland
Key features: Wristed instruments, 3D visualization, and cloud-based surgical video capture.
Technologies: Python, PHP, NGINX, CloudFlare, Apache, Ubuntu, Bootstrap, AngularJS, Vue.js, Amazon CloudFront, Microsoft Azure, Microsoft IIS, Apache Tomcat.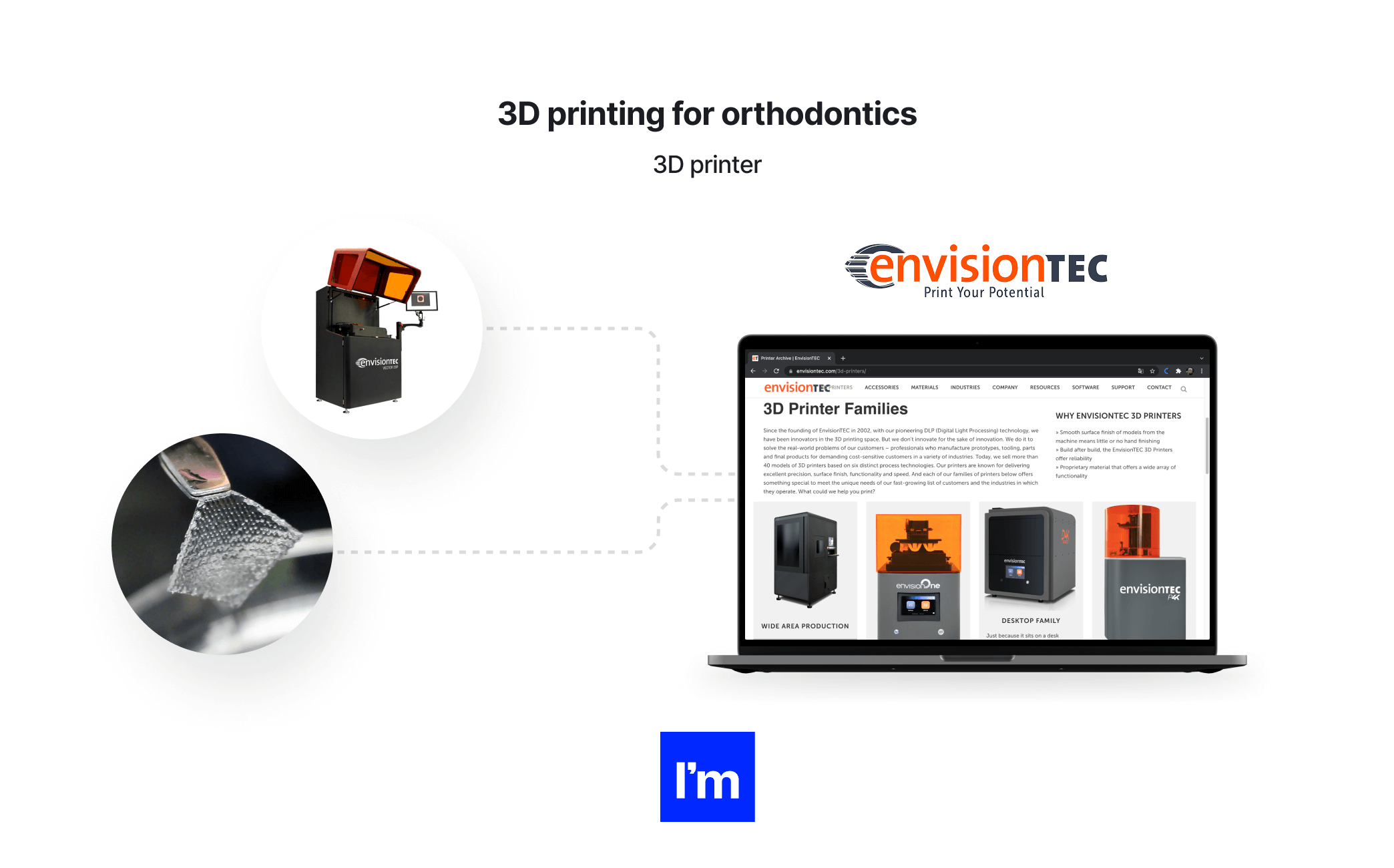 Product: 3D printer
What it does: Printing expanders, aligners, retainers, and braces fast, yet extremely accurately, are among the services offered at Dutchess Orthodontics due to integration of the EnvisionTEC Perfactory Vida 3D printer. 3D printing in orthodontics is a global trend, as it seems to be a cheaper and faster alternative to older, more laborious orthodontic techniques.
Country: Germany, USA
Key features: Integration with an oral scanner, fast medical device production, easy change of retainer/brace materials.
Technologies: Vue.js, Node.js, Typеscript, Javascript, SQL & NoSQL databases.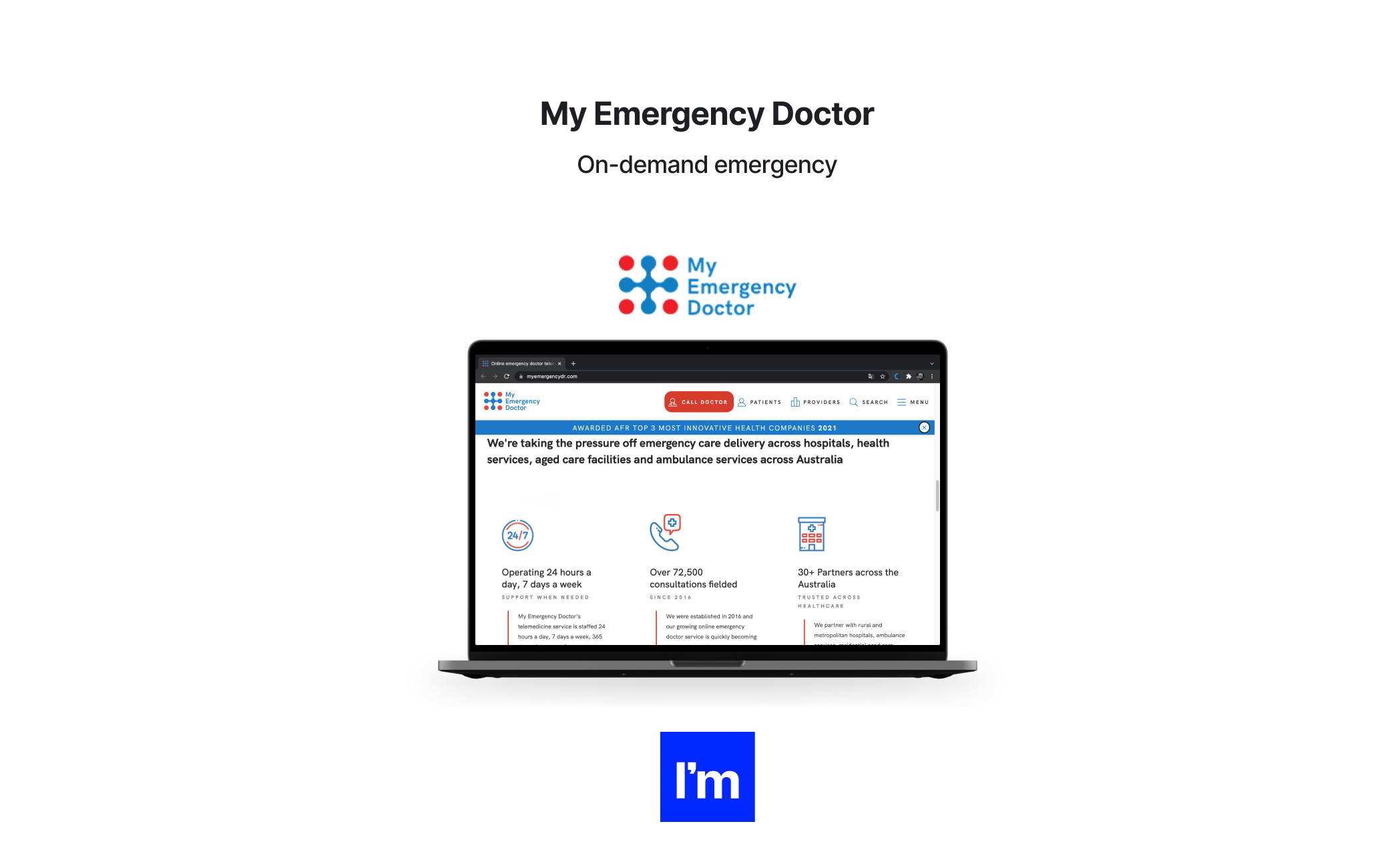 Product: On-demand emergency
What it does: A relatively new service in Australia, offering on-demand emergency medical care via phone or video calls. Their goal is to take pressure off hospitals and provide virtual emergency care for non-life-threatening cases.
The popularity of telehealth solutions has skyrocketed since the pandemic. From just 11% in 2019 to 40% of consumers now planning to use telehealth to replace their in-person healthcare visits.
Country: Australia
Key features: Virtual emergency visits, remote consultation, remote patient screenings.
Technologies: OpenSSL, JavaScript, HTML, Amazon EC2, Apache HTTP Server.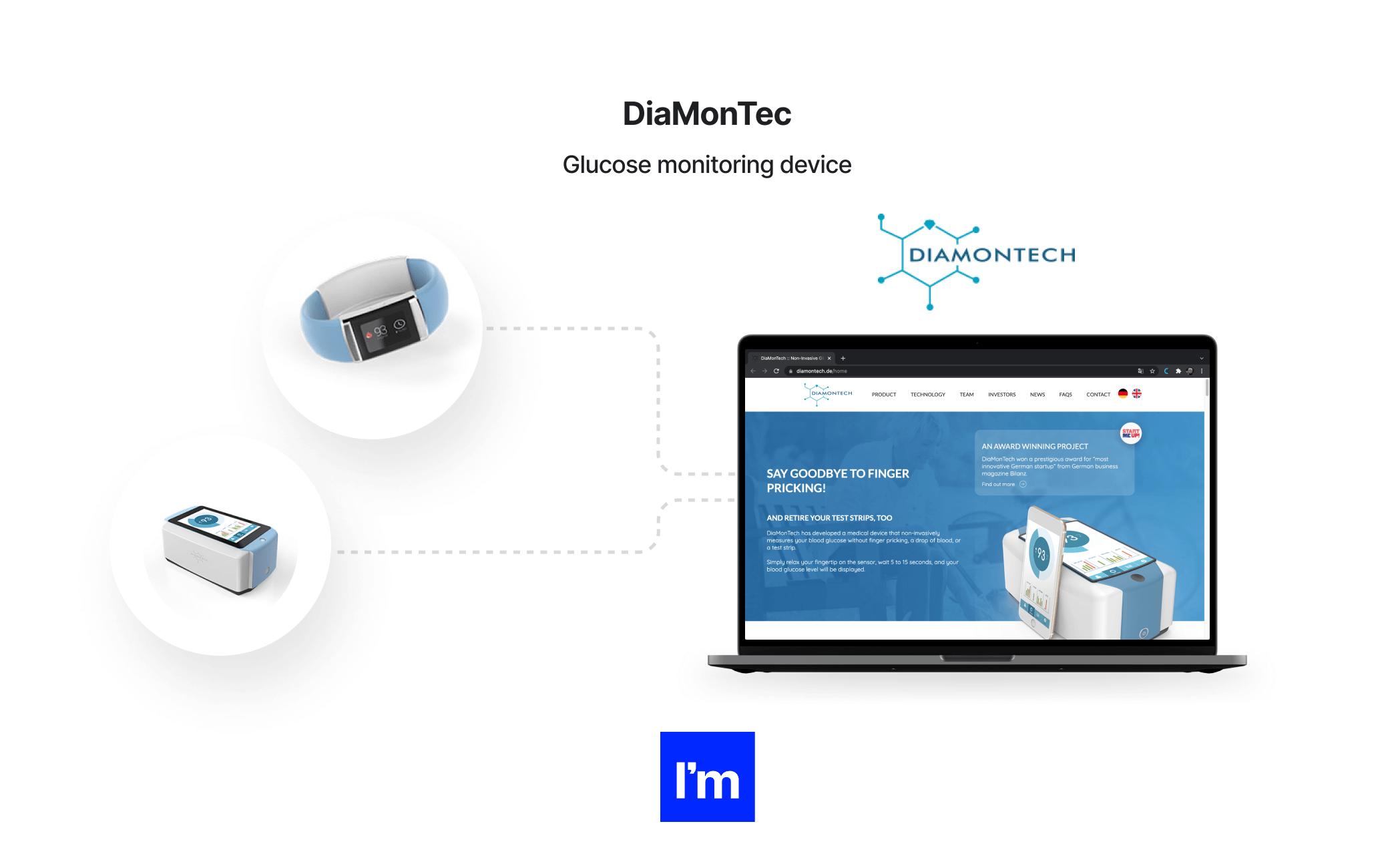 Product: Glucose monitoring device
What it does: After perfecting their technology for years, DiaMonTech now offers a pocket-sized medical device for monitoring blood sugar (looking like a small phone or a bracelet). The device utilizes infra-red technology to count glucose molecules on a human finger and gives back results in just a few seconds.
Country: Germany
Key features: Portable app, smartwatch, statistics about glucose value.
Technologies: Infra-red technology.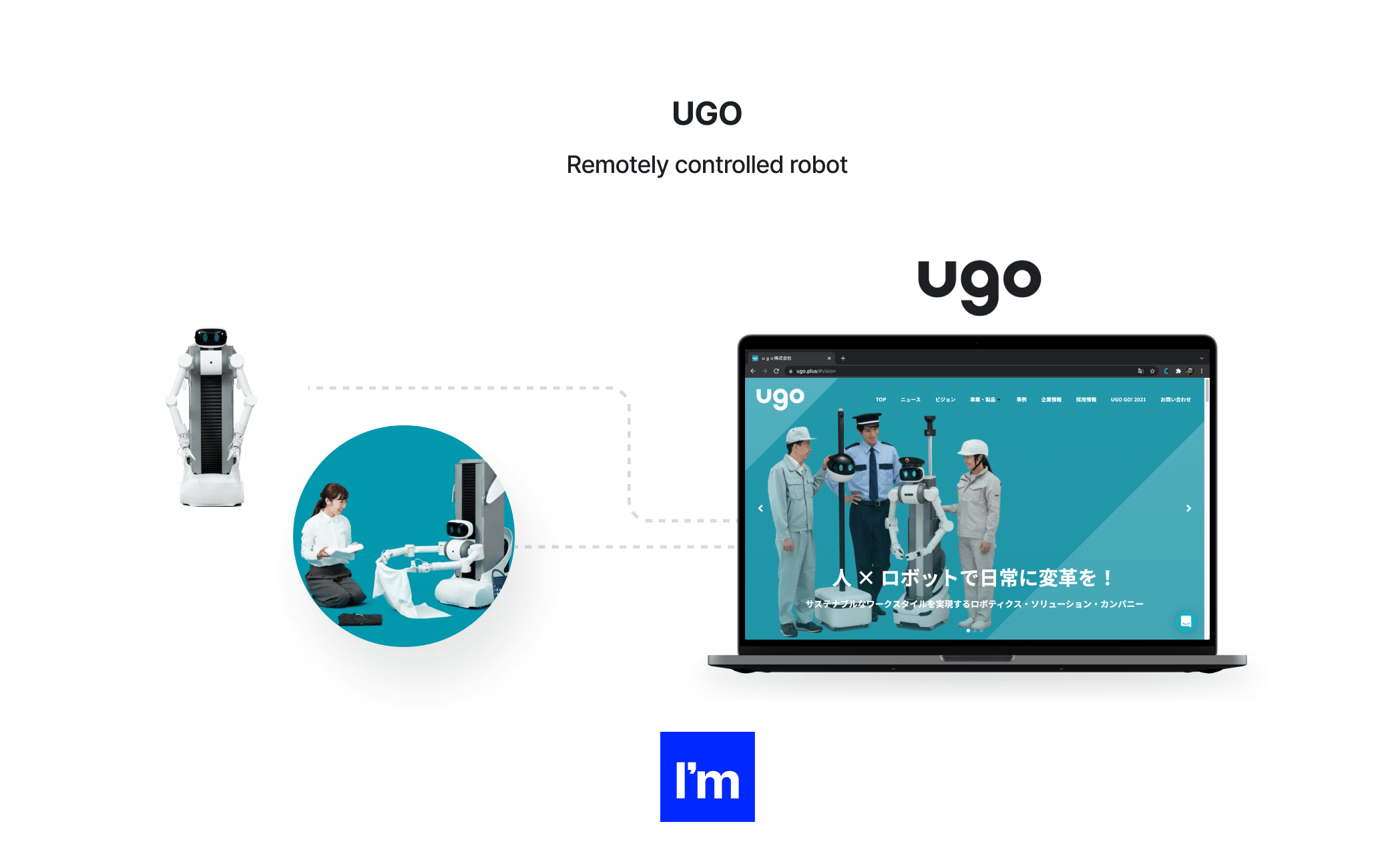 Product: Remotely controlled robot
What it does: As Japan's population is aging, robots like UGO are planning to take the place of nurses and carers in hospitals and homes. UGO is a remotely controlled maid robot, which can perform small tasks and chat. Since the pandemic, however, it has been reprogrammed into a disinfecting robot.
Country: Japan
Key features: 22 sensors, three cameras for space and object recognition, remote control.
Technologies: G Suite, AWS Web Hosting, Starfield Technologies, Amazon Route 53.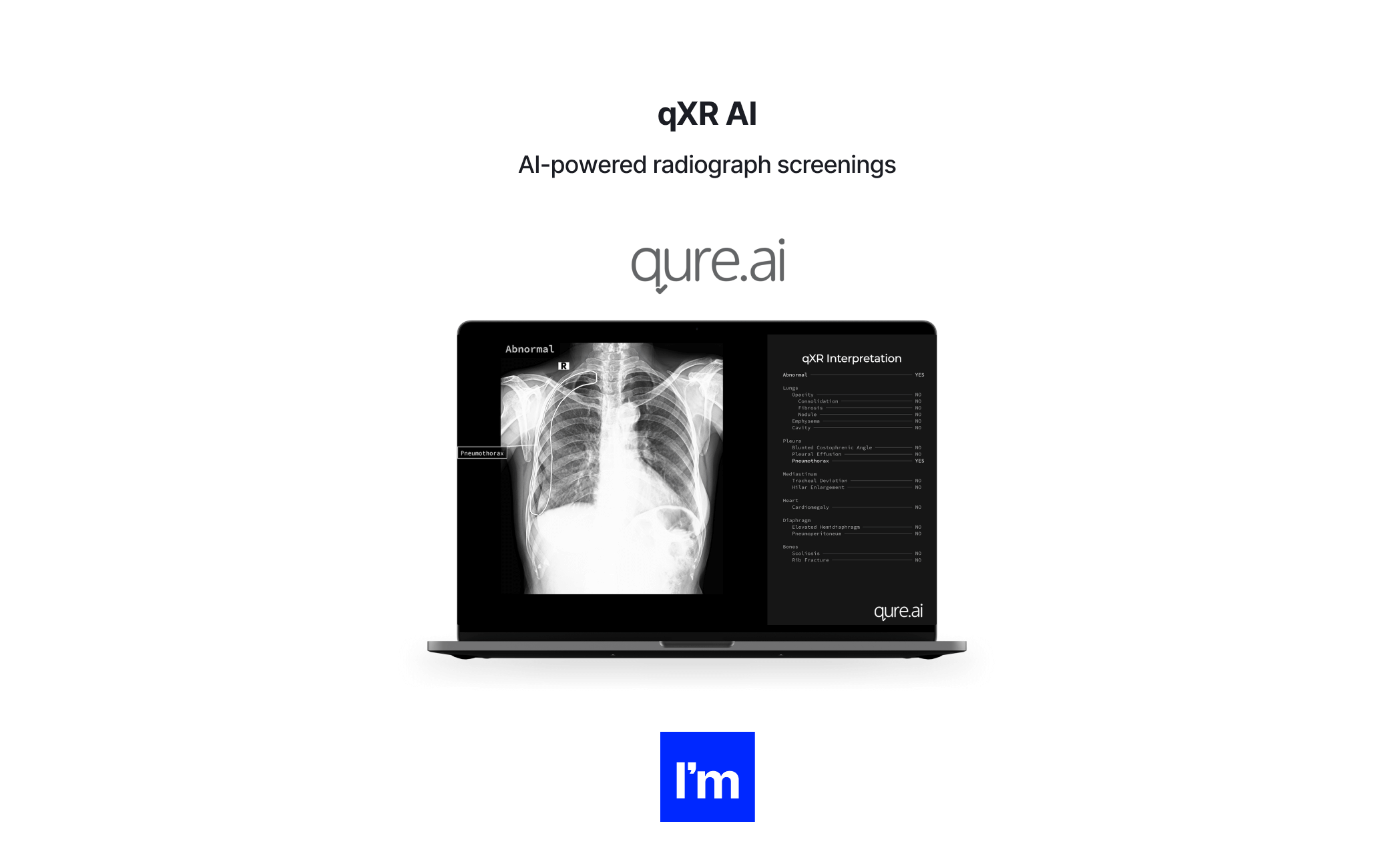 Product: AI-powered radiograph screenings
What it does: Qure.ai has equipped the Fujifilm portable X-ray system with Artificial Intelligence. With the help of qXR AI, X-ray can analyze radiographs and detect abnormal findings almost immediately. Currently, the software is used for detecting early lung cancer symptoms, but it has prospects for identifying pneumonia, tuberculosis, or signs of COVID-19. The great thing is that qXR AI works even when the diseases are completely asymptomatic, aiding medical workers in early detection.
90% of hospitals in 2021 have an Artificial Intelligence strategy in place, 25% of which are in the early implementation stage. More and more executives understand that AI solutions are essential for both hospital infrastructures and for innovative approaches in patient care.
Country: Malaysia
Key features: Smart medical device, AI image processing, AI diagnosis, Machine Learning.
Technologies: Machine Learning, deep learning, medical imaging.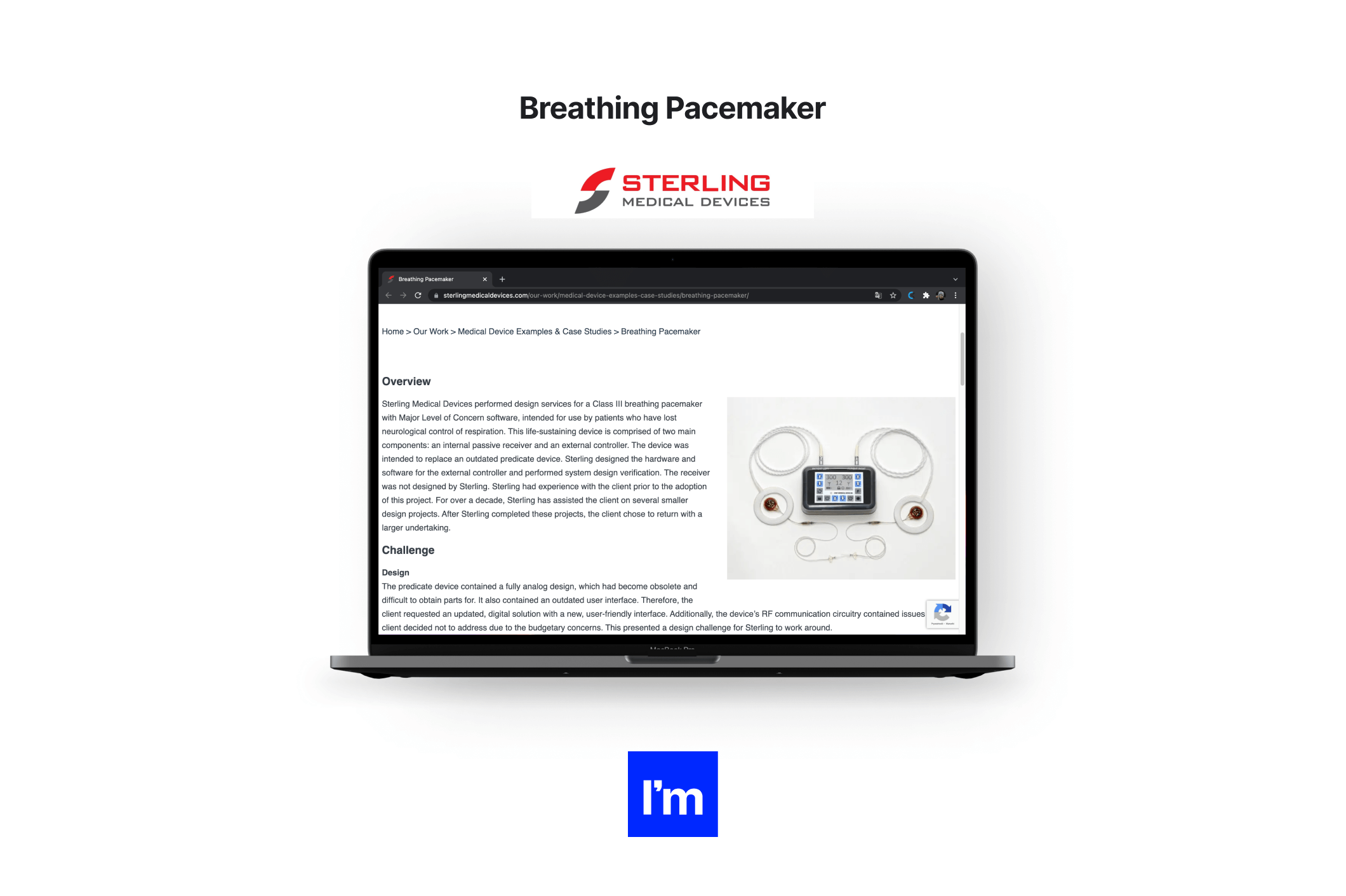 Product: Breathing Pacemaker
What it does: This medical device is designed for patients who don't have neurological control of their respiration. Unlike other examples in this list, the case study is focused primarily on designing a MedTech UI, which is modern, user-friendly, and encompasses all the necessary features. Though seemingly small, this medical device is used in more than 20 countries and improves the day-to-day lives of many patients and doctors.
Country: USA
Key features and technologies: Modern software design, LCD screen.
Product: Prosthetics and orthotics creation
What it does: Using a combination of next-gen technologies and good taste in design, Mecuris has been creating 3D-printed prosthetics and orthotics since 2016. Being one of the most famous German startups, Mecuris seems to be quite successful in its novel approach to the manufacturing process.
Due to unmatched precision and flexibility, 3D printing is becoming more and more common in MedTech product development. From only three practices offering such services in 2010, in 2019 more than a hundred US hospitals used this technology.
Country: Germany
Key features: Custom medical equipment creation.
Technologies: CT scans, MRI imagery, 3D scans, 3D printing.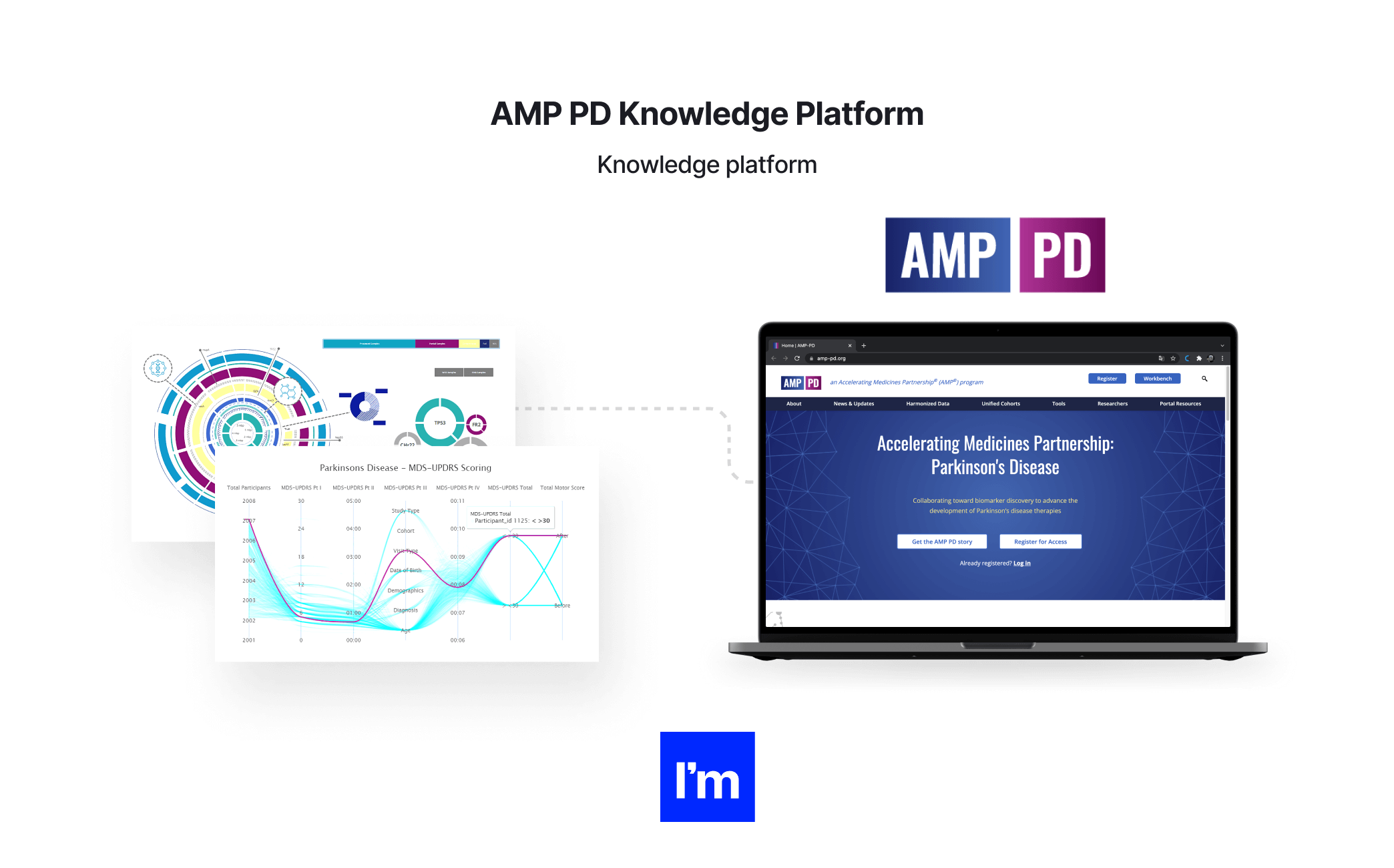 Product: Knowledge platform
What it does: This is a digital platform for healthcare researchers, who collect and share information on diagnosing and treating Parkinson's disease. Though perhaps not as evident in its direct effect, such platforms are still highly important ecosystems for medical research. This website contains lots of valuable data, as well as analytics and visualization tools.
Country: USA
Key features: Database of knowledge, guidelines, data curation, analytics tools, visualization tools.
Technologies: Google Analytics, PHP 7, ASP.NET, jQuery.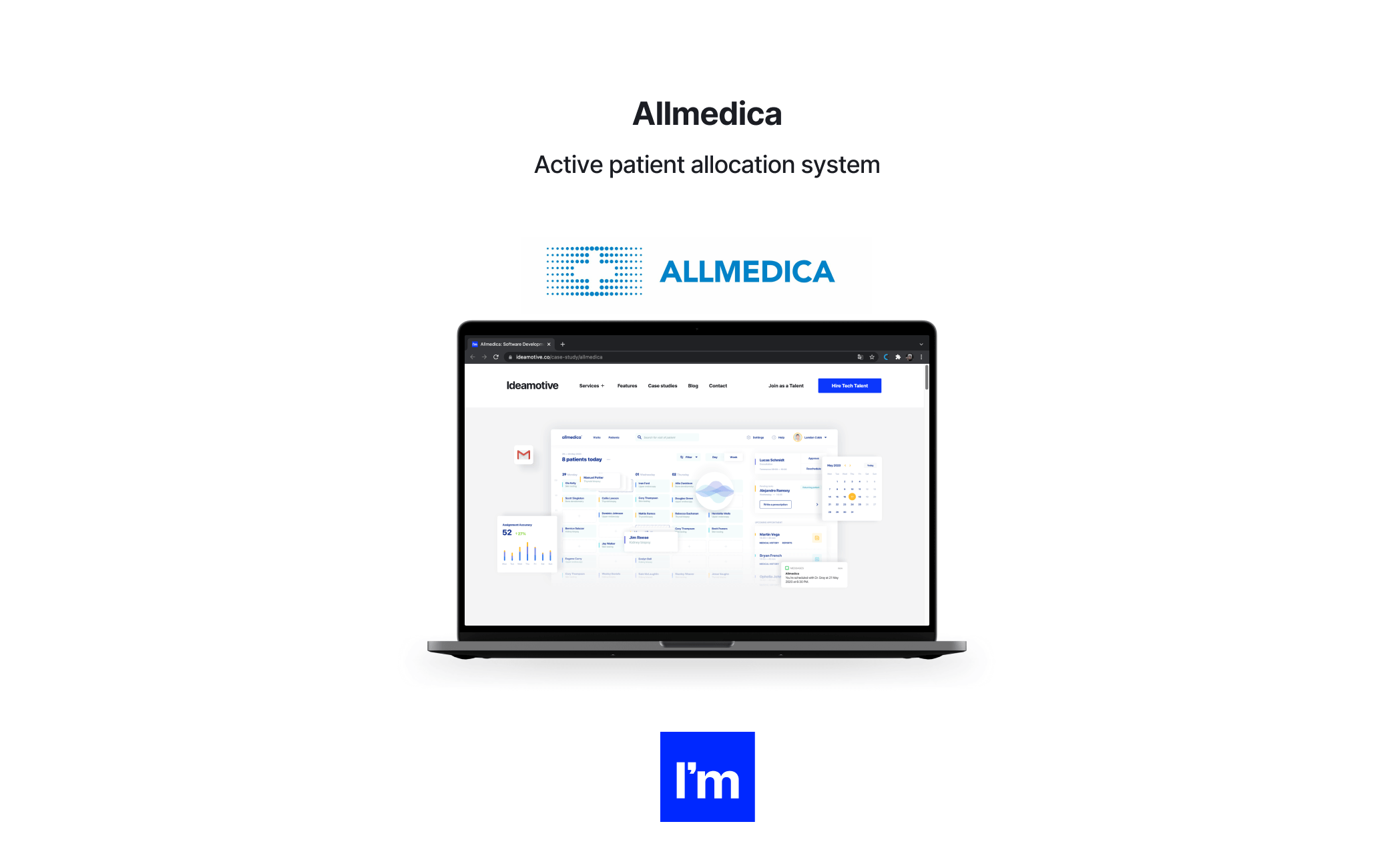 Product: Active patient allocation system
What it does: Powered by well-engineered subtle algorithms and business intelligence, Allmedica introduced a prototype for their new heuristic system. It actively allocates patients if another has canceled/rescheduled their appointment. As a result, this small adjustment shortens patient waiting time, improves doctor productivity, and increases company profits.
Country: Poland
Key features: Patient allocation, Control visits, and promotions.
Technologies: Ruby on Rails Development, Machine Learning Engineers, Data Engineers, Big Data, TensorFlow.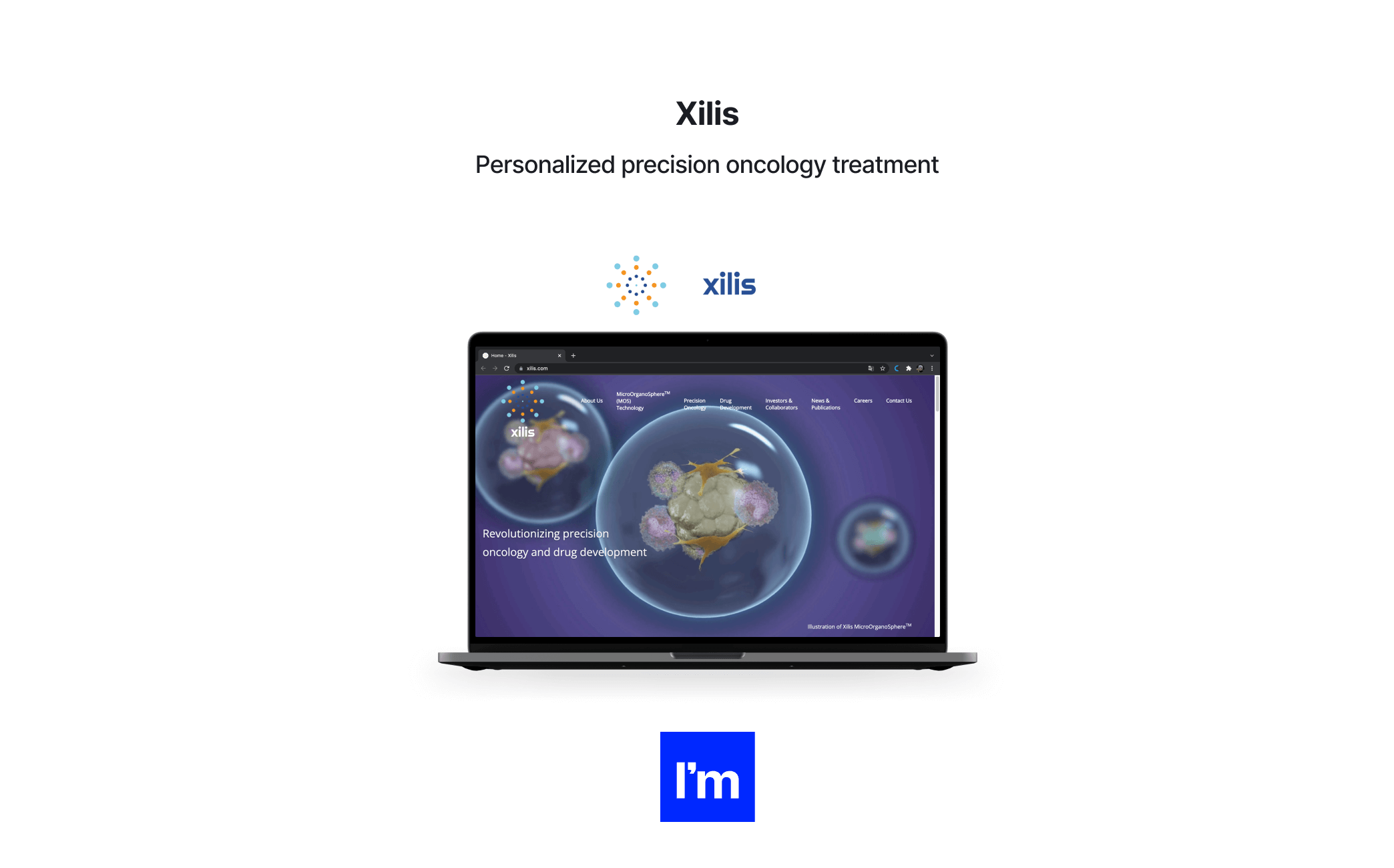 Product: Personalized precision oncology treatment
What it does: $70 million MedTech startup grows copies of individual's tumors in a lab and tests them against different kinds of cancer treatments. This way, cancer pharmaceuticals can be tested much faster for each separate case, compared to a single patient who's trying each drug separately during extended periods of time. Though their MedTech product development is still ongoing, today Xilis data suggests that it can predict the most effective drug for a patient within 10 days.
Country: USA
Key features: Personalized cell growth, personalized drug tests, acceleration of drug discovery, revolutionary approach to cancer treatment.
Technologies: MicroOrganoSphereTM (MOS) technology.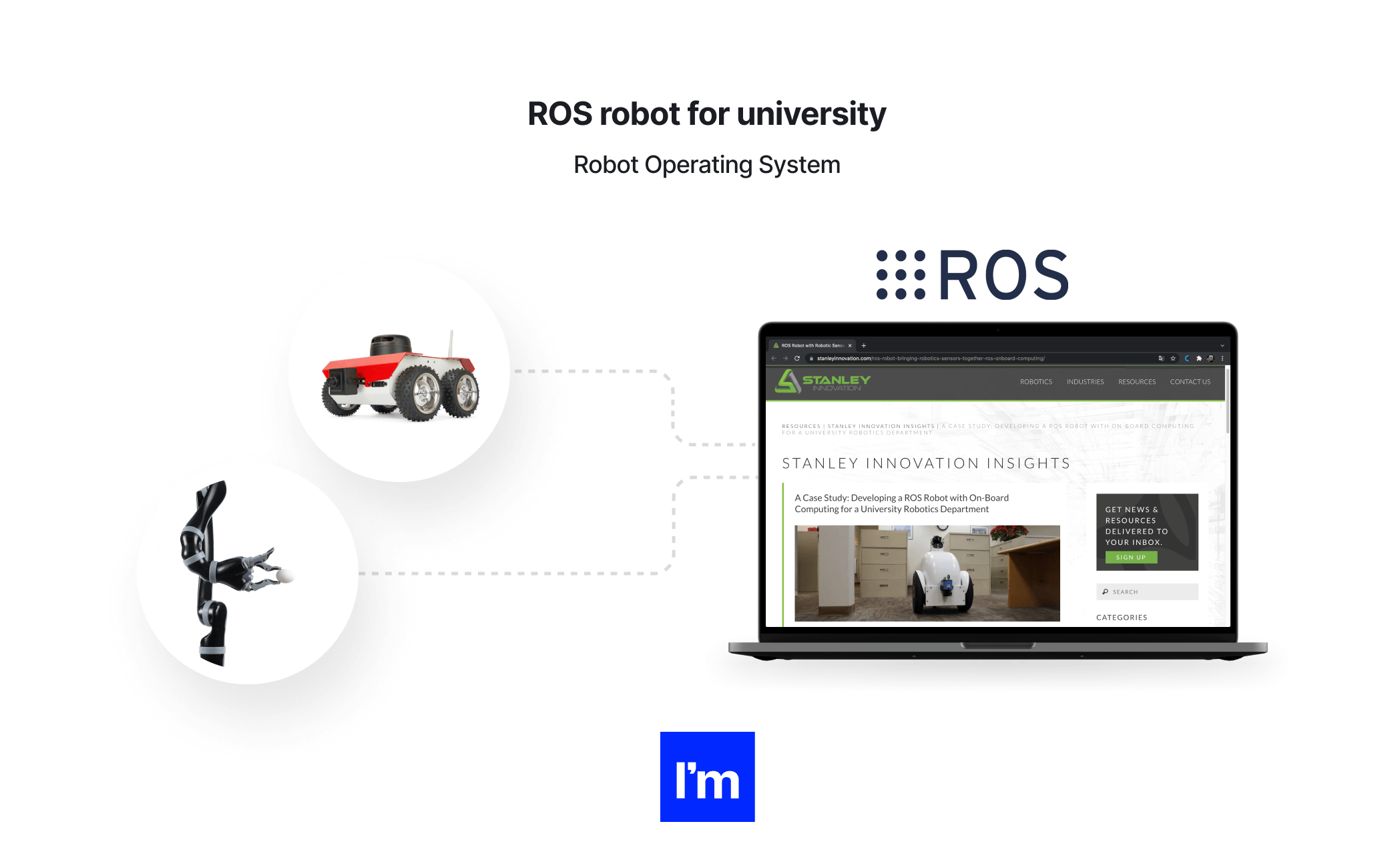 Product: Robot Operating System
What it does: This is a great example of a research robot built specifically for a university research case. With lots of sensory systems and software, its developers describe how
the ROS combines information to know where it is, where it's going, and what's in the way, ultimately allowing it to sense and navigate around and past objects.
Slowly, it builds awareness of its surroundings and learns. Designing an apparatus like this requires a team of well-versed engineers and neural network programming experts.
Country: USA
Key features: Stereo vision, 3D range sensor, laser measurement system
Technologies: USB3 camera, an inertial sensor, accelerometers, magnetometers, on-board microprocessor, embedded software algorithm, non-volatile memory for configuration, and serial communication interface, 3D range sensor, low-power FPGA processor.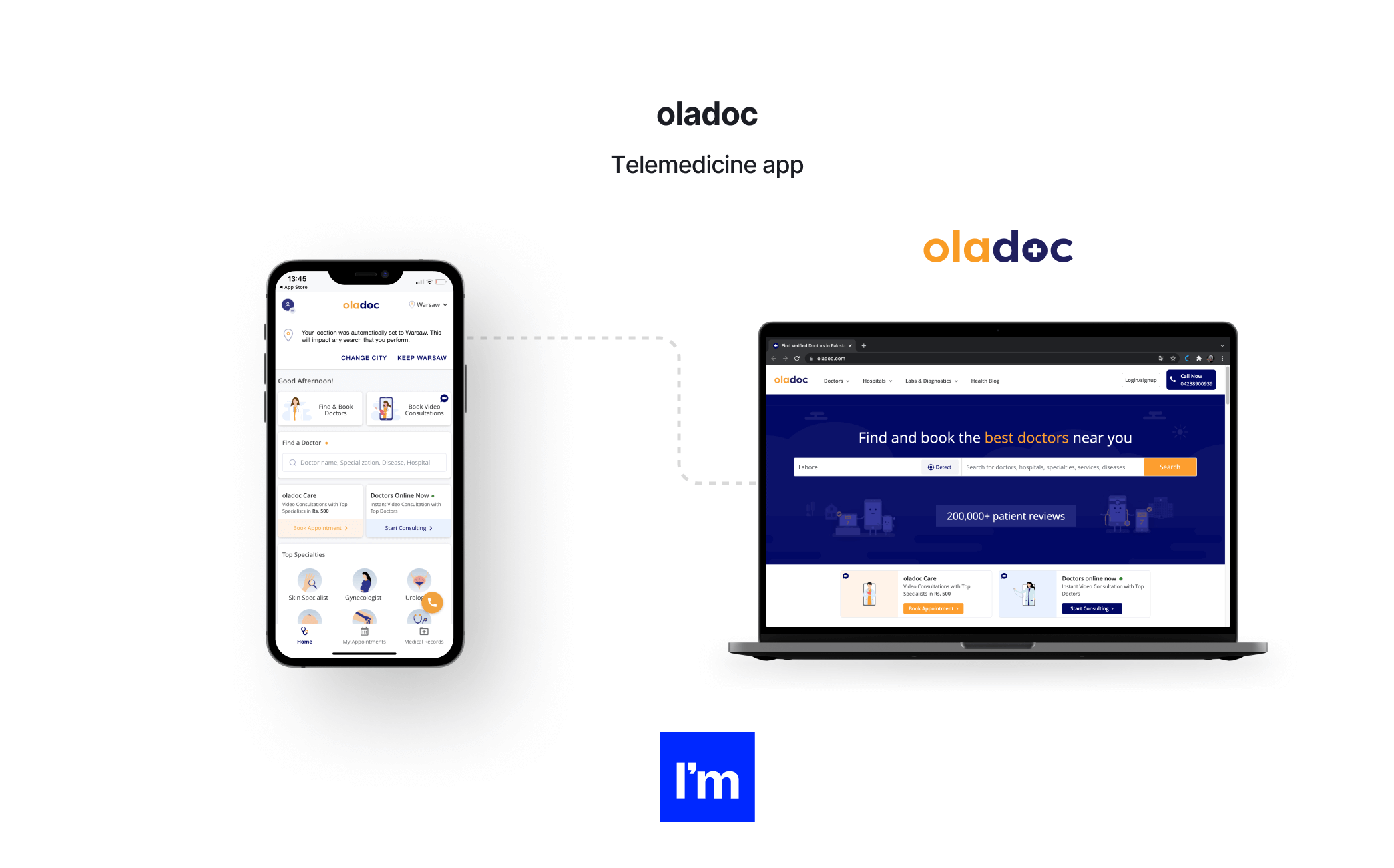 Product: Telemedicine app
What it does: oladoc is a great case for how a well-made MedTech product development can take over a whole country. One of the most popular apps in Pakistan, oladoc is enabling simple, yet highly effective doctor appointment scheduling, doctor filters, and rating service. The app lets users choose from more than 25,000 medical providers.
Country: Pakistan
Key features: Appointment scheduling, filtering doctors based on specialization, location, price, ratings.
Technologies: CodeIgniter, Cloudflare CDN, Cloudflare Website Optimization, G Suite, Cloudflare Security.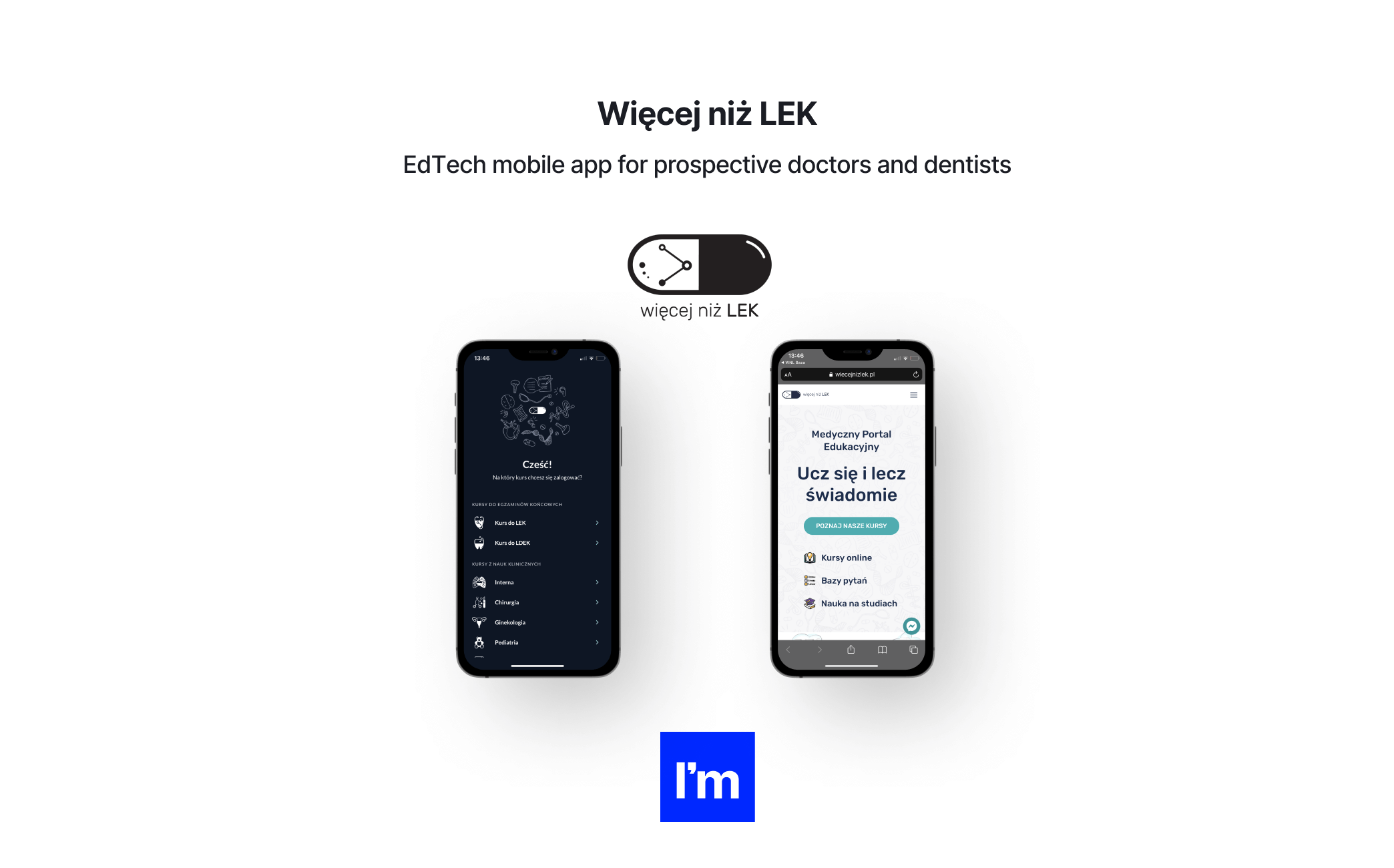 Product: EdTech mobile app for prospective doctors and dentists
What it does: This is an educational platform that allows doctors and dentists to learn dentistry and study for exams in a lively community. The platform has been highly popular among Polish students and has prepared over 10,000 medical graduates for the local state medical exams.
Country: Poland
Key features: Great UX and UI, medical knowledge database, forum and chats, personal study plan, available as a browser platform, on iOS and Android.
Technologies: React Native.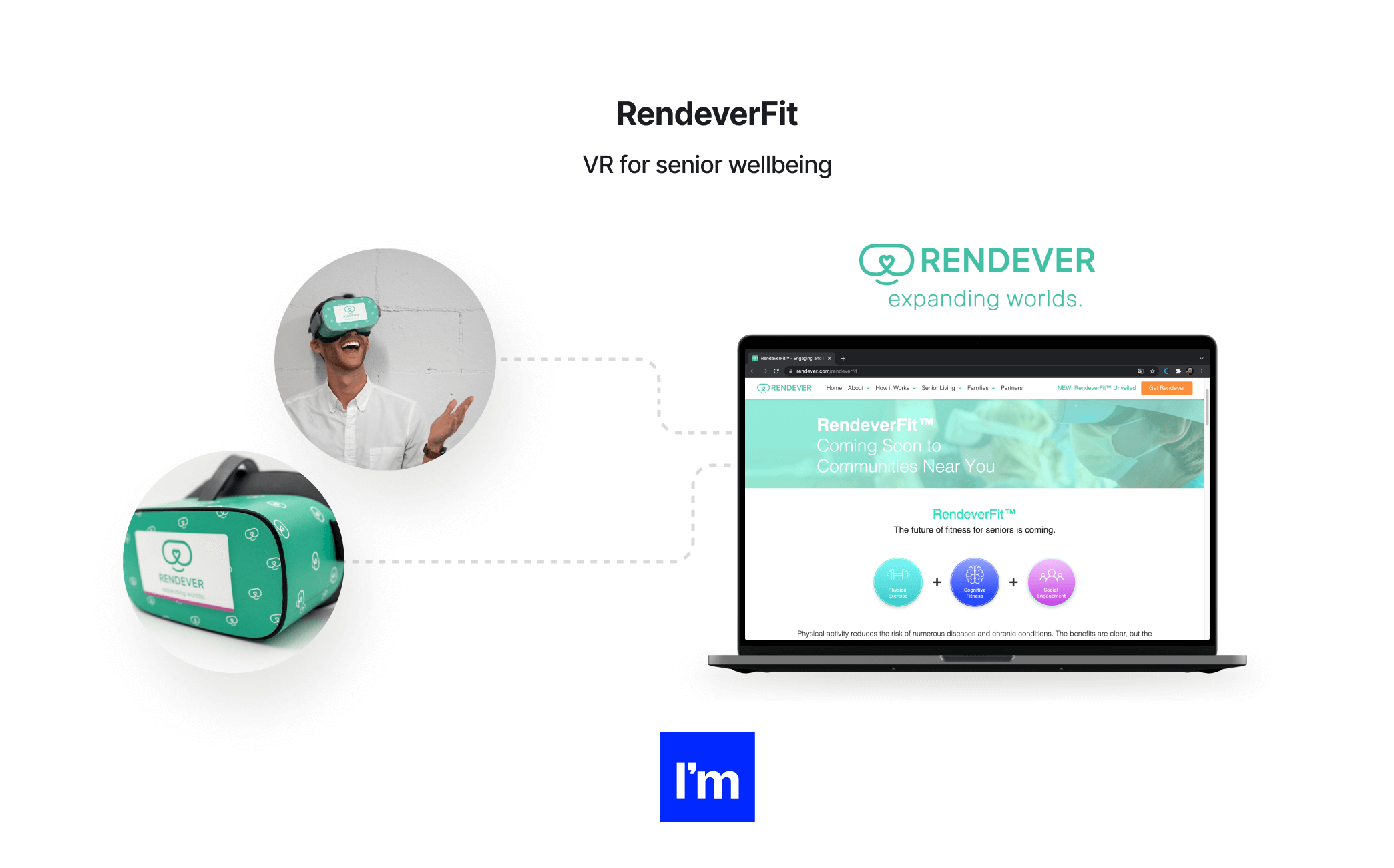 Product: VR for senior wellbeing
What it does: This is an extensive VR solution used at senior homes. Cycle, Paddle, and Paint modules allow users to exercise psychically, test their agility, improve cognitive abilities and engage in social interactions on a fun and dynamic VR platform.
VR is one of those unlikely partners of healthcare. It's surprising to hear about, but it works. Healthcare is among the top 5 fields to be adopting VR up to 2025.
Country: USA
Key features and technologies: VR technologies, Modules that engage with different types of activities, remote control by staff, group viewing, tracking progress over time, competing with global communities.
MedTech trends for the future
MedTech is one of the fastest-growing industries out there. With estimated global revenues of 483 billion USD in 2020, MedTech is steadily on the rise among investors, innovators, and researchers. Reports by Statista project steady growth for the next few years, with the revenues reaching almost 600 billion USD by 2024.
Coupled with the increasing prospects, the investments are increasing too. Deloitte estimates almost doubling MedTech venture capital funding from 2019 to 2020, which is likely to continue for the next few years.
Seemingly, the shift is happening in the employment sector as well. In Australia, talented illustrators, animators and designers are shifting workplaces from the entertainment industry to MedTech, citing a more meaningful line of work as one of the main inspirations for change.
Few things to remember:
Knowledge is powerful. Learning about new products and services gets you acquainted with the market, allows you to gain inspiration, and improve products.
Know where to search for talent. Acquiring experienced talented managers, designers, and developers for MedTech projects will make the journey easier.
Organize flexibly. In order to be capable of adopting new technologies, an organization's internal processes must remain flexible. Build products with expansion in mind and leave possibilities for new, exciting integrations.
More and more individuals globally realize innovation in MedTech product development as full of potential, but also necessary. The products and solutions we described aren't only interesting from a technical standpoint, they are consequential and relevant in creating higher quality healthcare and improving peoples' lives.
Next steps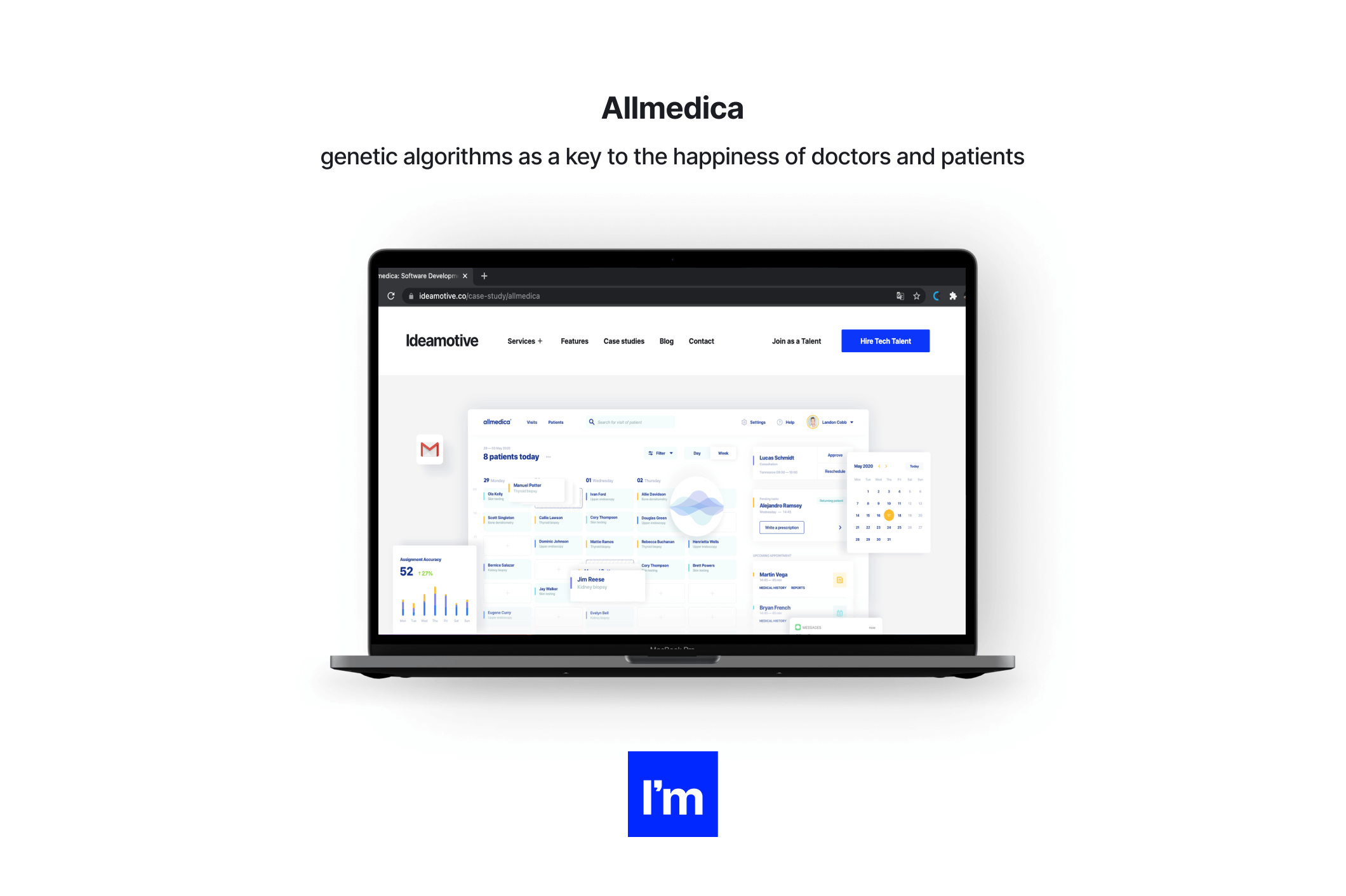 Ideamotive has been in this industry for quite a while. When developing MedTech products, the regulations are often tight, products are complicated, and need many integrations, while the cost of a mistake is often too dire for all stakeholders involved. It's always a good idea to choose trustworthy and experienced MedTech developers for your product.
Our network of developers is ready to help you in creating the next transformative healthcare solution.
Contact us.