App monetization refers to how a business can use the user base to make money with their mobile app. While many businesses want the development and launch of a mobile app to generate instant revenue, this is far from the case.
Unfortunately, this process is much more complicated.
With over 2 million apps available on the Apple App Store and over 3 million apps available on Google Play, it's not only important to launch an app that users fall in love with. Leaders also need to make sure they choose the right app monetization strategy to convert these users, otherwise revenue will be lost.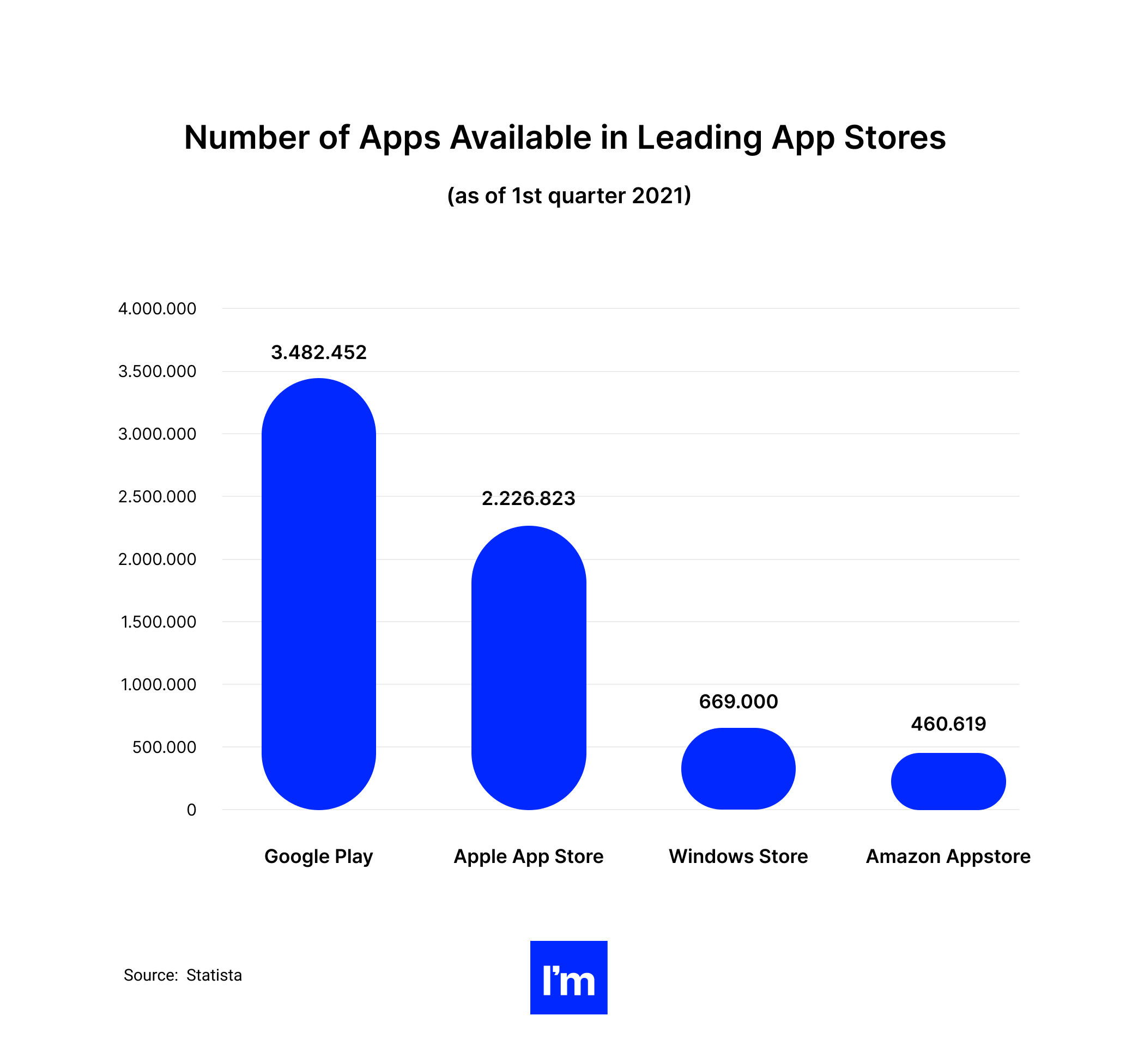 The strategies for achieving this are varied, as there are paid apps, in-app purchases, and other options. Whether you're trying to monetize your app for the first time or want to optimize the revenue from an already successful app, this guide will provide you with information on the latest app monetization strategies.
What is app monetization?
In short, app monetization is the process of converting your app users into revenue.
This process includes several strategies. Some app categories are more suited to certain app monetization models than others. Some apps focus on one specific area of ​​app monetization, while others include multiple aspects.
Why is it important?
As a Business Strategist/Startup Owner, you must earn income from your application.
App monetization is critical because it's increasingly common to find that apps are free at the time of installation. Therefore, the business model of the application must be adjusted to reflect this.
Developers must change their revenue model to receive money after uploads. This is where your strategy comes in handy. It is essential to take the time to develop a strategy that will ensure that the following two things are accomplished:
Your app generates growing revenue.
You keep your users and user experience relatively intact.
Many people forget about the second point. Looking at how mobile monetization impacts the app experience is just as important as looking at revenue maximization.
Why do you need one as a startup?
The number of smartphone users is constantly growing and this year has reached approximately 7 billion. Thus, in order to attract more customers and remain competitive, enterprises are interested in releasing mobile applications for tech-savvy users:
42%

of them have created a mobile application to offer their services,
30% plan to develop an application in the near future.
Despite the fact that 95% of all mobile applications are free, this market is predicted to generate over $935 billion in revenue by 2023.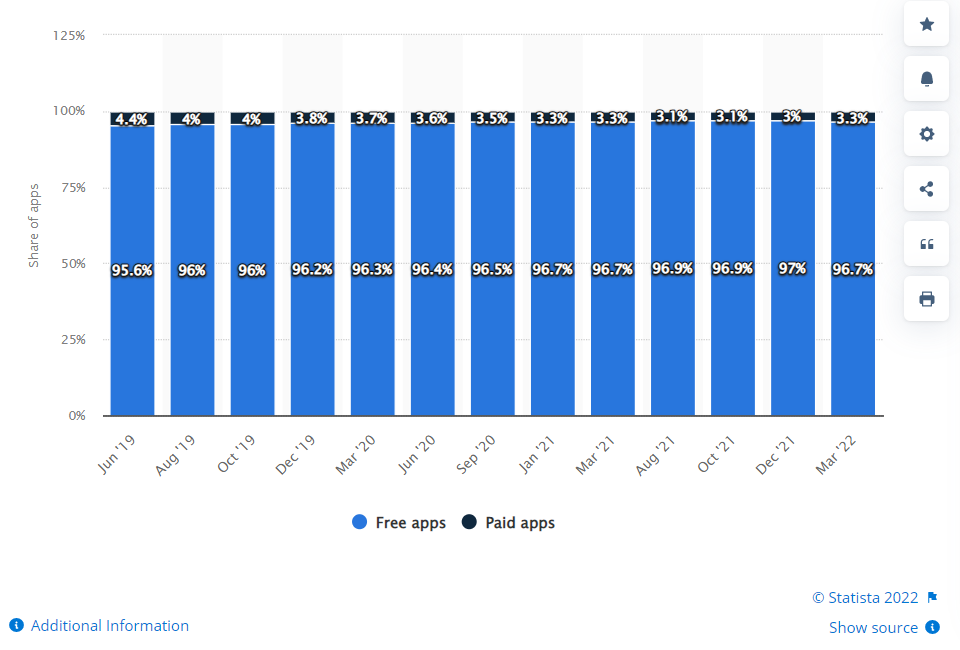 From shopping, gaming, dating, and even banking, there is now an app for everything. Looking at the statistics of mobile app downloads, by the end of last year, the number of mobile app downloads reached 218 billion. So it's no surprise that app publishers are breaking revenue records.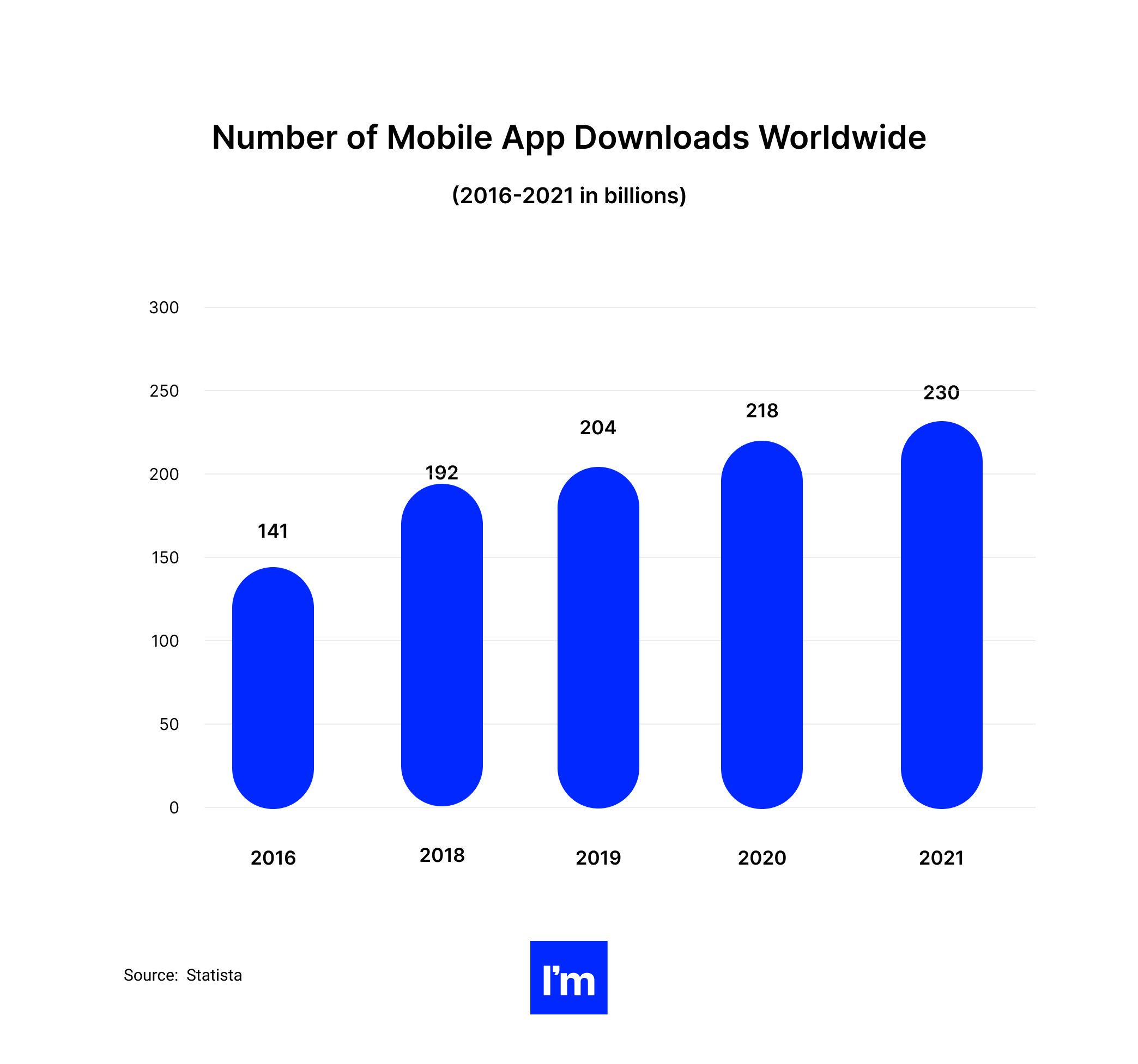 Other numbers show:
Users around the world spend $380 billion on in-app purchases.
There are over five million applications.
App revenue statistics show that in 2020, total ad revenue was $581.9 billion.
In the first quarter of 2021, Google Play sales were $36.7 billion and Apple App Store sales were $31.8 billion. Bookmark this when choosing between iOS and Android development.
By 2025, consumer spending on the App Store will reach nearly $200 billion.
One of the most common app monetization models is in-app purchases. It is estimated that 50% of non-gaming and 79% of gaming applications use it.
98% of Google Play revenue comes from free apps.
Source: App Revenue Statistics
5 Best Mobile App Monetization Strategies
In-app advertising
When mobile sales began to rise in 2008, followed by the launch of the Apple App Store and Google Play, digital advertising as a method of monetization was already firmly established on the World Wide Web.
App developers quickly migrated this monetization strategy to mobile, with banner ads having to adapt to the smaller mobile footprint.
Since then, app banner ads for mobile ads have evolved to include several options specifically designed for the mobile environment, including interstitial ads, video ads, native ads, and text ads.
Pros
Generates target audience. With in-app ads, your audience is engaged in the app and delivers much better conversions.
Leads to great results. Many people associate in-app ads with website banner ads. Although they are similar, their approach is different. Also, in-app ads perform better than banner ads.
More targeted audience. With in-app advertising, your viewer chooses to download an app if you advertise relevant apps with a specific target audience, making your marketing more effective. They are shown applications that interest them.
Cons
Low involvement. Despite the fact that the audience is captive, the number of clicks is still small. With an average banner click-through rate of 0.1%, your ad probably won't get much response.
Shares of competitors. You can advertise your competitors in in-app ads so that the user viewing that ad can click on the link and install the app.
Example
Almost every gaming app.
Subscription
A report states that about 52% of Product Owners who have opted for a subscription-based app monetization strategy agree that it has had a positive impact on their business, increasing their user base and revenue.
This mobile app monetization strategy allows users who launch the app for the first time to download the app for free, but other unique services are available to users who subscribe to them.
When choosing a subscription strategy, you need to turn your users into subscribers and prevent existing subscribers from churning. You need to communicate the benefits of updating the app to new free users and continually offer new content and features to existing subscribers to keep them going for a long time.
Apply this strategy if you have a content application such as multimedia, news, and entertainment applications that you use frequently.
Pros
It can attract many free users.
It can keep free users in the app before turning them into paid ones.
Cons
Difficult to determine how much content to offer for free before attracting subscription users.
Example
Netflix - watch series, movies online.
It is a subscription-based application that brings in $25 billion a year through the subscription-based service. In this app monetization strategy, users can pay a small monthly fee to access their app on a single screen. The cost of the plan increases with the number of screens.
Freemium
In 2021, freemium apps accounted for around 94% of the market and are emerging as the leading app monetization strategy for Android developers. This would be an effective strategy for expanding the user base. It combines free and premium features in one app. The free version of the application allows users to use the basic functions.
Unsurprisingly, free apps show faster download speeds as users get to try your app before paying for anything in the app.
In contrast, the premium version offers users access to premium features and content after making purchases. You need to strike the right balance between providing too little and too many free features.
Let's say your free version is better, just consider why users need to update their app. Also, imagine if it's not impressive in the trial, it will be hard to convince the user that the app is ready to go.
You should use it if you have a large and active user base, and you can provide an attractive user experience for both paid and free users.
Pros
It offers multiple income streams for mobile apps.
Cons
It takes a significant amount of time to become profitable.
Example
Spotify - music streaming app. It rules the market with a fantastic monetization strategy. Its average conversion rates lie between 2 and 5%. But Spotify has the caliber to turn 42% of Freemium users into paid subscribers.
In-app purchases
According to several studies, users around the world spend about $380 billion on in-app purchases. This strategy allows users to purchase services, content, and special features within the app. By keeping the app free to download, you can use this quantifiable and verified revenue metric to generate app revenue. Users buy in the app and improve their experience with it.
When considering this app monetization strategy, make sure it complements your user experience. And make sure you let your users know on the App Store page that while your app is free, it does require in-app purchases.
In addition, to encourage your app users to make purchases in your app, you can send personalized notifications based on their activity or browsing history, thank them for their purchase, inform them about time-based discounts, and more.
And yes, by using push notifications, you can increase your in-app purchases by around 16%.
Pros
This allows users to try the app before buying it, resulting in a wider user base.
If planned well it can be very profitable.
Cons
An app with in-app purchases has to pay the amount that app stores charge as a fee (currently

30%

).
Example
VSCO - a photo and video editor. You can download this app for free. The app changes the amount for the purchase of photo presets. The cost starts at $0.99.
Data monetization
It is a process of using data and increasing revenues. The fastest growing and most efficient companies are implementing data monetization.
Data monetization falls into two categories:
Direct data monetization
This includes selling direct access to data to third parties. It can be sold raw or completely transformed, insights and analysis.
"Data monetization can increase revenue for any app category. After integrating the SDK once, no additional commitment is required, so it can be scaled." – Jus Chall, Brand Strategist, Skein.
Indirect data monetization
This is where things get interesting. First, there is data-driven optimization, which involves analyzing the data for insight. Ideas like these help improve business performance. The data allows you to determine how to reach consumers and understand their behavior to increase sales. In addition, the data shows how and where you can cut costs, avoid risks, and ensure flawless performance.
Pros
The data monetization strategy has the benefit of a simple business model that makes it easy to start and grow a business.
Cons
Many users are still vague about data collection. Be prepared for the fact that users may refuse to share their data, but this is normal.
Example
Uber. With the consent of the user, the ridesharing service may sell location data to food and retailers. Other companies may use this data to provide discounts and promotions that are personalized to a particular customer.
Best Mobile App Monetization Strategies

In-app advertising

Ad buyers pay you for displaying ads within your app.

Subscription

Allows users who launch the app for the first time to download the app for free, but other unique services are available to users who subscribe to them.

Freemium

The product has a free version with limitations and a full-paid version.

In-app purchases

This strategy allows users to purchase services, content, and special features within the app.

Data monetization

Direct data monetization - this includes selling direct access to data to third parties.
Indirect data monetization - you use insights to improve your business, and create completely new services and business models based on the data you receive from your products or services.
How to choose the right monetization model for your app
You need to follow best practices to decide which app monetization strategies will work best with your app.
Explore other apps
You need to have a good look at other apps in your category and know how other developers charge for their content and apps. Also, consider whether it would be beneficial to offer alternative payment methods.
Consider your pricing structures
If you have recurring content costs, choose a subscription strategy. Also, offer a free trial to incentivize purchases.
Think about your app's usage patterns
It will indicate monetization options. In-app purchases and ads are suitable for casually used apps. You can offer an in-app purchase to help remove ads.
Use native extensions
If your application can be extended, such as adding levels to a game application. You can make its basic version free and later provide advanced features through a subscription or in-app purchases.
Consider local factors when pricing
When pricing apps, subscriptions, or in-app purchases, remember to consider local pricing models, cost-of-living differences, the cost of competing apps, and other factors.
Consider your target audience
For some users, the purpose of choosing a subscription, advertising, or in-app purchase may be limited. In such cases, paid (premium) applications are more suitable.
Technology-based model
The choice of the best way to monetize an app should be also based on the technology you use. Here is a brief data of what should be taken in mind:
| | | |
| --- | --- | --- |
| | Android | iOS |
| Ad SDK ( Advertisement Software Development Kits) | Use 2.9 Ad SDKs to connect an app with an ad network. | Use 1.9 Ad SDKs. |
| Ad-based monetization in non-gaming apps | About 63% of Android non-gaming apps use ads. | About 25% of iOS non-gaming apps use ads. |
| Gaming App Monetization | Implementation of Paid App Monetization Strategy: 7% of Android game apps | Implementation of Paid App Monetization Strategy: 11% of iOS game apps |
| In-app Purchases Approach | 22% of Android apps | 17% of iOS apps |
| Profit Share | Less | Apple rules the profit share. |
| Loyalty Rates | Higher | Lower (comparatively) |
How to make app monetization strategies work for you
Let's look at the best practices for optimizing your monetization strategy.
Analyze statistics
When tracking app metrics and analyzing your user statistics, you need to understand their purchase patterns, new and returning customers, and average revenue per user.
Run price tests
You can use in-app A/B testing to experiment with different pricing and alternative ways to get users to make in-app purchases or subscriptions.
Suggest sale price
You can use strikethrough prices in paid apps to offer a discount for a limited period and encourage more purchases.
In-app user experience
A seamless and concise user experience is critical to any app monetization strategy – without engaged users, there is no way to increase revenue.
Monetization in any form will affect the user experience in some way - it's really impossible to get around.
Since app monetization revenue is typically calculated based on the number of active users, developers and UX/UI designers should always keep the user experience at the top level.
There are tons of dazzling examples of mobile app UI design on the web for you to get inspired.
Don't miss your data monetization opportunity
Lack of data monetization can cause app revenue to slip out of your hands. Data monetization helps increase app revenue without impacting the user experience.
Track user engagement
You must involve your users in learning how your application will grow. User engagement reflects user satisfaction, helps with effective monetization, and ensures continued growth. So, in order to keep the app growth schedule, it is important that your users are engaged and interested to a certain extent.
Test methods before use
Each application is unique. This does not mean that what works best for another application will also work for your application. Here are the types of mobile app testing that can help you during app development.
You must test methods before implementing them.
---
Choose the right technology + hire the best development team
As we stated above your money-making strategy will be greatly influenced by the technology you choose.
So be prepared for this decision by reading the next useful materials:
In doing so you'll know for sure what devs you have to gather in your team: iOS programmers, React Native developers, or maybe Swift coders.
Wrap up
When choosing among the best app monetization strategies for your app, you should consider your offerings, audience, and opportunities.
Some app monetization strategies can be easily implemented. However, before doing so, you should also be aware of other requirements when planning for app monetization at the initial stage of app development.
In addition, you must consider your skills. If you consider yourself a world-class marketer, then choosing an in-app ads strategy is a smart move. On the contrary, in-app purchases will work wonders for you if you know what to sell to your audience.
Don't forget to hire top-notch devs and mobile designers. For instance, a team of experts won't stop on React Native but would provide you with several alternatives for mobile development.
Also, remember to keep an eye on your competitors as well. Conduct in-depth competitor research and collect data on how similar audiences are using similar apps.
With all of this in place, you'll be ready to choose an app monetization strategy that can deliver a consistent ROI for your business.