There's been a fuzz about online marketplaces for a while now. This market still has a lot of potential for growth and will probably generate increasing profits in subsequent years. The most famous marketplaces have grown big (sometimes very big), but there is still plenty of place for new entries. In this post, I share with you valuable marketplace tips and show you some major mistakes to avoid.
And if you look for some in-depth insights about biulidng a digital marketplace, make sure to read our Digital Marektplace Development Guide.
1. Don't underestimate the importance of the competition research
Market research is important in any kind of business. You have to thoroughly check if there is anybody out there already doing this thing that you want to start. To be precise, you should think about any business that solves problems that your marketplace would solve. It's worth noting that their solution may look different to yours, even far different. However, you need to acquire your customers' point of view. What they need, what do they struggle with, and who already helps them cope with that? Let's look at the example of Rivet & Sway which specialized in women eyeglasses. It couldn't withstand the fierce competition and shut down. If they only had differentiated more, they had a chance to survive.
2. Don't overlook the community management
If you want to create a marketplace that will be successful (don't you?), you need to build and manage a community around it. What does it mean? People will need to communicate with you. Moreover, you want them to interact with each other. That's why you need to establish efficient communication channels. Will they ask you for some advice, give them the best marketplace tips you can. Have they problems buying or selling something, give them support. And let them talk to each other. Let them give you ideas on how to improve your marketplace. Do all of that and they will spread the word, about the outstanding experience. Isn't that what you want? Etsy is a good example. As a member, you have access to Teams, where you can discuss issues and gain advice from other members.
3. Don't choose unqualified people to develop the product
Before you choose your subcontractors or entire company that will take care of all the technicalities, you should simply check their experience. You will need the team that is capable of delivering all features on time. Alright, you may think that this guy or that software house knows a lot about IT. Probably, but have they ever built an online marketplace? Look it up, maybe they've never been involved in the marketplace development. Do they know what traps are waiting for entrepreneurs who want to run a digital marketplace? Can you count on valuable marketplace tips from them? Go over their portfolio. Ideamotive has even a marketplace case study available for free here.
4. Don't focus too broadly
The ultimate goal for everyone who builds a marketplace is to make (almost) everybody into a user. Either vendor or buyer. Possibly, one day it will happen, but I advise to work step-by-step. For the beginning, you should narrow your focus and find your niche. Your early audience should fall in love with the experience provided, so it will be much easier for you to give 100% and focus on one problem than, let's say five or ten of them. Take Amazon as an example. It started as a bookstore. And now? You name it, it's there. On the other hand, Exec, a company providing personal assistants on-demand, failed to succeed because it had chosen a very broad niche, an anti-niche you could say, and it couldn't ensure the promised quality.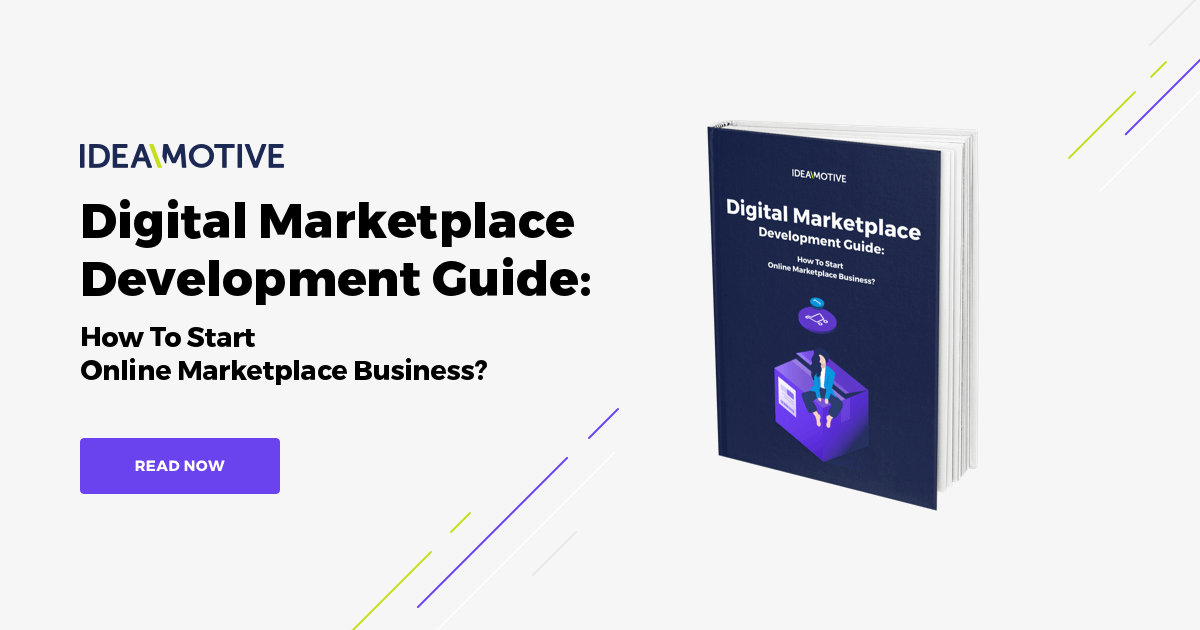 5. Don't forget to educate the audience
You need to educate your audience. It's one of the most important responsibilities. They need to learn why they need your solution. No matter if it is b2c, p2p or b2b marketplace, they need to know what problem you solve, and why it's worth their priceless attention. You can design a perfect marketplace, but if nobody knows about its perfection, how can they decide to pay for it? Use content marketing, mailing, blog, whatever it takes. Find out, what knowledge you can share with the audience and give it to them. Folksy, a British craft marketplace publishes a lot of content. It not only provides the audience with advice on the sale, but also gives them some hints on how to make their craft better.
6. Don't let the real value out of sight
When talking about value think about something your customers are willing to pay for. Why? Because you always create some value but often, there are not enough people wanting to pay for it. With Uber, you know exactly how much a ride will cost and you can choose the top-rated driver, according to the community. However, Uber does not work in cities where taxis are relatively cheap. I those places Uber lacks its competitive advantage. Here is another real-life example. Helloparking was a marketplace for car owners and parking space owners. The problem was that they would provide no real value for the latter. And without a sufficient supply of parking spots, there was no value for car owners as well. Hence the failure.
7. Don't ignore the future scalability
There is nothing wrong about starting small. But you want to make it big. Or great. Only then creating a marketplace makes sense. Therefore, you need to plan your business to be scalable. How will you find all those new users? You need to be sure that as the number of users grows, you will be able to keep the quality of their experience high. The marketplace back-end must be built accordingly. You should think about the future team that will take over some of the responsibilities. You need to think about marketing as well. It all means that you need to think about financing your future growth too. Let's look at one business that wasn't prepared to scale, and shut down. Tutorspree, a marketplace for tutors and students, failed because it relied only on one source of customers and couldn't scale up.
8. Don't treat the MVP as literally minimum
I'm sure that you already know what a Minimum Viable Product is. But some people take the "minimum" part too seriously. You should not release a product (or a service), that works but is painful to use. It doesn't work that way. Yes, you need to focus on the core functionality, but it's also advisable that you make it lovable. Your MVP cannot be a rough draft. It should be fine-tuned before showing it to the world.
9. Don't you think that marketplace can be a side project that will profit within a couple of months
Unfortunately not. It may take a couple of months before you even develop the marketplace. That's just the beginning. It took years for Amazon to report a quarterly profit. It will take time before people see the real value of your digital marketplace, and it will take even longer for your community to grow and gain credibility. You need all that before all your efforts pay off.
10. Don't omit testing everything
The last one of our marketing tips is applicable to all e-commerce businesses. Use split testing (or A/B testing) whenever you think about changing anything in your marketplace. After you start with the MVP, you will want to add new features, new services, etc. But be aware of the fact that not all your ideas will work. Therefore, test everything. Gather your data and then make a decent decision. Don't forget to inform your audience (Tip no. 5). BlaBlaCar even describes the way they run tests.
11. Don't Avoid Solutions That Already Exist
There are many existing solutions, you should provide for your future vendors and buyers. Although at the very beginning there will be no need for highly sophisticated extras, later on, you should consider adding some features.
Payment solutions
Delivery solutions
Product presentation solutions (adjustability)
Rating feature
Insurance options
The thing is that your vendors will need those and many more to win people's attention and transform them into buyers. So, don't forget to learn what marketing and selling solutions are available and desirable for your users.
12. Don't Fail To Make The Right Use Of Data
Depending on your marketplace's architecture, there will be various data to make use of. Our advice is to plan what kind of data you will embrace and how they will be processed. If you gather and analyze them thoroughly, your learning and improvement process will be faster. Data will tell you which features are being used more eagerly or how do your users experience the marketplace. Information about demography can help you address your marketing strategy better.
Wrapping Up
Stick to those marketplace tips and you will do better than most of your competitors. If you want to learn even more about how to build a successful online marketplace, you will find a plethora of information on our site devoted to the marketplace business. And if you are convinced about building your own marketplace, but don't want to do everything on your own, reach us to benefit from our experience.