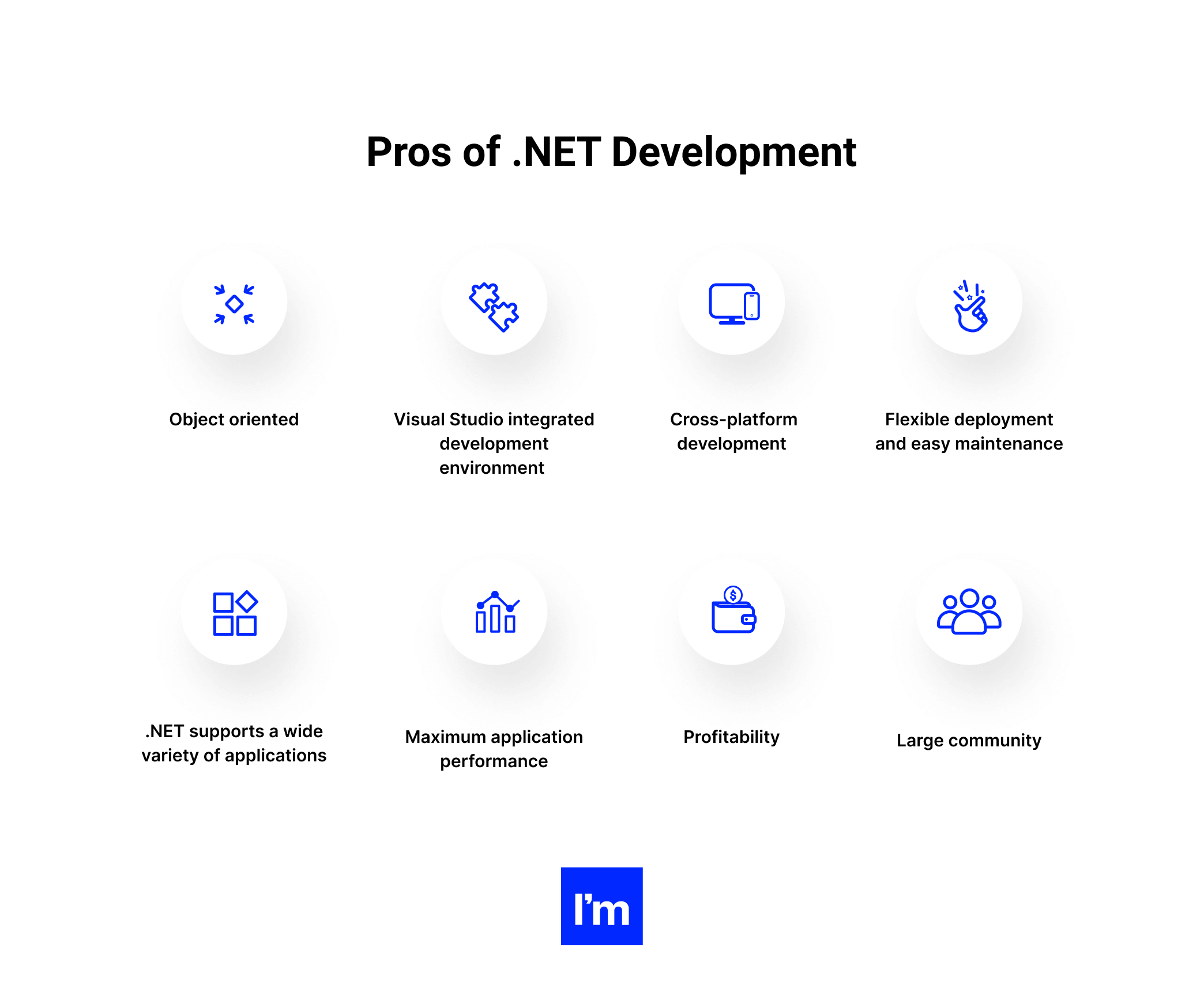 #1. Object-oriented
.NET is based on the Object-Oriented Programming module. OOP is a development model that involves breaking down software into smaller, manageable pieces. OOP divides data into data fields and describes the behavior of objects through class declarations.
An object-oriented programming module simplifies things by making your code manageable, responding to repetitive problems, and simplifying testing. This eliminates the need for programming leading to less code for developers. In addition, .NET allows you to reuse components and code, thereby saving development time and costs.
#2. Visual Studio integrated development environment
The IDE simplifies application development by providing the software you need to write and test.
Visual Studio is an integrated development environment from Microsoft that is used to build, debug, and publish applications on a variety of platforms, including Android and iOS.
Key features of Visual Studio IDE:
It is a single IDE for all .NET applications.
The IDE includes debugging and built-in compilation functions.
It can be used for applications based on code written in different languages.
The environment can also be customized to the user's preference.
Apart from this, Visual Studio Marketplace also offers a wide range of editor extensions that enable continuous integration, team collaboration, cloud development management, and third-party connections.
#3. Cross-platform development
.NET Core is cross-platform, which means it allows you to run code on Windows, Linux, and OS X. The .NET Core, unlike the original .NET platform, is completely open-source, ensuring that the wider engineering community can contribute to its development.
If you write code in F#, C#, or Visual Basic, your code will run on each of the compatible operating systems. This allows companies to leverage a wide variety of platforms while remaining within the .NET ecosystem. At the same time, thanks to its cross-platform nature, the .NET community can also share its large set of engineering skills.
#4. Flexible deployment and easy maintenance
One of the most important and most useful features of .NET is flexible deployment. It can be installed as part of an application you are developing, or separately. The modular design allows all required dependencies to be included. What's more, deploying with .NET is as easy as copying a folder.
Another advantage is that multiple versions of .NET can run on the same computer at the same time, making it easier to work on different projects and deploy smoothly.
#5. .NET supports a wide variety of applications
With the .NET framework, you get the ability to develop many types of applications, such as games, mobile devices, the Internet of Things, and artificial intelligence.
Microsoft recently announced a partnership with SWIFT, which means AI and data will become the center of financial technology. This will include building an ecosystem that offers efficient and secure transactions for banks and corporations.
Companies have realized the enormous potential of machine learning, big data, and artificial intelligence. They are investing more and more funds to integrate such components into their applications. Healthcare, education, marketing, banking, business, and just about everything in our daily lives can use artificial intelligence and big data to make life easier.
#6. Maximum application performance
Microsoft has improved performance with each version released.
Built with .NET, Stack Overflow, the leading knowledge website for programmers, serves 5.3 million page views per day with just nine servers.
Raygun from New Zealand has developed a cloud-based monitoring application for web and mobile applications. The core of the application was written in the .NET framework, but they used an API that receives data written in Node.js or Linux to maintain elasticity.
Over time, the Node.js framework gets heavier and slower and needs to be scaled up. However, this required investment. Therefore, the company decided to port its API to the .NET. This resulted in a 2,000% increase in their throughput using servers the same size as before.
Combined with the right database and architecture, this framework is the perfect solution for any business that needs to scale.
#7. Profitability
When choosing the right technology, the first thing you check is the IDE and the tools that are required or improve performance. Many of them are free, but the very best come with developer licensing costs that can run into thousands of dollars. It doesn't matter if you are a startup trying to enter the market or a large company, money could be spent more efficiently.
Microsoft's Visual Studio Code is preferred by a large number of front-end web developers because it is good, small, extensible, and updatable.
When it comes to infrastructure, .NET offers you the freedom to choose a provider of your choice, which can provide you with a cheaper service level agreement. Moreover, you can host your application in the cloud.
Even if you are not worried about costs, not having to invest in something that is not critical gives your business flexibility and the ability to invest in developing your team.
#8. Large community
When a framework is used by many companies and developers, it means that it has features that appeal to them. It also demonstrates stability and a high level of trust from the community, which gets everyone to try the framework.
Moreover, a large community means that almost any problem can be solved with the help of community members.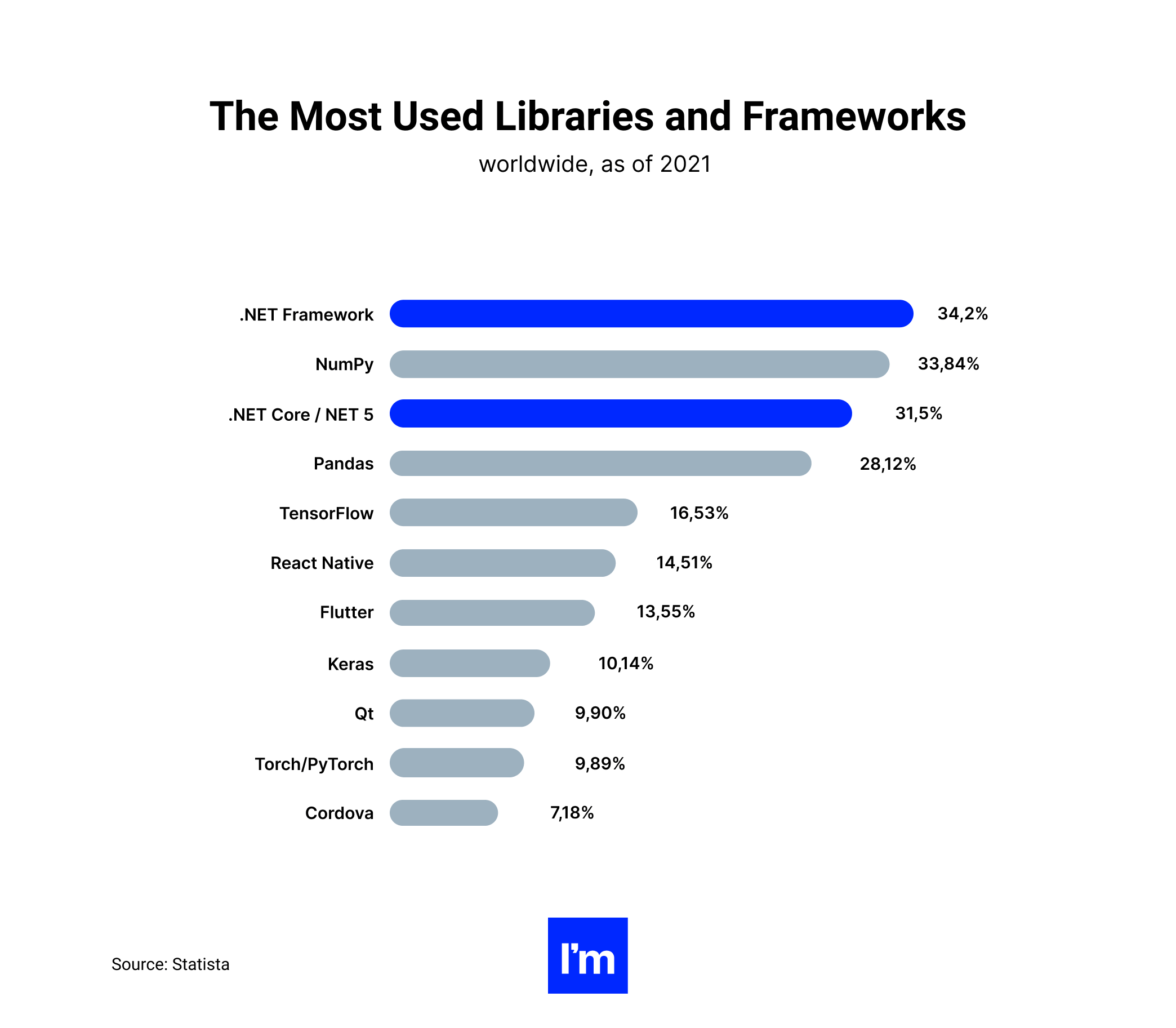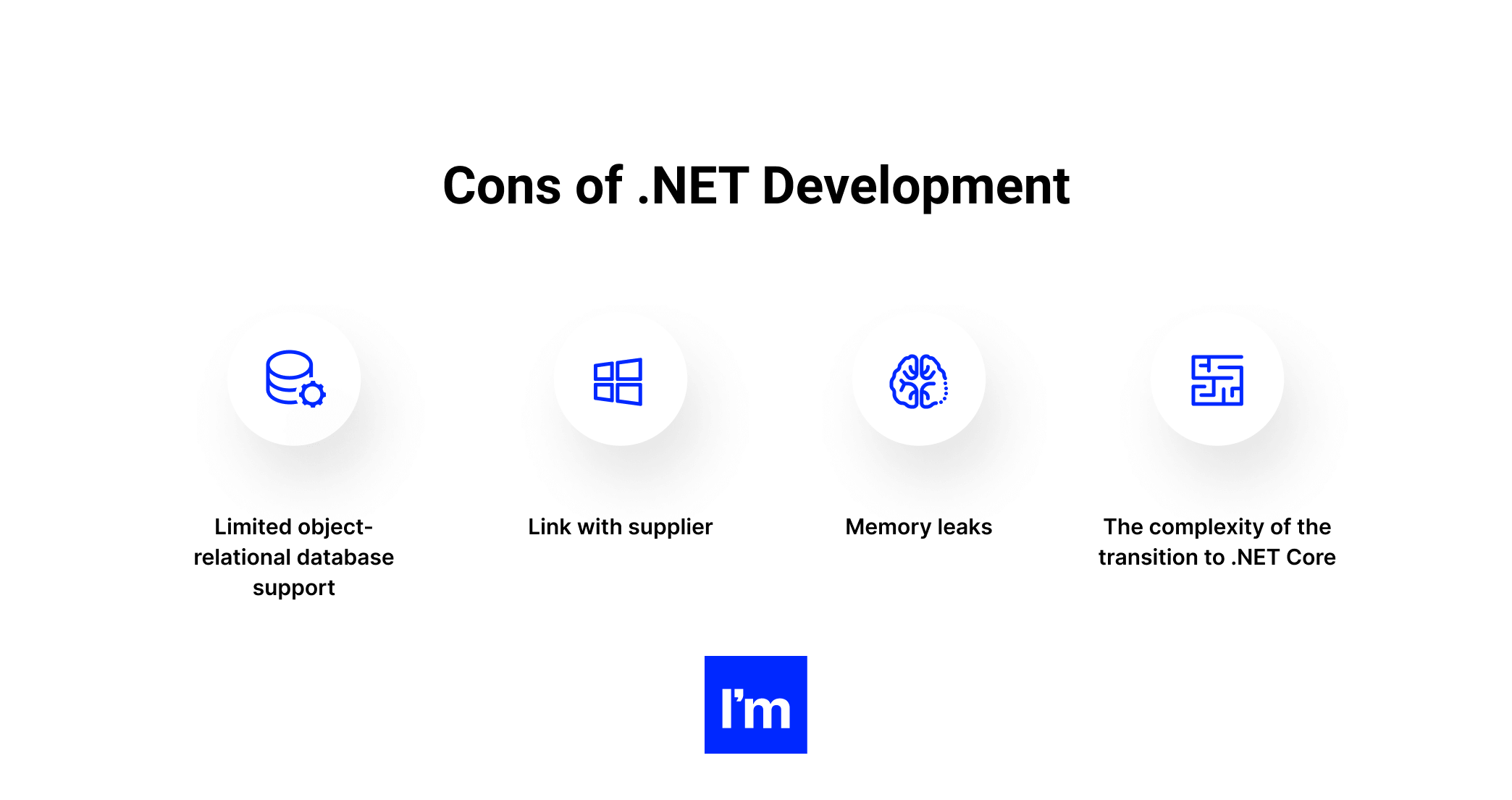 #1. Limited object-relational database support
As mentioned above, .NET works with an object-oriented programming approach that is based on objects rather than actions and data rather than logic. Support for data-centric application development in the .NET Framework is provided by the Entity Framework.
The entity acts as a bridge between the .NET Framework object-oriented databases and SQL. However, some developers feel that the Entity Framework does not offer the required flexibility and does not support all available database designs.
#2. Link with supplier
.NET is a framework from Microsoft. Although Xamarin and .NET Core are open source, the entire ecosystem is far from being community-driven. This means your products will be influenced by decisions made by Microsoft.
#3. Memory leaks
Memory leaks are common in all technologies. .NET is also frequently criticized for memory problems and memory leaks. Although .NET has a garbage collector to address this issue, engineers still need to invest additional effort in resource management.
#4. The complexity of the transition to .NET Core
The transition to .NET core can be long and difficult. Applications built using older versions of .NET are much larger than applications built using .NET Core. Migrating these applications to the latest versions of .NET can be a little difficult.