Android is undoubtedly the most popular mobile operating system with 70,68% of market share with over 2,8 million apps in Google Play store, ranging from complex games, every-day-use tools such as internet browsers, calendars, or social media apps, ending with corporate mobile applications.
Truly, the competition is fierce.
So what to do to stand out the crowd?
The product is so popular that the European Commission took it on its spotlight by imposing a record-breaking fine of 4.34 billion euro on the Alphabet, Android's parent company, for abusing the monopolist position.
The fine itself is a real deal and the company is appealing, but it is yet another proof of Android's dominant position. There is no real alternative: companies willing to pump-up their business with mobile technology steroids need to include Android in their strategy.
Considering that, keeping an eye on the latest Android mobile app development trends to follow is crucial. The curated list provided below is both a glimpse into the future and a long-story-short about the Android development latest trends.

1. Machine Learning and AI in Apps
With the cloud computing bringing the vast amount of computing power for every company, building AI models augmenting daily processes or performing tasks unthinkable before became more accessible. According to Accenture, modern AI accessible today can boost productivity by up to 40%.
Both the strength and the problem with AI development is in the versatility of solutions – they can be applied to automate various tasks, including natural language processing, image recognition, or data analytics. Moreover, only the process of training is computing-heavy. The already trained neural network can be launched and effectively used on the mobile device, without devouring the processor.
Example:
Google launched its Google Lens app that enables the user to take a photo of basically anything and google it. The app is able to read the text from images or to search for the thing depicted, for example, a breed of dog, the name of the actress in the film or if the fruit on the tree edible.
The app is far from being flawless delivering sometimes a bit weird suggestions, but it is a great example of the future to come.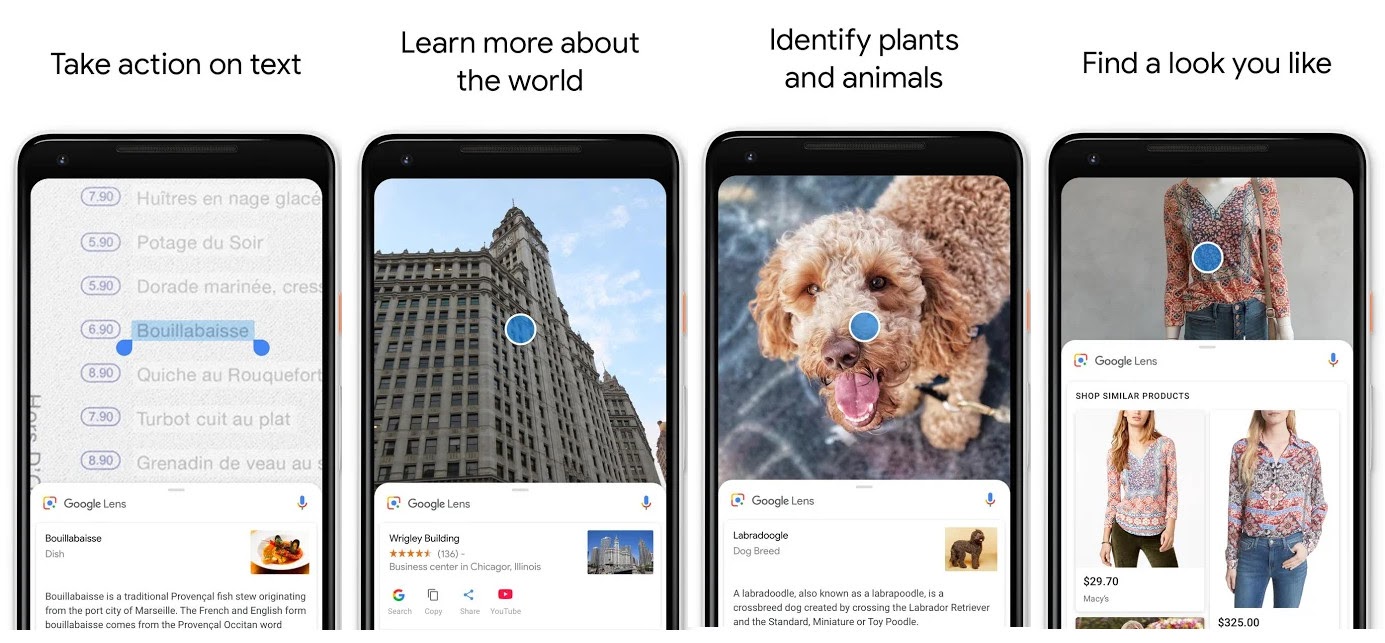 2. Blockchain in Android
Blockchain secures the place of one of the most buzzed technologies in the first half of the XXI century. The buzz is astonishing – the PwC survey indicates that 84% of world organizations are actively involved with blockchain technologies.
The most renowned and popular implementation of blockchain technologies are cryptocurrencies – the decentralized payment systems designed to perform swift, no-bank-involved international payments. Due to the lack of any large institution (like a central bank) behind the currencies, the exchange rates are volatile, making the cryptocurrency an interesting investment opportunity.
Example:
The most obvious example is the Blockchain Wallet – an app designed to provide easy access to the cryptocurrencies of the owner. Apart from being a wallet, the app enables the user to swiftly exchange virtual money to leverage the investment possibilities of cryptocurrency.
3. Internet of Things
Saying that a smartphone is a powerful computer in the pocket is trite. The revolution goes deeper – mobile devices are becoming a central control point of daily life, storing information about meetings, emails, contacts, and countless bytes of other data.
By apps, the smartphone becomes also the control center of smart devices – smart TV, smartwatches, sports bands, and other wearables. But this is definitely not the last word. With dropping prices, smart home devices are becoming affordable for households with average income. It is predicted that by 2025 there will be 78,44 billion connected devices worldwide – and the affordability is one of the drivers of this mobile app development trend.
Example:
Chinese tech behemoth Xiaomi is a great example, delivering impressive tech for an affordable price, and all the tech comes with dedicated apps, be that electric scooter or a kettle. The latter is a part of Mi Home appliances. The user is able to check the temperature of the water, so the connoisseur of green tea or yerba mate is not forced to check the temperature with a thermometer. Moreover, the kettle can be switched on remotely, so the owner can turn it on while commuting and get his or her boiling water for a te straight in the doorstep.
4. Augmented Reality
The virtual reality is a persistent buzzword being around since Laurence Manning's short stories published in 1933 and Stanislaw Lem's "The Star Diaries" published in 1957. But it is still in its infancy. On the other hand, a relatively new Android mobile app development trend of augmented reality is going mainstream. The value of augmented reality gaming is predicted to reach $285 billion by 2023.
Augmented reality is not about creating the artificial world to replace the real one. It is placing additional objects or information in reality for entertainment or information.
Example:
Pokemon Go was a moonshot of augmented reality gaming, preceded by the Ingress, a game that still has a cult following among the conspiracy-lovers, both provided by Android app development company Niantic. Outside the gaming world, Ikea Place leverages the augmented reality to provide a mocked-up view of the new furniture inside the customer's room. Just to check if the color or design fits the rest.

5. Google Instant Apps
Instant Apps are basically a test-drive before purchasing (or downloading and installing the app). The user gets access to the app instantly, so he or she can test it out. The option is both convenient and secure – downloaded apps get access to the device's storage, making the data breach or other illicit activity easier.
Enabling the user to test the app in the instant mode builds credibility and can be seen as the demo version of the app. Thus, it is a great way to promote the product and the popularity of this approach will rise among Android app development studios.
Example:
The vendor needs to enable the instant app during the Android app development process, so the user needs to look for this option for themselves. Nevertheless, Wish (among others), offers instant access.
6. Virtual Assistant
"Ok, Google" becomes the more common element of people's daily lives with a growing list of functions of this virtual assistant. Using speech to control the device is both convenient and natural. Moreover, sometimes it boosts safety, especially when the smartphone is used in a car. By 2021 approximately 1,8 billion people will be taking advantage of this technology. Even today 54% of people agree that using this technology makes their daily lives easier.
Example:
Google virtual assistant is a built-in technology in Android, so it may be questionable if it is still an app. It is rather another way around – the assistant is building its way into the rest of the apps by integrating with them. Starbucks app is currently integrated with Google Voice Assistant, enabling not only to order a coffee but also to ask for "my favorite one".

7. Mobile Payments
The NFC technology is nothing new, being widely adopted by payment providers and after installing it into smartphones it was obvious that the competition for mobile payments will rise.
Currently, there are various ways to pay with the phone, starting with Google Wallet, Samsung Pay, and bank-provided apps. With emerging players from China, Android will be the next great battlefield of payment providers, with AliPay and MiPay to name the most obvious ones.
Example:
Depending on the market and the situation it may be MiPay, GooglePay, M-Pesa, or another interesting tool. The market is yet to be conquered.
8. Security and Enterprise Solutions
The popularity is sometimes not necessary a good thing – especially when considering the appetite the malicious players have on data stored and processed by Android-powered devices. Yet the users, despite having a bank and email apps on their devices, feel much more relaxed when it comes to their mobile devices – only 50% of users have any form of protection on their smartphone. By the end of the third quarter of 2018 there were over 3,2 million malicious apps identified. Some were designed to steal personal data, others to hijack accounts, and wreak financial havoc.
Despite the poor state of the user's security consciousness, Android is a popular business platform, integrated with Google's office suite, Gmail, and calendar. Moreover, there is a plethora of apps that are commonly used by companies around the world.
That's why increasing security and bringing the enterprise-level tools to Android will be one of the most important Android mobile app development trends in 2020.
Example:
The best example is Android itself providing the enterprise version for business users. Xiaomi, providing its own antivirus and security suite for manufactured devices is the next example of hardening the platform against malicious players.
9. Multiplatform Development
The next Android application development trend is a bit parallel to the Android, yet it has a great influence on the whole ecosystem. As delivering mobile apps is currently a must for B2C industries, companies look for ways to optimize the effort put in the development by delivering the multi-platform apps.
One of the best examples is React Native development, where the android app development company is able to reuse up to 70% of the code between the Android, iOS, and web apps, effectively saving time and money.
Moreover, there are new solutions for multiplatform mobile development finding their place on the market. Enough to mention Flutter. However, don't forget about older players, like Xamarin, either.
Example:
There are numerous React Native apps examples, starting with Instagram.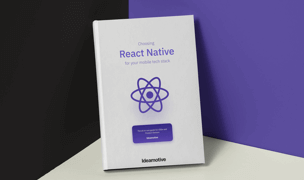 10. Wearables
Google provides us with a version of Android for smartwatches and other wearables. Wear OS ready to work with Android 6.0 forward and with iOS 10.0 forward.
will help users balance their training plans and monitor health parameters. If you connect it with the growth of health care technologies and western societies getting older, wearables will be more important every year.
Most recent devices draw from increasing health awareness and give their users many features to record and analyze health parameters. As a result, it is possible to save much time and money on diagnostics, thanks to the information provided by wearable devices.
By 2024 the global smartwatch market is expected to reach shipments volume of 108.91 million.
Example:
The COVID-19 pandemic gave an impulse to create new wearable devices for health monitoring supporting diagnosis. At the same time Stanford researchers work on gathering data from wearables and predicting contagions.
11. Chatbots
Chatbots may serve as user support, or an active force engaging users to take actions like registration or purchase.
You can enhance User Experience by converting your traditional UI to Chatbot. Imagine if your user didn't have to look for information hidden somewhere in the Interface and instead could directly ask a chatbot about them ("What's my account balance?").
Consider abandoned baskets in online stores. A chatbot could be an active sales 'person'. All tactics you use for marketing automation can be improved by the use of chatbots in mobile applications. Users would be given something more than just a notification. They could ask for advice or schedule a phone call.
Example:
Erica is the chatbot of Bank of America. It started as a virtual assistant powered by Artificial Intelligence in 2018.
It communicates via text and voice. Erica can help you schedule payments and how to pay down your debts. Moreover, it's a great salesperson providing customers with the latest information about the bank's products and solutions like investment opportunities. Even more, you can use this mobile app to schedule real-life meetings and manage your debit cards. Of course, Erica helps to navigate among all the services and the possibilities of UI.
12. Beacons
Beacons are small devices that connect with your smartphone (or another smart device), in order to boost your experience. And gather as much data as needed. But don't worry. It doesn't work without an application and your consent. Usually, beacons use Bluetooth, but some can also use GPS, GSM, Wi-Fi, and NFC.
What's that all for? For example to tell users about a purchase occasion as soon as they physically enter the store. Or to help you find a way during a massive event. Let's say you're at the Tech Expo event and you're lost. Event mobile app will guide you according to the information from beacons located around the exhibition area. On the other hand, organizers will be able to analyze attendees behavior and adjust future events.
The global market of beacon-related technologies is said to grow up to $10 billion within 4 years.
If you want to create a mobile application and make use of beacons, Google created a platform consisting of three components.
Eddystone, the open beacon format that works with Android and iOS.
Nearby API for Android and iOS, managing beacon scanning for your own app.
Proximity Beacon API for integrating with Google products and your own app.
Example:
Uber provides an augmented reality feature connected with beacons installed in cars, so you can easily recognize your driver on a street crowded with Uber cars.
Image: Beacon for Uber drivers.
13. Foldables
New technology of touchscreens enabled not only curvy bent-screens but a new generation of foldable devices as well. Foldables started as smartphones trying to be tablets. Now we can have more handy phones like Motorola Razr or Samsung Galaxy Z Flip. The latter getting sold out in about 20 countries within a couple of weeks (almost 2,000$ each!).
We don't know the future of foldable devices. Google has already prepared its guide for Android apps for foldable devices. Anyway, it's worth keeping an eye on it and know if you should adjust your mobile apps to new possibilities of foldable devices with multiple screens.
Example:
There aren't many mobile applications ready for foldable technology. Actually, now is the time to be among innovators and prepare solutions for early adopters. You can peep the Android guide for foldables. Your designers will have something to play with. Then, all you'll need is a team of skilled mobile developers.
14. On-demand apps for various niches
As people have less and less time to live their lives, the market for on-demand services grows. Every year we come across another 'Uber for this-and-that'. However, in the USA only, users spend nearly $60 billion on on-demand solutions.
The development of mobile devices and the Internet made it possible to get things done with a swipe of a finger. Apparently not only food can be ordered for delivery. Taking into account, that people are more aware of how much their time is worth and due to the COVID-19 pandemic, we will observe many new on-demand applications.
Example:
Wag! – an application for finding a babysitter for your dog. You can even track their walks with GPS and watch their activities. If you're looking for someone in your area for walking, boarding, or sitting with your pet – Wag is for you.
15. 5G
Countries all over the world implement the fifth generation of telecom networks. It's supposed to provide 100 times faster connection than 4G. Devices using 5G will use less energy as well.
Mobile devices producers have already started providing 5G ready smartphones and tablets.
Future online games will work faster allowing more responsive experience. More cloud-based mobile applications will appear and will work faster than ever before. Only after the introduction of common 5G, the Internet of Things will show its true power. It will let us make the most of all previously described trends.
Possibly, it's the most important change since the introduction of the Internet, not only in the Android mobile app development but in our whole life.
Example:
Imagine a wearable device gathering your health data, enabling consultancy with an AI-powered chatbot and on-demand medical appointments with the closest specialist, all in the blink of an eye. And that's only based on what we're capable of thinking of today.
Summary:
Android provides companies with a unique opportunity to leverage the latest tech trends while staying with the client in the closest relationship possible.
If you want to make most of these Android app development trends, you will need a team of highly experienced team on board. For all those planning to develop an Android app in 2020, our network of Android developers and mobile app designers provides a cohort of experts they need.