Having a mobile app is only the first step in building the modern service.
It is crucial to keep it up to date and follow the latest trends – consumers are always one step ahead and their demand for innovative and smart solutions creates new challenges in custom app development.
This text covers:
The state of mobile app development in 2021
Most significant mobile app development trends to watch in 2021/2022
Explanations, market data, and examples
Giving users and customers access to the mobile app is one of the ways to address their need to connect with the brand in the way they find the most convenient. In fact, it is more about their preferences and less about the brand's approach to innovations – especially considering the fact that having an app is not a sign of it anymore – it is rather a must.
Below you will find not only new trends in mobile app development but the most important ones.
State of mobile app development in 2021
Mobile apps have come a long way from a technological novelty to one of the most significant tools for making modern business. According to the recent "We are social" report, done in cooperation with Hootsuite, people will spend more time online with mobile than with any other devices. 90% of this time people use mobile applications.
In fact, more people own a cell phone than a toothbrush.
Currently, 70% of mobile traffic is generated by mobile devices. About 75% of emails are being opened on mobile devices.
The convenience of mobile devices is seen in changes of user's behavior. According to Google, 80% of smartphone users are more likely to purchase from companies with mobile apps or sites that help them easily answer their questions.
According to Statista:
Apps, just like any other tech, are swiftly changing and heavily leverage the latest tech trends. So what are the most significant factors that will shape the custom mobile app development world in 2022?
1. Artificial intelligence and Machine Learning
Automated face recognition to simplify portrait-making is no more a feature – it becomes a standard. Automatic filters and funny stickers were one of Snapchat's success drivers. As machines are able to recognize images and process the natural language (with greater or lesser success) putting the AI-powered features in apps will be a more and more growing trend.
AI applications vary depending on the context. It may be a speech recognition feature, smart filters applied in the camera, or even an automated assistant that is setting up the camera before taking a shot. Apple's Siri and Google Assistant are among the most-known examples of AI-powered mobile apps, but the possibilities for application of AI in custom mobile app development are countless. It is possible to use the smartphone to analyze the sound of a working industrial machine to spot the signs of upcoming failure – sometimes the machine's sound changes only slightly, in the way the human ear cannot spot, but the machine is. It's not a surprise that AI remains one of the hottest tech trends.
2. Blockchain and decentralized apps
Blockchain technology is most renowned for being the technology powering cryptocurrencies, with bitcoin being the most renowned one. The main idea behind it is creating a decentralized database, that is hijacking-resistant and fraud-proof.
Blockchain technology may be used in securing payments or access to the network by generating the tokens used in the authentication. With the decentralization of the database, no one would be able to modify the database records to gain unauthorized access.
The technology is commonly seen only in a cryptocurrency context, but it is changing with the interest of tech giants. Even Microsoft has launched its blockchain-based framework called Coco, which is aimed at increasing the blockchain adoption in the enterprise sector and may become a kickstart for blockchain-based custom mobile app development.
3. IoT and connectivity
The Internet of Things is a new buzzword and old technology. The idea of connected machines that are exchanging information to cooperate effectively was seen in production and heavy machinery but recently the technology came into the consumer market with smartwatches, smartphones, smart home devices, and even smart fridges. The IoT market is set to be worth up to $1,319.08 Billion by 2026.
By combining the Internet of Things with smartphones it is possible to provide users with sophisticated tools to control their machinery. An interesting example comes from agriculture, where smartphone apps are used to control the systems of machines like tractors and combine harvesters. Keeping control over pressure in tires is a great example, as various types of soil require different pressure to keep the grip off the machine.
Smartphones and apps are currently the intelligent hubs of smart devices, and so it will be in the nearest future. Moreover, introducing a myriad of new devices into the mobile world will force the cross-platform mobile development paradigm on many software development agencies. To build an app, running on both a smartwatch and a mobile phone, in the same way, is not a piece of cake.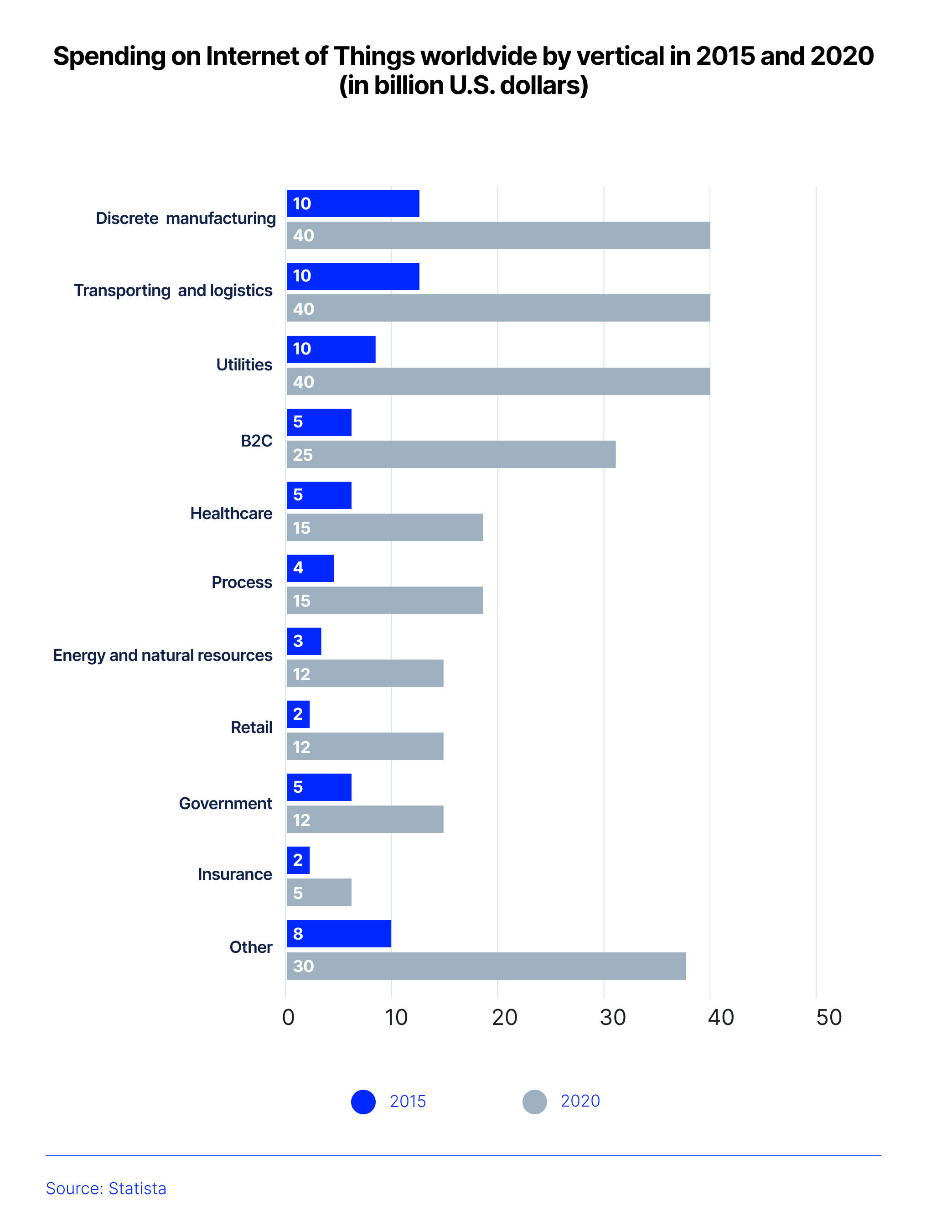 Source: Statista
4. Augmented and virtual reality
Augmented and virtual reality transforms the user experience in the app, making it much more interactive. From AR apps to social media or business apps, AR and VR have revolutionized how apps work. This year we will see further development of this technology through application development.
If you ever had a problem imagining how the new piece of furniture will fit the interior, Ikea's augmented reality (AR) app is the perfect tool for you. This app enables the user to use the smartphone camera and screen to virtually place the digital armchair or bookshelf in a room.
Contrary to virtual reality, augmented reality aims to enhance the experience of our own world rather than enabling the user to enter the new one. AR has a great potential to be used in various industries, from beauty and fashion to furniture to utilities.
In 2022, augmented reality is expected to revolutionize app development trends in various fields such as healthcare, engineering, real estate, retail and others. For example, an interior designer might launch their own mobile app. It will ask the potential client to upload images and videos of the property. Using augmented reality, the application can provide the buyer with an idea of ​​the property in accordance with the specified characteristics.
This is a win-win situation for both the designer and the buyer. Here, the designer is relieved of pain, convincing the client of the appropriateness of their choice. At the same time, the client can also see whether his choices will or will not match what he wanted.
Virtual reality is another mobile app trend in 2022. The term virtual reality is commonly used to describe scenario simulations that are difficult as well as expensive to create. Examples of these simulations include space simulations for astronauts, human body anatomy simulations for medical students, and other similar examples.
The VR app has also spread to businesses. It can help them recreate what a particular product will look like to their customers. An example would be some apps that can show you how a dress or jewelry like earrings or shoes will look on you before you actually get it. Since people prefer to connect to the Internet using their mobile phones, companies need to have their own mobile apps integrated with VR technology to provide this experience to their customers.
2022 marks the year for the introduction of more of these apps.
5. The 5G
5G is the next standard in mobile technology that is to supersede the latest technology of 4G/LTE. Due to the transfer speed up to 100 GB/s, the standard is predicted to power up the Internet of Things. Mobile app developers need to take count of the upcoming rise in transfer speed and be ready to effectively upscale their offerings. Spending on 5G infrastructure by 2022 is predicted to reach 2.3 billion US dollars.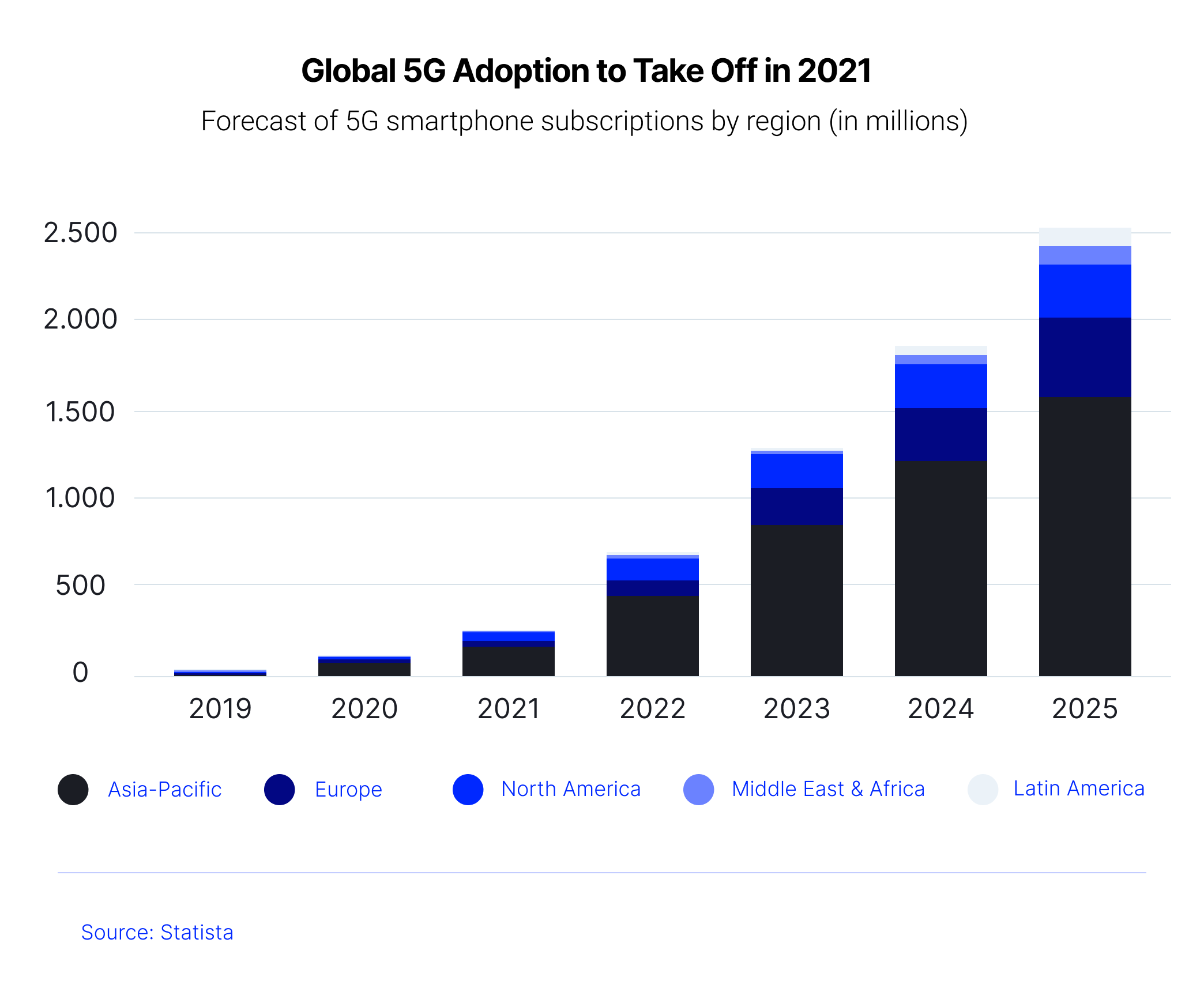 Source: Statista
6. Beacons
Bluetooth-powered beacons are not new technology itself, but they gain increasing attention, as they enable the connection between the online and offline worlds. Beacons are used in Leroy-Merlin mobile app to gain a better understanding of user's behavior in brick-and-mortar stores. Knowing the patterns of their movement, the retailer is able to optimize the placement and merchandising.
And that's only one of the possible applications in the custom mobile app development world. According to Grand-view research, the Bluetooth beacon market will be worth $58.7 billion by 2025 with an estimated Compound Annual Growth Rate of 95.3%.
7. Instant apps
An instant app is an option to test and launch the Android app without installing it on the device. It may be a great opportunity for users who would like to test a few apps and choose just one. In such a case it is not required to have enough memory for it. The idea behind the instant app is to provide the user with the experience behind the product without the need to download it fully.
Due to instant apps, the emphasis put on creating an amazing first experience may pay off. Building the app that won't enchant the user at first glance will backfire.
8. Mobile wallets
Mobile payments are an interesting trend not only from retailer's and payments processors points of view. It is also about making users convenient with making payments by mobile devices. The levels of mobile payment adoption differ. In the survey done by pymnts.com, 13% of American smartphone users claim to use Apple Pay, 24% use Walmart Pay, 5% say that they use Samsung Pay and 7% use Android Pay.
Considering the fact that 24% of surveyed people use Walmart Pay, mobile wallets are a great opportunity for offline retailers who look for ways to keep the customers loyal and make their purchases more convenient. The mobile wallet is not only about payments done offline – it may be used also for powering the loyalty programs. Starbucks app is one of the best examples, being the most frequently used loyalty coupon app. The app not only allows users to store and collect the loyalty points but also to order the coffee and pay on the go.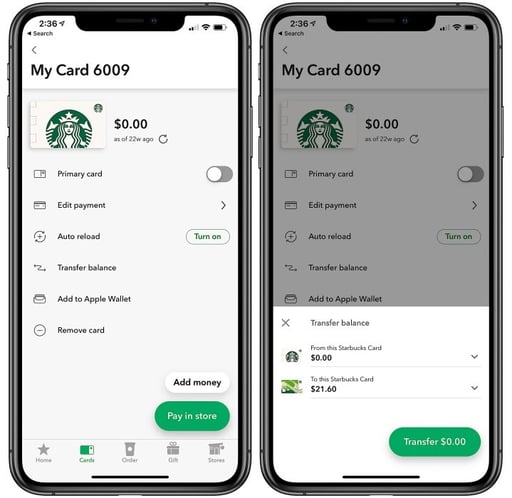 9. Chatbots on the rise
Although modern chatbots are far from being perfect, they are already popular. By processing the natural language they automate many tedious and repetitive actions like answering users' most common questions ("is the store open today?") or automating the ordering process.
According to the recent survey, 36% of Americans claim to have used a chatbot to interact with the company in 2019. With the popularity of Facebook Messenger, using chatbots on mobile is rising, as the Messenger is commonly used as a standalone app used by more than 1.82 billion people around the world.
10. Omnichannel and cross-platform
With various channels competing for the user and at least two mobile standards, with customers used to switch between, it is crucial to provide the best experience possible in all of them. According to MarketingSherpa, today's consumer uses up to six touch points with a brand with nearly 50% regularly using more than four. That comes with the need to unify the experiences to keep consistency – no matter the device or channel.
That's why Responsive Web Apps, that work within the browser as an effective way as native ones are on the rise. Companies are looking for easy-deployable tools to build omnichannel solutions. React Native framework is one of the leaders, with the ability to share and reuse up to 70% of code between platforms.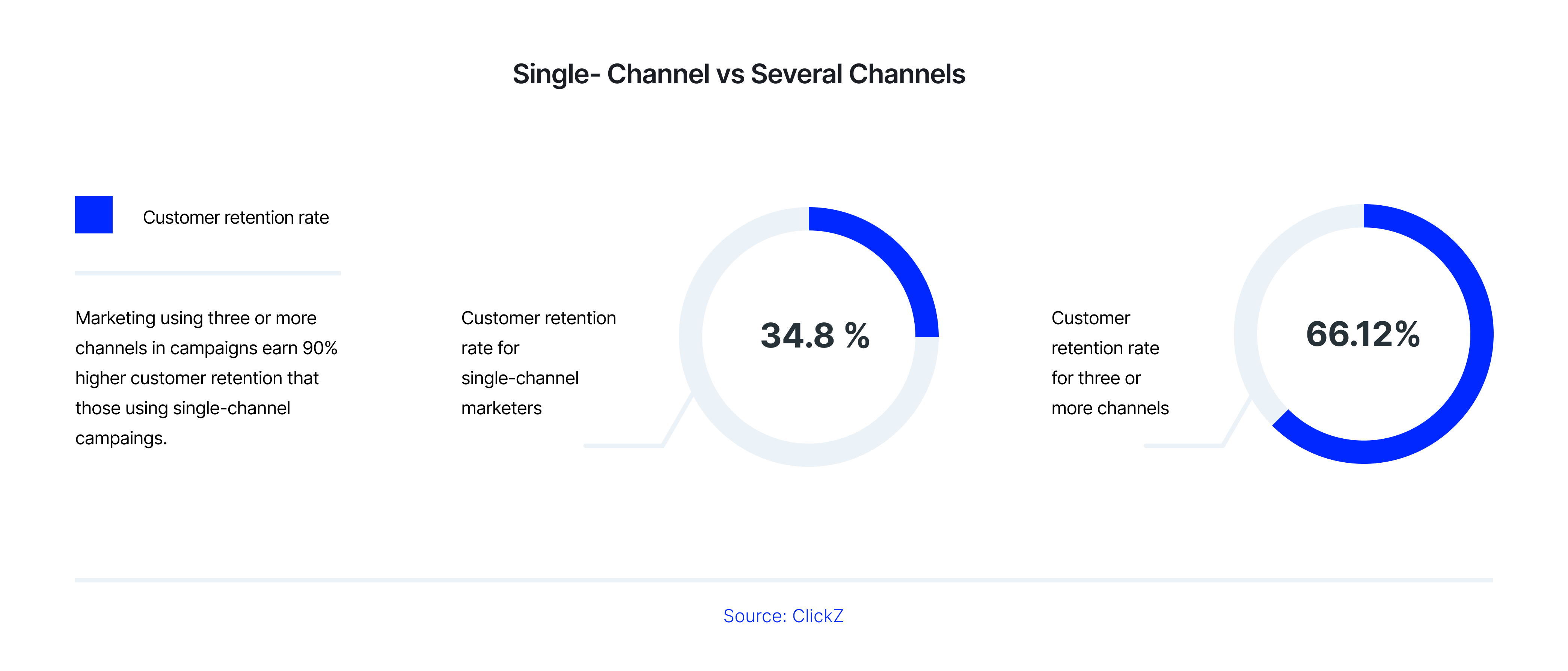 Source: ClickZ
11. Wearables
The development of wearable smart devices is a hot trend, especially considering the growing interest in healthcare. This year's pandemic of COVID-19 showed that smartwatches and other wearables can be used to track health parameters and support the diagnostic process. It's worth noting that many watch manufacturers include smartwatches in their portfolio. Tag Heuer, Fossil, Skagen, or Breitling all sell their smartwatches.
Other ways to use the potential of wearable devices with mobile applications are yet to be found. However, we already know how useful they are for medical and fitness purposes. Let's don't forget that this type of smart device is used for AR as well. Smartglasses that incorporate Android and can work with Alexa are already available on the market (e.g. Vuzix). AR supporting glasses may be useful for navigation, mechanical problem solving, or drone piloting.
The market for wearables is constantly growing. According to Statista, about 25% of adults in the USA, will use some wearable devices by 2022. There's no wonder, wearables are among the top mobile app development trends.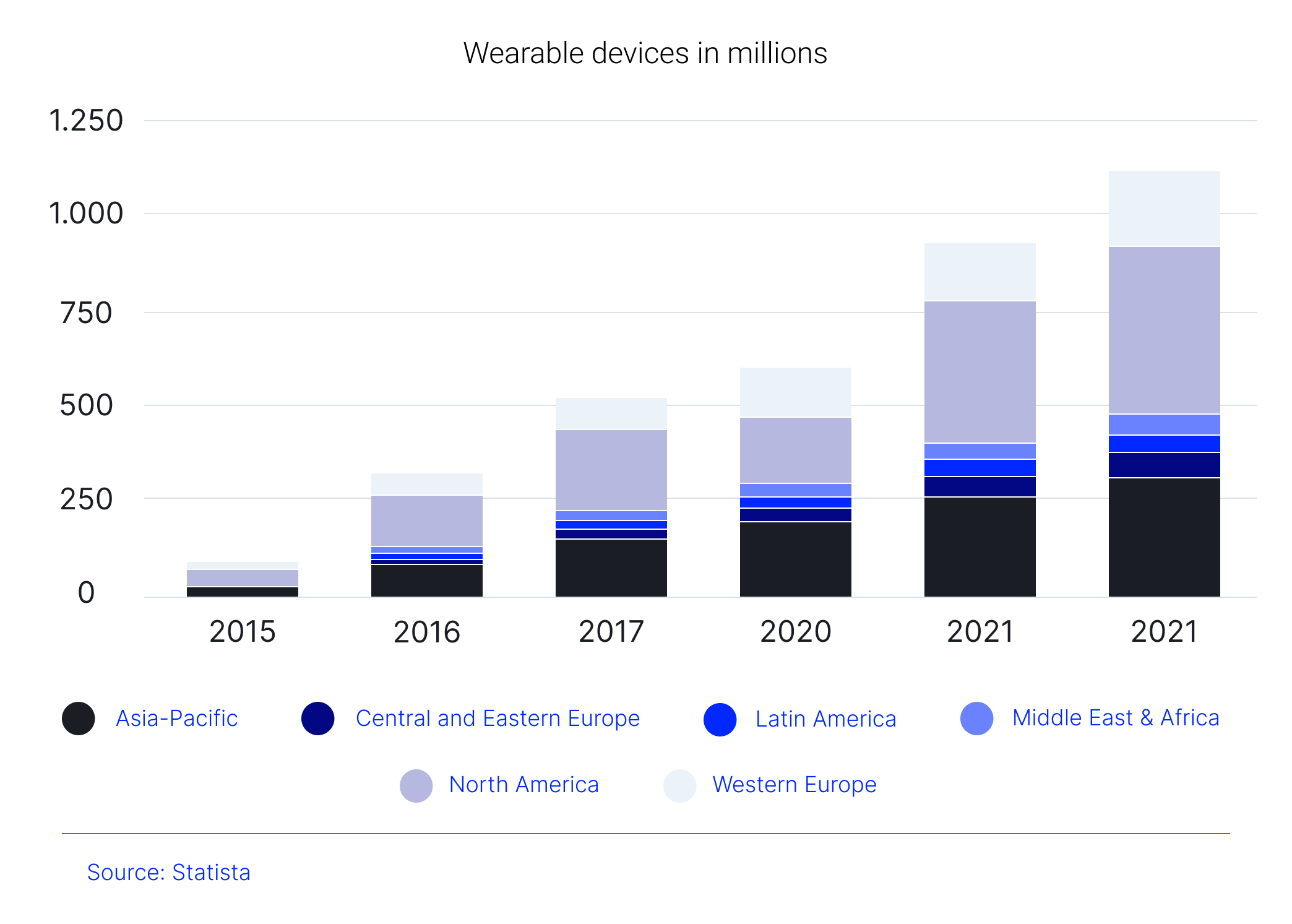 Source: Statista
12. EMM & APM
The master goal of Enterprise Mobility Management (EMM) is to maximize productivity. If your staff uses mobile devices, let's make it as efficient as possible.
EMM is about the management and security of mobile devices used by employees in a company. It is more than just providing people with remote access (e.g. with VPN). EMM consists of MDM (Mobile Device Management), MAM (Mobile Application Management), MIM (Mobile Identity Management), and MCM (Mobile Content Management).
All these processes are multi-purpose. The aim is to keep all devices updated and make sure everyone has access to needed applications. Another goal is to prevent data breaches and unauthorized access. Moreover, there's a need to coordinate back-ups and synchronization with cloud-storages.
In order to keep everything running smoothly, you also need APM (Application Performance Management). When more employees use remote access points the infrastructure strives to serve all users. Performance monitoring and management enables convenient and hassle-free work.
On the one hand you may want to implement EMM processes and solutions within your company. On the other hand, it might be an interesting and profitable niche to create even better business solutions for EMM.
13. Predictive analytics in UX design
Although we've heard of the User Experience for many years, it gets real recognition only recently. Features provided by various applications are often similar. The way to stand from the crowd, lure more users, and increase their loyalty is an outstanding experience. Therefore, not only UI design but a broader UX design is the mobile app development trend you want to keep an eye on in 2022.
Keep in mind that according to Harmon.ie report, 97% of users claim that the ease of use is the most important factor when they choose a mobile application. So, when you try to apply the top trends, remember about your users and the experience you give them.
Predictive analytics makes use of data gathered from your users to (who would've thought it?) predict future events. With this knowledge you can try to influence customers' decisions. Additionally, the process of UX design and improvement will be easier, quicker, and evidence-based.
14. M-commerce
M-commerce is buying and selling products and services via mobile devices. Until recently, it happened mainly through mobile web pages. However, it is more and more popular to shop in applications. According to Business Insider Intelligence, the volume of m-commerce will 'hit $488.0 billion, or 44% of e-commerce, in 2024'. Moreover, 85% of people choose native applications over mobile websites. So if you can't convince your decision-maker to invest in a native mobile app, let them know, it's where the money is.
Interestingly, since smartphones grew and became more convenient, customers prefer to purchase on them, instead of tablets. In fact, the latter will be responsible for less than 19% of sales.
M-commerce is also a great place to combine the influence of all the other trends you find in this article.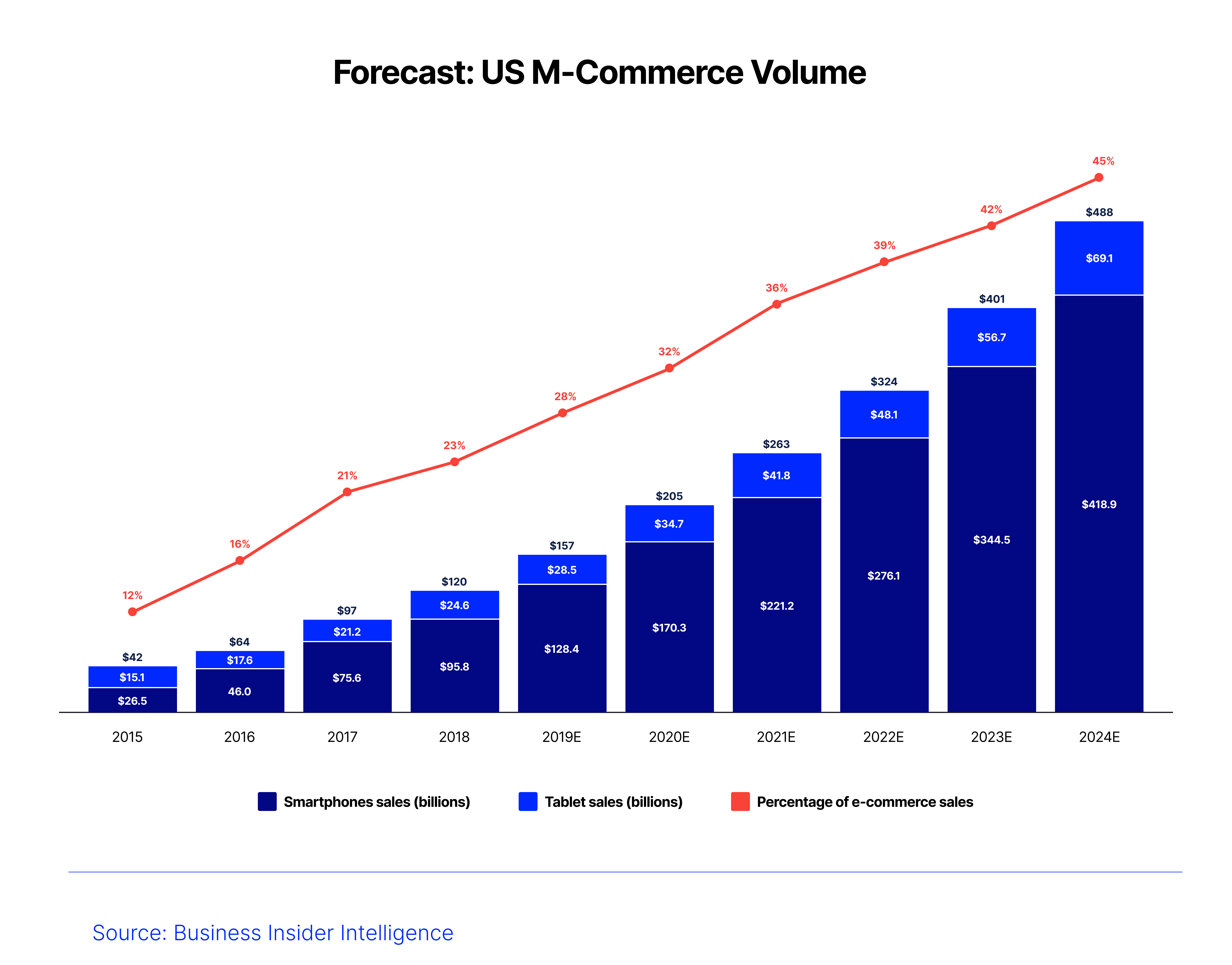 Source: Business Insider Intelligence
15. Cloud-based applications
Cloud-based mobile applications use cloud computing technology instead of the device's hardware. You're no longer limited by the operating system. It may be easier to create a cross-platform application this way. Thanks to cloud storage and processing capabilities, your mobile device doesn't need to devote too much performance. Everything is stored and processed in the cloud.
The profits are much smoother UX, e.g. you can exchange devices and migrate all data and settings right away. Cloud-based applications have another advantage too. It's security. Cloud services usually have better protections than private mobile devices. Also, it's easier to make a cross-platform application this way.
To fully benefit from cloud-based applications, we need better connectivity. However, with the spread of 5G Internet, cloud-based mobile applications will outperform traditional applications.
16. VUI
Voice User Interfaces (VUI) are getting more popular together with the development of assistants like Siri or Alexa. As people steadily get used to this way of interaction, they will be prone to use VUI in other applications.
According to Adobe Voice Technology Study conducted in July 2019, 85% use their voice to control smartphones. In the same study, 94% of users claimed that they want to use voice on more devices.
Despite the fact that not many people use voice interfaces for shopping, OC&C Strategy Consultants predict that voice shopping will get from $2bln in 2018 to $40bln in 2022. It is a great opportunity for local businesses since 58% of U.S. consumers use voice search to find local businesses.
On the other hand, there is still a need to improve security issues and educate customers. 79% of American respondents are bothered by the privacy issues involved in Voice User Interface.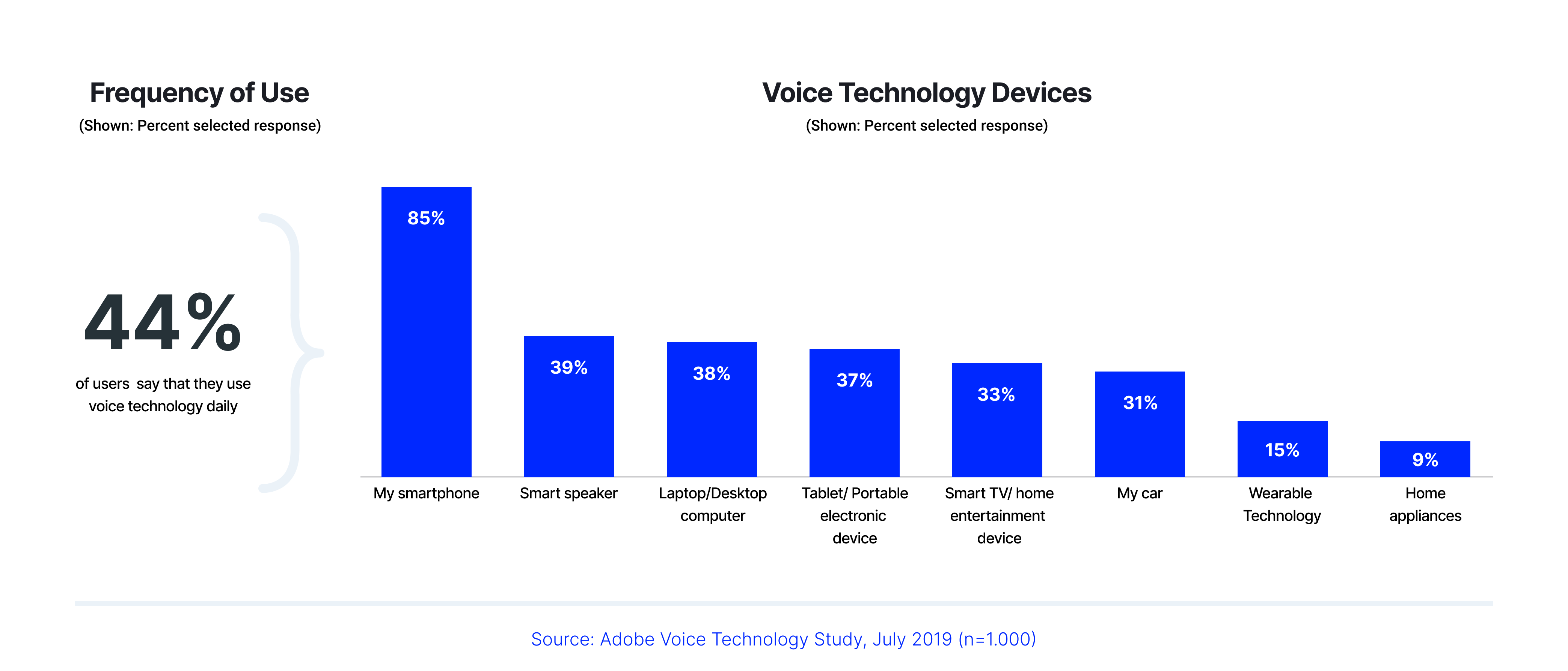 Source: Adobe Voice Technology Study, July 2019 (n=1,000)
17. Safety is a major concern
Mobile app security remains a top priority this year. We've already seen the rise of encrypted messaging, the user data protection industries, mobile browsers that protect user privacy, Google's efforts to improve app permissions, and more.
These are clear indicators of the need for application security. Improvements in mobile security will occur in 2022, especially for applications that use payment methods, privacy protection, and data encryption.
Some important questions that come to mind of users when installing applications on their smartphones:
Can the app keep sensitive data safe?

Can anyone hack the data stored in the app?

How much data does the application need?

Will these apps drain resources and slow down your phone?

Can these persons be misused?
Mobile app companies must address these challenges if they are to succeed.
According to a Gartner report, the security debate has moved from compliance to taking the right security measures in 2020. Mobile apps that can convince users that they've taken care of their security can only succeed in this domain
18. "Timewasters"
These are so-called mini-games for no other reason other than wasting time. This trend has increased in 2020 and 2021 and looks set to develop further in 2022. The need for fast games that you can plunge into in a couple of minutes while, for example, waiting for your bus, is always relevant.
What makes them even more popular is that you don't even need to spend a lot of resources to create such games. And sometimes such an application can bring you big profits.
Summary of current trends in mobile app development
The trends above show that the traditional way of doing business is constantly challenged by modern mobile technologies. Mobile devices transform the way we do shopping, pay bills, or search for information. With better mobile applications and more efficient technologies, people will be more comfortable with new solutions opportunities.
Only those who embrace the change will win and develop their businesses. If you want to be among them, you will need a reliable and trustworthy mobile app developers on board.